At Joel Crespo and Brian Hardesty's Guerrilla Street Food in St. Louis, you'll find fare inspired by Filipino dishes with chef-driven flourishes and other global influences. Traditional Filipino meals like arroz caldo, roasted chicken and rice porridge with ginger, garlic, lemon juice and an egg, are listed alongside sisig tacos filled with braised pork ear, tongue and belly sautéed with ginger, garlic and chiles, served in a crispy wonton shell. While the tacos aren't necessarily a dish you'll find in Manila, they're based around sisig, a popular Filipino dish with nods to the Chinese and Spanish influences inherent in Filipino cuisine.
Hardesty, who runs the kitchen at Guerrilla, says the restaurant – which got its start as a wildly successful food truck – was inspired by Crespo's family roots in Cabiao. The city is in the Nueva Ecija province on the island of Luzon, about two and half hours from the capital of Manila.
In February, the business partners took a two-week trip to the Philippines, which acted as both a research tour for the restaurant and a homecoming of sorts for Crespo; he was born in the U.S. and last visited the Philippines more than 30 years ago, when he was 9 years old. —Liz Miller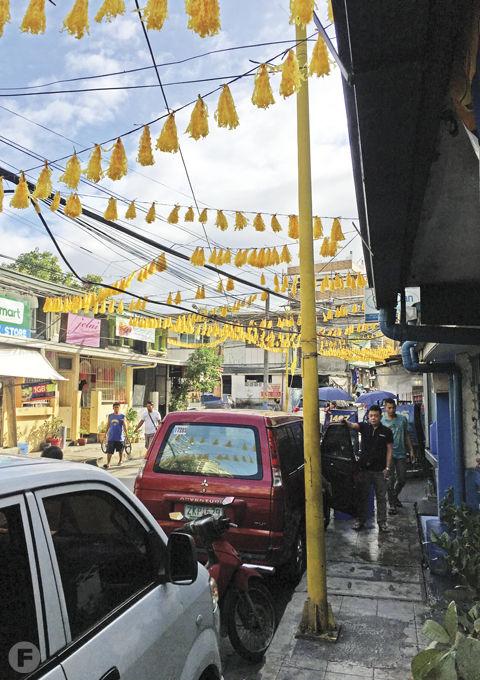 Missouri to Makati
Brian: Our first meal was from Jollibee because it delivered to our hotel. We'd been traveling for 20-something hours, and we just wanted something quick and easy. Jollibee is one of the most successful fast-food restaurants in the world; there aren't any locations in
St. Louis, but there are two in Chicago. It's like the McDonald's of the Philippines. I already knew what I was hoping to order from there: I got the spaghetti and fried chicken meal, called Chickenjoy. Filipino spaghetti is different because the sauce is very sweet and there's hot dogs in it instead of meatballs or ground pork. It's the iconic dish from that chain. It was perfect to start the trip with fast food – we're a fast-casual restaurant, we don't pretend to be anything more or less.
Joel: I got a burger – like their Big Mac, basically – and a peach-mango pie, like an apple pie at McDonald's. My burger was very meatloaf-like. It wasn't great, but we wanted to experience every type of food, from fast food to street food to fine dining.
Brian: We woke up and wanted to grab something for breakfast. On the ground floor of our hotel there was a location of UCC [Ueshima Coffee Co.], a Japanese coffeehouse chain, but they served all Filipino food. I ordered tosilog with tocino, or pork belly bacon, and waffles with corned beef.
Joel: I had bangsilog. It's a milkfish called bangus that's split open, fried and served with garlic rice, a sunny-side up egg and a little vinegar. Breakfast is simple and usually a silog: a meat, rice and an egg.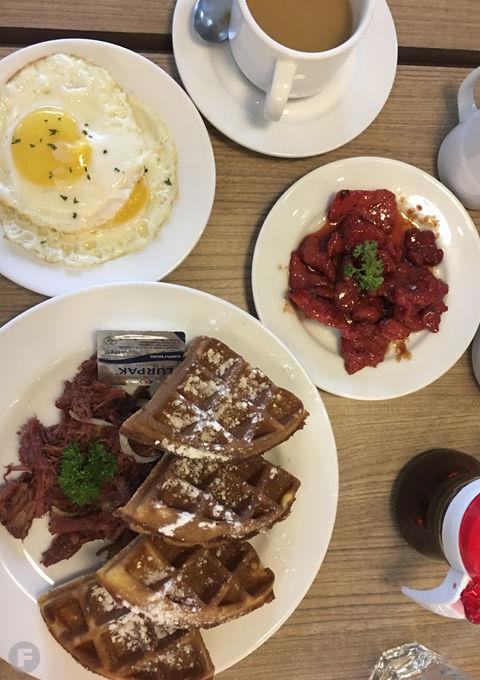 Brian: Later that day we met up with a friend of ours from social media, Natalia Roxas-Alvarez, who runs the food blog Filipino Kitchen, at her mother's art gallery, which was also in Makati. Their close friend Sharwin, a chef and the host of Curiosity Got the Chef on the Lifestyle Channel, met us there and we all planned the next few days together. We told Sharwin and Natalia that we wanted to see what regular people in Manila eat at regular times of the day. Sharwin's a chef, so we asked him where he eats when he gets off work, where does he go, where does he hang out? He took us to a bunch of dive-y, inexpensive places where you go and spend $1 for a big meal.
Joel: One of the places was the University of the Philippines. There's this little building sort of like a college bookstore and cafeteria, and inside, there's a place called Rodic's Diner, and students can go there and spend $1 or $2 and get a full meal. Sharwin said this is where you go late at night for cheap eats when you get off your shift. We got a silog there with garlic fried rice, tapa, which is like a dried beef, and drinks, and it was good.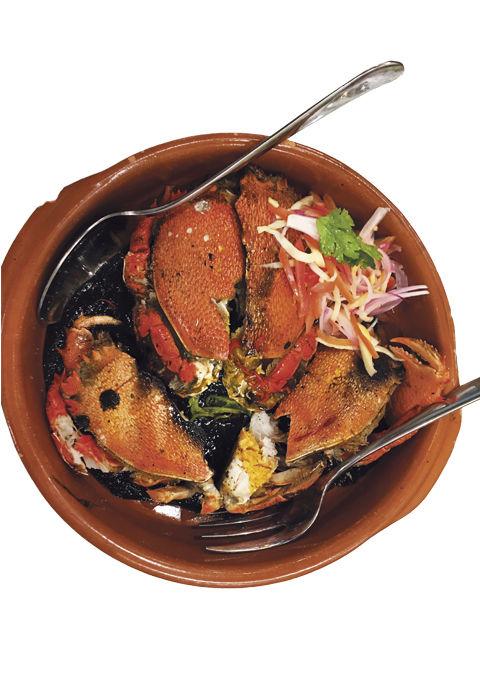 Joel: We went to our first modern Filipino restaurant, Agos, located in the Mall of Asia. We had whole-roasted crabs with burnt coconut, kinilaw (raw tuna with coconut vinegar) and beef tongue mechado (stewed in tomato sauce). I started to see connections immediately with what we do at Guerrilla. You hear words like mechado, adobo or pancit, and instantly I felt like we were in the ballpark, and yet it's still so different from what we do.
Joel: After dinner at Agos we went to an ice cream place, Sebastian's Cold Comfort, which was also in the Mall of Asia. The owner does these really interesting plays on Filipino flavors.
Brian: I ordered the passion fruit-tea ice cream. He had all these different funky flavors: a rice and chocolate ice cream garnished with dried anchovies, so sweet and salty.
The theme of Filipino food, in my opinion, is super bold; contrast is very important. So you don't just have a savory dish – it's savory with a pile of pickles on top of it, or it's super sweet with anchovies on top of it, a salty, umami flavor combination that perfectly represents Filipino food.
Joel: [The owner] did a play on a traditional Filipino dish of sliced green mango with shrimp paste. It's really tart, because it's unripe mango, and then countering it with the contrast of the umami and saltiness of the shrimp paste. That's what this place is all about.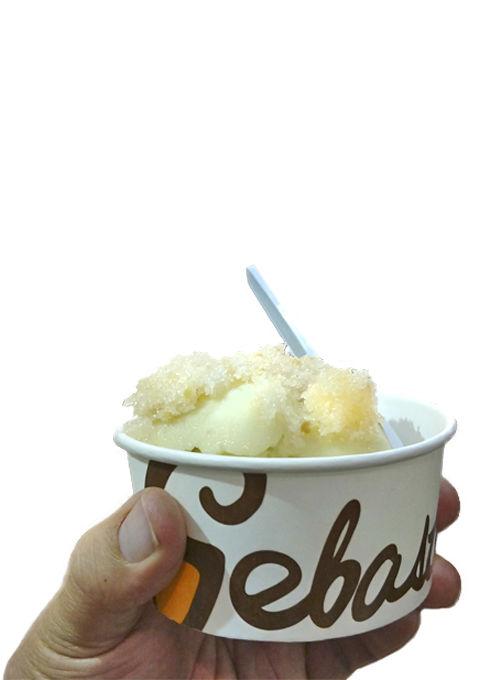 Cafe Via Mare
Brian: On the third day, we found a place called Café Via Mare, which was pretty straightforward Filipino food. That's where I had my first bibingka in the Philippines, and it came with cheese and grated coconut. So again, it was salty and sweet. It came out piping hot on a banana leaf. It was pretty great. Joel got pandesal with cheese – sort of like bread rolls – and then he got…
Joel: I wanted to do another silog, but I never wanted to repeat a silog, so I got a tapsilog, which is beef tapa, garlic rice and a sunny-side up egg.
And then Sharwin took us to a place called Pino in Quezon City, which is his friend's restaurant. We went there for lunch prior to going to this insane farmers' market, and then we went on a tour of the oldest distillery in the Philippines, Destileria Limtuaco.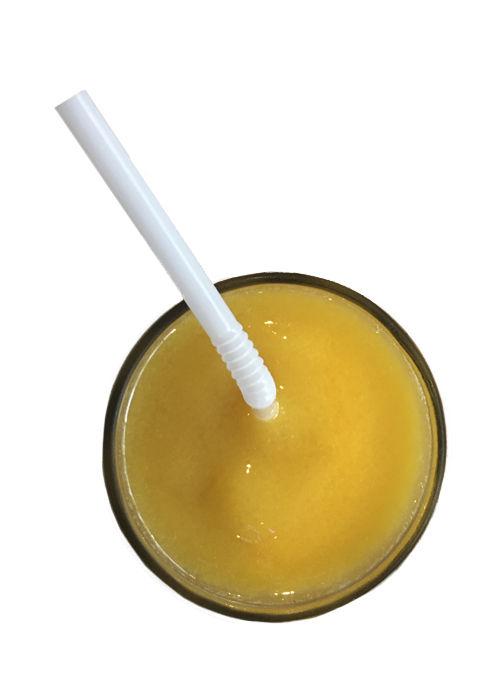 Brian: We sat on the back patio at Pino and I ordered my first green-mango shake, which blew my mind. Then we ordered sinigang, a stew made with guava, and bulaklak, deep-fried pork organ tissue with a vinegar dipping sauce. When you're drinking beer, it's a popular thing to order. This was the first instance of variations on dishes I had read about and that we serve; like we serve sinigang with tamarind, and I'd never heard of it made with guava… I thought you had to make it with tamarind.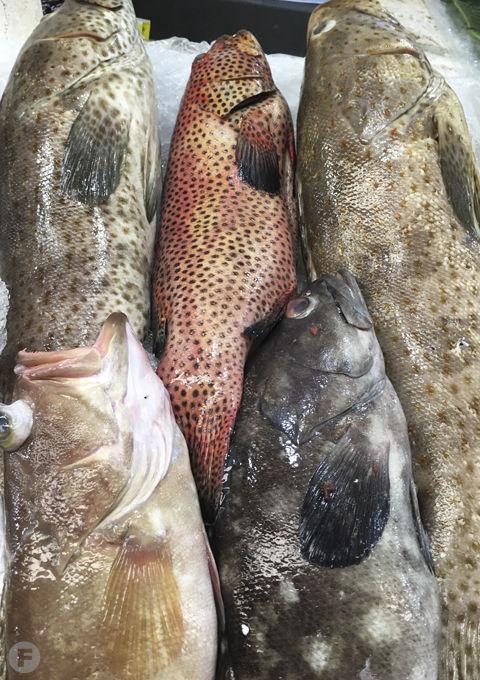 Brian: Then we went to the farmers' market, which is like an open-air market in a covered space similar to an airplane hangar, and there's nothing but fruit stands on the upper level. Piles and piles of food – bananas of all sizes hanging off of every stand, thousands of people and everyone is buying food. We're asking questions and trying to learn as much about the ingredients as possible. We saw dalandans, a type of orange that is actually green on the outside, but then when you cut it open, it's orange. It's not very sweet. Different stages of ripe fruit is super big there – you'd find mangoes and coconuts in 12 different forms. The upper level was all fruit and vegetables and then there's a floor with one side of meat, and one side of fish. There's zero refrigeration – legs of pork, cattle, goats, whatever, and 100 dudes chopping ribs and other meat for the length of an entire city block. Piles of chicken taller than me. It's pretty intense. Across the aisle it's the same thing, but all fish and seafood. Every variety of fish you can get – fish used for drying and making into pastes and sauces, stuff like that.
Joel: And right across the street from this giant market was what they call a dampa market, where they have more fresh fish, and it's right next to the ocean. You can pick fish from a stall and they'll cook it for you and you just eat it right there.
Brian: Then we moved on to the distillery, which is way out in the middle of the province, or the country. The son of the owner gave us the tour. You can't normally get a tour of the distillery, at least like we did. We were very lucky to have friends act as tour guides and connect us with all of these experiences.
Joel: They make more than 30 spirits: a calamansi [lime] liqueur, a coconut spirit called lambanog, a dalandan liqueur, mango rum, whiskey, a coffee liqueur.
Brian: They were distilling whiskey the day we were there. They have these giant square containers made of stainless steel and the interiors are lined with the wood of barrels, and so because they're square, you can age a lot more liquid in the space. And then we got to taste out of one of the containers… it was rough, very strong.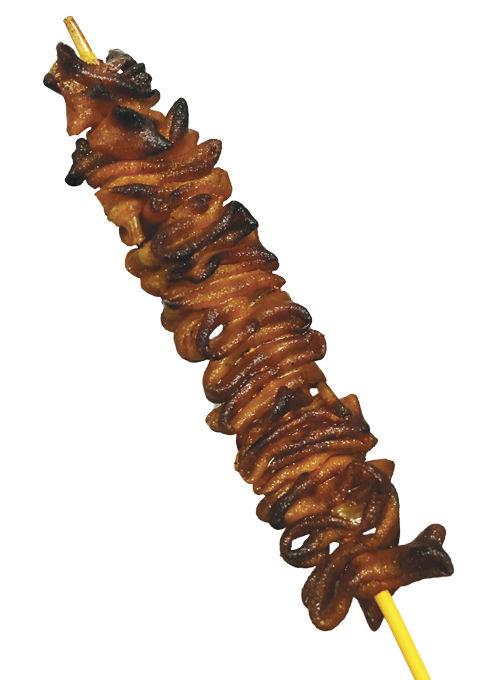 Brian: The next day I really wanted to go to a restaurant called Sarsa, because I've read it's a really regionally specific style of Filipino food from Negros, a province in the southern part of the country. There were a lot of street food-inspired dishes on the menu. It's a sit-down, full-service restaurant. By the time we visited, I think the menu had become more of an amalgamation of influences from across the country.
We ordered isaw, chicken intestines on a stick, which are illegal to buy in the U.S. They grill everything over charcoal, so it's a little charred. And we got chicken skins – just piles of chicken skins on a skewer, grilled. So simple, but so good. They use every part of the chicken. And then down the road on the trip we had chicken feet and chicken blood.
Joel: They fancied dishes up a bit – with the chicken intestines, they cleaned it in a very specific way and drizzled some annatto seed oil on it.
Brian: Then I ordered squid adobo and a dish called pinakbet, a vegetable and bitter melon dish with pork and shrimp. And then we were on our way to dinner – we were constantly eating. After that, we had halo-halo for the first time in the Philippines. It was a regionally specific halo-halo from the Pampanga province made with four ingredients – and normally there are a lot of ingredients.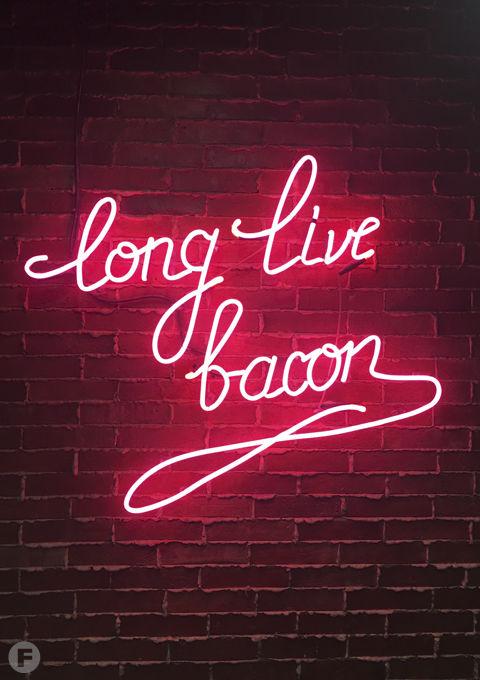 Joel: It was a very different kind of halo-halo made with shaved ice, but instead of sweetened or condensed milk, they used fresh water-buffalo milk – that's one of the trademarks of Pampanga. They make a lot of stuff with fresh water-buffalo milk, which they call kalibaw or carabao. And then the third ingredient in halo-halo was pastillas, which is a sweet milk-candy made out of the carabao milk and sugar. The candy was in the bottom of the halo-halo cup. And then leche flan on top, which is like flan but very dense. The halo-halo had none of what we're used to – sweetened beans, chickpeas, scoops of ice cream on top. It was just super simple and really fresh.
Brian: After that we went to a speakeasy called ABV that was behind an elevator door near a hot-dog stand. It was cool, but apparently it's also a carbon copy of a speakeasy in New York. It's a modern craft cocktail bar – similar to Taste in St. Louis. They offered classic cocktails as well as their riffs on those things. I had a classic Negroni, and then I had a Negroni made with the dalandan liqueur we'd seen at the distillery earlier in the day.
Manila Through Pampanga
Brian: Today Joel's cousin Baby Crespo-Congco and and her husband, Ed, picked us up in Manila and took us to Cabiao, Joel's family's hometown.
Joel: Baby is a very popular nickname in the Philippines; her name is Gloria. I hadn't seen her since I was 9 or 10 years old. Gloria was the mayor of Cabiao for 18 years. Four generations of her family have been mayors: Her father was the mayor, her grandfather was the mayor, and her great-grandfather. She was the first female mayor of Cabiao.
Brian: I didn't realize we'd be stopping to eat at as many places as we did. This was the day when food became too much.
We had breakfast in Manila, which was a mistake. We thought we'd be in the car for four hours, so we went back to Café Via Mare. I got arroz caldo, which is a rice porridge, with chicken. And then I got two other things and Joel got a few things, including pancit palabok…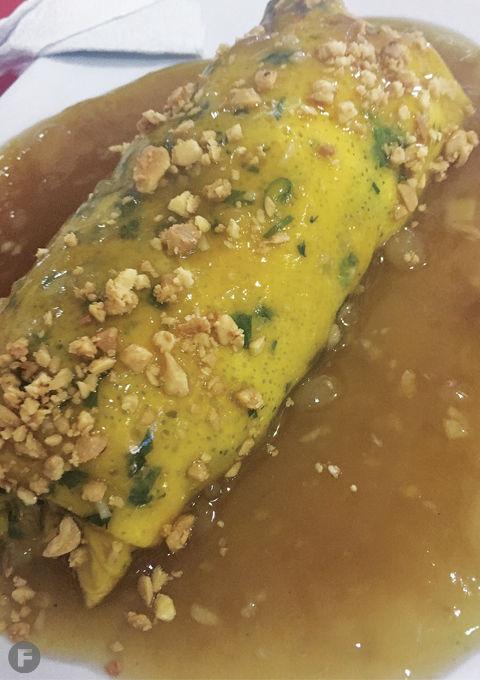 Joel: The first of two pancit palaboks I would eat that day. Pancit is noodles of some type – we do it at the restaurant, and we got this warm ube [purple tuber] looking dessert… hot, with coconut milk, fruit and tapioca balls… heavy and filling, and then the noodles.
Once we were on the way to Cabiao with Baby and Ed, we stopped at a place in St. Nicholas in Pampanga called Kabigting, which is famous for their halo-halo. This was more like the halo-halo I was familiar with, with the red sweet beans, chickpeas, nata de coco, ice cream on top. It was super good and we ate it fast.
Brian: Joel's cousin orders us pancit palabok, which he had already had that day, and puto, which is a steamed rice-flour cake with cheese on it, but big ones – normally they are smaller, but these were like the size of muffins. And then we had a big bowl of pancit lomi, a chicken noodle soup with big fat noodles. I think we had our very first fresh lumpia in the Philippines at that restaurant that day, which was twice the size of the lumpia we serve at our restaurant. It was doused in this brown-sugar sauce.
And we have to eat all of it, because this is the first time I'm meeting Joel's family and Joel hasn't seen them in 30 years. Everybody is buying everything for us; they wouldn't let us pay.
Joel: It was this unassuming small restaurant, but on the walls, there are all these photos of celebrities, archbishops and government officials.
Brian: And they took us there for merienda, which is just a snack. So after all that, we also order sisig, which is a big sizzling platter of pig face with a whole egg fried on top, plus halo-halo.
Cabiao
Brian: When we get to their family's compound, after stopping a few more times, there's a whole table full of food spread out inside the house where Joel's dad grew up.
Joel: More pancit palabok, puto, dinuguan, which is a pork-blood stew… all these little regional cakes and desserts. While we're eating this food, we're talking about dinner. Brian and I are both so full and kind of miserable, and then we get in the car to go to dinner. And then on the way to dinner, we stop at a bake shop called Aying's to eat more pastillas, the water-buffalo milk candy.
At Aying's, they invited us to come into the kitchen and see how the pastillas are made. There are people back there with masks and gloves on, making and packaging the candies by hand. Big piles of what looks like dough, some already broken up into little pieces, rolled in sugar and wrapped in tissue paper. Each box has 30 pastillas and they package 1,000 boxes a day. Each box was about $1.50 pesos, which is like $3. This place has gotten so famous that movie stars will order 300 boxes for their wedding as favors. I had no idea that it was a regional specialty until we got there because it's from my family's [hometown]. We brought four boxes home; one for Brian and three for me.
Brian: That night we went to dinner at a place called Luz Cafe, which is structured kind of like a cafeteria: You can see everything and point to what you want, and then they'll bring it all to your table. We got bopis, which is sautéed pig's lungs with tomatoes, onions, garlic, vinegar, fish sauce and a little salt and pepper, all chopped up; super simple and tasty. We got more dinuguan, the pork's blood stew. We got lechon kawali, which is fried pork belly and then bulalo steak, which is a slice of beef shank braised with the marrow still in the bone covered in a mushroom gravy. So super heavy stuff – I was hurting at the end of that night.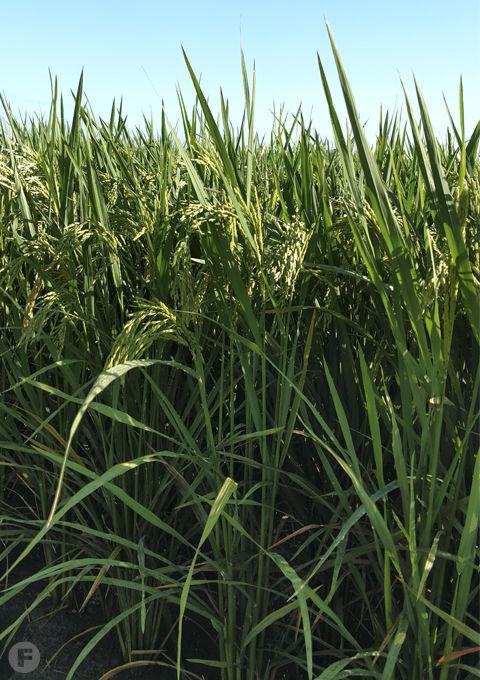 Brian: The next day was spent at Ed and Baby's farm. They have 22 hectares of land [about 54 acres], right by the mountain in Cabiao, and it's all rice paddies. That's their main profession.
Joel: The Nueva Ecija province is the producer of rice for the Philippines; that's what they're famous for. Not for exporting, I believe, but for domestic use. We got to walk in the rice fields and meet the farmers who help tend the land.
Brian: One of the cool things Ed said on the way to their farm was that you can tell when the rice is ready to be harvested because it bows. What he meant was, it leans over because it's heavy. He can look at the fields and know how many weeks or days it will be until the rice can be harvested.
The trees lining the paddies were mango or papaya. They were like oak trees [in St. Louis] – they were everywhere. Fields of calamansi lime trees. We walked on the border of the rice paddies and picked mangoes off trees.
Brian: After the rice fields, I got a cooking lesson from Ed and Baby's cook, Daka. Like a lot of people in the Philippines, Ed and Baby have on-site cooks who live with them or live in houses on their land.
Daka taught me how to cook bopis, the sautéed pig's lungs; dinuguan, the pork's blood stew; pancit luglug; and the sauce for lechon, like a liver sauce, called lechon sarsa. I've cooked three of those four things, but not with any real training. A few things were completely new to me, method-wise.
The sauce for the lechon, for instance – previously I had used a mortar and pestle, and I made it super thick and far less sweet. Her method was to cook the liver in a lot of liquid, and then drain the liver over a sieve so the juice that dripped off the meat could be used to make the liver sauce, not the liver itself – that was folded into a different dish altogether. Whereas, I use the liver in the sauce and more vinegar, and she used much more brown sugar. She thickened it with bread crumbs, which I also didn't do, and so it was completely different. She speaks zero English, so I was just watching and observing what she was doing and how she was making each dish.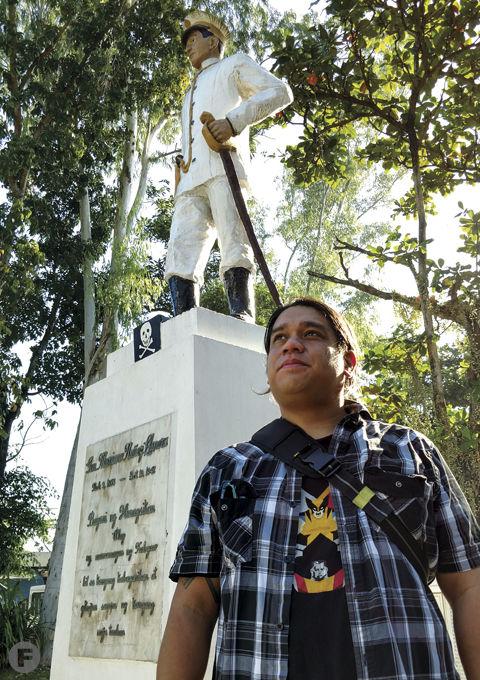 Joel: I had a couple of things on my bucket list. My great grand-uncle on my dad's side, I guess, he was one of the generals in the Philippine Revolution. Growing up, I always heard that we were related to this general. You might have seen the flag inside [Guerrilla Street] with the "K" and the skull that's framed? That's his battalion flag that you'll see in the Philippines a lot. That general, General Mariano Llanera, was cousins with my grandfather. There's a statue of him; he led a famous battle, and when it started, they fought the Spanish army with only 200 people, so there's a statue, and then behind it there's a wall with the names of every single person in the battle. There are like five Crespos, five or six Llaneras – his name and also related to our family – and then my father's mother's maiden name, Tiangco, there were like five or six of them, as well. So my family was heavily involved in this battle.
Brian: Then we went and had lunch, which was another 15 dishes we hadn't tried yet, one of which was called buro, or rice fermented with rotten fish, basically. I was super interested in this dish because I'd never heard of it… one of my goals was to learn more about any kind of fermentation that happens in the Philippines, as I didn't know much about it. I'd never heard of fermented rice as a dish – maybe to make other stuff out of, like soy sauce, but not as its own entrée or side. They colored it with some annatto seed, so it's pink, and it has almost a porridge consistency… very clean, not a funky flavor, like you would expect.
Joel: They served it with these fresh, peppery mustard green leaves, mustasa, that almost have the texture of romaine lettuce.
Brian: So very crisp and fresh to eat, unlike here – mustard greens are very tough and sandy and you have to cook the hell out of them. So you'd take a scoop of the buro and wrap it in a leaf and eat it like a wrap. And then you eat it with fried catfish head meat. A lot of the seafood we ate in Cabiao was freshwater fish because the Pampanga River is nearby.
Manila to Cebu
Brian: Today we traveled back to Manila and then flew to Cebu.
The reason we went to Cebu is that, as long as I've been learning about Filipino food and Joel and I have been business partners, we've heard about lechon specifically from Cebu; it's supposedly the ultimate lechon. One of the things we wanted to do was witness the slaughter and cooking of a suckling pig; and that's exactly what we did. One of Joel's cousin's friends hooked us up with a guy who does this for parties and big events.
I think that every good chef, if they're curious about local food and meat, that includes being part of slaughtering an animal at least once. It connects you to where it comes from.
And seeing it done in a place where health codes are so different – it would never be allowed in St. Louis the way we saw it done. First the pig is in a pen, and then five feet away is where they kill it, and then five feet over from that is where they cook it. The guy who did the entire process had done it so many times, it seemed like muscle memory for him, to watch. And so fast – in 15 minutes, it went from a live pig to on the fire.
Joel: The speed at which he did it… it was almost like he could have done it blindfolded. It definitely made you appreciate where your food comes from. It was profound – you didn't take it for granted – and intense.
Brian: We cook suckling pig on our patio at [Guerrilla Street]. There were lots of big and little differences… I'm excited to try it again at the restaurant. And then, finally, eating it at a renowned lechon restaurant – we didn't get to eat the pig we saw slaughtered and cooked, as it was for a client – it was really good.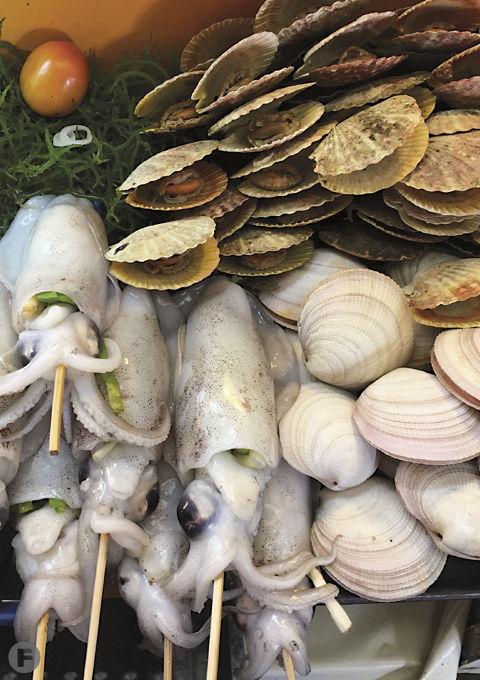 Brian: The next day in Cebu we went to our first major street-vendor area, where there's all kinds of skewered foods. None of it is refrigerated; just giant piles of pork, sausages, chicken intestines, pork intestines, chicken feet, etc., and you point to what you want. You'll see whole squid on a stick stuffed with onions and lemongrass, scallops, longanisa sausage, big chunks of fish on a stick. They grill whole fish, too. And then just off to the side is this long fire pit that's about counter height, ablaze with charcoal. You watch your order cook in front of you. We tried to eat as many things on sticks as we could.
Joel: The cooks have these handheld fans and they're constantly playing with the level of heat while the food cooks.
Brian: The only process they have to keep away insects are fans, but instead of blades, they have a piece of cloth tied to the fan, and they whip around, almost in a spiral motion, and it keeps all the flies away. It works perfectly.
Manila to Tagaytay
Joel: When we got back to Manila, my other cousin Marivic Crespo Castillo and her husband, Bob, took over as our guides for this part of the trip. They also took us to Batangas and Tagaytay.
Brian: We went to Tagaytay because that area is famous for the cattle they raise. On the way, there's a beautiful lake up in the mountains, Lake Taal. At the meat market, there's meat so fresh that muscles were still moving on hooks.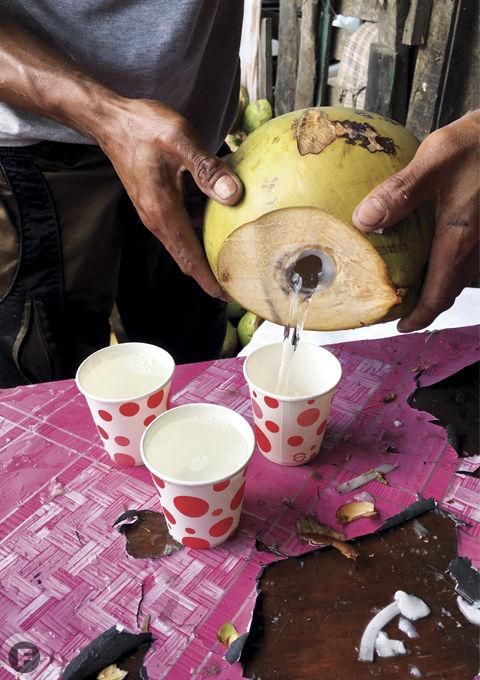 Joel: A guy was walking around the market with this big pole with two big pails hanging from it, and saying "Taho! Taho!" like someone selling beer at a baseball stadium in the U.S. Taho is a soft tofu and tapioca street-food dessert; one of his buckets was filled with the creamy tofu and the other was filled with all the toppings and ingredients, and he mixes it all together and hands you a cup.
And then at this market, I experienced another bucket-list moment. Growing up, my mom would always say that her favorite thing in the Philippines was going to a stand and eating the young coconut meat right out of the shell. I'd heard this story time and time again, and when it actually happened, I knew I was experiencing my mom's favorite thing. I was totally connected; now I understand why she loves it.
Back to Manila
Joel: We spent our last three days back in Manila. We had one of my favorite meals in the Philippines with my cousin Marivic and Bob: They took us to a restaurant called Kanin Club, where we ate crispy dinuguan (a version of the pig-blood stew with crispy pork skin added), aligue rice made with crab fat, tinapa rice made with bits of smoked fish and seafood kare kare. Another night we had dinner at Sharwin Tee's house. We were joined by Natalia, her mother and father and Ian Carandang, owner of Sebastian's Cold Comfort, the ice cream place we went to when we first got to the Philippines. So everything came full circle. During dinner, we discussed why we make Filipino food at Guerrilla Street, and we were urged to try Toyo Eatery.
Brian: Our first meal on the trip was fast food, and I thought going to Toyo was a great way to end the trip, because it kind of represents the future of Filipino food. It was cool to see the chef's perspective – what he thinks of as elevated Filipino food – and have a tasting menu. It was 10 courses; the first course and the ninth course were the most memorable. The first course was a tomato and jackfruit macaron; the shells were tomato and the filling was jackfruit, and it was savory, almost tart. The ninth course was the first of two desserts: A flourless chocolate cake with sea salt and chocolate shards sitting on a sour fermented calamansi lime cream.
Joel: It was nice that it felt like we weren't so far off from that – our food at Guerrilla makes sense in the context of this place. We run the spectrum with Brian's background – especially with our pop ups and brunches. You can see Brian's fine-dining background in the way he executes some things at the restaurant. The trip was inspiring; we discovered dishes we'd never heard of, and overall, we felt a stronger connection to the source of our cuisine.
Last month, Guerrilla Street Food launched a pop-up series, Guerrilla Alliance, aimed at collaborating with Filipino chefs in St. Louis and across the globe. The first dinner was held on March 5 and featured a meal developed with Malou Perez-Nievera. Crespo and Hardesty have booked dates with chefs from Detroit, Los Angeles and the Philippines, as well as Marie-Anne Velasco, executive chef at the upcoming Nudo House in Creve Coeur, Missouri.