On the north side of St. Louis, a brand-new kitchen with state-of-the-art equipment teems with activity. Chefs from beloved restaurants – the executive chef of Brasserie by Niche, the pastry chef of Pastaria and the executive chef of Taste, to name a few – work together to create tasty meals. But this isn't a new restaurant from Niche Food Group co-owner and James Beard Award winner Gerard Craft – it's the North Sarah Food Hub, a nonprofit working to feed children, families and other at-risk groups who are struggling through the COVID-19 crisis.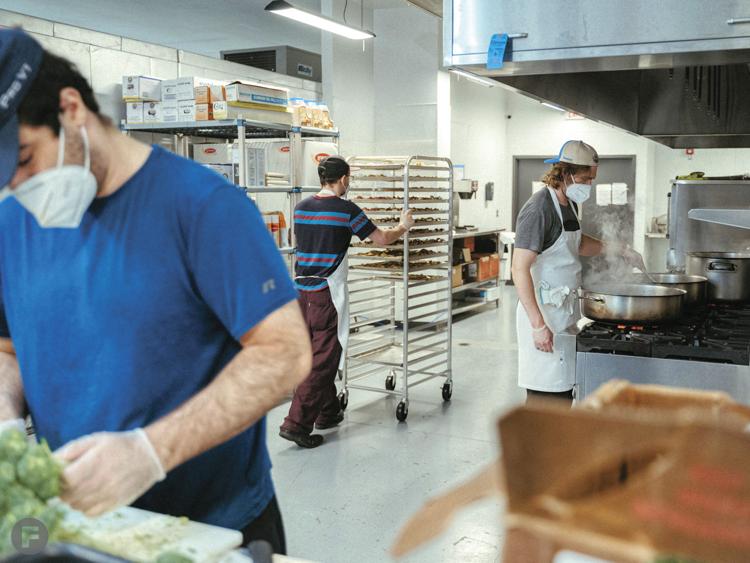 Peering through the windows of North Sarah Food Hub, you can't really tell what's inside, but hidden behind the foyer – which will one day serve as a community gathering space – is where the magic happens. The kitchen is filled with commercial-sized tilt skillets and tilt kettles, four ovens, multiple ranges and a massive walk-in fridge and freezer. It was originally designed for culinary education: a place where the next generation of growers, producers and chefs can get their careers off the ground and begin to make their mark on St. Louis' food system. During the second week of March, the food hub passed all its health inspections, gearing up for a busy summer hosting chefs-in-training cranking out to-go meals and young farmers packaging locally grown produce alike.
Then COVID-19 hit Missouri.
Almost immediately, North Sarah Food Hub was called upon for a task that wasn't part of the initial plan: making meals for St. Louis Public School students and their families. Many students rely on the free breakfast and lunch offered at school – according to the City of St. Louis, 36.8 percent of children in the area live in poverty – and when the district shut down in response to the pandemic, providing access to those meals became a major challenge. In order to keep kids fed, the district decided to offer meal pickups across the city – but under the unique circumstances, they needed help making the food.
That's where Gibron Jones comes in. A St. Louis native, Jones has quite the résumé: A graduate of Kansas State University's architecture program, he co-founded DDI Studios (a multimedia business offering website design and music video directing services), worked on a pumpkin farm in Austria, produced his own kurbiskernol (pumpkin seed oil) and, shortly thereafter, returned to his roots and started growing produce on one of St. Louis' first rooftop gardens. Throughout his childhood, Jones' family grew all of their own fruits and vegetables on a 20,000-square-foot urban farm next to their four-family apartment building in the Walnut Park neighborhood. With a revived passion for growing, Jones eventually created HOSCO (Holistic Organic Sustainable Cooperative Organization). For years, the nonprofit umbrella company has been a resource for culinary education and food aggregation, providing its members with a complete farming and cooking skill set that enables them to work in a variety of food-related fields. North Sarah Food Hub is another way in which Jones has realized his goal of providing food entrepreneurs with a place to launch their businesses and make a living in the local food system.
Also a product of St. Louis Public Schools, Jones has worked with the district in the past to teach students about food and farming, and he quickly stepped up to the plate when it needed assistance. "For me, it was just something that I had an obligation, a duty, to do," says Jones.
Now, instead of the food hub buzzing with culinary hopefuls and entrepreneurs, extra space is taken up by pallets of shelf-stable food. The only people allowed in the area are Jones, director of projects Kelli Williams, cooks preparing meals and the logistics team, which coordinates with other organizations and seeks donations to keep the ball rolling.
Craft has been on North Sarah Food Hub's board of directors since its inception. Having chosen to close all of his Niche Food Group restaurants, with the exception of Cinder House inside the Four Seasons Hotel St. Louis (which is now temporarily closed), ahead of the order for Missouri restaurants to temporarily end dine-in services (Pastaria in Clayton, Missouri, and Brasserie by Niche have since reopened in limited capacity), he invited Niche Food Group chefs who were still on the payroll to donate their time to the food hub's efforts. Approximately two dozen workers – from the front of house to the back of house to chefs of all stripes – showed up to do the work, including Meaghan Coltrain, Alex Feldmeier, Brian Moxey and Michael Petres. Even two employees who had to self-isolate found a way to help, researching safe handling practices to create the most effective protocols to keep everyone in the kitchen protected. In the early days of the operation, Lauren DuBro, assistant general manager at Pastaria in Clayton, and Zane Dearien, executive chef of Pastaria in Nashville, helped run the kitchen. Although they all worked on a volunteer basis for the first month, the chefs now earn a paycheck thanks to donations and grants.
"Many people just wanted to be involved," says Craft. "During times like this, I think one of the few things that makes all of us feel good is being able to do something good."
Jones estimates that in the first two weeks the team made approximately 6,200 meals for those in need.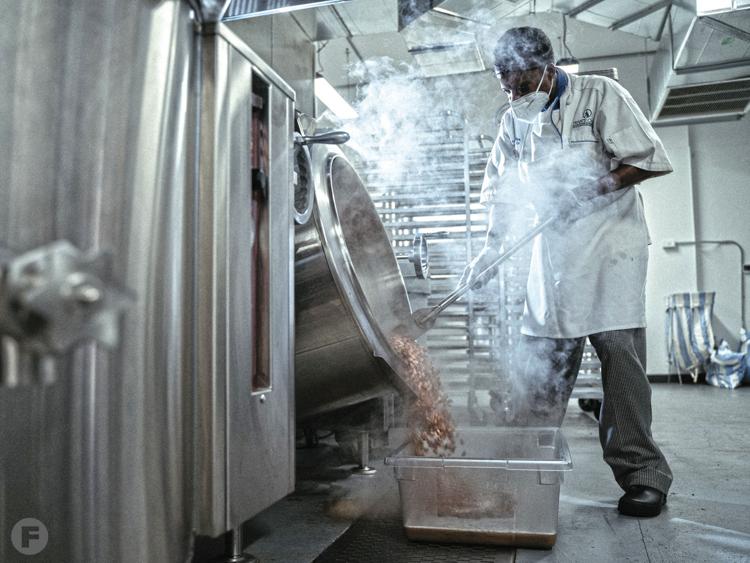 In early March, if you had asked Matt Wynn to tell you about the most rewarding moment of his career, he would have answered easily: when St. Louis Post-Dispatch restaurant critic Ian Froeb included Taste in his annual STL 100 list of the best restaurants in St. Louis. Wynn was named executive chef at Taste in November 2018, and after more than a year at the helm, Froeb wrote a glowing recommendation of Wynn's cooking. "I remember sitting at home, drinking a glass of whiskey and thinking, 'Yes. I finally did it,'" says Wynn. "And then this happened."
The STL 100 list published on March 8. A little more than a week later, Craft announced the temporary closure of his restaurants, including Taste. "I was just like everyone else, very lost and confused," continues Wynn. "I felt like I was fighting a battle, and I just lost. It was very frustrating."
Wynn has found solace in leading the kitchen at North Sarah Food Hub alongside private chef Marca Nicole Rottnek, who was already helping the food hub before the COVID-19 crisis – her personal mission is to heal communities through food. As the chef of a restaurant that specializes in carefully executed small plates, walking into a commercial kitchen to make meals en masse during a global pandemic was a jarring transition for Wynn. "It was a surreal scenario to walk into," he says. At the kitchen, he was greeted with a hello and promptly handed a mask, gloves and a thermometer. (Anyone who has a temperature of 99°F or more has to wait 10 to 15 minutes and then have their temperature taken again. If it remains above 99°F, they can't be in the kitchen that day.) "It felt like my first day working at a hospital or something," adds Wynn.
Although he's back in a kitchen, Wynn's typical day looks much different than what it looked like at Taste. For one thing, when Wynn is meal planning at the food hub, he has to consider making hundreds – or even thousands – of meals at a time. And getting the portions right is tricky. One time Wynn needed to make 1,000 servings of white turkey chili; he was convinced he had made enough, but it only covered two-thirds of what he needed.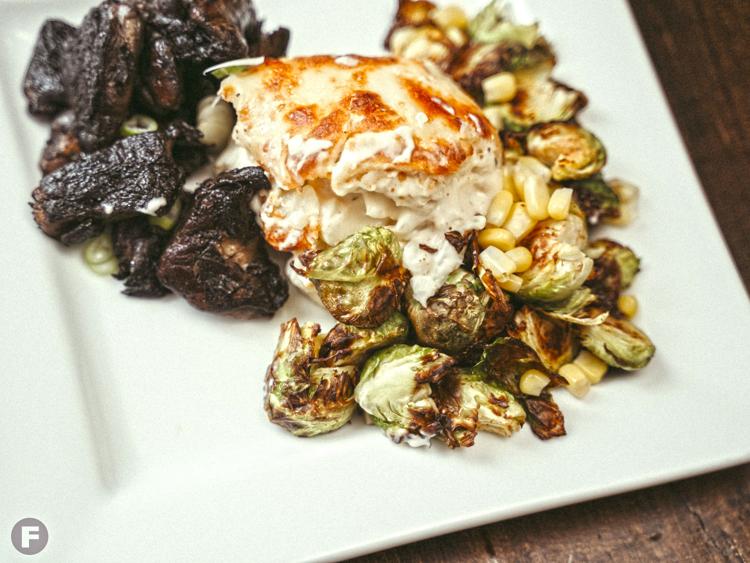 Every chef at the food hub has to get creative with the ingredients they're given – which are based on donations and donation-purchased goods from Restaurant Depot – creating what Wynn calls "MacGyver moments." "Even though I'm not used to cooking nearly the amount I'm cooking right now," he says, "I still know how to use ingredients and solve problems right off the cuff" – although he admits he's doing a lot more math than usual.
Meals from the food hub include antipasto salad (a mixed green salad with artichokes and kalamata olives), wild mushrooms over creamy polenta, coconut-roasted broccoli and, one of Jones' favorite dishes that he's tried, coconut-truffle red beans and rice. "The kids and the families [we're serving] are eating a lot better than we normally eat," he jokes.
Jones estimates that in April and May, the kitchen was producing between 3,300 and 3,500 meals per week, but he predicts that this month it will produce as many as 5,000 meals per week. Currently, the North Sarah Food Hub is distributing those meals to St. Louis Public Schools, The Salvation Army, St. Louis Housing Authority, Urban Strategies and other organizations to get food into the hands of those who need it most.
Much of the time, the menus for these organizations are flexible, so the kitchen can make substitutions. If Wynn has leftover beef from making pot roast for one organization, he can repurpose it, adding broccoli and transforming it into a different dish for another. For a few, though, chefs have to color inside the lines: If they are told they will receive 200 servings of pot roast, they expect 200 servings of pot roast.
After the meals are cooked, chefs carefully portion them into to-go containers, which are delivered through a variety of distribution schemes: Some meals are delivered directly to individuals in the community, some are picked up from the food hub and many more are delivered to the respective organizations, who then distribute them to the communities they serve. Jones and his team keep track of how many meals are promised to which organizations on which days via a Google spreadsheet, so every member of the team is kept abreast of the situation.
Although Wynn enjoys the work he's doing, he's eager to get back into his own kitchen. However, he's concerned. Will the restaurant he worked so hard to shape look anything like it did before the pandemic?
"Taste [is] an intimate, classic cocktail bar – that's the heart and soul of the establishment, even more so than what I'm doing back there [in the kitchen]," he says. "If the heart's not able to beat, what's the rest of the body gonna do? It's stuff like that that I worry about."
Additionally, Wynn says North Sarah Food Hub has given him a new perspective. "It's a game changer, for sure, and it definitely makes you think twice about where the industry is really moving and [about] my previous goals. I'm like, 'Was everything I was trying to accomplish, was that maybe a little selfish?'"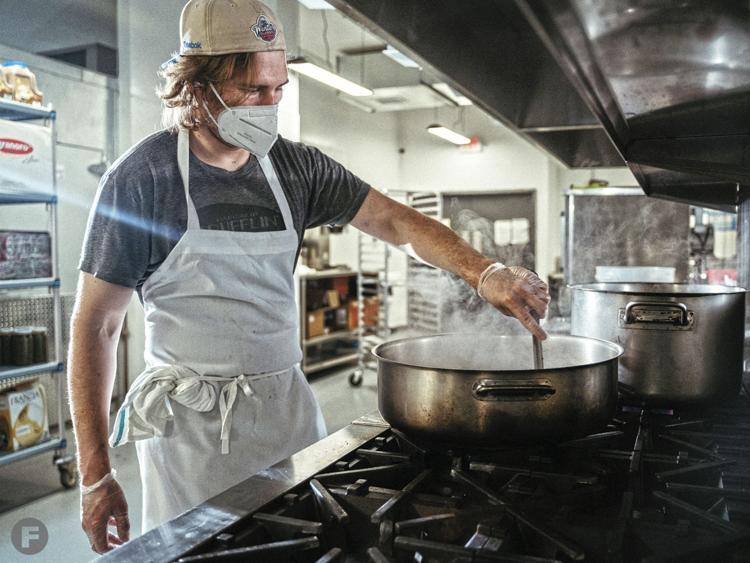 Hopefully things will begin to normalize soon, but Jones stresses that this won't eliminate hunger – there will always be people in need of meals. He hopes that the COVID-19 pandemic will teach local organizations such as St. Louis Area Foodbank, Operation Food Search and The Salvation Army to collaborate, so that more and more people can benefit from their help. "We really need to have conversations about how, collectively, we can serve the need of the city," says Jones. "The only way for us to actually be effective is for everybody to be working together. [Right now], it feels like organizations [don't] want to do that until the last minute."
As for North Sarah Food Hub, its original mission remains the same. "I really want North Sarah Food Hub to be a platform for people that are looking to create their own local food business," says Jones. "When you give people the skills that they need, I think that's very powerful." That said, producing meals has – somewhat unexpectedly – also become a part of its long-term plan, which goes back to the driving force in everything Jones does: helping others. His family used to give away the surplus of fruits and vegetables from their aforementioned urban farm to their neighbors rather than selling it, and Jones says that simple act of kindness has always been in the back of his mind. In mid- to late June, North Sarah will slowly introduce its newest initiative: a small cooperative grocery store offering staple items and fresh-cut vegetables sourced from local farmers whenever possible, which Jones hopes will help improve the resiliency of our food system. To make meal prep easier for seniors, housebound residents and other people busy at home who still want to enjoy a fresh, healthy meal, Jones is working closely with Wynn and the other Niche chefs to create recipe cards with instructions on how to prepare the foods they offer.
While he doesn't expect the food hub's capacity to be as high in the future as it has been during the pandemic, Jones promises it will still produce meals for the community. He thinks maybe culinary students can make the meals as part of their training or he can sell meals at a low price point to help fund the operation. "How does it work? What does it look like? I don't have all the answers now," says Jones, but he's optimistic. He knows that the St. Louis community has the ability to thrive.