Expecting a smaller crowd for Thanksgiving this year? Skip the enormous turkey and serve something unexpected: Moulard duck breast.
Moulard duck – not to be confused with Mallard duck – has deep color and flavor that's akin to steak, whereas the duck you would typically find on menus across the U.S. is Pekin duck, which is more similar to chicken. "The reason we use those two comparisons – beef and chicken – is because Moulard duck has the same coloring as beef, and it produces larger breasts, which you cook medium-rare like you would steak. Pekin duck has lighter colored meat, it's smaller, and it doesn't have the same hearty, rich flavor that the Moulard delivers," says Josh Reznick, who launched DUCKCHAR, the St. Louis-based mail-order duck company, with his brother, Davi, in 2016.
Davi fell in love with duck in 2010, when he was teaching English as a second language in Bordeaux, France – "the mecca of duck cuisine," he says. "I was eating duck all the time there, especially Moulard duck breast, which is a staple on French menus – kind of like rib eye is on menus in the U.S." Between homemade meals, dinners at duck-only farm-to-table restaurants (where literally every dish was made of duck) and even late-night gatherings at friends' apartments featuring regional wine and duck charcuterie, he was hooked.
Back in the U.S., craving the Moulard duck's succulent flavors and textures, Davi soon realized that the breed wasn't readily available to the average consumer; in fact, most Americans didn't even know what it was. So, while getting his Master of Business Administration from Washington University in St. Louis, he and Josh founded DUCKCHAR to fill the void.
As they began research for the business, they discovered that only a handful of farms in North America raise Moulard ducks, so they went back to the source. "I contacted like 50 Moulard duck farmers in France, and all of them ignored me except one," Davi says with a laugh. "So, over Thanksgiving during my second year of business school, I flew [there] and spent a day with him, learning about his farm." Following that farmer through his daily routine, Davi learned about duck farming from the perspective of a family-owned and -operated farm as well as the economics of the duck industry. He also established important contacts – "an invaluable resource that we later used for building out our business," he says.
This straightforward recipe showcases the assertive flavor and succulent texture of Moulard duck breast.
From that experience, Davi knew what to look for when connecting with Moulard duck farms closer to home, and he and Josh started building relationships with two – one in New York and one in French Canada – which raise and process the Moulard ducks and ship the meat to St. Louis where DUCKCHAR prepares it, packages it and ships it directly to customers. As part of its green initiative, DUCKCHAR uses cold storage liners made from recycled plastic water bottles, and the liner, kraft paper and cardboard box that arrive on your doorstep are all 100 percent recyclable.
To test the waters and gauge the response from customers outside of their friends and family, the brothers decided to sell their Moulard duck breasts at the Kirkwood Farmers' Market. "We showed up with an LLC, a logo, a cooler and [a product] that people were totally unfamiliar with," says Josh, and for a month, they sold out every week. "We followed up with all of our customers, and everyone loved it," he continues. "So we were like, 'Alright, I think we're on to something.' That's when we really went for it and ramped things up."
Over the next year, Josh and Davi focused on finding a package designer, getting their labels approved by the USDA, building their website and securing their e-commerce supply chain. By the summer of 2017, they had a packaged product that they could get into people's hands – one that they felt had the potential to make waves in the meat-loving world.
DUCKCHAR's flagship products are the Moulard duck breast, which is sold raw or smoked and cured – think charcuterie – and duck fat, and it's added some new items such as prosciutto, pastrami and bacon, which are all made of Moulard duck breast, as well as Moulard duck legs. "The best way to unlock the flavor and texture of the duck legs is through slow cooking – you can't cook them quickly like the duck breasts," says Davi. "When you braise or smoke duck legs, you get a fall-away-from-the-bone tenderness. Cooked, the meat has a deep brown color to it and the texture is very beefy, but the flavor is all duck – which I think is even richer than what you would get with braised beef."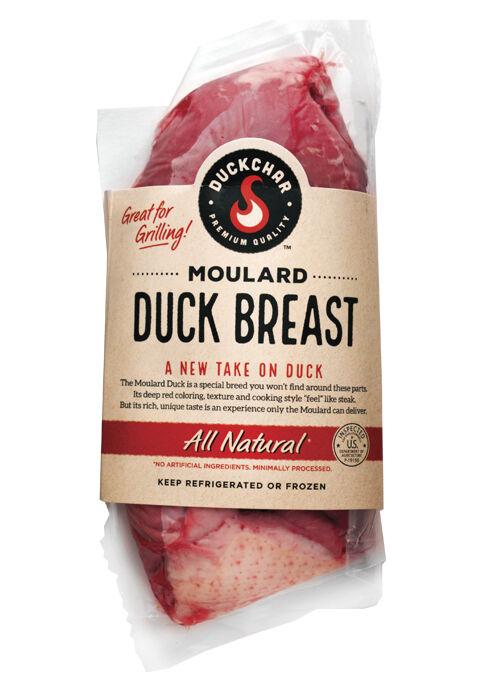 In the beginning, DUCKCHAR sold only Moulard duck breast because it was impossible to predict customer demand. "The duck fat was the second product we offered, and it came about because customers who were buying our duck breast wanted more duck fat," says Davi.
"When the fat cooks off of the duck, if you save that fat, you can use it for roasting potatoes or whatever you'd like to do with it," adds Josh. "So there was already that appetite for the duck fat, and customers were excited because they were no longer limited by whatever duck fat was left over from cooking. It's nice when your products can build off of each other."
Something else the brothers didn't expect when they started the business was how welcoming the barbecue community would be. "We go to barbecue competitions, where we're able to introduce [Moulard duck breast] to people who might have never encountered it otherwise," says Josh, "and chefs such as Mike Johnson of Sugarfire [Smoke House and Hi-Pointe Drive-In] love it."
"At a place like Sugarfire, [Johnson] really knows how to showcase the product," says Davi, "so when people try it, they're like, 'Wow, I didn't even know that this is a meat I would enjoy.' It's cool because that gives the customer the perfect first touch of the product."
Before turning to barbecue and burgers, Johnson was a fine-dining chef. He worked in France for a few years, where he frequently – and happily – cooked with Moulard duck. "I'm a huge fan," he says. "It's the most beautiful duck breast you've ever seen. It's not like a regular American duck breast; it's a big, thick piece of meat, and rare to medium-rare is the only way to serve it, which sounds weird for poultry, but we just gotta get over that. It's like eating a steak without all the guilt. Seriously, it's good for you – less calories, way more heart-healthy – and when I say it tastes like a steak, I mean it tastes like a steak. You'd think you were eating a steak if you didn't know the difference." At his restaurants, Johnson sometimes smokes the Moulard duck breast: "Hot smoke or cold smoke – it's very versatile," he says. "And we salt-cure the [Moulard duck] legs and then slow cook them in their own fat until they fall apart – delicious."
Davi and Josh have also had a lot of luck connecting with premium grill companies such as Big Green Egg and Traeger. They've attended many Big Green Egg festivals – which are put on by customers and retailers, not the company – where they do cooking demonstrations, and they've even created Big Green Egg-specific recipes for their website, which allow them to engage with Big Green Egg customers. Traeger sent the Reznicks one of its smokers; they film themselves cooking with it, and the company shares the videos on its social media pages. "Connecting with the Traeger and Big Green Egg communities allows us to plug into this huge network of customers who love grilling, enjoy cooking premium meats and, more importantly, are excited about the idea of sharing a new product like DUCKCHAR with their friends and family," says Josh.
Cooking these potatoes in duck fat makes them extra crispy on the outside and smooth and rich on the inside.
As much praise as DUCKCHAR products have received from amateur cooks and professional chefs alike, many consumers still hesitate to add duck to their home-cooking repertoire. "The biggest misconception – at least what we've found – is that it's really difficult to cook," says Davi. "People's first interaction with duck is usually in a restaurant, but if you ask them if they've ever bought it to make at home, most people will say no."
Davi and Josh want to stress that duck is super easy to cook, especially Moulard duck breast. With its robust natural flavor, all you have to do is season it with salt and pepper and pan-sear it like steak; for barbecue fans, it's also incredible smoked. "People associate duck with French cooking – gourmet, inaccessible – so a lot of our recipes [for how to cook duck] are very basic to shed that image," says Josh. On DUCKCHAR's website, there are also recipes for smoked duck sliders, duck breast quesadillas, seared duck breast ramen and even a duck bacon breakfast sandwich.
The other issue that can keep duck off the menu is that some people think it might be fatty or gamey. "Some of that has to do with people being served wild game," explains Davi.
"We sell Moulard duck, and wild duck is Mallard duck – they sound very similar," continues Josh. "So some people get confused right off the bat." Don't let that happen to you.
DUCKCHAR products are available in select grocery stores in St. Louis – Baumann's Fine Meats on Manchester Road, for example, carries everything DUCKCHAR sells – but the majority of the company's business is done online. It ships anywhere in the contiguous U.S., and Josh says that being based in St. Louis – in the middle of the country – allows them to deliver almost any order within a week.
All it takes is one bite for people to fall in love with Moulard duck – something that's reflected in DUCKCHAR's increasing sales. The company surpassed its 2019 sales very early in 2020, which Josh ascribes to the COVID-19 pandemic and the fact that people are eating at home more, in addition to the exquisite quality of the meat. "I always say, 'No new taste buds or cooking skills required,'" says Davi. "People don't have to change their eating habits or preferences to enjoy it, so we're pretty confident that after the first bite, people will be happy with our products."
DUCKCHAR, duckchar.com