Sportsman's Park in Ladue, Missouri, is a classic neighborhood haunt in spite of its tony zip code. Originally opened in 1974 as Jackie's Place by NFL Hall of Famer (and St. Louis Cardinal football player) Jackie Smith, along with Norman Probstein, it was renamed Sportsman's Park in 1980 and today is run by Probstein's son, Jim. On any given afternoon, it's buzzy with activity; regulars, families and sports fans alike load up on favorites such as toasted ravioli and the Sportsman's burger. Todd Boyman, on the other hand, orders Hungry Planet's MATCH burger with lettuce, tomato, onion and avocado, barbecue sauce on the side and the famous house curly fries.
"MATCH [Meats] was kind of our early stealth brand – used during our testing phase," says Todd. The plant-based meat company that he began developing in 2004 with his sister, Jody Boyman, will officially relaunch this quarter as Hungry Planet. "If you really want to make a difference, you've got to give people what they love to eat, but figure out how to do it from plants," continues Todd. That was the siblings' vision almost two decades ago: to find creative, sustainable ways to feed the rapidly growing population, while simultaneously producing products from plant-based ingredients that match traditional meat textures, flavors and applications. And not much has changed.
Jody, who currently heads up sales and marketing from the West Coast, went plant-based around age 12 because of her love for animals – she learned the health and environmental benefits much later. "I would describe myself as kind of a militant [vegan] when I was younger," says Jody with a laugh. "Now I'm about all-comers – I'm going to build a bigger tent for everybody. I'm all for flexitarians – leaning plant-based once a month, once a week, once a day."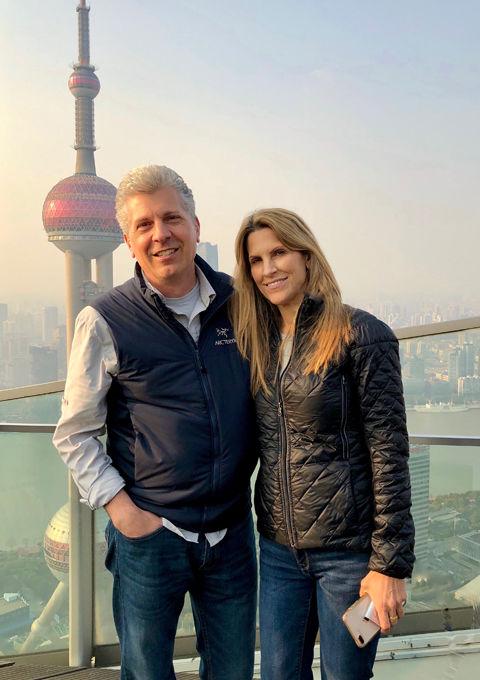 In 2018, the New York Post reported that "one in three Americans now consider themselves a 'flexitarian.'" That's a huge wave of people who want to eat differently, and Hungry Planet is along for the ride.
Todd, a staunch omnivore for years before committing to an entirely plant-based diet, understands how important it is to develop foods that meet the demanding tastes of meat-lovers and culinary professionals in addition to appealing to vegans and vegetarians who choose to exclude meat from their diet for environmental and animal welfare-related reasons. He says the key to Hungry Planet is that it offers a one-to-one swap in recipes that use meat; its plant-based meat alternatives look, feel, behave and taste like their animal-based counterparts. Todd emphasizes how important it is that Hungry Planet's products be chef-developed and -approved.
"Take our beef [for example]," says Jody. "It has no saturated fat like conventional meat, [and it] has been crafted by chefs for chefs, to use as a one-to-one substitution in any recipe, any cuisine, anywhere in the world." Besides beef, Hungry Planet also offers plant-based chicken, pork, crab, Italian sausage and chorizo.
To make plant-based proteins that look and taste like the real deal, the Hungry Planet team, with the support of scientists, chemists and chefs, conducted years of research and development before they finalized their formula. More than 15 years ago, they entered the vegetarian space in St. Louis as MATCH Meats. Through food service channels, MATCH slowly infiltrated the menus of local restaurants – Todd explains that once they got owners and chefs to try their products, they were able to convince more and more to put them in their dishes.
According to Forbes, plant-based retail is a $4.63 billion industry in the U.S. alone. The Impossible Burger is available at the biggest fast-food chains in the country, and this year, the Golden Globes served an entirely plant-based meal at its awards ceremony. Consumers are leading a prominent shift in culinary norms, and large-scale meat producers have taken notice. In fact, Richard Berman, notorious lobbyist of Thank You For Smoking fame and executive director of the Center for Consumer Freedom, has been hired to argue that plant-based meat alternatives are highly processed and beef is better for you.
Todd isn't worried. "The louder the detractors, the stronger the indication you're doing something right," he says.
Environmental impact is also a factor in the expansion of plant-based eating. "To make a conventional patty, it takes 400 to 600 gallons of water," says Todd. "When you look at the overall footprint, [our burgers] require about 90 percent less land, about 95 percent less water and [the production process] emits about 95 percent less carbon into the atmosphere. Even if people don't care about carbon emissions, objectively speaking, wouldn't it be better for the planet and the population if we could use 90 percent less land?"
Of course, none of this matters if people don't actually want to eat Hungry Planet "meats."

"We set out to be a global brand right from the beginning," says Jody, and she and Todd knew that in order to truly excite and delight consumers in an international market they had to go beyond "garden burgers," and even a beef facsimile. The siblings grew up in St. Louis, but they have both lived and worked in many places, witnessing firsthand the worldwide demand for a more diverse selection of plant-based products.
"Beef is not the most consumed meat on the planet – pork is," says Todd. "After pork, it's chicken and then beef. While each has a different environmental impact and footprint … , if you want to solve this thing globally, you have to look at all the different types of animal proteins. That was the vision that we had from day one. It was beef, chicken, pork, crab. I mean, the problems that our oceans are facing are just as existential as those on [land]."
In an effort to give people even more options – and therefore increase the likelihood that they will choose to eat plant-based that much more often – Todd and Jody decided to expand their product line to include Italian sausage and chorizo. Chefs and home cooks alike can use them like they normally would: for meatballs, stuffed peppers, pizza, pasta – you name it. Hungry Planet is currently developing plant-based turkey, lamb, duck, tuna and breakfast sausage as well.
Here at home, Mission Taco Joint uses Hungry Planet's plant-based beef in both its soft taco and Cali Burrito. Jason Tilford, co-owner of the beloved spot for street tacos – which now has five locations in the St. Louis area and two in the Kansas City area – started using the Boymans' product in 2005 at his now-shuttered Clayton, Missouri, restaurant Barrister's. "I used it in patty form for a veggie burger," explains Tilford. "We had experimented with different options but landed on Hungry Planet because of its superior quality. We also like to support local when possible, and this was a great opportunity. I remember how much people loved that burger – and sometimes sent it back because they thought it was meat.
"I've always offered vegetarian and plant-based options on my menus," he continues. "As a chef, I think it's more important than a current 'trend,' and if this wave fades away, I will still be serving them. When done right, it's a healthier option than meat, and it's a fun challenge to get creative with plant-based ingredients."
In addition to Mission Taco Joint, St. Louis' Utah Station, which specializes in vegan riffs on junk food, and Don Emiliano's in O'Fallon, Missouri, serve Hungry Planet products.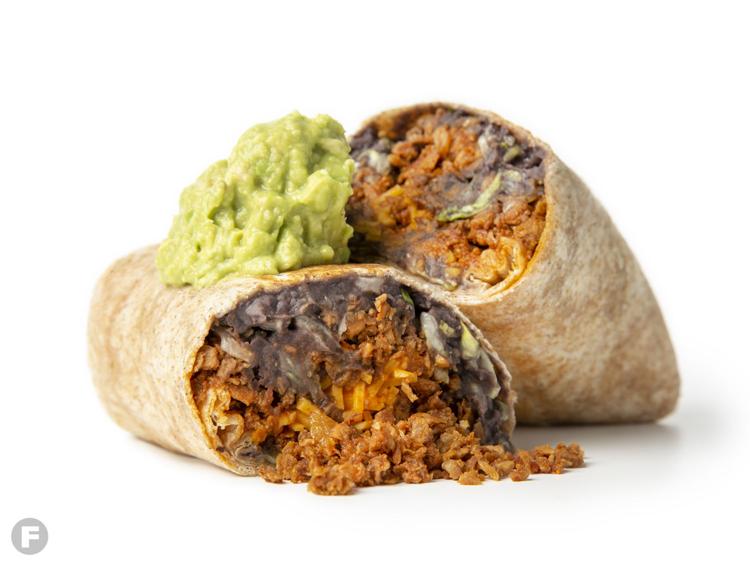 "I love it when we get into steakhouses," says Jody. "That's where I think we should be. I can't tell you how sick I am of having to order a baked potato and go to the salad bar in places like that. There's nothing else to eat." Now, in select steakhouses, she can have a Hungry Planet burger and fries and fit right in. When she's there, she also tries to talk a couple people into trying it: "They're like, damn, that's so good," she says with a smile.
Hungry Planet's retail line for home cooks is available under the MATCH Meats moniker at Dierbergs Markets and occasionally Local Harvest Grocery in the St. Louis area, and starting this month, its new grab-and-go meals will also be available in the deli section of Dierbergs Markets. But Todd and Jody had one of their biggest wins farther afield: For the past year, Hungry Planet plant-based proteins have been served throughout the Santa Barbara Unified School District. With the help of the district's food director, Nancy Weiss, Hungry Planet products made it into half of the approximately two million meals served during the school year. And though schoolchildren are notoriously picky, many of them didn't realize, or just didn't care, that they weren't eating real meat.
"Whether it's at a steakhouse or in a public school," says Todd, "if it's good food, it's just good food."
Illustrations by Frank Norton
Hungry Planet, hungryplanet.us