One by one, Nick Bognar sets six small ceramic bowls of chawanmushi on the counter, and an intoxicating aroma wafts over the room. The savory steamed egg custard, which blends rich jidori eggs imported from Japan with concentrated prawn and crab broth, is drizzled with sesame oil, dusted with peppery togarashi powder and topped with tiny pearls of marinated salmon roe.
As the intimate group of diners seated at tonight's sold-out omakase dinner begin dipping their spoons into the silky custard – the first of 20 courses tonight – he asks tentatively, "What do you think?" The diners nod and murmur their approval, and, with a smile, he quips, "Good, 'cause if you don't like it we're gonna be screwed for the rest of the night."
A few courses later, a piece of kinmedai, or golden eye snapper, arrives. Nick explains its prestige in Japan, describing it as having achieved 007-like status. "It's like the Pierce Brosnan of snapper," he jokes, quickly adding, "We actually decided to get rid of that joke, but I couldn't resist." Later, as sommelier and general manager Zac Adcox pours a glass of crisp Sauvignon Blanc from New Zealand, he asks what the group thinks of his playlist – right now, Gwen Stefani's "Hollaback Girl" is pumping through the speakers.
Indo proves that you can make serious food without taking yourself too seriously. Despite the luxury ingredients – from fatty nodoguro to foie gras to A5 Wagyu beef straight from Kagoshima – and the accompanying price tag, dining here is a remarkably casual, comfortable affair. There are no white linens or pressed chef coats, and you certainly won't have to worry about which fork to use – Nick suggests that you eat that piece of nigiri with your hands anyway. As he carefully slices fish, grates lime zest, shapes rice and folds seaweed wrappers behind the counter, he's just as likely to bend your ear about his Thai grandma's recipe for laab as he is to extol the virtues of Red Robin's onion rings.
This is just another Tuesday night at Indo – one of the most exciting restaurants to open in St. Louis in years. And at the heart of the celebrated restaurant is the 28-year-old Nick Bognar, who concedes that the restaurant's hard-to-pinpoint concept might be just a little bit selfish: "It's just what I want to cook," he says.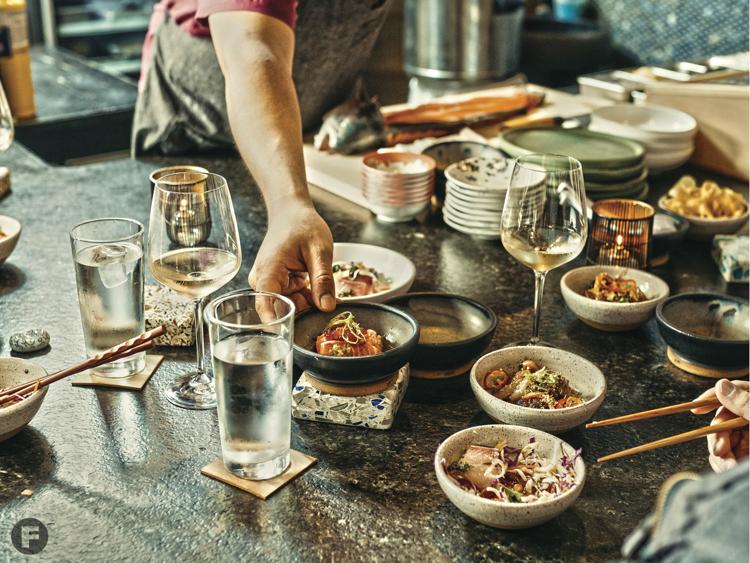 Like many chefs and restaurant owners, Ann Bognar never wanted her only son, Nick, to follow her path in the industry. But Ann, who opened her first restaurant, Nippon Tei, in a humble shopping mall plaza in Ballwin, Missouri, in 2001, says the more she tried to pull Nick away from the kitchen, the more he gravitated toward cooking. She remembers that, from a young age, he always loved food – no matter how spicy or unusual – and credits much of that to her own mother, lovingly known as Yai.
For years, Nick's family has had a long-running joke: If you wanted any Thai dish, his grandmother could make it – but you'd have to give her two days to do so. The first day would be spent at the market shopping for ingredients and prepping them, while the second would be spent preparing the dish – in many cases, her famous khao soi, a fragrant curry noodle soup from northern Thailand. In fact, Nick says he has a hard time remembering a time spent with his grandmother when she wasn't cooking. She never used recipes, though, instead relying on her own palate to know when a dish was finished.
Yai grew up in The Grand Palace, the longtime official residence of the kings of Siam, in Bangkok, Thailand. A distant relative of King Rama IV, she was born into the lower class and, during her schooling in the palace, was taught to cook and sew to prepare herself for marriage. After falling in love with one of her instructors, the two eloped to Chiang Mai in the North. "She had this cross between what Thai people would call royal Thai food, like Bangkok, basically, and then also a lot of influence from the Chiang Mai region," says Nick. "She cooked both really well and because of that, it kind of just trickled down to me and these flavors being a part of my life for a long time."
When Nick was born, Yai came to live with the family and helped care for the baby for about five years before returning home to Thailand. She wouldn't allow Ann to buy store-bought baby food; instead, they'd make everything from scratch, including puréed spinach, apples, squash and pumpkin. "Nick grew up never [having] baby food in the jar," says Ann. "[He was] just so attached to my mom's cooking. The relationship with my mom and Nicholas, more than anything, was about cooking together."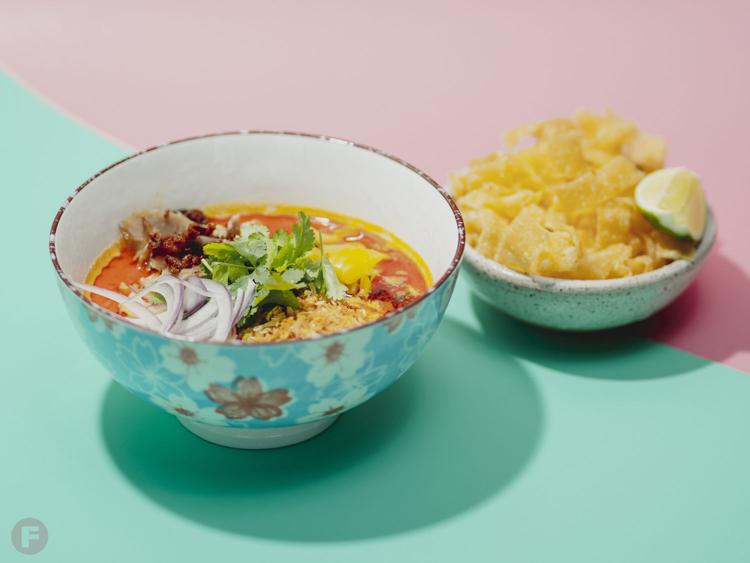 But it wasn't until Nick was around 11 or 12 that he started to prove to Ann that he belonged in the kitchen. There's one night in particular she'll never forget: Nick was in sixth grade and asked her to buy him some chicken – but while other kids might crave chicken tenders, he wanted a whole chicken. When she arrived home from work that day, a Thai cookbook was lying on the dining room table, turned to a page with a recipe for spicy chicken stir-fry with bamboo shoots. "From looking at the food and looking at the cookbook, it was just identical – the picture and the outcome of the dish that he made," she says, before adding with a burst of laughter: "And at that point, at that moment, I know that I'm in trouble."
Nick helped out in the kitchen at Nippon Tei from an early age as a busboy and dishwasher, but transitioned to a more serious role working on the line at around 14. "When it came time, my mom was showing me how to make some stuff and I just kind of did it," he says. "I didn't realize how much I was absorbing, but after a while I realized that if you live that restaurant lifestyle for long enough, it just becomes second nature."
As Nick pursued a culinary path at South Technical High School and, later, St. Louis Community College – Forest Park, he continued to work in the family's restaurants. He managed Tei Too, their Thai restaurant in Webster Groves, Missouri, opened Ramen Tei at the bar inside Nippon Tei and later became the head chef of Nippon Tei. But he soon identified some weaknesses in his own cooking and, wanting to expose himself to new things – inspired partly by what he calls a jaded dream of competing on Top Chef – decided to move to Austin, Texas. Since he'd been cooking Thai food his entire life, he decided to learn how to perfect what he considers his favorite cuisine: Japanese food.
The day Nick graduated, he didn't even pick up his diploma – he moved straight to Austin to start a two-day stage at the upscale sushi restaurant Uchiko. After proving his chops, he landed a position at the renowned restaurant. He realizes now how lucky he was to do so – he credits Uchiko with teaching him fundamental cooking techniques that have helped shape his career, from aging fish properly to seasoning rice to perfecting his knife cuts.
Yet, as happens frequently in the grueling restaurant industry, Nick felt his personal life taking a backseat to his career and decided to move to Cincinnati to be with his girlfriend. He quickly landed a job as head sushi chef at E+O Kitchen, where he had the opportunity to stretch his skills as a leader and prove that he could thrive as an executive chef for a restaurant that wasn't owned by his parents.
"I feel like Uchiko taught me the basic techniques and turned me into a really good cook and someone who could work in a really disciplined and efficient way, and then when I went to Cincinnati, it was like, 'How do I teach other people what I know now, and how do I get them to have that same vision?'" he says. "You kind of learn a whole new skillset once you're in charge of an entire kitchen team."
Around the same time, Nick's mother, Ann, was starting to grow unhappy with the food at the now nearly 20-year-old Nippon Tei. On the surface, the restaurant was chugging along smoothly, with plenty of regulars returning frequently to the Ballwin restaurant. Ann, though, was growing bored, but, at age 54, wasn't sure she was up for making any huge changes by herself. "The restaurant was doing fine, but inside me it was just slowly…dying," she says. "I think when you do something for so long and then one day you wake up and you don't like it anymore, you know you're just going to have to do something else."
So she decided to do something else, though she wasn't sure just what that would mean until she went to visit Nick at E+O Kitchen. He made her yellowtail with ponzu sauce and a little bit of trout roe on top, and she was immediately struck by how much it reminded her of the Thai food she grew up eating, with so many different layers and dimensions of flavor. "Nick, this dish is very, very good," she told him. "This is what I would like to do – to change."
Nick credits his mother with having the foresight – and, frankly, the courage – to take a hard look at Nippon Tei and realize it was ready for a change.
"That kind of innovation is just rare and you have to give props to my mom for that because, to be honest, why should she have even done that?" he says. "And when it comes down to it, I think it's just her deep-rooted sense for hospitality. She enjoyed the food I was doing and she just wanted her customers to have that instead of what they were doing [at Nippon Tei] for a long time."
So they got to work. Nick moved back to St. Louis in 2018 and, now as a co-owner of Nippon Tei, essentially transformed the entire menu. Implementing much of what he learned at Uchiko, Nick steered the menu away from the deep-fried sushi rolls popular at the restaurant for so long and toward fresh, expertly cut nigiri and sashimi. Although Ann and Nick both acknowledge that the changes were initially not welcomed by their regulars, the revamp soon earned the praise of diners and local critics alike – St. Louis Post-Dispatch restaurant critic Ian Froeb, for instance, named Nippon Tei "St. Louis' most exciting sushi restaurant" in a 2018 review.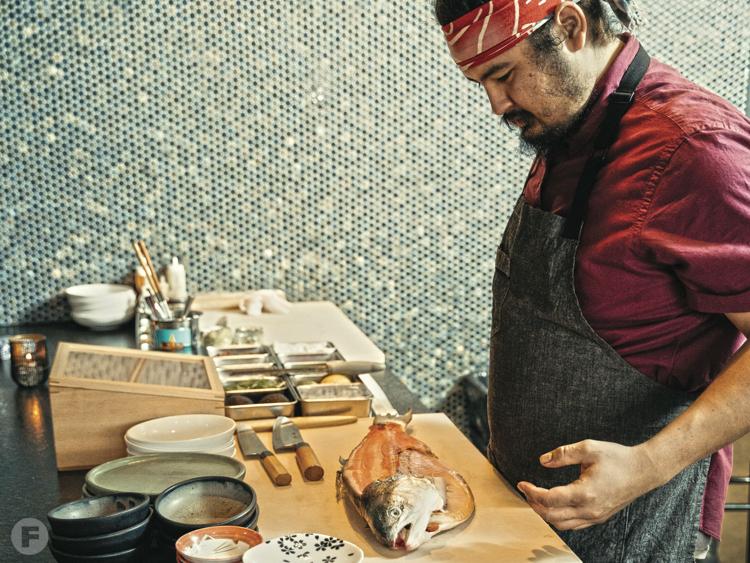 During this time, Nick also earned a reputation for his omakase (Japanese for "I'll leave it up to you") tasting menus, featuring whatever fish was most inspiring to him that day, from sake toro to madai ceviche. Local critics weren't the only ones to take notice of his skill, either – in 2019, he was named a semifinalist for Rising Star Chef of the Year by the James Beard Foundation.
Just a few days later, Nick fulfilled a longtime dream and announced plans to open his own restaurant, Indo, in Botanical Heights. Named in part for the geographical term Indochina – the continental portion of the region now known as Southeast Asia – Indo features flavor profiles from throughout Southeast Asia, often prepared with Japanese techniques. It's hard to package the restaurant's theme neatly into a box, but you'll find you don't need to. For Nick, it's much easier: "It's the food I want to eat," he says.
To that end, Indo features much of what earned him so much praise at Nippon Tei, including expertly prepared sashimi and daily rotating nigiri, but the restaurant also draws on his family's Thai heritage. There are subtle nods, such as serving aged and fried Japanese sea bream with young chile nam phrik (a pungent spicy Thai chile paste), alongside more obvious ones, such as fried lamb ribs glazed with palm sugar, tom yum pork skins and, at lunch, a twist on his grandma's famous khao soi made with crispy duck.
Indo's spicy salmon skin hand rolls, packed with nam phrik, pickled daikon, sweet squash and sprouts, are inspired by a snack the cooks at Nippon Tei used to make for themselves in the kitchen. His family's influence is evident throughout, but perhaps nowhere more so than the lamb tartare, inspired by a Christmas tradition in Nick's family, served with a pungent laab sauce made with bird's eye chiles and pine nuts. He even keeps a few jars of his grandmother's nam phrik, laab spice and massaman curry tucked away in his freezer – she passed away at age 87 last year, and he can't imagine letting go of these last vestiges of her cooking. "This shit is just priceless to me now," he says.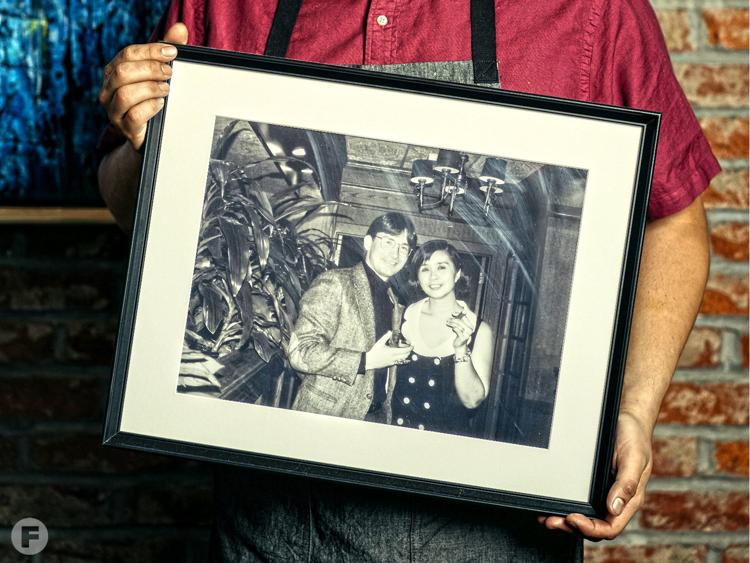 Nick's popular omakase dinners live on at the chef's counter at Indo, sometimes stretching up to 27 courses. Limited to just six diners, three nights a week, they quickly sell out, but represent Nick's opportunity to flex his culinary prowess at what he refers to as a fine-dining restaurant inside another restaurant.
While some dishes at Indo, whether at the omakase counter or on the restaurant's regular à la carte menu, lean distinctly in one direction – such as the sake sashimi (served with ponzu, Japanese ginger, salmon caviar, wasabi and togarashi) or the tom yum pork skins – others benefit from seamlessly blending Japanese techniques with rich, layered Thai flavor profiles. The Isaan Hamachi, for instance, has become Nick's calling card: It features fatty yellowtail served with Thai ingredients, including Thai kosho (a play on traditional yuzu kosho), coconut nam pla (fish sauce) and candied garlic.
But, like many chefs, Nick doesn't want his restaurant to be described as fusion. It's more accurate to describe Indo as a culmination of everything he's learned so far, from the flavors he grew up watching his grandmother cook to the exacting techniques he learned in high-end kitchens across the country.
Sous chef Hana Chung – who says coming to work at Indo was a "no-brainer" – says the kitchen is full of cooks with diverse backgrounds, and the restaurant is at its best when it takes advantage of that. "Nick is really good at getting everybody to collaborate," she says. "It's always very Asian-inspired, but also very Midwestern too – something we know people are going to like."
But blending elements of different cuisines together is a tricky process, and not one that Nick takes lightly.
"I always tell younger cooks: brush strokes," he says. "I can make really, really good authentic Japanese food; I can make very, very good authentic Thai food, and it wasn't until I had gotten to a point where I was very strong at both of those that I should have any business combining food."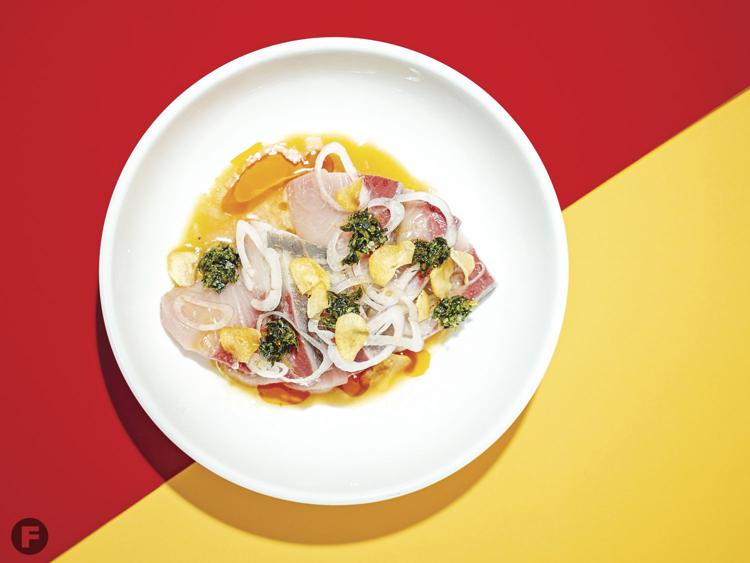 But no matter what's on the plate, the influence of Nick's family courses through Indo. In the hallway leading from the kitchen to the main dining room, a handful of framed photos line the wall, including one of Nick's parents from their days working in hotels, a photo of King Rama V for good luck and, of course, two photos of Nick's grandmother. The first time Ann walked into the restaurant and saw the photos, she burst into tears.
"Everything, the pictures on the wall, it just has a story behind [it]," she says. "It just touched me so much. Everything about Indo is everything about my family. Everything about Indo is everything about my heritage. I would just cry because of the joy of food [and] because there was someone who appreciated my heritage and appreciated what we tried to do, or to be, and that person – it was Nick."
Indo, 1641 Tower Grove Ave., Botanical Heights, St. Louis, Missouri, indo-stl.com