Natasha Bahrami remembers the exact moment when a dirty gin Martini changed her life. Granted, she'd had numerous Martinis before this particular occurrence; the cocktail was her drink of choice when she was feeling particularly taxed after a day running her family's restaurant, Café Natasha, in St. Louis, and, as she jokes, those stressful days were frequent.
However, on this particular night, Bahrami happened to sit at the bar of an obviously seasoned barman. Instead of pouring the typical vodka and olive juice concoction, the drink he served her tasted different. It was dry, round and flawlessly balanced, and she sat awestruck on her stool, wondering what made the difference. When he told her it was the gin, her fate was sealed.
"It was the best Martini I'd had," says Bahrami. "What that meant was that person knew how to make a proper Martini. If they hadn't known how to make a proper Martini that day, I probably would have had a vodka and olive juice thing and would have never had the catalyst to even start understanding gin. That gin Martini blew my mind; it tasted like nothing I'd ever had."
That moment 18 years ago might have been the catalyst that sent Bahrami down a rabbit hole that turned her into one of the world's premier gin professionals, but her path to the top of the spirits world began much earlier – before she was even able to walk down it. Born to restaurateurs Behshid and Hamishe Bahrami not long after they'd opened their first restaurant, The Little Kitchen, Bahrami was so little when she started going to work with her parents that her dad built a cradle underneath the counter to rock her to sleep during business hours. She spent her entire upbringing in their restaurants, by her parents' sides as they grew The Little Kitchen and then opened their second Persian restaurant, Café Natasha. She always recognized the business as her natural path, but she didn't want to embark on it out of sheer momentum, if at all.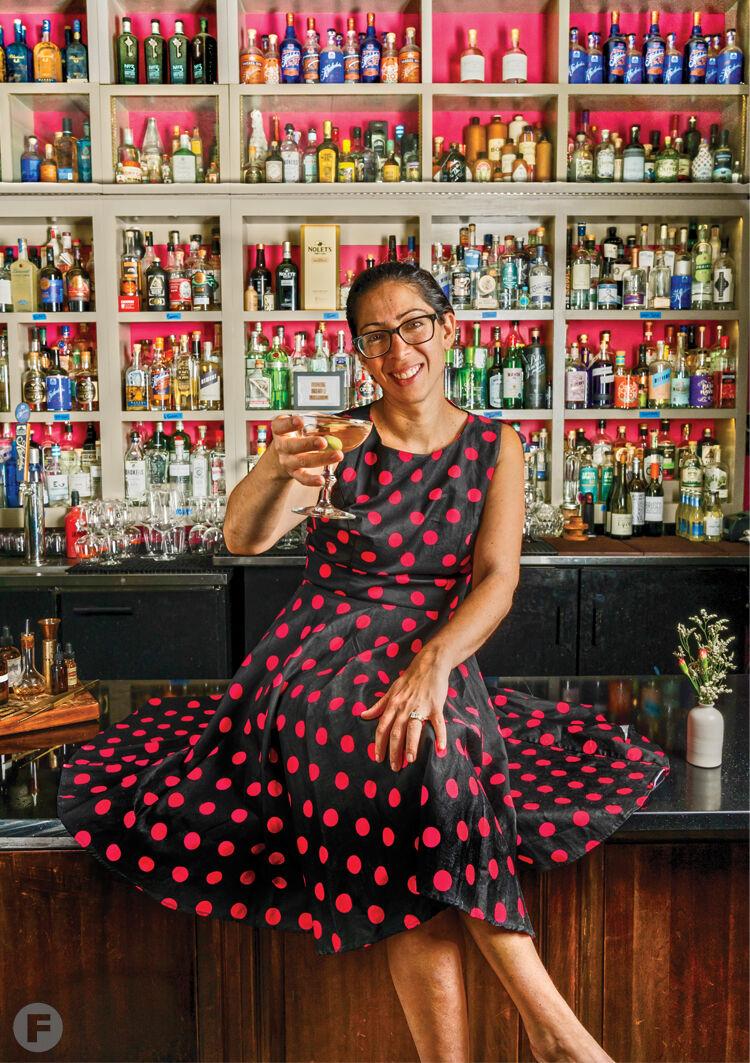 Instead, Bahrami set out to forge her own path, moving to Spain, Lebanon and eventually Washington, D.C., where she got jobs in international policy and IT. Through it all, though, that gin Martini from 2003 haunted her. After that first proper drink, she'd taken a deep dive into the world of gin, learning everything she could about the spirit and falling deeper in love with it by the day. Unable to let it go and becoming increasingly enthusiastic, she made the decision to dip her toe back in the industry and established gin programs at the D.C. restaurants where she worked. Her success boosted her confidence – enough to walk into the city's premier gin bar, The Gin Joint, and ask for a job.
The Gin Joint gig changed her trajectory, not just because she was allowed to indulge her passion for the spirit and share it with her guests; it showed her that it was possible to run a gin-centric bar inside a successful restaurant. It didn't take long for her thoughts to turn toward her family's own restaurant and whether or not she could create a similar scene there.
"We have this well-established restaurant that people come to because they want to eat," says Bahrami. "They are already loyal customers. I figured, 'What's the worst that could happen?' If it didn't take off, I was just going to have a really big gin collection."
Bahrami returned to St. Louis in 2014, singularly focused on not only establishing a great gin bar but on fomenting a movement. She returned to a cocktail scene much different than the one she'd left behind. Back when she tasted the momentous Martini, there was no serious cocktail scene in town and only a handful of restaurants that had respectable drink lists. Now, the city had embraced well-made drinks by bar professionals intent on creating beverages to match the vibrant food scene that had blossomed in the mid-2000s.
Ted Kilgore was one of those cocktail trailblazers. A veteran barman whose spirits selection and drink lists at the late Monarch was one of the main sparks that lit the city's beverage scene afire, Kilgore recalls the beginnings of the cocktail renaissance. As he explains, guests were growing increasingly inquisitive about food and beverage in general, thanks to platforms such as the Food Network and other food-centric media. People would come into restaurants curious to taste what innovative chefs were doing, so it was only natural that their interest would extend to what they were drinking, too.
"People would be drinking a Bud Light at the bar, but they'd be watching as we made something and ask questions like crazy," Kilgore recalls. "The next thing you'd know they would switch out their Bud Light for a gin Martini with an egg white in it. It was crazy to see things all change."
If drinking culture in general was changing, so was overall interest in gin. Once considered an aggressively juniper-forward spirit preferred by grandfathers and great-uncles, bar professionals began to take another look thanks to the rise in interest in classic cocktails. What they found – like Bahrami when she tasted that flawless Martini – was a complex, thrilling libation with an interesting history ripe for storytelling.
Craft gins helped them tell that story. Although consumers had a perception of gin as a pine-needle bomb, craft distillers began playing around with the different botanicals that comprise the spirit to create flavors for all palates. No longer all about juniper, gins became floral, citrusy, spicy.
Kilgore observed this mindset shift around 2009 or 2010 when bar professionals, buoyed by robust cocktail programs at a number of establishments, had the platform to educate people on all the exciting things happening with the spirit. As he explains, the more bartenders became educated on gin, the more passionate they became about the storytelling aspect of it. Their excitement was infectious, turning gin into the "cool kids" drink to order. The spirit was poised to seize its moment – and Bahrami was ready for it.
"Natasha's family's business has history, and she had a platform where she could send any message – and she chose gin," says Kilgore. "She's passionate every single time, doesn't get tired of it and has fun with it every day. I admire that. She hasn't worked anywhere else in St. Louis because she's staked her claim on it, and that's what it takes to get people to listen. Very few people are willing to stick with a message and be passionate about it day in and day out."
Not long before Bahrami returned to St. Louis, another factor helped to fuel the city's burgeoning interest in gin. Two craft distillers, Square One Brewery & Distillery in St. Louis and Pinckney Bend Distillery in New Haven, Missouri, came online in 2008 and 2010, respectively, giving area bartenders local products to support. As one of Pinckney Bend's founders Tom Anderson explains, having a resource like Bahrami to champion his products was instrumental in generating enthusiasm for the spirit.
"Back in the day, we'd take our staff down to Café Natasha to go through all the gins area by area,'" Anderson recalls. "It was the one place where we could go and have a great meal and use it as a teaching tool for our staff."
Bahrami might have been fomenting big changes in the city's gin scene, but she was doing it at a grassroots level. In the early days of The Gin Room, she would talk to every single person who walked through the door about gin and convince those who wanted a drink to try a gin cocktail. They might not have been there for a spirits seminar, but anyone who would listen received an education in gin. Dubbing herself "The Gin Girl," Bahrami refused to simply honor a guest's request for a vodka cocktail without a thoughtful sales pitch on why they should reconsider. A citrusy or floral style of gin served as a gimlet would often do the trick; people not only listened, they began looking to her as a gin guide who had the knowledge and enthusiasm to help them learn about the spirit and cocktails in general, turning her bar into the premier gin spot in the city.
The setting helped her case. Converting the bar side of her family's two-room restaurant into an homage to gin, Bahrami created a scene in which it's impossible to come in and not want to know more. Her back bar goes all the way up to the ceiling, each rose-hued lit shelf lined with one gin bottle after the next. It's a breathtaking display, featuring almost 300 bottles sorted by flavor profile – think London dry, floral bouquet or warm baking spice – that's only bolstered by her housemade tonics, tinctures and shrubs. Two murals – one of the gin flavor wheel and the other of the distillation process – replaced Café Natasha's Persian-inspired artwork, letting people know that this is more than a place to drink; it's a place to immerse oneself in the appreciation of the spirit.
By affecting change in her small corner of South Grand, Bahrami was also seeing change happen in the larger food and beverage community. Armed with the knowledge they picked up at The Gin Room and other cocktail bars around town, St. Louisans embraced the spirit and were eager to support the increasing number of Missouri craft distillers that were coming on the scene. Using her Gin Girl brand as a platform to empower this enthusiasm, Bahrami capitalized on the momentum and began to turn her attention to growing St. Louis' reputation as a major player in gin.
The first Gin Festival St. Louis was a major turning point for Bahrami and the city's gin scene. At first envisioned as a half-serious idea for a birthday party, Bahrami decided to send out Willy Wonka-style golden invitations to anyone and everyone she respected in the international gin community, inviting them to a gin festival she was putting on in honor of her birthday. To her surprise, almost everyone showed up, resulting in a bona fide festival that gave her the confidence and momentum to continue building her platform, Ginworld, a model for other cities to celebrate her beloved spirit. Envisioned as a way to help other areas create their own thriving gin scenes, Bahrami's Ginworld now has a presence in major cities such as New York and Washington, D.C. and is now the successful brand under which she runs all of her gin-related efforts.
"Why Natasha?" asks Anderson. "She would travel, and when she'd find a gin she liked, she'd stuff a couple bottles in her suitcase and show it to everybody. Who does that? She is relentless when it comes to her focus on what it is she wants to accomplish with each of these projects – whether it was Ginworld or supporting local distilleries, she wouldn't let up. Often, there'd be something that would come up and people would say they can't do this, but she'd find a way to do it. She doesn't know the meaning of the word no. I think she saw the potential before any of us did."
"I think something Natasha does that I do – and a lot of people who are passionate do – is that her passion definitely rubs off," adds Kilgore. "If you can get people excited about what you are excited about, and do it day after day, it changes people's perceptions."
This past February, Bahrami was recognized for her impact on the category of gin when she was inducted into the Gin Hall of Fame by Gin Magazine. It was a momentous honor; Bahrami is the first and only American to have been inducted into the Gin Hall of Fame, and she is only one of nine people in the entire world to hold the honor, which includes such notable names as master distillers Lesley Gracie of Hendrick's Gin, Desmond Payne of Beefeater and Myriam Hendrickx of Rutte Distillery. The magnitude of the honor cannot be understated, and Bahrami admits to being in shock when she received word of her induction. However, true to her nature and championing spirit, she refuses to bask in the accolade and instead insists that it just means she has more work to do – and that she could not have achieved what she has anywhere else but at home in St. Louis.
"Moving back here was not circumstantial," says Bahrami. "I didn't come back because I had to. I've lived all over the world, and St. Louis and Missouri have some of the best people in the world – from the consumers to the people who have kept the culinary and cocktail scenes exploding. We have some of the best and most supportive people who care to learn more and want to be involved and want to support a scene. I knew that, and I knew we were primed and ready. I wanted to come back to my hometown and prove it here because I knew we could do it here. It was one of the best decisions I've made in my entire life."
The Gin Room, 3200 S. Grand Blvd., St. Louis, Missouri, natashasginroom.com