Melanie Meyer fully realizes that she could buy premade rice cakes to make her tteokbokki. Readily available at any number of international markets around St. Louis, the labor-intensive cakes that serve as the base of the popular stir-fried Korean street food take her hours to make – a significant investment of time and energy that could be easily eliminated by switching to a packaged product that would likely not register with even her most discerning customers.
Yet for Meyer, such a move would be unthinkable.
"It's really important to me to make them, because it's about connecting to people in the culture who took time to create this [dish] and paying respect to that," explains Meyer. "On top of that, I am learning as I go. It's something that is very intense for me personally, but it's also good for me to learn these certain techniques and other recipes. It's important not just to [be able to] say that I did it, but because I believe there should be a deep connection with the food you create."
For Meyer, finding that connection to Korean food goes deeper than simply wanting to express her appreciation for the culture. As the owner of Tiny Chef, a micro restaurant located inside The Silver Ballroom, a pinball bar in South St. Louis, Meyer has spent the past two years exploring her Korean heritage through the food she creates. Having come to Missouri from Korea when she was just an infant, food has become one of the few windows Meyer has into developing a full picture of who she is – something that had been lacking until her recent exploration.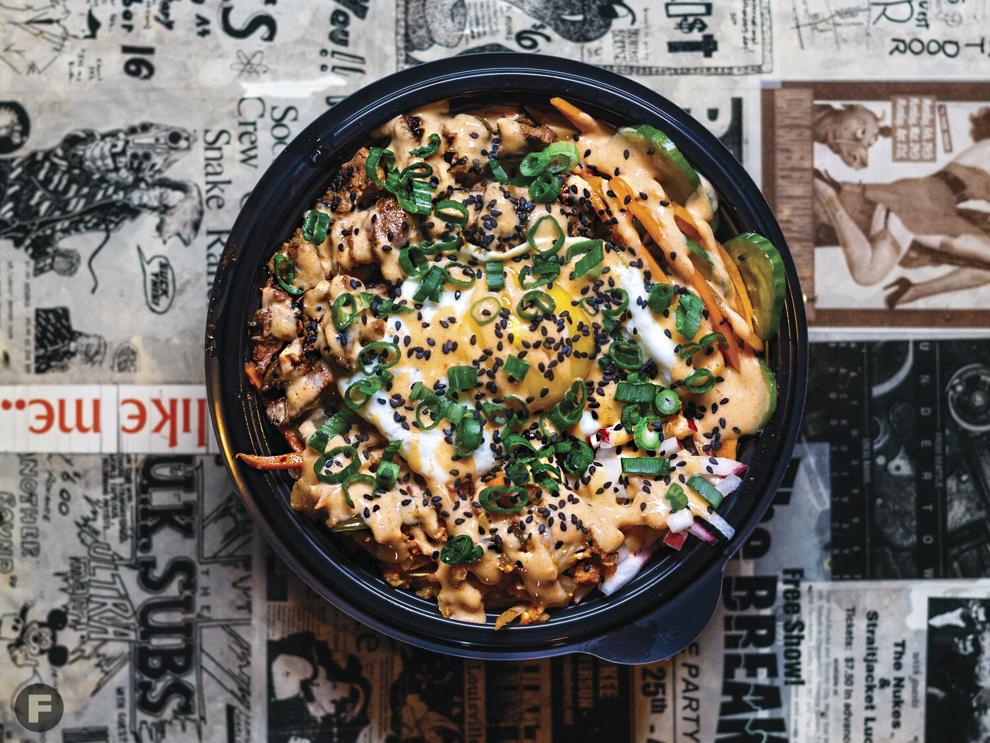 In fact, there was a time when Meyer was not only disinclined toward understanding the Korean part of her identity; she outright buried it. Growing up the adopted daughter of white parents, and as the only person of Asian heritage in a primarily white neighborhood, Meyer felt out of place and was even bullied for being Korean. From name-calling to demands that she tell people "where she was really from," Meyer hated that she was seen as different and desperately wanted to fit in. Her home life did not make things any easier, compounding her feelings of being an outsider with those of worthlessness. Adrift and unsure of who she was, Meyer dealt with depression and low self-worth, knowing that there was more to who she was yet unable to actualize it.
It's no surprise that food became that vehicle for understanding her identity. Meyer has only been cooking Korean food for the past few years, but she's been working in kitchens for almost two decades. Her first job was as a cook at a hospital cafeteria, where she quickly developed a reputation for being the person every staffer wanted to see. She jokes that this is because she didn't pay attention to portion control and heaped everyone's plates full of food, but really, it was because people saw that she took the time and care to make even hospital food special.
Though Meyer dabbled in other industries, she kept coming back to the professional kitchen, working everywhere from fast-food spots to Vietnamese restaurants to high-end steakhouses. However, she considers The Restaurant at The Cheshire (now known as Boundary) to be the first legitimate cooking job she ever had, and one where she was ill-prepared for the demands of its kitchen. Still, she didn't let that stop her. In fact, it only fueled her to work harder.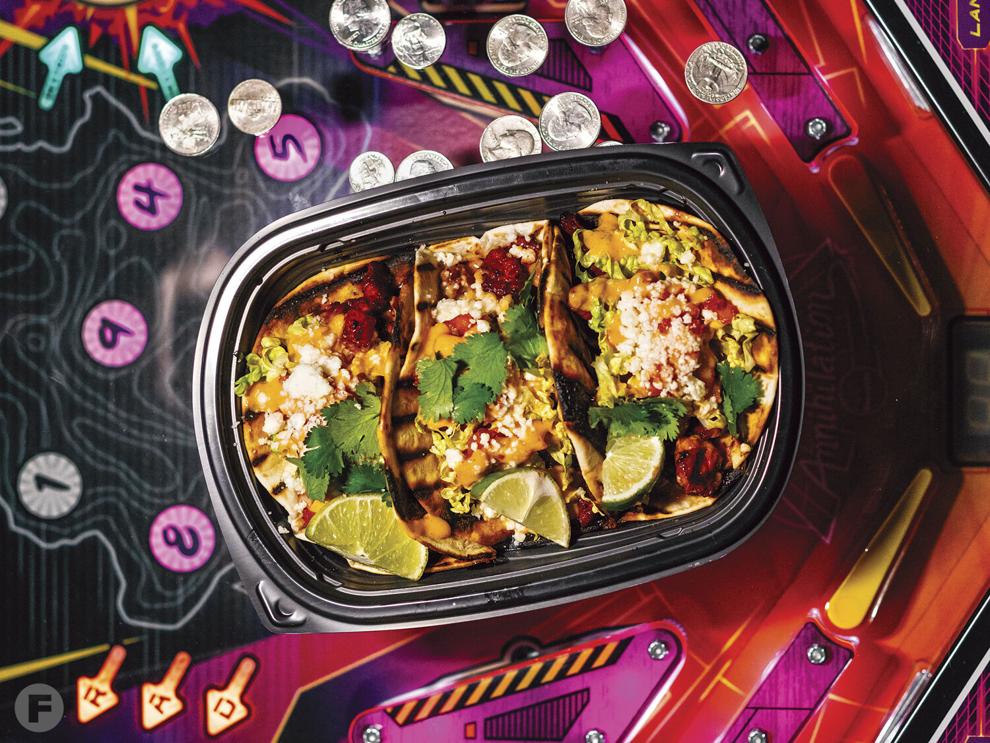 Ben Welch, formerly of Big Baby Q and Smokehouse and The Midwestern Meat and Drink and then-sous chef at The Restaurant at The Cheshire, noticed Meyer's tenacity right off the bat, nicknaming her "Tiny Chef" as a way to capture her energetic yet no-nonsense attitude in the kitchen. Not at all diminutive, he meant the name as a compliment for the way she ferociously attacked cooking and her fearlessness in putting herself out there.
"Melanie was just hungry – passionate, hungry and she had questions," says Welch. "She was one of those people who, if you give them a job, they have their mind focused on mastering that job. What I like about her most is that she wants to win. She'd come in early, stay late and would never tell you something wasn't her job. She'd do it because she wanted to learn, and she attacked cooking like she really wanted it. You had to respect the hustle."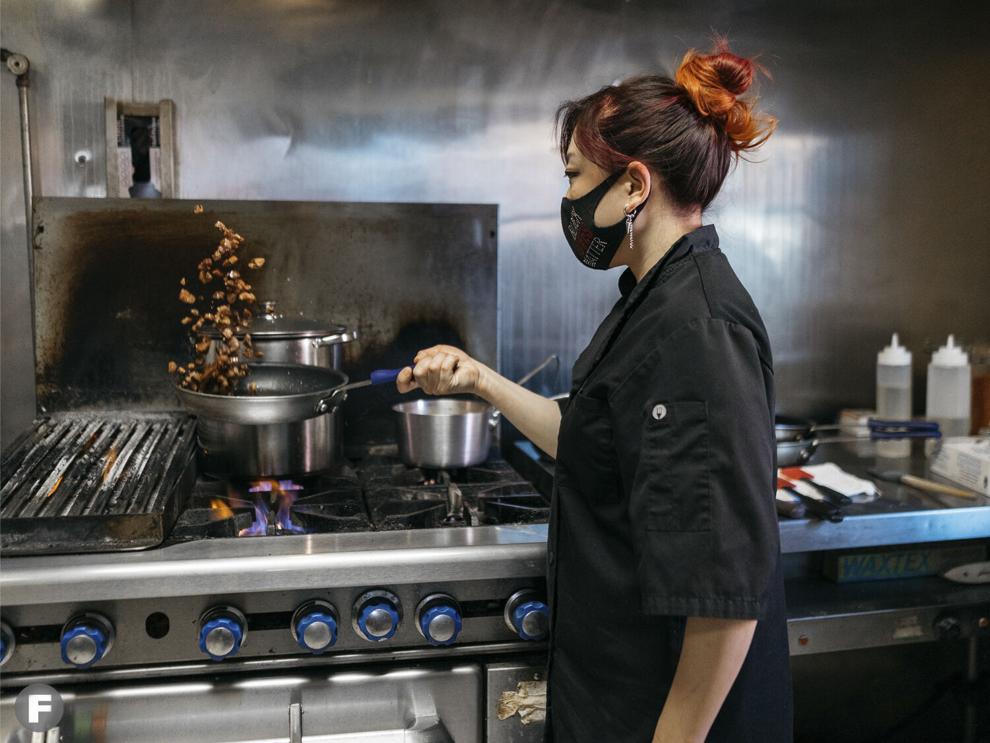 Meyer soaked up every bit of knowledge she could in every kitchen she worked – and even ones she didn't. Her longtime friend, former bandmate and current assistant general manager at Brasserie, Catlin O'Toole, recalls the barbecue fundraisers Meyer would hold at South Grand bar CBGB, where people would clamor for a taste of her cooking. She watched the joy Meyer would get from sharing food with people, so it was no surprise to her that, when it came time for her to begin her journey of self-discovery, cooking was a major catalyst.
"I think that after our band broke up, she was soul-searching in a way," says O'Toole. "I think she was feeling like she didn't have an identity, because her family life was not great and she didn't have the band; I feel like she was trying to find herself. Food has always been her go-to for how she shares with people, and she is super generous and giving, so that was part of her finding herself, coming into her own and becoming her own person. After she opened Tiny Chef and started doing what she loves, it was like she found a part of herself."
But if her friends and colleagues were confident in the inevitability of Meyer's success, she was less so. After an attempt to start Tiny Chef as a catering operation never really got off the ground, Meyer was presented with an opportunity to open the restaurant as part of a partnership with then-partner and Party Bear Pizza owner Chris Ward at The Silver Ballroom. She was tentative and also unconvinced that Korean food was the way to go. She considered doing sandwiches, soups or salads before realizing that this was the chance she'd been waiting for, and she dove headfirst into creating a menu of dishes inspired by the heritage she was only beginning to understand.
"At first, I felt like I was just going along for a ride and that nobody would want kimchi or char siu pork or tteokbokki," says Meyer. "I remember someone telling me not to do vegetables because people around here don't like vegetables. I was already scared to do Korean food, then I was also scared because the majority of my menu is vegetables. When it took off, I was really surprised. It gave me the confidence to keep pushing forward."
The positive response she's received has emboldened Meyer to delve even deeper into Korean cuisine, and she continues to add new dishes to her repertoire through her unending research and experimentation. Tiny Chef still serves its staple vegan kimchi, bibimbap bowls and Korean-inspired street tacos, but Meyer also has a rotation of specials that continue to push her knowledge and technique. She's developed a cult following for her bracingly hot Nuclear Noodles, her cheesy Carbo Noodles and her Chicken Soup for the Seoul. The runaway hit, however, has been her monthly Korean crab boil, a massive feast of snow crab, shrimp, potatoes, Korean cheesy corn, bok choy and hard-boiled egg, served with gochugaru-garlic butter, which sells out every time she runs it.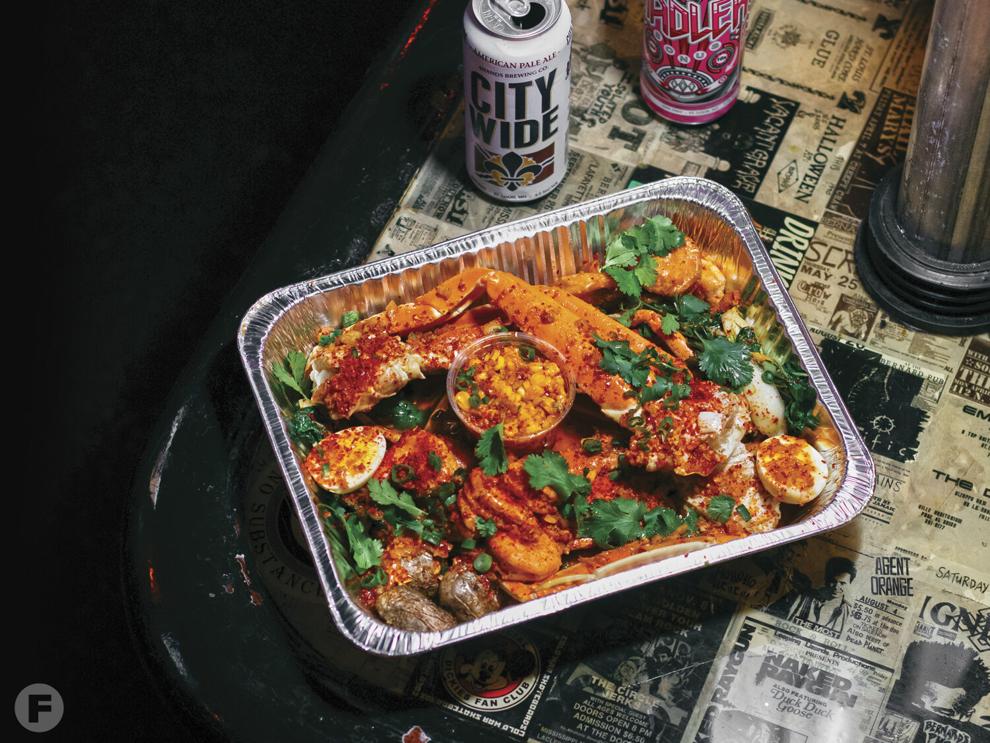 Meyer puts her whole heart into her cooking, something that's evident even if you didn't know her story. Her char siu pork belly, for instance, is revelatory. Stuffed into a humble street taco or added as the protein to a variety of dishes, the melt-in-the-mouth meat has the easy comfort of sticky soy glaze with the depth of anise, Chinese five spice and peppercorns. Her kimchi fried rice is equally complex thanks to gochugaru, which provides a funky backbeat for the piquant kimchi. Even something as simple as hummus becomes magical with Meyer's touch. Enlivened with red chiles, sesame oil and kimchi, she turns a traditionally Middle Eastern staple into a Korean-inflected masterpiece. That she feels free to explore traditional Korean cuisine while applying it to dishes not reflexively thought of as Korean is not just creative; it's biographical.
Simone Faure, owner of La Patisserie Chouquette, sees Meyer as a masterful storyteller with food. Over the past year, the two have become close friends, bonding over a shared love of Korean cuisine and culture, and Faure has watched as Meyer has grown into a confident woman with a strong sense of who she is. She feels you can taste this in her friend's dishes, and that's why people have responded so tremendously to Tiny Chef.
"I feel like what I taste in her food is love," says Faure. "You can tell she cares about every ingredient and is pushing herself but is not denying that she is American. You see all these Midwestern influences in her food, and it's a beautiful marriage. You're given gifts from your ancestors; somebody was whispering into her ear to pick up the baton. Not everyone hears this, but she heard the call and picked it up."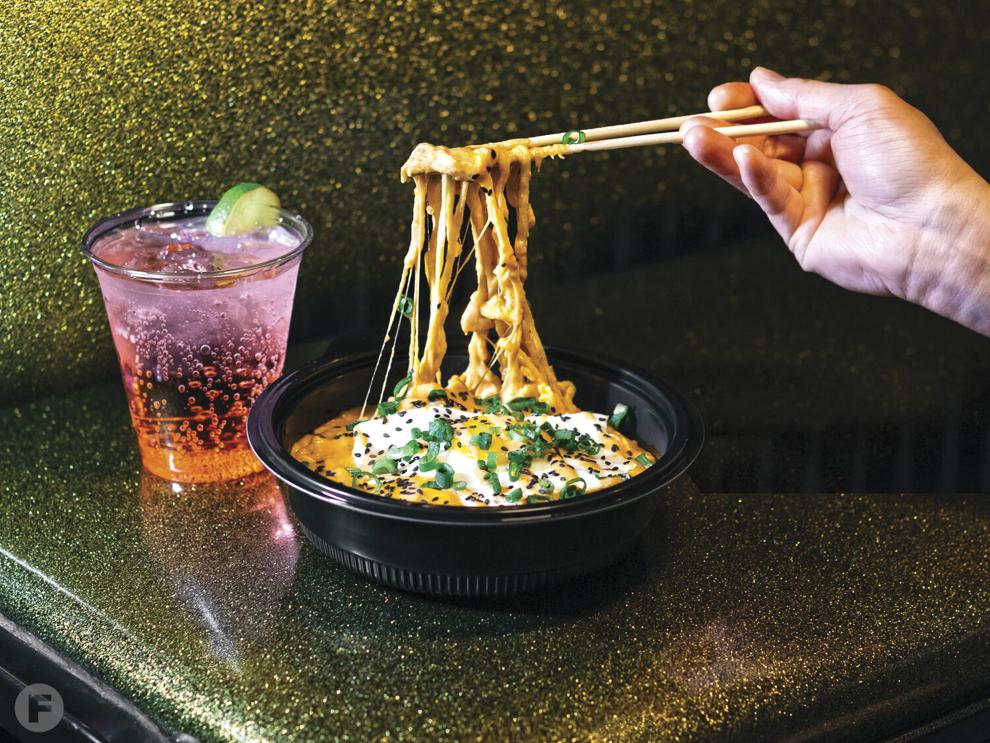 Meyer dreams that she will connect with her heritage even more poignantly than through Tiny Chef. An active member of a Korean-American adoptee Facebook group, Meyer regularly interacts with others whose shared experiences continue to propel her in her own search. Though she has big plans for the restaurant – expanding her offerings and perhaps opening a place of her own one day – her number one goal is to return to Korea to explore the country's culinary scene in-person. By staging in restaurants, experiencing the street food firsthand and soaking up as much as she can, Meyer feels that going back to the country that she doesn't remember, but somehow feels homesick for, will be completing the circle for her. She also hopes to answer real questions about who she is by finding the orphanage she came from and finding her birth family. Then, she feels like the full picture of what Tiny Chef is – and more importantly, who she is – will come into focus.
"By some miracle, I'd find them," says Meyer. "My ultimate dream would be to find them, cook a meal for them and show them that this is what I have learned and have had it inside of me the whole time. I just needed something to light the fire."