In the dark, intimate, black and gold dining room at The W Karaoke Lounge in University City, Missouri, I saw my entire childhood in Palestine spread out across a table. These days, only a handful of things connect me with my youth: Arabic, my first language; the random artifacts around my Maplewood home; and Middle Eastern food, specifically dishes from the Levant.
That evening, I could smell the charred eggplant in the baba ghanoush and the nutty, smoky freekeh topped with juicy braised lamb. I could see dishes decorated with fresh herbs and toasted nuts, taking me back to big family gatherings over the holidays. I could taste memories.
For the first time in six years, I felt connected to my culture in St. Louis – and I owed it all to Mawda Altayan, who catered the night's meal. The chef behind the dinner series is one with a lengthy journey: It starts with a story of a refugee and ends with a movement to empower and build bridges in a new community.
A couple weeks before the dinner, Altayan invited me into her home to learn more about her work. As she sipped strong, aromatic Arabic coffee, she told me she didn't always know she wanted to be a cook; she didn't grow up with a path already paved for her. The Syrian refugee witnessed war and destruction and was displaced for years. Her journey led her to St. Louis, where the 23-year-old has confidently and, in her mind, accidentally, become a chef making signature meals of the Middle East through her own catering business, Damascus Food.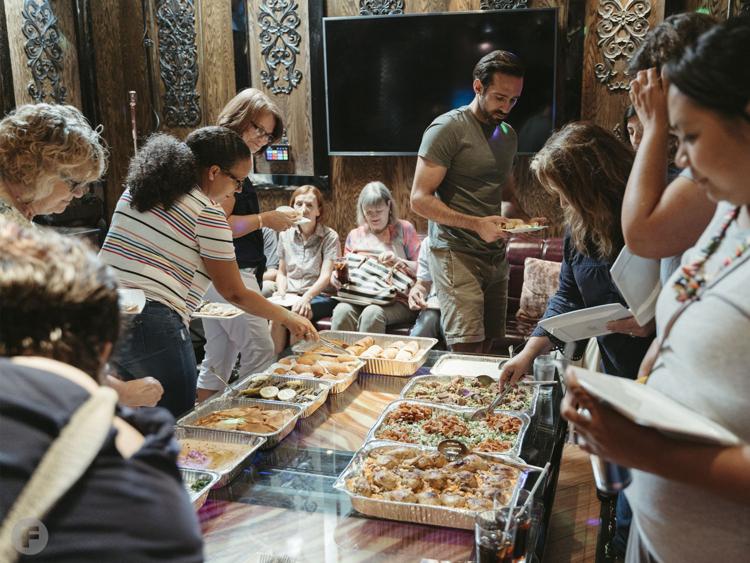 Her cooking is based on beloved family recipes of her youth, including hummus, baba ghanoush, chicken shawarma, tabbouleh, stuffed grape leaves, chicken mandi and freekeh with lamb. Altayan says she knew nothing about cooking when she got married at the age of 16. To impress the love of her life, she would take a notebook with her whenever she went to her parents' house or the home of her in-laws. She would jot down as many notes as she could and then make that same meal the next day for her husband, Mohi Aldeen Alhamowi. He would rate her cooking and Altayan would go back and take more notes.
"My husband was my test subject," she says. "Little did I know I would eventually be cooking for a living."
After multiple failures and daily repetitions, Altayan got to a point where she didn't need to measure ingredients anymore, and her husband, who at the time was running a restaurant in Damascus, was satisfied.
In 2013, the ongoing civil war in Syria reached her Damascus neighborhood, demolishing her house and her husband's restaurant. Her family was displaced for three years until they were granted asylum in the United States in 2016, at which point the family of five joined the 6.7 million Syrians worldwide who are now refugees, according to the United Nations High Commissioner for Refugees.
The young family moved to St. Louis looking for a different, better life, but language and cultural differences were a barrier. Altayan says her family was scared and their first year in the United States was lost: They were placed in a small apartment where they were advised not to step outside unless absolutely necessary due to the high level of crime in the neighborhood. They didn't know where to go to buy groceries or how to go about getting a job. Eventually, Mohi found work as a dishwasher.
In 2017, Altayan heard about Jessica Bueler, the founder of Welcome Neighbor STL, a volunteer-based group supporting immigrants and refugees in the St. Louis area. Altayan invited Bueler over for a cup of coffee. Altayan had goals – she wanted to learn English, learn how to drive, everything needed to thrive in her new country.
"I remember one thing Mawda said to me when we first met," Bueler says. "She said, 'I'm really ambitious and I want to learn.' Given the opportunity, she was ready to hit the ground running."
Wanting to do more in life and support her family, Altayan asked Bueler for ideas. What stood out the most to Bueler was Altayan's level of commitment to learning English, her dedication to integrating into the community and, of course, her food. Bueler decided to host an event in her backyard catered by Altayan to see how the meals would be received.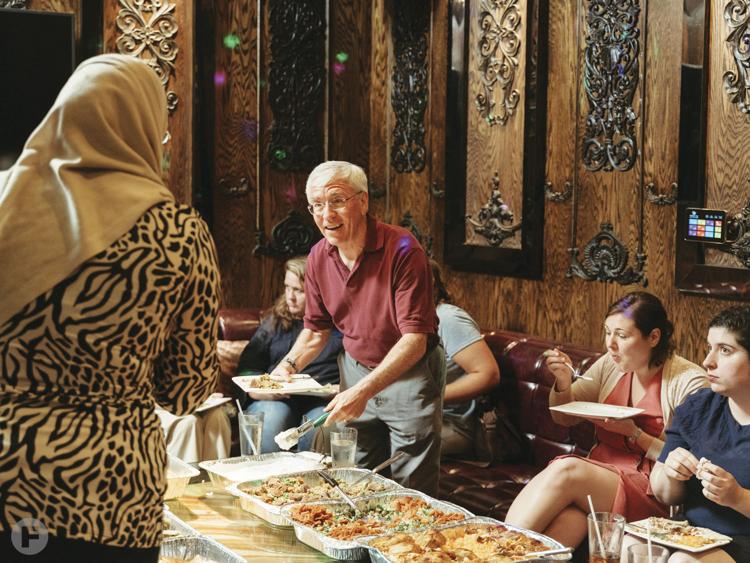 Amy Cohen and Tom Edelstein first heard about the event through social media and decided to go. They showed up as strangers in a group of 15 and left as friends. Cohen recalls how the dinner brought together a unique cross section of people to dine on dishes such as kibbeh, hummus and baba ghanoush with fresh pita bread and tabbouleh salad.
"I thought, what a great way to welcome an immigrant family, and I'm always about trying food from other places; I thought this would be perfect," Cohen says. "For me, Welcome Neighbor STL is a group I want to be more involved with because of this coming together of people to welcome each other and support each other, no judgment, no drama, just all goodwill. And of course, Mawda's food is amazing."
Edelstein nods, adding, "It was a beautiful evening. We didn't quite know what to expect, but everyone there were wonderful, sweet, good-hearted people. And the smell coming from the kitchen, from the food, was amazing. We had such a lovely time that evening, sharing together, enjoying the food and seeing Mawda just sparkling."
"They were so happy," Altayan remembers. "I felt like I accomplished something meaningful. I knew then that I could show a different side of myself through my cooking. I could enter guests' hearts, and they entered mine [that night] when I saw how much they liked and appreciated my food. It meant the world to me."
As small as it was, the event opened Bueler's and Altayan's eyes to new opportunities. Altayan wasn't just another refugee from a war-torn country speaking a foreign language anymore. She felt seen and heard.
The dinner was also one of the first catering events that helped launch Welcome Neighbor STL's Supper Club. The club is open to the public and invites locals to try meals cooked by refugees and immigrants, with all proceeds benefiting the cooks – most of whom are women with no other source of income. Today, the club boasts 30 chefs from six countries.
About a year before Altayan met Bueler, the idea for Welcome Neighbor STL was just beginning to take shape. Bueler founded the organization in 2016 after reading an article about four Syrian teenagers who were attacked in north St. Louis. Today, the group has more than 1,500 volunteers and ,so far, it has hosted 77 interfaith events, served 3,921 meals and raised $115,733 for refugee families. The Supper Club helps support refugees economically, of course, and helps build a bridge between strangers in their new community, as well.
"Imagine walking into a room and trying to start a conversation with somebody different than you," Bueler says. "Where do you start? How do you begin to find common ground? How do you make that connection? Food is the catalyst that brings people together. When you sit down around a table together, you're bound to start talking to one another and you naturally find similarities. But you may never have had that conversation if you hadn't been there to try the food."
Altayan agrees: Her cooking, which used to be solely for her family, is now providing her household with income and fostering communication with St. Louisans. "The easiest and fastest way to get to their hearts is through good food with great presentation," Altayan says. "Some people don't know anything about Syria – our culture or religion. But at these events, people had questions and were curious about my story; I found out what America is by speaking with them and my guests learned about Syria through my food."
The vast emptiness Altayan felt when she moved to St. Louis was slowly filling up. The passionate young cook knew the world was big enough to include her small kitchen, and so she decided to start her own catering business.
Whether it be for a supper club dinner or a catering event, for Altayan, making authentic Middle Eastern food requires three things: fresh ingredients, thoughtful presentation and simplicity.
Altayan is very particular about the ingredients she uses. She looks for ingredients that are close to what she used in Syria. "I remember seeing all kinds of spices I'd never heard of at the grocery store when I first moved here – I still stay away from all of it," Altayan says, noting that her most used spices include sumac, cardamom, cinnamon, ginger and allspice. "I keep my meals simple by using what my ancestors used, and it makes all the difference." Her favorite local grocery stores are Global Foods Market in Kirkwood, Missouri, and Jay International Food Co. on South Grand Boulevard.
Her dishes are always finished with nuts or fresh herbs. She told me her father wouldn't eat if the dish her mother made wasn't finished in this way because "the eye eats before the stomach." A drizzle of olive oil and fresh parsley or cilantro do the trick.
These days, preparing for catering events is a team effort. Altayan's husband does most of the shopping, and then they cook together. To make kibbeh, for instance, he grinds halal beef and adds minced onion and walnuts, and then she uses that filling to stuff a cracked bulgur wheat shell. She rolls each piece of kibbeh in her palms to form a perfect football shape – Altayan has a machine to roll the kibbeh, but she refuses to use it because the pieces are too thick.
"I learned to do this with my hands from my mother and grandmother," Altayan says with pride. "That's what makes us special – we make everything by hand. Restaurants don't do this; everything is modified and nothing is carefully crafted. I could use the machine, but it wouldn't be the same. I'd rather spend three hours doing it by hand and have it look and taste authentic."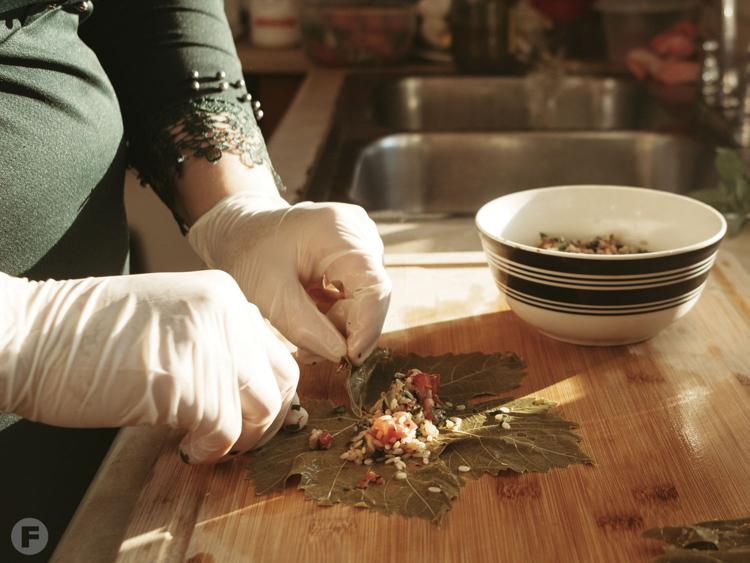 Another time-consuming dish is her stuffed grape leaves. Altayan says that most Middle Eastern restaurants buy premade stuffed grape leaves to save time. The way she makes them, though, connects her with her past: sitting with her mother, rolling one grape leaf at a time.
"Catering makes me happy because it gives me a little taste of what it's like in Syria," she says. "These events fill that part I miss because I have no [extended] family here. When I see people around the table, happy and enjoying their meal, it makes me feel like I'm with my second family."
Altayan's first catering event with Bueler was for 15 people. Between Welcome Neighbor STL and Damascus Food, she now caters events of up to 200 people.
As longtime fans of Altayan's cooking, Cohen and Edelstein attended her recent dinner at The W Karaoke Lounge – the very same meal that evoked so many childhood memories for me. Before we sat down to dinner, they took the time to step outside and talk to me.
"I think that's why people keep coming to these events: because it's an experience for all of your senses," Cohen says. "Basically [it] comes down to nurturing your body and soul."
"For me," Edelstein says, "there's also an aspect of what it means to love your neighbor. This is what we're called to do."
"That's beautifully said,"
Cohen interrupts.
"And it's beautifully experienced," Edelstein adds. "It's just a wonderful, loving thing to be a part of."
Bueler steps out and tells us dinner is about to be served. Tonight, a mix of new and familiar faces will get to have that beautiful experience thanks to Altayan. She admits she's juggling too much at the moment, but the tired young cook is not defeated. She's determined and in control. She's running the marathon while paving the track.
Edelstein looks at me and smiles. It's finally time to head inside and start eating.
Damascus Food, St. Louis, Missouri, 314.285.4634, facebook.com/damascusfoodstl
Welcome Neighbor STL, 3672 Arsenal St., St. Louis, welcomeneighborstl.com