Wenneman Meat Co. isn't your ordinary butcher shop – or slaughterhouse, processing facility or smokehouse, for that matter. That's because, for the past 92 years, three generations of the same family have been doing it all under one roof.
Even if you're not familiar with Wenneman's history, when you step inside the retail shop in small-town St. Libory, Illinois, you'll immediately know you're somewhere special. On a balmy Tuesday morning in June, the shop is abuzz with business: an elderly couple hail a familiar face from behind the meat counter to stock up on freshly sliced deli meat, ground chuck and steaks for the week, while a father and his two young sons stand nearby, eyeing the burger patty selection. Co-owner Brad Schmitz emerges onto the floor from the back office and makes a beeline for the meat counter. He says hello to customers on the way, smiling before conferring with an associate. Many customers know Schmitz and his business partner, Paul Otten, by name; the two men have been stewarding the multi-generational company since 2004.
"If one of us walked into [a large grocery-store chain], if the owner was walking through the store, you wouldn't know; you'd have no clue," Otten say. "Whereas, when we walk through the retail store, there are constantly people coming up – they know us, and we know them on a first-name basis. It's a unique thing to be that connected with the customers."
Over the past 15 years, Schmitz, Otten and their team have grown the business at an incredible rate, even despite a sizable setback in January 2011. That month, the Wenneman building – which had been in operation at that location since 1970 – burned to the ground. Business was dormant for almost 10 months as a new facility – one twice the size of the previous location – was constructed. Despite losing almost a year of profit, it didn't take Wenneman long to bounce back.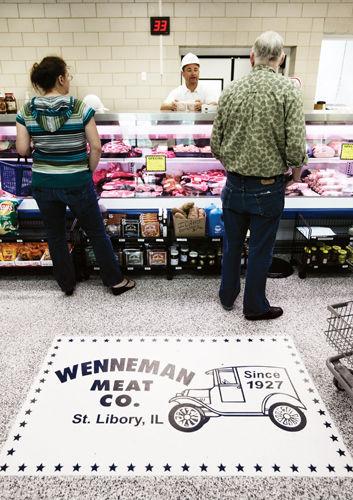 "We built this twice the size of what our previous building was, figuring that we'd have a good 10 years of growth before we'd have to think about doing anything," Schmitz says. "We were three years into that and we'd already put an addition on, and we're at that point again now; we've needed several more additions on this building for a couple of years."
Schmitz credits the surge in business to two factors: First, Wenneman has invested in educated and passionate marketing and sales teams. The second?
"I think things have changed – years ago, it wasn't as important to chefs and consumers to know where their meat was coming from, and now it is," Schmitz says. "Another difference with our people is that it's full service and hands on, as opposed to pushing your cart down the aisle and taking what's sitting there."
That specialized approach and unwavering focus on quality is what has sustained Wenneman for almost a century – and what Schmitz and Otten hope will continue to grow it for another.
***
Long before Schmitz and Otten were born, Wenneman was a neighborhood destination in St. Libory. Schmitz's great-grandfather John Wenneman bought the business from George Wessel in 1927. At that time in America, small processing facilities and butcher shops like Wenneman were still common, although that was changing – and had been for decades.
Prior to the Civil War, there wasn't a formal meatpacking industry in the U.S.; farmers mostly slaughtered livestock and sold it directly to butcher shops for consumers. Between 1865 and 1873, U.S. Army contracts offered during wartime created opportunity for larger, more centralized processing facilities, especially in historic cattle stockyard towns like Kansas City and Chicago. This, in conjunction with the growth of ice-cooled railroad cars, made it possible to expand the size and production scale of processing plants.
By the early 1900s, large meatpacking plants were thriving, yet without any kind of federal or state regulation or oversight. That changed in 1906, when Upton Sinclair's landmark novel about industrial meatpacking facilities, The Jungle, was published. To research the book, Sinclair went undercover at a Chicago meatpacking plant for seven weeks, observing myriad unsafe and unsanitary conditions and documenting the poor labor conditions for workers. When the novel was released, it caused a public panic; the resulting outcry helped lead to the passage of the 1906 Pure Food and Drug Act and the Federal Meat Inspection Act as well as unions for laborers. Although these laws helped regulate standards in facilities nationwide, they hurt the bottom line for many mom-and-pops, which struggled to implement the necessary quality controls.
Over the next century, small processors like John Wenneman slowly exited the industry. By the late 1990s, four companies dominated 80 percent of beef production in the U.S.: Tyson Foods, Cargill Meat Solutions Corp., JBS USA and National Beef Packing Co., according to High Country News, a nonprofit news organization. Schmitz and Otten remember seeing a big shift in public perception and buying power in the '90s, though – one they credit to a specific public health concern related to beef processing.
"I think that all kicked off with Mad Cow in the '90s – I remember putting up a sign here that said, 'Our cows aren't mad!'" Schmitz says with a laugh. Although Schmitz and Otten didn't buy the business from Schmitz's uncles, Jim and Bob Wenneman, until 2004, they were both employed at the plant in the 1990s.
"That's the biggest thing with consumers – the different recalls on E.coli, salmonella, etc., that have gone public in the past 15 to 20 years," Otten says. "Forty years ago you didn't hear of an E.coli recall. They didn't test, didn't know anything about it.
The vast majority of these recalls are coming from the big packing plants – the big exposure guys. People hear that in the news, have educated themselves and are now coming back to, 'I want to know where it's coming from.'"
At Wenneman, that starts with where – and more importantly, how – cattle and hogs are raised. The majority of the cattle slaughtered at the facility are raised just 15 minutes away in Okawville, Illinois, on Otten's own farm. There, he raises 150 Angus cattle. In the past two decades, Otten's farm has grown from a hobby to a full-fledged business.
"The calves stay with their mamas and graze on grass, and once they get older, they'll naturally be taken away from their moms and then they'll go be corn-fed the rest of the way," Otten says. "They're typically weaned right around seven months, so they're about 200 to 220 days old. You can wean calves as early as four to six weeks, because at that point they can eat and digest regular feed, but I believe they grow better, have better health, at seven months. They still get nutrients and vitamins from their mother's milk, kind of like with a human being."
Otten believes that raising his cattle on pasture and allowing them to roam and graze yields high-quality beef, as the animals are also working their muscles. "We're going after marbling, we're going after rib eye size to give our customers the best possible cut that we can," Otten says.
***
If you've never toured a processing plant before, it can be an overwhelming experience – even at comparatively small operations like Wenneman. To the unfamiliar, the labyrinth of rooms can feel like navigating a maze, but to the experts at Wenneman, who move between different stations, rooms and specialized training from day to day, it's not that complicated.
A proper tour – which Wenneman regularly gives to chefs, culinary-school classes and clients – begins in the holding pens. Here, cattle are transferred from trailers (mostly from Otten's farm) into stalls; within just one hour, six cattle will be slaughtered. The facility usually processes 55 cows a day, two-and-a-half days a week. (By comparison, industrial slaughterhouses in the U.S. can process between 300 and 400 cattle an hour, according to reporting by Frontline.) Cows and hogs are stunned before entering the slaughtering room; depending on which animal is being processed at the moment, the next steps diverge. Cows – weighing between 1,250 to 1,400 pounds – are hoisted into the air on large hooks, stuck and bled dry. From there, they're skinned, their intestines are removed and inspected by a state-licensed and employed inspector, and the meat is trimmed and washed. The whole process takes about 20 minutes, with two to three workers at each station.
"Everybody has a different job," Otten says. "They all know what they're doing and they don't get in each other's way. It takes a lot of practice and time for these guys to get good at what they do."
The precision and speed required to do this work safely and accurately means that Wenneman employees have to gradually graduate from one station to the next. "There's no way that anyone can… First off, just using a knife, you can't step in and just do it," Otten says. "It's a process. You don't just walk in and have it in two weeks."
Once a carcass has been washed and trimmed, it moves to the cooler room to be chilled. Hanging from hooks, sides of whole cows – minus the heads – will chill and then go to the drying cooler for around 10 days. The next step is butchering, where beef is either broken down based on custom or wholesale orders or into classic primal cuts for retail sale. Otten says six or seven butchers working at once can break down about 1,200 pounds of beef in an hour.
When butchers are breaking down beef for retail sale, they focus on the nine primal cuts: chuck, rib, short loin, sirloin (including tenderloin, top sirloin and bottom sirloin), round, brisket, shank, plate and flank. Wenneman prides itself on selling bone-in products, something that Schmitz has seen decrease in availability elsewhere in recent years.
"Our process is a little different from what you're going to find in other stores and markets," Schmitz says. "At a lot of places that don't process their own meat, I've found that the only cut that has a bone in it is a T-bone; the rest of the meat is boneless. You can come here and still get a bone-in chuck roast, bone-in arm roast, bone-in round steak. A consumer usually wants bone-in steaks, roasts, basic things that are easy to cook, and they want the bone for flavor."
Outside of the retail shop in St. Libory, Wenneman products are sold at Hanlen's Fine Meats & Catering in Kirkwood, Missouri; Godfrey Meat Market in Godfrey, Illinois; Oakville Butcher Block in Oakville, Missouri; C&C Butcher in Ellisville, Missouri; Olive Supermarket in University City, Missouri; and G&W Sausages and Fields Foods in St. Louis. Wenneman meats are also used in some of the best restaurants and smokehouses in the St. Louis area, including Hamilton's Urban Steakhouse & Bourbon Bar, 5 Star Burgers, Sugarfire Smoke House and Salt + Smoke.
At Salt + Smoke, executive chef Haley Riley uses Wenneman pork belly, which is cured and smoked in-house for bacon. The facility also produces from-scratch bologna, made with a combination of pork butt and beef, for the restaurant. Riley says Salt + Smoke has been sourcing its pork belly from Wenneman since opening in 2014 and buying in the bologna for about two or three years.
"We were making all of our bologna in-house, which is a really long, painstaking process, and so we gave [Wenneman] the recipe, and now they're processing that for us, which is really nice," Riley says. "They have such a great facility, and they have the capacity and capability of handling larger production. Wenneman does a really good job of pricing things fairly, and they're honestly some of the best people to work with – special orders, pretty much any kind of cut you've ever been interested in getting... They're well-versed in all of them. And it's nice to keep business close to home."
At Sugarfire Smoke House, pitmaster Zach Dingman and his team at the Olivette location source Wenneman whole hogs and pork steaks, as well as beef ribs when they're available.
"They've got really tremendous beef ribs; they're big, meaty, probably weigh about 3 pounds per slab," Dingman says. "I'd never actually had the chance to cook whole slabs of them until we started getting them from Wenneman – before we'd always get little three-bone sections. The whole slabs from Wenneman are really fun to play with, and they're not super common in the Midwest. There's a good amount of fat on the backbone and there's good marbling on the meat – the fat is nicely distributed so that they stay juicy – and there's a good yield. Anything you cook with a bone in it, you have to worry about the weight you buy versus the actual weight of meat you have to sell, and they're pretty ideal from that perspective."
Riley, Dingman and other chefs and pitmasters also appreciate the freshness of Wenneman's products. If you stop in Wenneman's retail shop today, the beef in the case is roughly 11 days old from slaughtering to chilling to aging to butchering. If beef is destined to be mixed into sausages, it's ground and moved to the sausage-making room; if it's being smoked, it heads to the smokers.
Walking through the plant from room to room, you immediately notice the distinct changes in smell: The holding pens are earthy like a barnyard, the slaughtering floor more chemical, the smokers, naturally, emit a pleasing barbecue aroma. This is all second nature for Wenneman employees, though – no matter the sights, sounds or smells, they work diligently and unfazed. Many of the company's 50-plus staffers have been with Wenneman for more than a decade.
"Probably our longest tenured person right now is getting close to 18 or 19 years," Otten says. "We had a gentleman retire a few weeks ago who had been with us for 24 or 25 years. And the year before that we had a man retire who was with us for almost 50 years."
Chatting with workers behind the meat case, you understand a little bit of what keeps them here year after year: They take pride in the products they produce. It's also a pride in working for a local institution and building relationships with customers over not just years but decades. That same pride is apparent in Schmitz and Otten, who not only love the work, but never forget the legacy they're contributing to at Wenneman.
"It's been important to me to continue to build on what the first and second generation started, and really take this business to a whole new level and be successful in doing so," Schmitz says. "Especially in a time when the meat industry continues to get tougher and tougher to work in – from regulations to large corporate takeovers and price restraints – we've been able to not only survive, but thrive. We've continued to expand and grow, and we can continue to down the road."
Wenneman Meat Co., 7415 State Route 15, St. Libory, Illinois, wenneman.com