As a general rule, if you're allergic to something, you try to steer clear of it. You certainly don't spend your days surrounded by it, let alone launch a business completely centered on it. But that's exactly what Anya Corson did.
Corson launched Anya's Apothekere, a line of flavored, fermented honey sauces that are kosher-certified, gluten-free, fat-free and sodium-free, in St. Louis in October 2017.
Since then, she estimates that she's produced 35,000 jars each year. Her three sauces – garlic, onion and jalapeño – are sold at boutique grocers across the country, including local favorites such as AO&Co. and The Annex, as well as Amazon and Schnucks. She has even earned a shout-out from The New York Times as a charcuterie board must-have.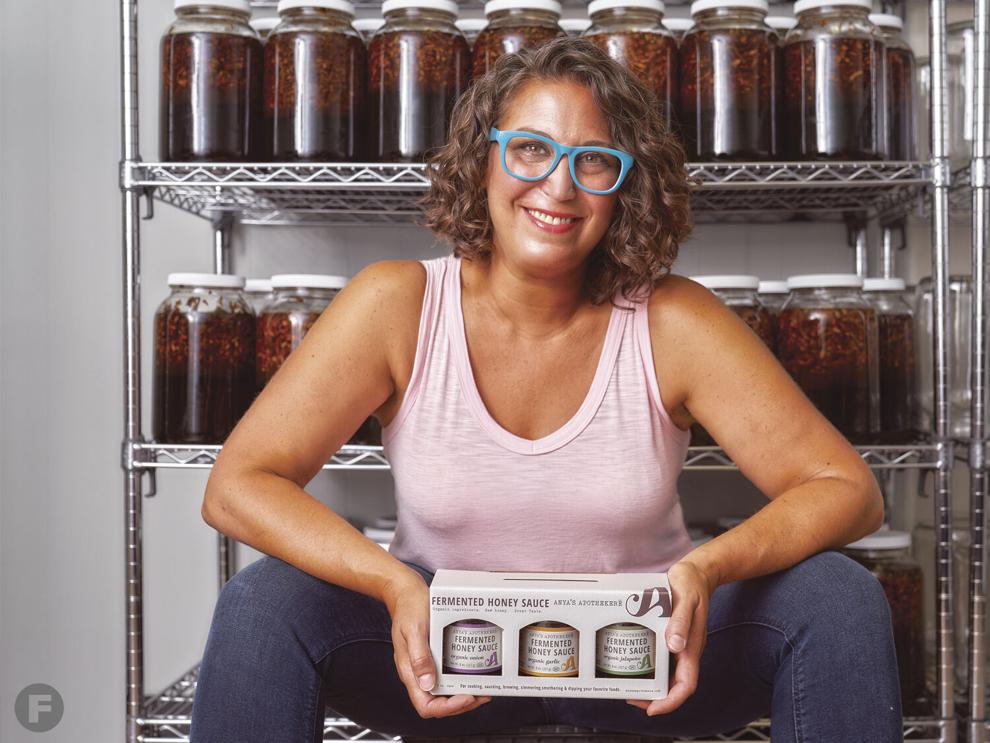 And she has done all of this while being allergic to both bees and honey.
"I can touch it, and it doesn't bother my skin, but when I eat it, it makes my lips tingly – what a fun thing for someone who works with thousands of pounds of honey," she says with a laugh.
But when it came to her own kid, an allergy wouldn't stand in the way of helping.
Toddler Taste-Testing
When her daughter, Miriam, was born, Corson says she almost immediately noticed a severe irritation on her skin, eventually followed by food allergies. Corson's mother, Deborah Zorensky, a holistic dietician and owner of The Center for Mind, Body & Spirit in University City, Missouri, tried various natural treatments, and Corson dove into research. She discovered issues like her daughter's often stemmed from a gut imbalance. An easy remedy? Fermented foods.
"It's great to get probiotics [live beneficial bacteria and yeasts that naturally live in your body] in any way you can, but fermented foods, in particular, have live probiotic still living and culturing, and that is an incredible boost to get your immune system back in shape," says Corson.
Although she tried a few store-bought solutions, she quickly realized that nothing really fit what she was looking for: a fermented product that wouldn't cause her toddler to turn up her nose. A veteran of culinary school, she began to experiment. She fashioned the coat closet at her mom's condominium into a makeshift food lab and filled it with glass jars, labeling them with flavor profiles and dates.
"We started with a few different salted ferments like cabbage and kimchi, and [Miriam] was just not having it," says Corson. "She would gnaw on fermented cucumber or a carrot for the crunch, but she didn't love the distinct taste, which, at a year and a half old, why would she want to eat that?"
Corson then moved into the kombucha world. But rather than serve up a bottle of heavily caffeinated black tea to her toddler, her own recipe used light green tea and hibiscus tea. The result: a pretty, pink drink that her daughter loved.
"That made me think about focusing on the sweeter side of ferments," she says. "I started researching, and I noticed something about fermented honey and thought, 'What about this?'"
Use to dress your favorite salads, marinate vegetables or even mix with cooked lentils.
Her first flavor attempts, lemon and cranberry, ended in sticky eruptions when the sugars in the fruit forced the jar lids to pop off. She pivoted to vegetables with more success.
"It started by wanting to see what I could do to help my kid – that's what moms do," she says. "It turned into, 'Man, this tastes good on pretty much everything; I might as well use it for everything,' then, 'Why not turn it into a business that could support my family?'"
Before long she was working with a food rep, talking packaging and sizing with Zorensky (now her business partner) and prepping to launch a new shelf-stable product into the market.
Anya's Apothekere is still a small operation, but the days of her crowded coat closet are long gone. She now operates out of a facility in The Grove where honey is delivered once a year from Brazil in 2,000-pound barrels.
Corson wanted to source the honey from the U.S., but to ensure it was certified organic – a must for Corson – she had to go out of the country. Because of the unique way bees pollinate and move, The National Organic Standards Board, which provides recommendations to the USDA, requires a 2.2-mile surveillance zone around an apiary or bee yard without high-risk activity (which includes, among other things, human housing, cities and land treated with pesticides). For that reason, U.S.-produced honey cannot be legally labeled organic, even though beekeepers might adhere to natural growing practices.
"Honey is one of the most easily adulterated products on the market," says Corson. "I wanted to show my customers that I take health and wellness very seriously, and organic is an important certification."
Into the Wild
While other fermented foods such as kombucha use an outside yeast culture, Corson's fermented honey relies on wild yeast, meaning yeast that is naturally occurring in the honey itself does all the work. Honey ferments on its own once it reaches a certain moisture point, or water activity. To get to that ideal water activity (20 to 24 percent), Corson chops raw, organic vegetables, soaks them in apple cider vinegar to stabilize the pH and tosses them into the honey.
Together, the honey and vegetables hang out in 100-gallon fermentation tanks – Corson has one for each flavor – connected to air compressors that aerate and mix the honey daily. It stays in the tanks for about a month, when the yeast is most active. Corson and her small but mighty team then transfer the honey into gallon jars to continue the fermentation process for at least another two months before the first taste. From there, she monitors and tastes the honeys for up to six months before they are ready to be packaged. A longer fermentation time won't affect the probiotic benefits past the 3-month mark, but it does strengthen the flavor profiles.
Each honey provides its own unique experience. The warm, nutty garlic flavor includes candied, chewy slices of garlic, while the onion is the mildest of the three with a thinner consistency, as the red onions contain more moisture, and a sweet aftertaste. The jalapeño is the thickest of the honeys, with a punchy, peppery bite that sits on the back of your tongue.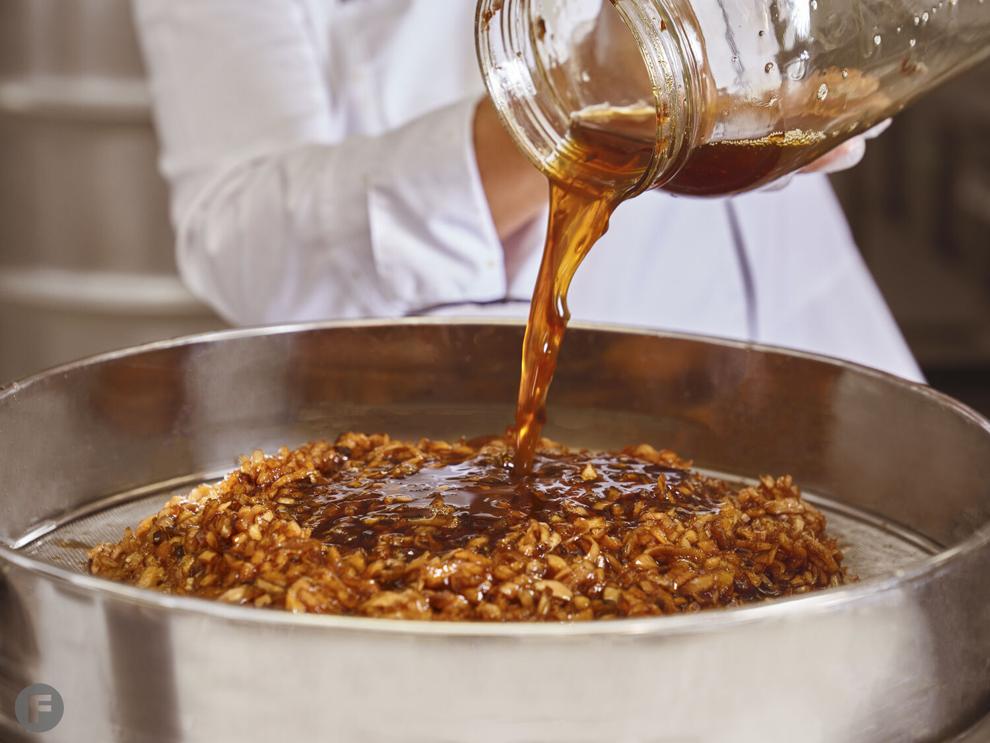 "Garlic was always number one," says Corson. "Raw garlic and raw honey are two of the strongest plants and foods on earth; putting them together was obvious. Then when it came to the others, they were flavors that just made sense. This is what you cook with a lot: onion and jalapeño."
Although each of the honeys adds a new depth of flavor to a variety of dishes, Corson's cardinal rule is not to cook it. "We recommend keeping it raw, if you can," says Corson. "We don't heat treat it at all, so that's the best way to keep the active live cultures and retain the benefits."
Corson says the easiest way to start incorporating the honeys into your cooking is to let them be the star of the show on your next charcuterie board. The onion is a great companion to a stinky blue cheese or Brie, while the other two pair better with hard cheeses. Next, try adding them as immunity-boosting finishing touches on your favorite meals.
Corson often drizzles some over her family's favorite flatbreads and pizzas after they are heated (jalapeño is her favorite here), or she tosses roasted Brussels sprouts with the garlic honey before serving. Other dishes that get a dose of fermented honey include chili and sloppy joes, hot wing sauce and salad dressing and breakfast sandwiches with goat cheese and a fried egg. She's also had customers who dumped a full jar of the jalapeño honey over their Christmas ham.
The sauces can also be used in beverages; The Gin Room, for instance, served a cocktail using the jalapeño honey, and Corson says that flavor, in particular, makes a mean spicy Margarita. AO&Co. owner Ben Poremba likes to drizzle the jalapeño honey on the pizzas he makes in a wood-burning oven at home for his kids, and he also combines the onion honey with lemon juice and yogurt to make a marinade for lamb and chicken. "It's a great product, and it's been great to see it catch on locally," he says. "There are a lot of loyalists out there who keep coming back in for it."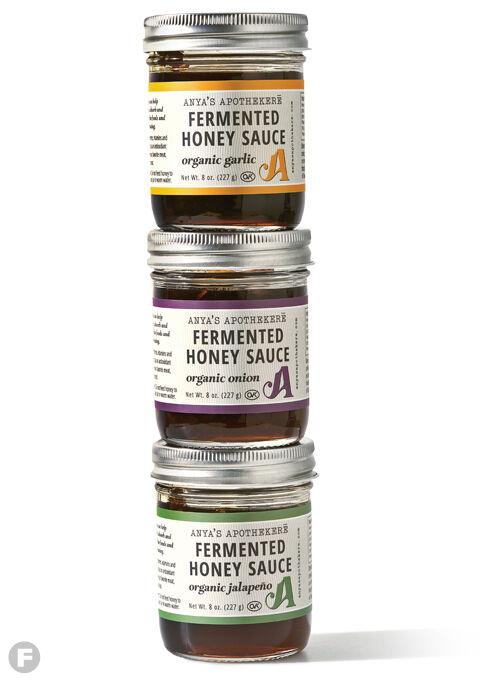 "We have had such great feedback," adds Corson, sharing that one customer orders three full cases of the onion honey every three months – that's 18 jars, for those of you counting – because he can't live without it. "At first, people couldn't figure out what to do with it, but they'd see how I used it on Instagram and then they would immediately start using it and trying it on everything."
Looking ahead, Corson says she is open to dabbling in more fermented products, though probably not kombucha, as she sees that market as saturated. For now, though, she's focusing her attention on a move to a bigger facility in Maryland Heights, Missouri, sharing her additional products – she also makes all-natural bath soaks with ingredients such as rose petals, calendula and anti-inflammatory bee pollen – and getting her current honey varieties in front of as many people as possible.
"[From] having an idea that you never thought would be anything to turning it into something and seeing your own logo when you walk into a grocery store can give you chills," she says. "I want to see fermented honey as just the norm, like when you're cooking and you grab tomato sauce, you're grabbing this, or when you're thinking about a super quick and easy dinner – just to be the everyday option."
Corson's daughter, Miriam, is now 10, and the fermented honey, along with other measures, have led to a health turnaround. These days she and her younger brother, Davi, enjoy helping Corson dress pizzas with the honeys and experimenting with the other ways to use it in their meals at home.
"I don't make claims that this product magically clears up eczema," warns Corson. "I didn't make it to completely fix my kid; it was just a way I could support the functionality of her body and make it work better. And if that's a product that I can make for her to eat, it makes me feel a whole lot better that I am contributing to that."
Anya's Apothekere, anyasapothekere.com