Domenica Marchetti sprinkles some flour over the countertop. "The first thing you do when you make homemade pasta," she says to her 14 pupils, "is you take off your jewelry." The class chuckles, but the point is clear: making fresh ricotta gnocchi will be messy.
Marchetti unwraps cheesecloth from an airy ball of buttermilk ricotta, which her class made that very Saturday morning.
"Why don't you guys watch me do it, and then you can get started. I want to be sure I can show you how to do it properly," she says, instructing students to turn to page 215 of her cookbook, Preserving Italy, for the gnocchi recipe, which uses ricotta, a fresh Italian cheese, instead of potatoes. "Now," she says, looking at the class from behind an instructor's counter at the front of the classroom, "what I want to point out on the recipe, is it says about one cup of flour, plus more for the work surface, and as needed to stiffen the dough. The amount you're going to add to the dough will really vary based on your ricotta, based on the humidity of the room – based on a lot of factors." Marchetti says ricotta and gnocchi with an Italian accent, the result of summers spent with her mother, aunts and extended family in Italy.
Students are itching to touch their portions of buttermilk ricotta, yet watch Marchetti intently as she fluffs the soft cheese with a fork before mixing it with freshly grated Parmigiano-Reggiano, eggs, salt and white pepper, plus "a little grating of nutmeg." When it's all combined, she moves the ball of dough to her floured work surface, adds more flour to the countertop and begins to incorporate it into the dough.
She kneads effortlessly. True, the ricotta dough is much softer than bread or pizza dough, but it's something the students realize they cannot replicate just yet; a few try her fluid rocking motion, but it's better to focus less on doing exactly as the instructor does and try to get the hang of what works for them. Her technique comes from years of kneading: Watching her work, you understand why Marchetti says making pasta is therapeutic. She talks as she kneads, checking every once in a while to see how the dough is shaping up.
"The tomato sauce is bubbling away; you should go check it out after we're done. It's cooking down, but it's got a way to go," she says of the 70 pounds of tomatoes the class peeled and diced earlier in the afternoon for sauce to pair with the gnocchi; it's simmering a few hundred feet away from the classroom in an industrial-sized pot in a commercial kitchen.
Now that they've watched Marchetti make her ricotta dough, students begin mixing up their own. "If there's any tricky pasta recipe, this is it, because you really can't measure the amount of flour," Marchetti says. While students are kneading, cautiously sprinkling more flour as they go, Marchetti comes around to each cooking station to let them feel the texture of her dough. "It's like a baby's bottom!" a woman jokes, though it's an apt description. The ricotta dough can't be too dry, or the gnocchi will be too hard. Too wet, and the pasta will dissolve when boiled in water.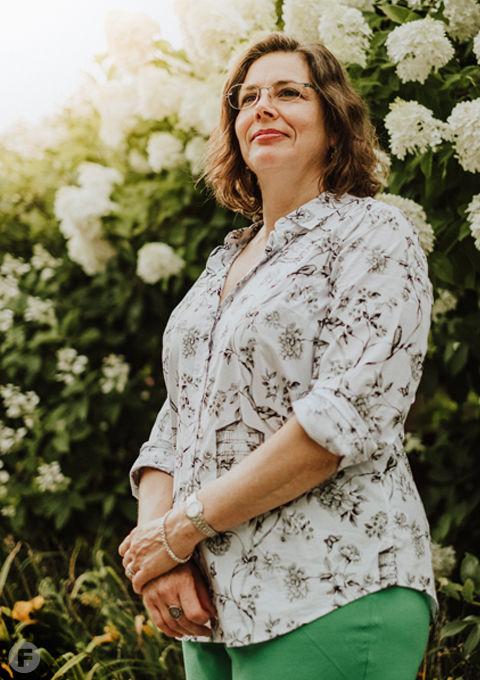 Once Marchetti is satisfied with everyone's dough, she demonstrates how to cut off a piece with a pastry scraper, sprinkle it with more flour, and carefully roll it out into a finger-sized rope. Then, she cuts off little pillows, about three-fourths of an inch, and sprinkles them with flour again. The trickiest part of this generally tricky process seems to be the final stage. Marchetti holds up a fork so everyone can see, and rolls each gnocchi down the tines to give the pasta its signature indentations.
When all the gnocchi are rolled, they're spread on a rimmed sheet pan. Marchetti will take them to the commercial kitchen to cook, but for the most part, they're done. The class sighs: It's almost time for dinner. After two days, peeling 70 pounds of local tomatoes, hand-cutting seven pounds of homemade pasta and rolling five pounds of ricotta into gnocchi, among other things, the hands-on part of the weekend has finally come to a close.
The weekend in late July when Marchetti instructed students how to make ricotta gnocchi wasn't her first time in St. Albans, Missouri, just 35 miles west of St. Louis. (And, for the record, she likes St. Louis-style pizza.) Months earlier, in April, she taught the very first class at the new International Choux Co. at the Inns at St. Albans.
In February, International Choux Co. began offering weekend-long intensive classes in mastering seafood, cooking with the seasons, Italian preserving and seasonal desserts. The classes are playfully termed "culinary camps," because each is a weekend-long, deep-dive into a given subject. Most camps feature a cookbook author giving students a look not only into their recipes but their cooking techniques, histories and just about anything else they couldn't fit in their books. Including accommodations at the Inns – a beautiful, rustic venue often used for weddings and special events – a weekend runs around $500. Still, that's certainly less than a week in Italy, and only an hour away from Downtown St. Louis. That's what brought Marchetti to St. Albans.
The author of seven cookbooks on Italian cooking and a former newspaper reporter based in Alexandria, Virginia, Marchetti focused that first course on a culinary tour of Abruzzo, Italy. The class took a tour of The Hill, St. Louis' historically Italian-American neighborhood to select ingredients, and learned to make spaghetti alla chitarra and wood-fired pizza, both Abruzzi specialties. Marchetti's mother grew up in Abruzzo, in central Italy, and Marchetti spent summers there as a girl. She now does food tours of the region, giving students an even more intensive window into regional Italian cooking. While some cooking instructors have a set program they teach at various venues, culinary camps are specifically designed in partnership with the Inns at St. Albans.
"I always do new stuff; I don't often revisit," Marchetti says of her teaching repertoire. "I'm always trying to slip in something authentically Italian that I think people won't know about. I've had cooking schools tell me, 'If you do a big pan of eggplant Parm, this class will sell out.' But I didn't want to do that. I want to teach people something that they might not know."
This weekend, for her return, Marchetti is teaching from her 2016 book Preserving Italy, which, as the title implies, has a focus on canning, curing, infusing and bottling "Italian flavors and traditions." So alongside learning to quick-pickle and use a pasta machine, Marchetti also teaches water-bath canning, an old-fashioned process that can be intimidating to those who've never done it – making it an ideal subject for cooking camp.
For Diane Miller, vice president of communications and marketing at the Inns at St. Albans, Marchetti was the perfect choice to head up the experimental new cooking classes.
"We weren't shocked [they were popular], but we really didn't know," Miller says. "Will people come and do this? Will they get it? And then we were like, 'Oh, OK, this is working!"
Miller first worked with Datra Herzog, who owns the Inns at St. Albans, in Jefferson City. Herzog convinced Miller, who lives in Washington, D.C., most of the time, to come out and help launch International Choux Co. in February as a way to make the Inns at St. Albans a destination instead of only a wedding venue.
"A lot of the places [and resorts] I visit – Blackberry Farm [in Walland, Tennessee,] in particular – their cooking schools are very popular, and it gives guests something to do," Herzog says. "The amenities in St. Albans [are] limited, so we were looking for why people would come out to St. Albans and make it a destination."
"I was surprised! I was optimistic, but I was so pleased when people started to really sign up for it," Herzog says. "Even the great distances people were traveling. We've had people from San Diego, Arizona, Chicago – so people are really doing what we hoped, and seeing it as a destination."
The cooking school's name, International Choux Co., is a nod to Irene Johnson, who first developed the St. Albans estate in the early 20th century. Her husband was Oscar Johnson, who founded what became the International Shoe Co. in St. Louis. At the time of his death in 1916, it was the largest shoe-manufacturing company in the world.
Two years later, Irene built a summer home at St. Albans now known as The Studio Inn, designed by Theodore C. Link, the architect of St. Louis Union Station. Today, guests – from bridal parties to cooking campers – can stay in the updated, six-bedroom mansion, which features a gourmet kitchen, sleeping accommodations for 12 and sweeping views of the village of
St. Albans, the property's vineyards and the Missouri River. (Four private cottages are also available for guests at the Old Barn Inn.)
Paintings by Missouri-based artist Bryan Haynes hang in The Studio Inn, commissioned by the Herzogs, depicting the history of St. Albans, from lush landscapes to Native Americans to Irene with her famous rose bushes. She planted 3,500 along the 10 miles of road that wind to the property; Herzog is quick to point out, with a laugh, though, that the wealthy Irene did this so she wouldn't have to see the poorer parts of the countryside as she traveled to and from St. Albans. Irene even gained some national acclaim for her work at the farm.
"Mrs. Johnson is trying to make St. Albans Farm 100 percent patriotic in several ways," wrote Missouri Woman magazine in 1918. "First, she is increasing the food supply; second, she is using girl-labor, thus releasing men for government service; third, she is canning all her surplus vegetables; fourth, she is preparing to increase the supply of wool by raising sheep."
Irene grew the St. Albans farm throughout the 1920s and '30s; at its peak, it boasted 7,500 acres of experimental agriculture, plus chickens, sheep, Duroc hogs, dairy cows and saddle horses. Irene maintained the farm until her death in 1954 at age 89, when it was then inherited by her sons.
In 2004, Herzog began leasing the Old Barn Inn and operated a restaurant there called the Gardens at Malmaison, which was open for regular dinner service. After purchasing it in 2013, she turned it into a special event-only venue. Today, she also owns the Head's Store and The Studio Inn.
Miller is currently coordinating classes for next year, likely March through November, with some of the same instructors – Marchetti; Christine Burns Rudalevige, who taught cooking with seafood in April; and Sheri Castle, who taught cooking seasonally in July – but perhaps playing around with different formats or smaller classes as well as new instructors.
"It's a deep-dive weekend; you want what's not on the agenda," Miller says. "You're talking, and that's what I think is the best part of a cooking class."
Herzog is also planning to construct a larger, fully functional cooking classroom for the 2020 season, with room for 25 students, a full commercial kitchen, an arsenal of tools for everyone and more. The current classroom can fit 16 students; any baking or freezing has to be done in the commercial kitchen at the Old Barn Inn, and students (and instructors) cook on induction stovetops.
"We definitely need a larger space; we were shocked. We really thought it would be three to five people [in a class], and they're selling out," Herzog says, noting that she's currently working with an architect to determine where would be the best place on the property to build a new classroom.
On Friday evening, students are hard at work preparing for the night's dinner of crostini with sweet-and-sour peppers, capers and fresh mozzarella and trenette (noodles as wide as linguine but a tad thicker) with pesto Genovese.
While the bright red and yellow sweet peppers are marinating in pickling brine, Marchetti guides the group through preparing a quick and classic pesto.
Her recipe comes from Roberto Panizza, the literal Ambassador of Pesto of Genoa, Italy. Of course, technically only one specific type of basil makes true pesto Genovese, but tonight's version with Missouri-grown basil is just as sharp and vibrant.
Understandably, some cooking campers are worried about how well pasta-making will go. "Now, I'm stressed!" jokes one, as Marchetti announces it's time to take their dough and somehow transform it into delicious pasta.
Marchetti is patient, repeating tips as the class goes along, with students using their pasta machines for the first time. As she rolls her dough through the machine, gradually making it thinner and thinner, the students follow suit, albeit less sure of themselves.
"I'm at [setting] No. 7," Marchetti says after a few minutes of feeding dough through the roller, "and I kinda like the consistency of this. It's thin, but not too thin. You can kinda see the shadow of your hand through it." She holds up a couple of feet of delicate pasta dough. "Make sure you're flouring!" she reminds the class.
"Can you check this?" one student asks, sounding worried. "Mine is a little uneven."
"That's OK!" Marchetti assures everyone. "Making pasta is intuitive: The more you do it, the better you will get. The only way to get better at it is to keep doing it."
An hour or so later, as cooking campers are chowing down on the surprisingly light plates of pasta, bright green with pesto and topped with freshly grated Parmigiano-Reggiano, they agree: They will be doing this again.
Inns at St. Albans, innsatstalbans.com/cooking-school