Walking up to Pie Guy Pizza in The Grove, the pink and yellow neon pepperoni slice outside the restaurant is hard to miss. "That sign is like a neon beacon of drunken hope," Emily Thompson, a bartender at Gezellig Tap House and Bottle Shop, which is connected to Pie Guy, will tell me later.
Over the past decade, The Grove has seen a lot of change. The St. Louis neighborhood has long been a nightlife and entertainment district; for many years, it was best known as home to some of St. Louis' best LGBTQ bars, and it still is. Those 10 years have also brought new concert venues, restaurants and bars and even a second location of Urban Chestnut Brewing Co. There's still only a handful of 3am bars, though, and that late, exactly one restaurant serving food. That's why I'm up past my bedtime tonight: to hang out at Pie Guy Pizza till 3:30am.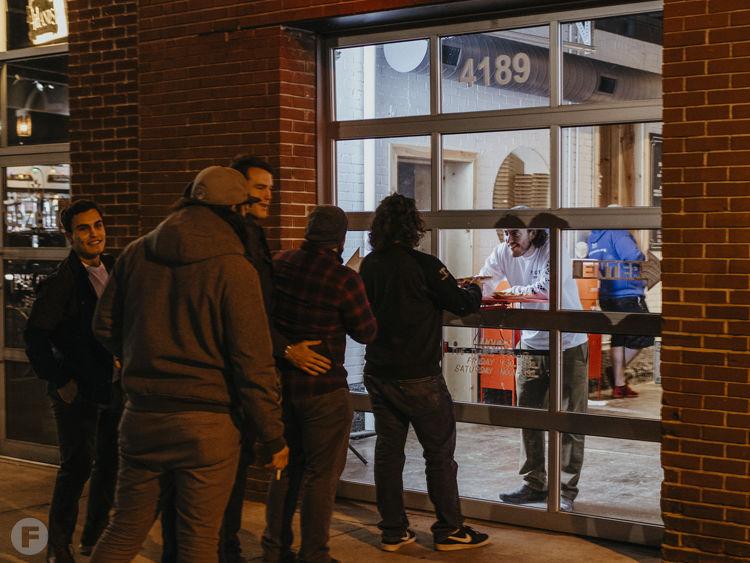 My eyes follow the triangular slice, pointing to the order window below. In an hour or so, Pie Guy owner Mitch Frost will be seated here. Most nights, he's slinging slices of his New York-style pizza to a line of hungry bar-hoppers. If it's slow – around 11pm, ahead of last call at nearby 1am bars and before the neighborhood reaches a swell at midnight – he's dancing. And if the neon sign doesn't draw you in, the playlist, heavy with Travis Scott, Migos and Kendrick Lamar, blaring out into the cool night air, should. At the window, as tipsy customers contemplate their orders – classic pepperoni or sausage, or perhaps a pesto-topped vegan slice? – they can peek in the window and see colorful and playful pizza art in the dining room. Maybe they'll also spot an employee tossing a dish towel in the air with a slight curve, like pizza dough.
Unsurprisingly, Frost doesn't get much sleep on the weekends anymore. After closing Pie Guy at 3:30am on Friday and Saturday nights, he tackles cleanup in the kitchen for another hour or so before heading home. Late on Fridays, he leaves the pizza ovens on low heat until he returns at around 11am on Saturday morning, so as not to lose any time for the lunch shift. Mornings might mean bloodshot eyes for Frost, but it's worth it for the first-time entrepreneur, who gladly traded a more conventional schedule to realize his dream.
"I'm not a morning person… Like, 10:30am is early for me," Frost says with a laugh. "I've just always been a night owl. My Friday and Saturday nights are long and the days are long, but it's fun serving my pizza at 2am; it's pretty much the coolest thing. So yeah, I'm missing sleep, whatever – I'll figure this out."
This month, Pie Guy celebrates six months of business; the shop opened Sept. 1. In some ways, the pizzeria is the culmination of Frost's experiences: His first industry gig was at the University City, Missouri, location of Dewey's Pizza when he was 17. "They taught me how to toss pizza dough, and it was awesome," he remembers. "I wasn't a star employee by any means, but I was good at tossing pizza."
Dewey's was just the beginning. Over almost a decade, Frost worked at a string of other local pizzerias, including Onesto Pizza & Trattoria, Pi Pizzeria and The U.R.B., Urban Chestnut Brewing Co.'s research brewery that serves New York-style pizza by the slice. His job at Onesto eventually led him to teach pizza-making classes, passing on the knowledge he'd gained and learning more along the way.
Today, if you walk by Pie Guy during its off hours, you might catch a glimpse of Frost effortlessly spinning dough in the air from the open kitchen. He takes great pride in his pizza dough, and believes a quality crust is absolutely crucial to the perfect slice. "That's the most important part," he says. "Some crispiness to it – that's key. That's what everybody wants."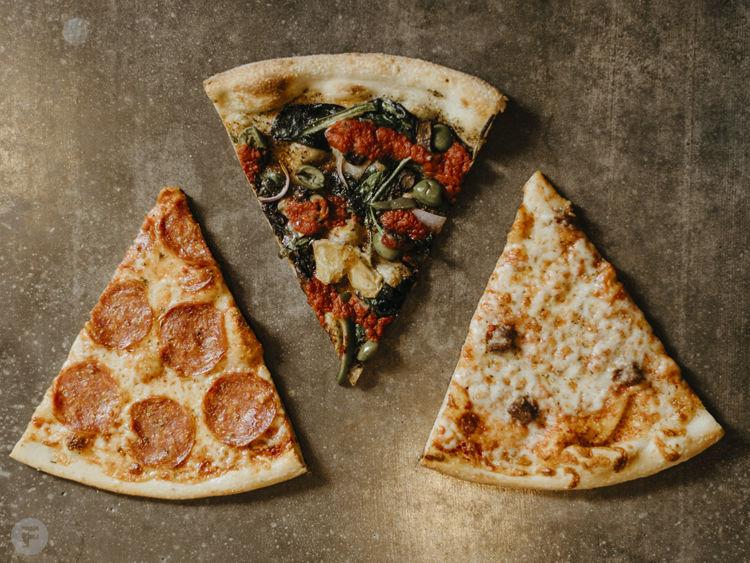 Years spent working in pizzerias and teaching pizza-making classes gave Frost faith in his dough, but he didn't have a clear vision for a shop of his own. Then, in late 2016, certified cicerone Brandon Cavanagh opened Gezellig in The Grove. Cavanagh always wanted to serve food at the craft-beer bar and bottle shop, but initially, there wasn't space; eventually he leased the adjoining building – then a vape shop – and got to work converting it into a restaurant. The two spaces were originally separate, so Cavanagh framed out a large doorway and window to connect them.
Meanwhile, Frost, who was working down the street making pizza at The U.R.B. at the time, was already friends with Cavanagh and watching Gezellig's progress. Frost started volunteering for Gezellig's disc golf-beer tournament, and later that led to bartending. When Cavanagh acquired the space next to Gezellig, Frost pitched Pie Guy.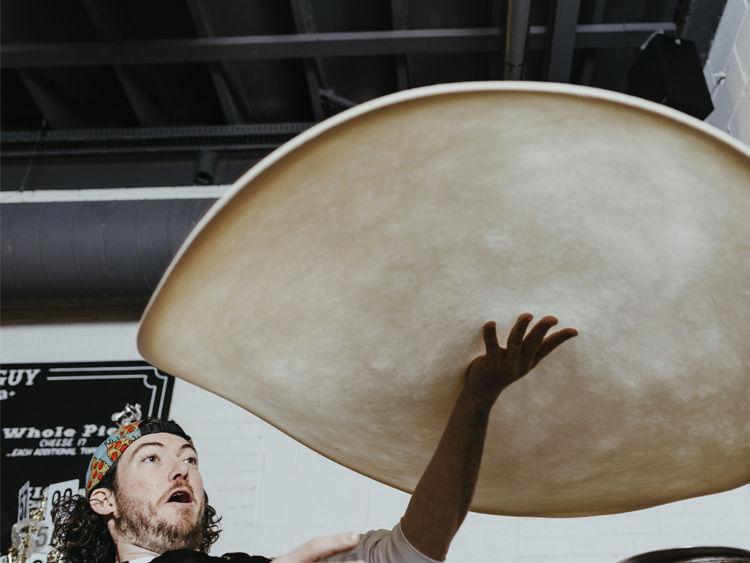 "I started getting in his ear about letting me have it," Frost says. "He wanted to do a taco shop originally, but I didn't feel comfortable putting up a taco shop because I don't really know how to make tacos. Eventually he was like, 'I think a pizza shop would work here, even though there's two other pizza shops – two other pizza and beer spots – on the street.'"
Still, Pie Guy is the only pizza spot – or restaurant of any stripe – in The Grove that stays open until 3:30am. Frost wants his products to set the pizzeria apart, but he also knew from the beginning that late-night hours would give Pie Guy an edge. "Nobody else is doing it, so why not?" he says. "That's basically what it was. I knew it wasn't going to be easy."
As Cavanagh heads into his third year with Gezellig, he agrees that Pie Guy is filling a void in The Grove. "It's something we've needed in this neighborhood for a long time, and his execution on it has been near perfect," Cavanagh says. "When I visit cities like New York, usually when I'm getting a slice is when I'm leaving a bar late at night. There's been some late-night food available [in The Grove], but this helps pave the way for future businesses to adopt a similar model."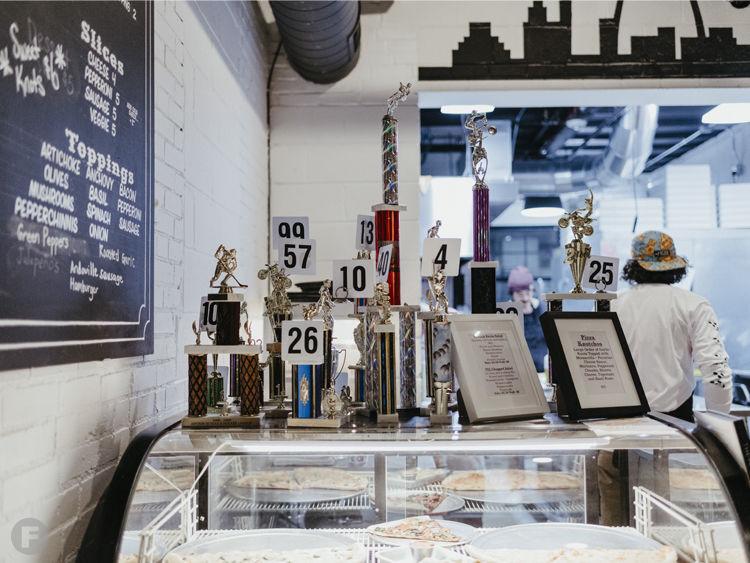 Before opening Pie Guy, Frost conducted a series of dough experiments using different recipes and flours from St. Louis-based Di Italia Imports with his naturally fermented sourdough starter. "And hands down, every time we used 00 flour, it was so much better," he remembers. "We did blind tests in my house where we had my friends eat one crust, then another crust, and every time, it would be that [00] flour was way better. So we use that flour now."
In Italy, Neapolitan pizza is made with Italian 00 flour, which is very finely milled and incredibly soft. That same approach to quality extends across Pie Guy, with Frost using imported olive oil and tomatoes for his pizza sauce, and toppings from local producers, including sausage and bacon from Such and Such Farm and mushrooms from Ozark Forest Mushrooms. To make his crispy, New York-style pies, Frost ferments his sourdough starter for about 12 hours before adding it to the dough, which then rises for three days before being tossed, topped and baked.
Cavanagh believes that this focus on quality is what sets Pie Guy apart. Sure, the late-night hours are a draw – but so is the pizza.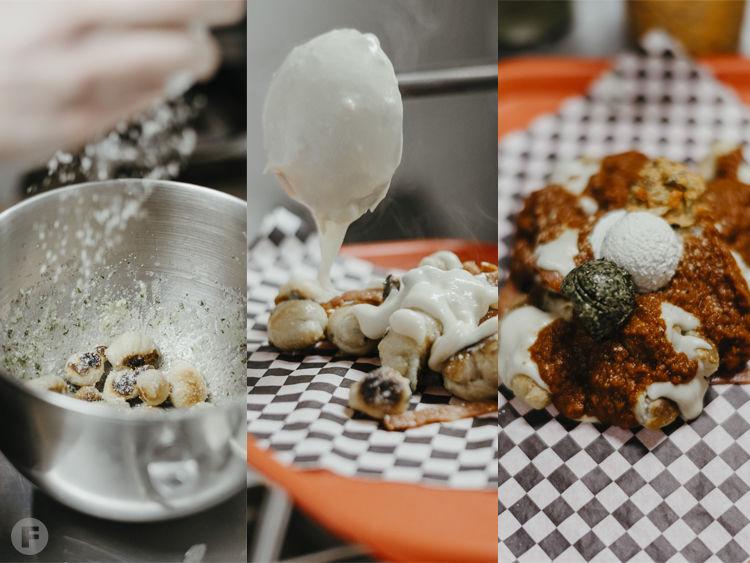 "He's really killing it; it's really good [pizza]," Cavanagh says. "He's really going the extra mile with everything, and I think it shows. He cares about every step of the process. And it's a lot of fun; that's the spirit that I wanted to have there."
Eventually Frost knows he'll have to hand the dough production over to someone else in the kitchen, but he's not ready for that quite yet. He's put standards in place for quality control with the pizza making, using screens to ensure the shape and size of every crust is the same, and markers on cutters so slices are uniform. Still, he knows he can't do everything himself forever.
"I don't get much time to work on the actual business right now, which is back office, numbers, accounting, paperwork, events, social media...," Frost pauses. "But this is what I asked for. So I'm always going to have the attitude of, 'bring it on.' At the end of the day, I'm trying to make the most awesome pizza possible. My whole thing is, don't f*** up badly enough to ruin this place. Just make good pizza."
At about midnight, The Grove really reaches capacity. Four neighborhood bars stay open until 3am on Friday and Saturday nights – Handlebar, Atomic Cowboy, Just John and The Gramophone – and the latter serves sandwiches until 2:30am. At many other nearby bars, including Gezellig, last call is hollered at 1am, so that's usually when Pie Guy's dining room closes and the walk-up window opens. Because the two businesses physically share a space, Frost doesn't keep the dining room open past 1:30am to avoid customers dipping into the beer bar after hours.
The Grove can be unpredictable, but midnight is usually when Pie Guy really gets busy. Some customers are grabbing a $4 or $5 slice to fortify themselves for the night still ahead, while others, having already had too good of a time, are looking for a snack before dozing off in their Lyft. Standing in line inside, a customer removes a Pie Guy loyalty punch card from her wallet. "They gave me this last night because I lost my old one," she says, "but they know me, so they stamped it a few times first." Her friend asks her what she gets. "Something different every time," she says. "Try the cold cheese!"
Cold cheese is exactly what it sounds like: For an extra $2, you can have a handful of cold shredded mozzarella added to a hot slice. Frost got the idea from an episode of Vice's The Pizza Show that featured the specialty from Oneonta, New York. The idea is that the cold cheese saves you – especially if you're drunk – from burning the roof of your mouth as you eat a hot slice.
Another customer orders the Pizza Knot-chos, a pile of Pie Guy's garlic knots topped with a mozzarella-Pecorino-ricotta cheese sauce, marinara, pepperoni, fresh ricotta, pesto and tapenade. Although they sound like the kind of thing you'd throw together at home at 2am, don't be deceived: It took Frost about three months of development to find the right balance of ingredients, flavors and textures.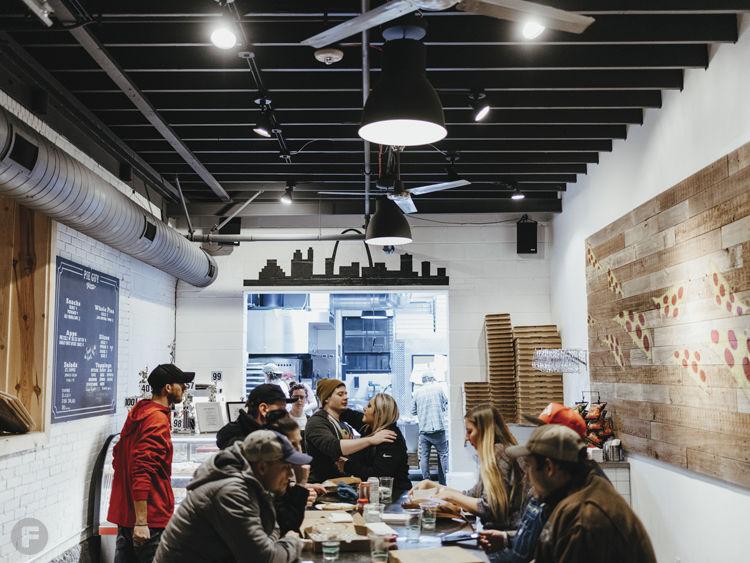 Once your order is in and you've paid at the counter, a Pie Guy employee hands you a trophy with a number poking out of the top. Why trophies? "I just think it's hilarious," Frost laughs. "I went to Restaurant Depot and got these little dinky numbers, and I hated them; they didn't work very well. And trophies just seemed perfect."
Before the dining room closes, most customers take their trophies over to Gezellig and grab a beer and a table. It's easy to see how the two businesses have helped one another; Gezellig doesn't have to serve food and Pie Guy doesn't have to have a liquor license.
"It's doing exactly what we had hoped," Cavanagh says. "We have a built-in bar crowd that was already coming here, so [Pie Guy] has a captive audience from the start. And then, vice versa, [Pie Guy] being there not only keeps our people here longer, but also brings in people who are just looking for food and might come in and have a beer. We've always had some busy Friday and Saturday nights, but now, our slowest nights are a lot busier, which is a great thing."
Even at last call, there's still usually a healthy crowd sipping beers and waiting on pizza. I even see a few familiar faces around 1am, a reminder that maybe I'm not up past my bedtime after all.
Frost offers me a slice when I arrive at midnight, but I can't – not yet, anyway. I'm hanging out for three and a half hours, and if I eat pizza right now, I just might fall asleep before 3:30am. He laughs, admitting that he can't eat pizza this late either. He offers me an orange or a banana, the things he snacks on throughout the night to keep his energy up. I consider it, as I don't know if I've never eaten fruit at midnight. Then again, I've also never been sober in The Grove at midnight before either.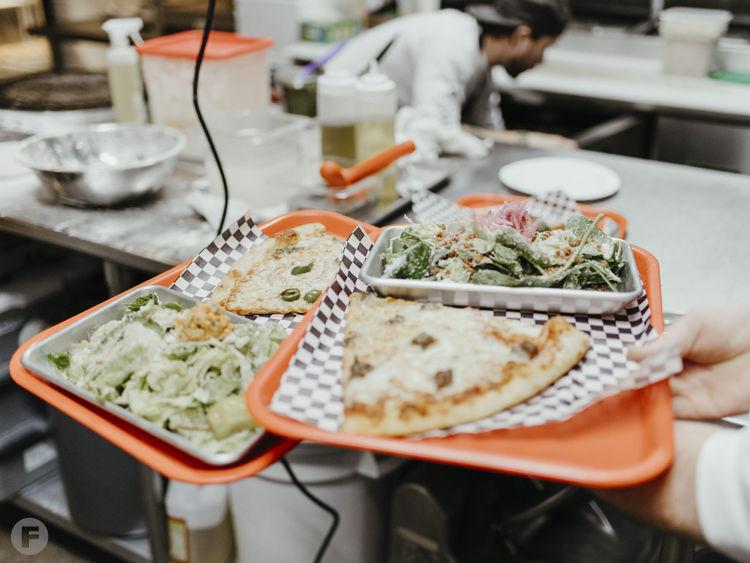 Frost waits until 1:30am to open the window tonight, as there's still a few people eating pizza in his dining room at 1am. Someone asks him if he's thought about serving calzones; he says there aren't currently plans to add them to the regular menu, but that next weekend Pie Guy will be offering a calzone made in collaboration with local donut chain Strange Donuts. Frost is looking forward to expanding collaborations in 2019, too: In addition to the calzone with Strange, Pie Guy worked with Old Vienna in late January for a Red Hot Riplets pizza using Riplets seasoning in the dough and crushed chips as a topping.
Within a couple minutes of the walk-up window opening, customers are lining up. Pizzas for the window are reheated and stocked inside a portable warming case sitting on a folding table next to a stack of white paper plates and Frost's Square-equipped iPad. An order for two vegan slices comes in; those aren't kept in the warming case near the window, so Frost calls back to the kitchen for them. Those pizzas are kept warm in the kitchen before being reheated in an 650ºF oven for 90 seconds before serving.
"What I love about it is, with the style that we do and the reheat we give it, it just makes it the perfect slice of pizza; it's so crispy and delicious," Frost says.
Although it was warm today, by 2am the temperature has dropped to 35ºF and Frost slips on a jacket. In the kitchen, two cooks and a hostess are cleaning up and prepping for the next day. After an hour of closing up next door at Gezellig, bartender Emily Thompson comes over with beers for the Pie Guy crew. "We got slammed tonight!" she exclaims about both businesses.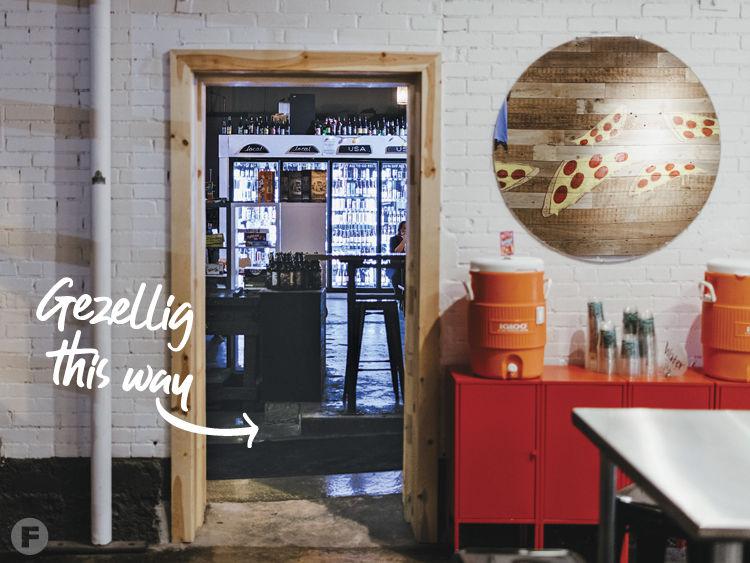 From 2am to 3am, several customers return for a second or third slice. Around 2:30am, a guy wearing a Domino's Pizza jacket walks by. "Do you really work at Domino's?" Frost yells. The guy nods, and Frost offers him a free slice. "We'd like to get into delivery," Frost says with a laugh.
Another customer pulls up to the window on a Lime scooter and orders two slices of pizza. Frost asks him if he wants a box – normally pizza is served on those white paper plates, but given the situation, it doesn't seem like a great idea. The guy declines and scoots away, only to backtrack a minute later. "I'll actually take you up on that box," he laughs. As he speeds off, Frost smiles. "That was a first."
That's part of the magic at Pie Guy, though: When you're the only shop open late, you're bound to see some things that nobody else does. Still, Frost says most weekends are fairly ordinary – just your regular drunken foolishness. He knows that at this hour, some of his customers might be too tipsy to appreciate more than a midnight snack, but he doesn't care. He's here to make good pizza.
"It's been amazing to see how much pizza we've sold," Frost says. "I've mostly tossed every single one of those dough balls and made them myself. I'm just super happy."
Gezellig Tap House and Bottle Shop, 4191 Manchester Ave., The Grove, St. Louis, Missouri, 314.833.5532, gezelligstl.com
Pie Guy Pizza, 4189 Manchester Ave., The Grove, St. Louis, Missouri, 314.899.0444, pieguystl.com