You don't often see chicken curry with basmati rice, chana masala and paratha on a menu alongside a barbecue pork chop with fried okra and mac 'n' cheese – especially not in Strafford, Missouri.
Yet this is exactly the void that Tammy Stafford and Rima Walker hope to fill. The mother- and daughter-in-law duo opened The Wildseed Restaurant & Bar in Strafford, just outside of Springfield, Missouri, in 2017. They didn't have any restaurant experience: Stafford worked in childcare, and Walker – who immigrated to the U.S. from Ahmedabad, a city in western India, with her parents as a toddler – came from a hotel background. Walker's family owns the hotel adjacent to what is now The Wildseed, and guests would always ask for a good place to eat. Finally, this sparked an idea.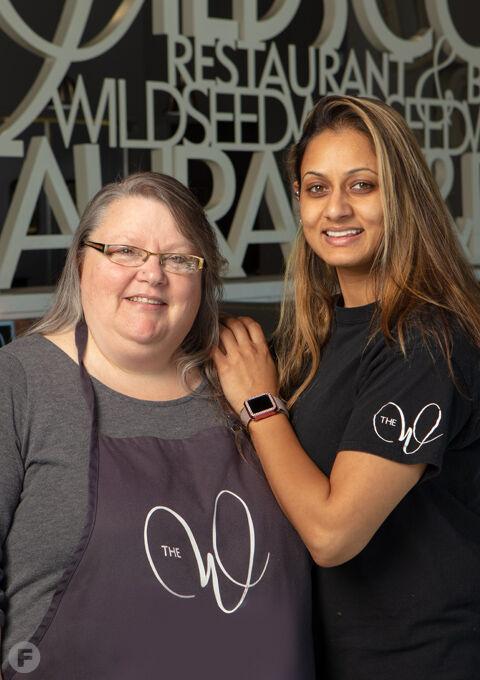 "Rima's mom is an amazing cook," Stafford says. "So really, Rima grew up with an amazing example of how to prepare great Indian food, and then for me, it was more traditional comfort food from Missouri. Indian food is more vegetarian, and here, it's meat everywhere. [We were] on the search for what would go well with an Indian dish that would cover the protein side of an American dish; that's kind of where we started playing with some different flavors and those kinds of things to combine them together."
The menu at The Wildseed draws on both Stafford's and Walker's family recipes, and Walker uses her mother's coveted curry gravy recipe to great effect in a classic chicken curry. Samosa chaat is another Indian-focused dish with a Missouri influence: Crispy samosas are stuffed with spiced potatoes and peas and topped with chana masala, diced tomatoes, red onions, cilantro, sev (crispy Indian noodles made from chickpea flour), cilantro chutney, sweet yogurt and an apple butter-tamarind chutney.
Although it might sound like an unlikely culinary partnership, Walker says many Indian spices are complementary to American comfort food, which makes it easy to blend the two cuisines together. The restaurant's beef enchiladas might not sound like a fusion dish at all, but Walker uses Indian spices such as garam masala to give them a warming depth of flavor and serves them with turmeric basmati rice.
When Walker's mother cooks traditional Indian dishes, they're usually vegetarian, and curry dishes and spicy foods are common at Walker's own table. When she and her mother-in-law cook separately, they tend to focus on foods that their children favor.
When they cook together, though, they create a menu that fuses meat, vegetarian dishes, spicy foods and milder options to please everyone at the table.
"We make a dish called Indian Spaghetti with spaghetti noodles, sautéed onions and a sweet and spicy sauce, created with a combination of Indian seasonings," Walker says. "Once the sauce is added to the pasta, it's cooked over low heat, allowing the dish to be served with a lot of flavor and heat, but [it's] not overly saucy. The kids – both mine and Tammy's – love this dish as is, or when Tammy makes chili, we add it to the top. It was added to The Wildseed menu and became an instant hit. It's a great way to show how we are able to combine families, flavors and cultures."
The Wildseed's duality is even on display at the owners' own Thanksgiving table. Stafford hosts and cooks a traditional turkey or ham, stuffing and potatoes. When Walker joined the family, she began bringing the sides she grew up eating, including egg curry.
"My son's favorite dish is egg curry, so I often serve it [at Thanksgiving]," Walker says. "Because it has boiled eggs, I then also make deviled eggs.
It becomes like a potluck dinner with everyone bringing some of their favorite dishes.
"Because our family and friends are so diverse, we don't set out to create a meal that 'goes well' with turkey or ham," she adds. "We create a table that is filled with good food, and everyone will try something new or find something they already love that they've waited for, knowing it will be on the table at Thanksgiving!"
Here, Walker shares a few beloved family recipes, ideal for adding a little spice to your own Thanksgiving feast.
This vegetarian side dish gets a warming flavor from cumin seeds, turmeric and garam masala.
This quick vegetarian main features short-grain rice, two types of dal and lots of vegetables.
This Thanksgiving, switch out your turkey for a classic baked ham.
The Wildseed, 305 E. Chestnut St. Suice C, Strafford, Missouri, 417.736.0004, eatwildseed.com