The aroma doesn't hit you immediately when you walk into Nazareth Sweets. The Lenexa, Kansas, bakery is large and all the prep is done deep in the back, far removed from the rows of glossy baklava and Turkish delight. But the longer you stand there, contemplating the various ways you might satisfy your sweet tooth, the more you can discern specific scents: fragrant rosewater and honey, spicy cardamom and cinnamon, zesty citrus, toasted nuts and buttery puff pastry.
Usually, you'll find either Fadi or Tahani Elnajami behind the counter – they're the husband-and-wife team who purchased Nazareth Sweets two years ago from the original owners, Nick and Samir Awad. Open since 2014, the bakery specializes in Middle Eastern pastries and desserts, but since the Elnajamis took over in 2017, they've expanded the menu to include housemade ice cream and gelato, plus breakfast and lunch items. They dish up elaborate Western-style cakes here, too – Fadi always has a tiramisu on hand. "It's Mediterranean," he says with a smile, which means it's close enough.
However, it's items such as baklava (flaky phyllo dough filled with a variety of nuts and glazed with different syrups), kanafeh (a sweet-and-savory cheesecake), ma'amoul (date cookies), hareeseh (a sweet citrus cake), halawet al-jibn (creamy cheese rolls), barazik (sesame cookies) and Turkish delight (a jelly-like candy) that have earned Nazareth Sweets its dedicated following. Fadi's customers are wide-ranging, including many immigrants or descendants of immigrants from Middle Eastern and Mediterranean countries, such as Palestine, Jordan, Egypt, Turkey, Lebanon and Greece, who are eager for a taste of home – and Fadi's super-rich Turkish coffee. His patrons are not exclusively local, though: Visitors passing through town have fallen in love with the desserts here, and Fadi has shipped his baklava all over the country, from Florida to Oregon.
You can also catch Nazareth Sweets on the menu at a few Middle Eastern restaurants throughout the Kansas City area: Fadi distributes to Al Habashi Mart in City Market, Jerusalem Bakery in Westport, Shahrazad Cafe & Market and The Basha Cuisine in Overland Park, Aladdin Cafe in Lawrence and Holy Land Cafe, which neighbors Nazareth Sweets, in Lenexa. Fadi playfully refers to the strip mall where Nazareth Sweets and Holy Land Cafe (among other Middle Eastern businesses) are located as "Little Arabia." He's quick with a joke and a smile (and, yes, a Turkish delight sample) – it's part of what makes it so easy to stock up on desserts at his bakery.
Fadi has been in sales a long time: A Palestinian refugee, he emigrated from Lebanon to Palos Hills, Illinois, in 1981, where he attended Moraine Valley Community College and spent the following three decades working in the food industry and wholesale distribution. In the 1990s, Fadi co-founded the first Nazareth Sweets in Chicago. He consulted with the Awads as they built their own version of the bakery in Lenexa, as well, and kept in touch with them over the years. When the Awads offered Fadi the opportunity to take over their shop, it was, he says, a "no-brainer."
"My wife and I were looking for a change of pace and a good place to raise our kids," says Fadi. "Kansas City is home now."
Thanks to Fadi, the Kansas City area is also home to some of the most delicious and authentic Middle Eastern treats you'll find.
Dig into some of the shop's most popular items here.
Kanafeh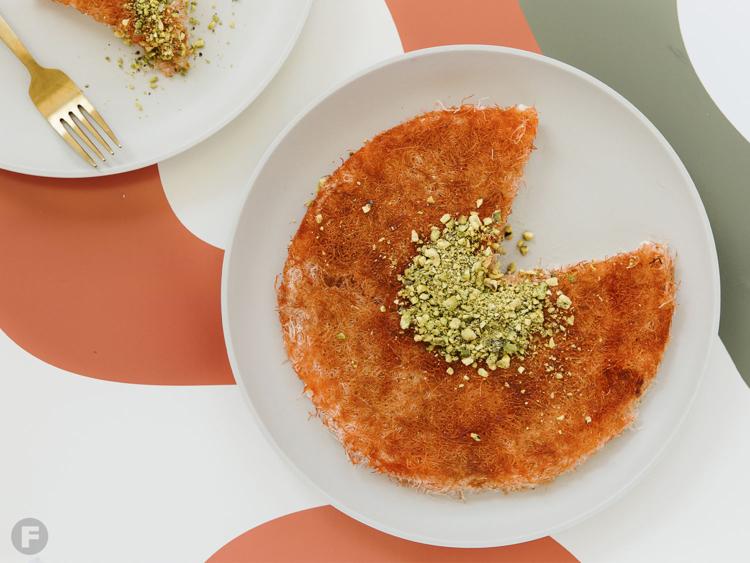 There are two types of kanafeh: fine and coarse. The difference is in the flour. Coarse kanafeh (also called kunafa, konafa and knafeh) is made with vermicelli noodle-shaped shreds of phyllo dough, while smooth kanafeh is made with semolina flour (a yellowish flour made from durum wheat). The idea is basically the same, though: Cheese – traditionally Nabulsi cheese, a sheep's milk cheese from Palestine, where kanafeh was born – is covered by a thin layer of crust. The crust is crisp and crunchy if it's coarse kanafeh and sand-like if it's fine kanafeh. It's then baked, sprinkled with ground pistachios and drenched in a rosewater syrup just before it's served. It's difficult to get Nabulsi cheese in the Kansas City area, Fadi says, so he uses mozzarella, which is the closest substitute. He serves coarse kanafeh, and the crispy, noodle-like top of the dessert is colored with red food dye. This is one of those desserts you must try on your first visit to Nazareth Sweets; Fadi will heat up a thick slice and pour the syrup over the top just before serving it, so each bite is a sensation of hot, delicate, gooey cheese balanced by sweet syrup and a little bit of crunch.
Barazik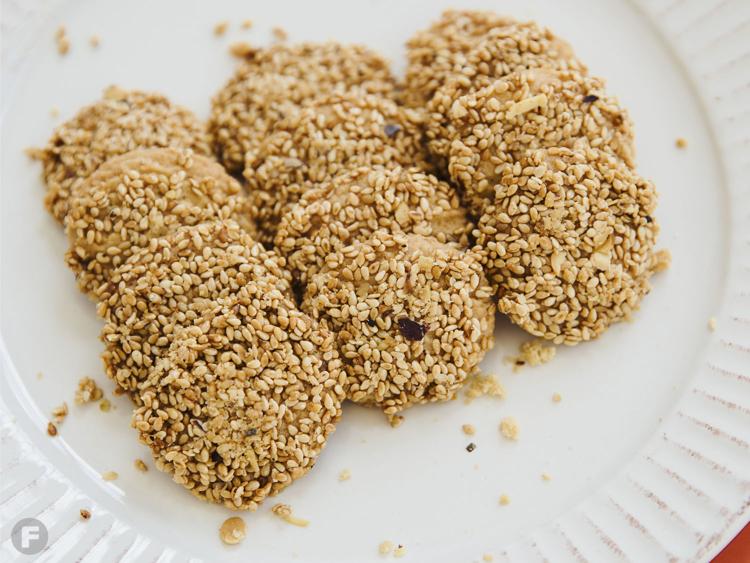 Barazik are thin sesame cookies that come from Syria, Fadi says, although some historians credit Turkey. They're remarkably simple butter cookies made with wheat flour, sliced into thin rounds and coated with honey – which makes it easy for an outer coating of sesame seeds and crushed pistachios to stay put. Some versions of barazik feature sesame seeds on one side and pistachios on the opposite side; at Nazareth Sweets, sesame seeds are mixed with crushed pistachio to coat the barazik entirely. They snap in half with a pleasant crunch, and it's easy to devour a dozen in one sitting.
Halawet el-Jibn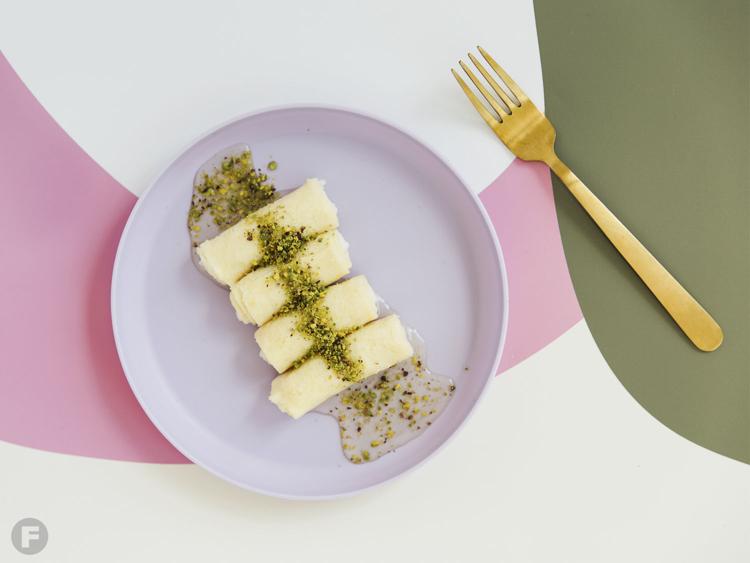 Halawet el-jibn originated in Syria, and it's a particular favorite of Fadi's. It's also labor-intensive – he only sells it on weekends, and it disappears quickly. No wonder: These sweet, pillowy cheese rolls melt in your mouth. The dough is made from a combination of fine semolina flour and cheese (traditionally, the recipe uses akkawi, a Middle Eastern cow's milk cheese, but Fadi substitutes mozzarella), which is sweetened with rosewater and honey. The raw dough is rolled out and filled with a housemade cream called eshta (also called ashta, it is a clotted cream made with rosewater and orange blossom water). After the dough is rolled back up, it's cut into delicate pieces and refrigerated until it's ready to serve. At Nazareth Sweets, it gets a finishing touch of crushed pistachios on top. There's no baking with this dessert, and because of the cream, there's not a long shelf life, either. That's fine with Fadi, though: "I can't make enough of it," he says with a laugh.
Hareesh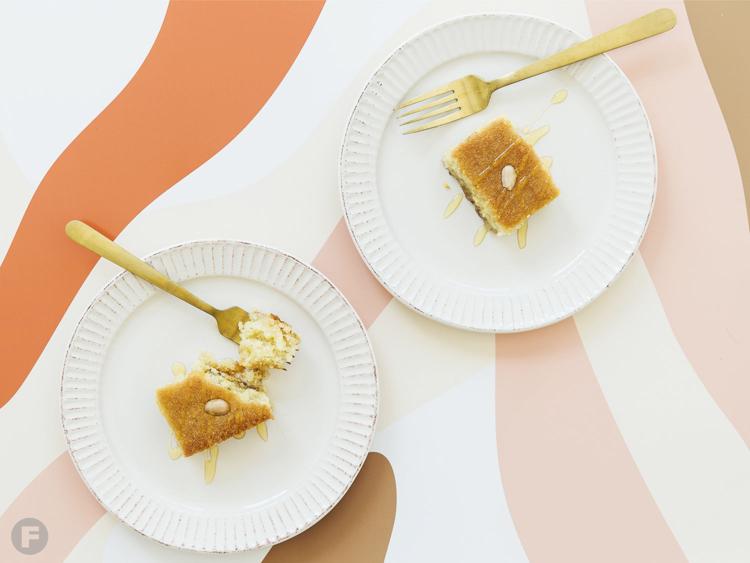 Hareeseh (also called basbousa or nammoura) is a sweet cake made with semolina flour and sweetened with orange syrup. It's a popular dessert throughout the Middle East, Fadi says, and easy enough to find in the region's big cities, where street vendors push carts laden with the sticky treat. Depending on the chef, there can be many variations on the recipe, incorporating elements such as coconut and yogurt to sweeten or moisten it further. Fadi keeps it traditional and straightforward; he makes the spongey cake with semolina flour, sugar and milk, soaks it in sweet rosewater and tops it with chopped pistachios. If you've had St. Louis-style gooey butter cake before, this reads like a Middle Eastern answer to that.
Ma'amoul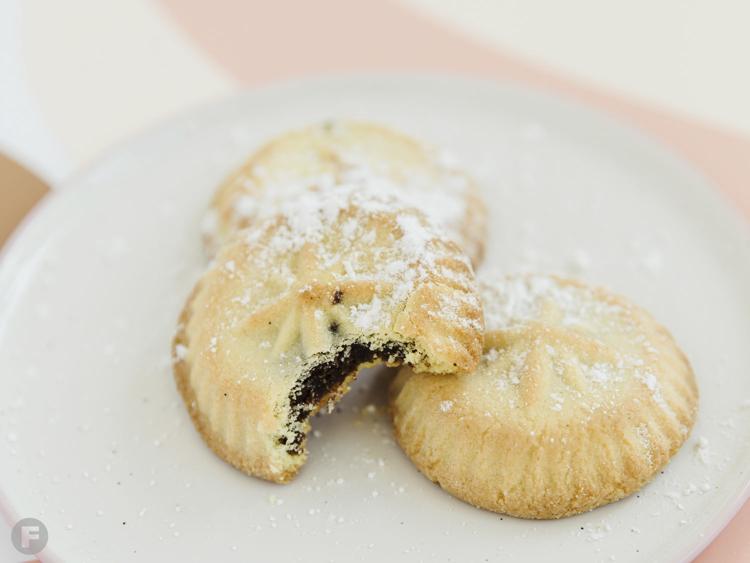 Ma'amoul is popular year-round, but it flies off the shelves at Nazareth Sweets during Easter and Eid (the Muslim holiday marking the end of Ramadan). The recipe for this simple cookie dates back to ancient Egypt, but the preparation, Fadi says, hasn't changed much. "You can think of it as the original Fig Newtons," he says. The cookie dough is traditionally made with semolina flour (although at Nazareth Sweets it's a blend of semolina and wheat flour) and stuffed with rosewater-soaked dates that have been ground into a paste. Fadi uses a traditional wooden mold to create the distinctive ridges and delicate pattern on these round cookies, which are finished with a dusting of powdered sugar. 
Baklava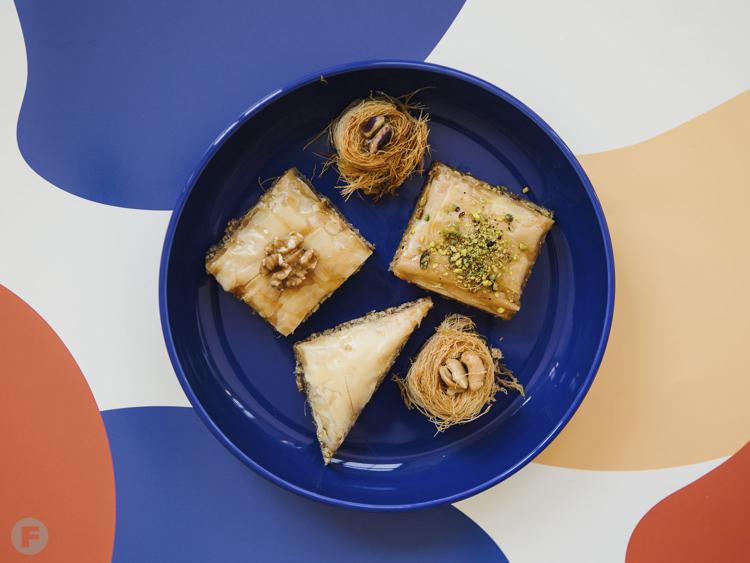 If the only thing you know about Middle Eastern pastry is the omnipresent baklava, you're off to a good start. There are countless variations of this traditional dessert, but whatever form baklava takes – it can be shaped like a bird's nest or rolled into mini cigars – it's always comprised of around 10 layers of paper-thin phyllo (also called filo, it is unleavened dough made from wheat flour and rolled into sheets) and finely chopped nuts mixed with spices (usually cardamom and cinnamon) and covered with a honey syrup. This basic composition doesn't change, and if it does, you can't call it baklava. "All baklava is the same, no matter how different it looks," says Fadi.
At Nazareth Sweets, there are upwards of a dozen different shapes and sizes of baklava: Triangles with layers of chopped walnuts, rolls with pistachios, thick squares full of cashews. They're deceptively simple and amazingly satisfying. "The secret is the nuts," Fadi says with his signature smile. "The pistachio ones are the best because we use imported pistachios from Iran, which are the best pistachios in the world." This isn't an exaggeration: Pistachios originated in Iran, and they're bigger, bolder and sweeter than those grown in other parts of the world.
Nazareth Sweets, 12247 W. 87th St. Parkway, Lenexa, Kansas, 913.541.1814, facebook.com/nazarethsweetskc