Natural remedies have long since recommended apple cider vinegar as a go-to for fixing a wide variety of ailments, from soothing an upset stomach to decreasing blood sugar levels – but rarely has anyone been excited to drink it.
Put simply, apple cider vinegar is apple juice that has been fermented twice. Fresh, crushed apples are first mixed with yeast, and the apples' natural sugars are fermented into alcohol. That alcohol is then fermented into vinegar thanks to the formation of acetobacter bacteria, which creates acetic acid. Acetic acid is responsible for many of the health benefits often associated with apple cider vinegar, such as blood sugar control, weight management, reduced cholesterol and antimicrobial properties, but it also creates that characteristic tangy or sour taste.
Although many have tried diluting apple cider vinegar with water, adding it to tea or even holding their nose as they sip a tablespoon, Callen Johnson refuses to accept those methods as the only way to get your daily dose. With Sour Lemon Beverage Co., the company she founded in Kansas City in 2018, she aims to make it both tasty and fun to incorporate apple cider vinegar into a regular routine.
Johnson firmly believes that every time we eat is an opportunity to feed our soul and fuel our bodies. She studied nutritional sciences at Kansas State University and, along with her husband, worked for years spreading the word about supplements as a way to help customers get proper nutrition and make important lifestyle changes. When she decided to shift gears and stay home to care for their four kids, she became determined to get them to not only tolerate but enjoy healthy eating.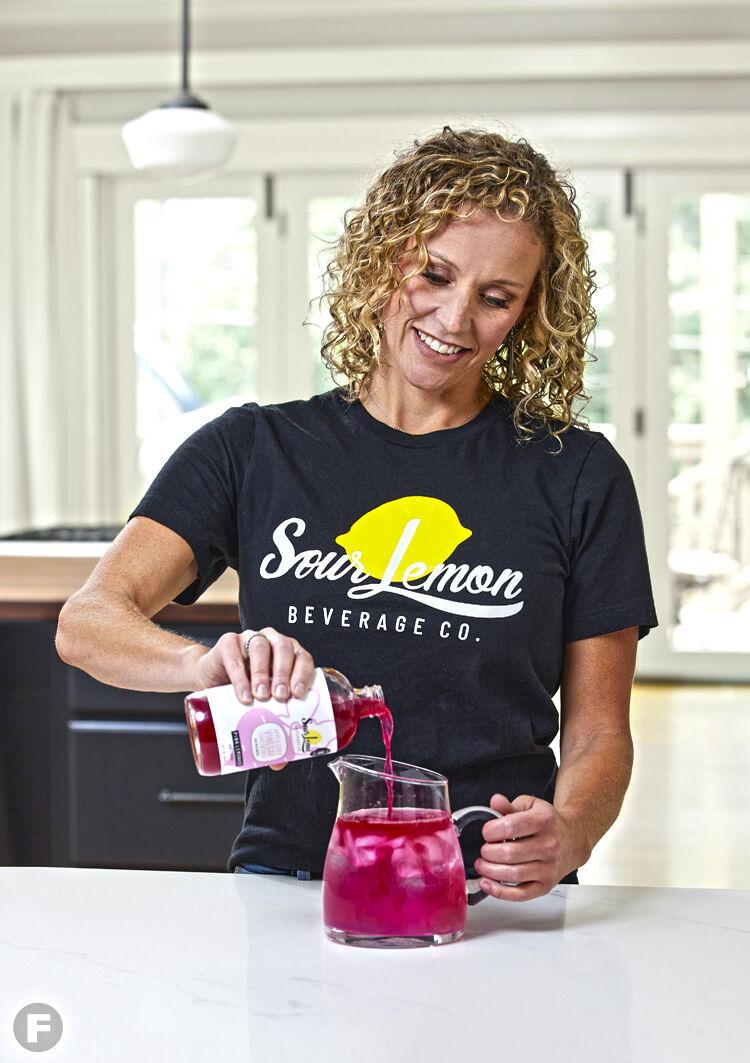 When their daughter began getting stomachaches, Johnson's husband, Kirk, recommended apple cider vinegar. Having often powered through her own nightly shot, Johnson immediately recalled how pungent and sour it was. She knew her kids, drawn to sugary sports drinks and juices – especially pink lemonade – would never go for it on its own. Bound and determined to present the ancient medicinal tonic in a way that would mimic the bright colors and fun flavors of those more enticing beverages without the added sugar, she got to work.
After months of experimentation, mixing superfood powders such as spirulina, turmeric and açaí with apple cider vinegar, Johnson was finally able to get all four of her kids on board with her take on pink lemonade, made with cold-pressed lemon juice, lemon oil and beetroot powder. She started sharing what came to be known as "pink drink" with friends and family, and more requests quickly started pouring in. Johnson, who had written off starting another business, wasn't motivated to mass produce; instead, she was happy to just fill orders of 16-ounce jars for an unsolicited growing fan base across the U.S.
"The benefits of apple cider vinegar are really noticeable," says Johnson. "If you're having heartburn, you can drink it and it can help clear that up within 20 to 30 minutes. The acids and enzymes produced during fermentation really help with digestion."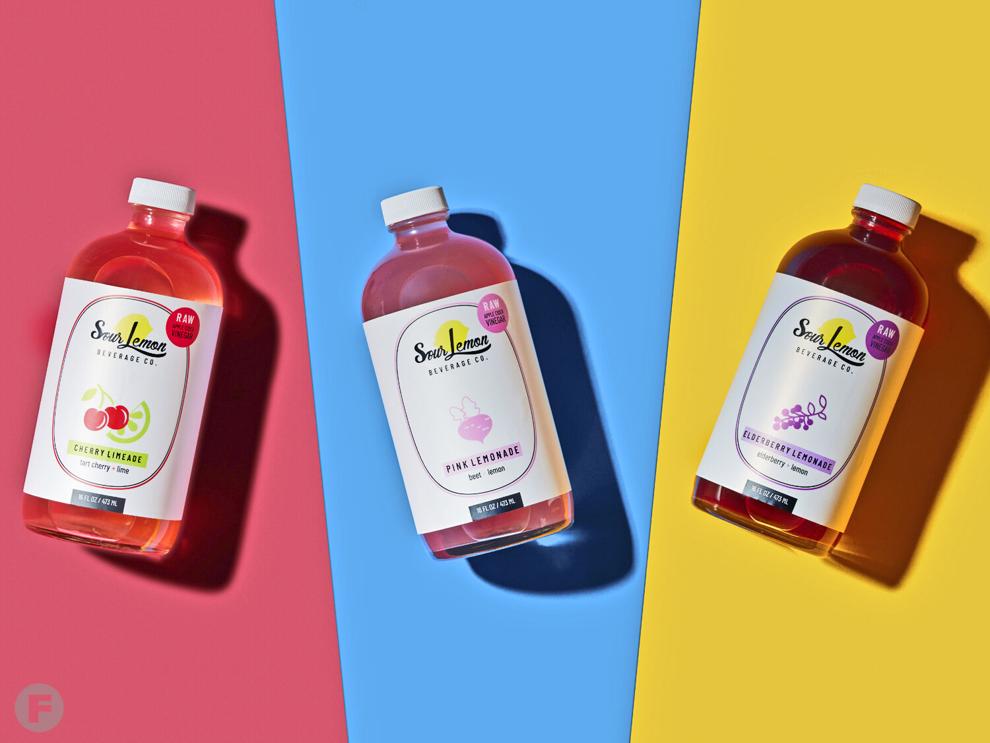 As demand continued to increase, Johnson began working on a concentrated version of the beverage to save on packaging and shipping costs as well as refrigerator space. She started dreaming up new superfood combinations and flavors – though they weren't all a success. "I tried a lavender lemonade flavor; it was all over my Pinterest feed and I really wanted to make it work," Johnson says with a laugh. "The lavender combined with apple cider vinegar to make soap in our mouths!"
Others flavors were a hit, however, and Johnson soon expanded her lineup to include eight colorful superfood concentrates, including cherry limeade, elderberry lemonade, pineapple-turmeric, activated charcoal-orange and blueberry lemonade with blue spirulina, all of which star apple cider vinegar. For two years, Johnson and her family continued to make and sell the beverages out of their home, even setting up a makeshift lemonade stand on the street.
So that Johnson didn't even have time to think about saying no to growing her now-bustling business, her husband took the initiative and set up a website, dubbing the new enterprise "Sour Lemon" after that first pink lemonade flavor. In addition to the concentrates, Johnson also produces a ready-to-drink beverage in seven of the eight flavors, which customers can find in several stores in the Kansas City metro area, including McKeever's Market in Lenexa, Kansas, and multiple locations of Cosentino's Market, or order online. Johnson wants the eye-catching labels, vibrant colors and fun flavors to make the product feel indulgent while still delivering plenty of health benefits. The goal isn't to appease an adult palate, but to encourage the whole family to drink Sour Lemon.
"Even my mom adds Sour Lemon concentrate to everything she drinks," says Johnson. "She started drinking it because it has less sugar than kombucha and her heartburn went away, so she's one of my best customers now."
Picking up one of the ready-to-drink beverages is a great introduction to the product, but the concentrated version is ideal for stocking the fridge. One 16-ounce bottle of the concentrate, which is designed to be mixed with still or sparkling water, makes approximately one gallon of the beverage. Johnson encourages parents to mix up a gallon to keep in the fridge, add to water bottles for family outings or even use as a snow cone topping.
"The concentrates bring back the nostalgia of mixing up a pitcher of Kool-Aid as a kid," says Jamie Kuenzie, a local wellness entrepreneur. "Sour Lemon allows our family to participate in normal activities with something that tastes just as fun as what everyone else is having, but it's way better for us."
Adults also have fun with the concentrates, adding them to their cocktails. On social media, Johnson frequently shares recipes such as a Margarita that subs in Sour Lemon's limeade flavor for the traditional sweet and sour mix or a Creamsicle-inspired protein smoothie that features the activated charcoal-orange flavor along with protein powder, almond milk and vanilla extract.
As the popularity of Sour Lemon beverages grows, local boutiques such as Frankie and Jules have asked Johnson to host taste tests at events, and other businesses, including Kansas Athletic Club, are recommending the beverage to clients. Sour Lemon continues to grow primarily through word of mouth, but online sales took off during the COVID-19 pandemic and now drive the majority of the business' revenue.
Last summer, Johnson took a major step to grow the business, moving Sour Lemon out of her basement and into a manufacturing space just five minutes from her home in Overland Park, Kansas. While she's still currently hand-measuring and mixing each and every batch herself, she's recently been able to invest in her own bottling line to streamline the process. With the new bottling line and on-site refrigeration, Johnson can now produce almost 27 gallons of Sour Lemon beverages at a time, and local customers can pick up orders directly from her facility. But it's still a family affair, as Johnson has even involved her kids in the labeling process.
"I started mixing these concentrates in a Vitamix in my basement just a few years ago," says Johnson. "Now our website sales are doubling each month, and we have a facility and bottling line. It's all so awesome and unexpected."
Sour Lemon Beverage Co., sourlemonbeverage.com