No single dish is more closely associated with Kansas City than burnt ends. Developed and popularized over several decades by legendary pitmasters Henry Perry and Arthur Bryant, journalist Calvin Trillin and countless competitors in the Kansas City barbecue circuit, the dish continues to evolve through today's most respected and influential industry professionals. While Kansas City residents are generally modest, you'll be hard-pressed to meet someone who doesn't agree with this sentiment: Burnt ends were born in Kansas City, and you won't find any better in the world.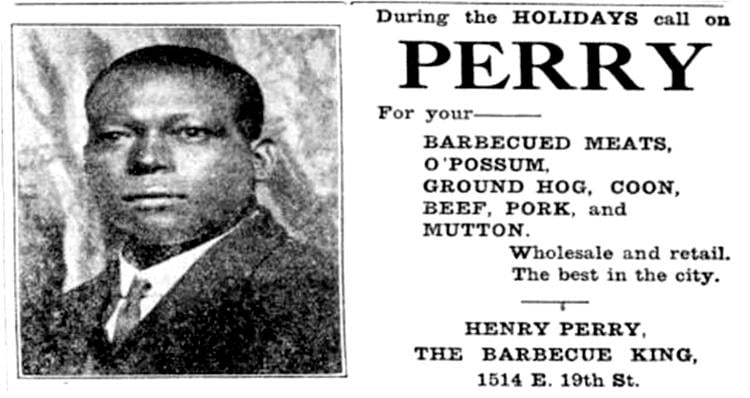 The story of burnt ends – and Kansas City barbecue, for that matter – begins with Henry Perry. Born in Shelby County, Tennessee, in 1875, Perry learned the ins and outs of barbecuing as a child and, at age 15, began mastering other kitchen skills while working as a cook on steamboats journeying up and down the Mississippi River. He settled in Kansas City in 1907, and a year later decided to open a food cart, selling smoked meats and sandwiches in downtown's Garment District. In 1910, he opened an "eat shop" – often credited as Kansas City's first brick-and-mortar barbecue restaurant – at 1514 East 19th Street, one block from 18th and Vine, the vibrant economic and cultural hub of African-American life in Kansas City. It was the first of several establishments Perry ran during his illustrious career.
More than a century ago, Perry was serving dishes that still dominate the menus of Kansas City barbecue restaurants, including smoked ribs, beef brisket and pulled pork sandwiches, alongside more humble proteins such as woodchuck, opossum and raccoon. He utilized a pit oven to smoke his meats, to which hickory and oak fires and an aggressively spicy vinegar-pepper sauce imparted his signature flavor.
Calvin Trillin, who wrote the famous Playboy article that playfully extolled Arthur Bryant's Barbeque as "the Best Restaurant in the World," was recently reached via phone at his home in New York City: He says that Perry was "a mean outfit."
"He had a sauce that was too hot for some people, and he liked watching them eat it," says Trillin. "I have a theory that barbecue people are usually a little surly because they have to stand there with smoke in their eyes for so long." But Perry also had a generous spirit: On more than one occasion, he hosted a massive Fourth of July barbecue, where he fed hundreds of people on his own dime.
When Perry died in 1940, his legacy lived on through his apprentices – Charlie Bryant being among the most well-known. After working under Perry for several years, Charlie opened his own restaurant in 1929, and soon persuaded his brother, Arthur Bryant, to relocate to Kansas City and join the business. Trillin remembers visiting the brothers' restaurant around this time: "When I was young, it was the only integrated restaurant in Kansas City," he says. "In general, there were no African Americans in so-called 'white' restaurants in Kansas City, [but] I think white people just couldn't stay away [from Charlie Bryant's]. Obviously it was very good."
Arthur took full control of operations when Charlie retired in 1946, and around 1958 he relocated the restaurant to 1727 Brooklyn Avenue (where it still operates today), renaming it Arthur Bryant's Barbeque. Arthur and legendary pitmaster Woodrow Bacon continued Perry's traditional methods for smoking meats over hickory and oak – though Arthur did opt to tone down the sauce.
The close proximity of Arthur Bryant's to Municipal Stadium – home to the Kansas City Monarchs, Kansas City Athletics and Kansas City Royals before being demolished in 1976 – along with Arthur's affable demeanor and quality eats, ensured a steady stream of prominent guests. Jerry Rauschelbach, current owner and operator of Arthur Bryant's, says the guest registry from that time includes notes of visits and signatures from Joe DiMaggio, Mickey Mantle, Carl Yastrzemski, Sammy Davis, Jr., and Frank Sinatra, among others.
After this all-star lineup of diners came and went, Trillin's 1972 Playboy article was published. Besides claiming Arthur Bryant's as the best restaurant in the world, Trillin described "burned edges" for the nation:
"The main course at Bryant's, as far as I'm concerned, is something that is given away free – the burned edges of the brisket. The counterman just pushes them over to the side and anyone who wants them helps himself. I dream of those burned edges. Sometimes, when I'm in some awful, overpriced restaurant in some strange town, trying to choke down some three-dollar hamburger that tastes like a burned sponge, a blank look comes over me: I have just realized that at that very moment, someone in Kansas City is being given those burned edges for free." 
Trillin's article cemented Kansas City as a barbecue destination and changed the way diners looked at "burned edges." However, the sticky charred bites Trillin dreamed about and the juicy, barky burnt ends ordered in restaurants today are not the same thing. "As I remember it, the burnt ends were just trimmings cut [from the brisket point] and pushed to the side of the counter," says Trillin. "If you asked for some, they would just put it on your plate."
From mere throwaways, the beefy morsels skyrocketed in status, becoming a distinctly delicious aspect of the city's cuisine – but no one knows exactly how that happened. Doug Worgul, author of The Grand Barbecue: A Celebration of the History, Places, Personalities and Techniques of Kansas City Barbecue and director of marketing of Joe's Kansas City Bar-B-Que, has one theory. "I think it probably started in the competition circuit," he says. "Jeff [Stehney, owner of Joe's] got started in competition barbecue in the early 1990s, and people were already doing it."
Present-day purists generally define burnt ends as cubed chunks of beef cut from the point half of a slow-smoked brisket, served without sauce. While many Kansas City restaurants make their burnt ends using this "pure" method, others modify the cooking techniques to use whole briskets. Some slather their burnt ends in sauce and others even sell different meats such as pork or turkey as burnt ends. Worgul takes a hard line against using anything but beef for burnt ends. "Burnt ends are brisket and that's it. There's no such thing as pork burnt ends. … They're not just cut up pieces of meat – burnt ends are a very specific thing."
At Joe's, pitmasters remove the point from each brisket; after they're seasoned, the points go into the smoker with pork butts. During the 15- to 17-hour smoke, the pork butts drip their fat onto the brisket points. Next, the points are removed from the smoker and left to cool, at which time, they're sliced along the grain, and then each slice is turned on its side, cut lengthwise and cubed. This cutting technique guarantees that each and every burnt end retains some of the characteristic, flavor-packed bark. The juicy pieces are served without sauce (the restaurant rarely serves sauce with anything) and paired with Texas toast and a side such as barbecue beans, spicy slaw, dirty rice and Kansas City "caviar" (roasted corn kernels and red pepper, pickled red onion, shredded carrot, edamame and cilantro tossed in a honey-lime vinaigrette).
Rauschelbach says he doesn't know if Arthur Bryant ever sold burnt ends, but he certainly sold brisket, and the brisket at Arthur Bryant's Barbeque is still cooked using the process Charlie and Arthur – and Perry before them – used. The only difference is the sauce: Arthur took the recipe (for the toned-down version of Perry's sauce) to his grave. Rauschelbach's father, Bill, and his team subsequently developed a sauce that is "very close but not exact."
At Arthur Bryant's, barely trimmed whole brisket is smoked over hickory and oak for approximately 12 hours, chilled in a walk-in cooler for two days and then returned to the smoker for another six hours. Rauschelbach says this cooking process results in maximum tenderness. By the end of it, the brisket's size is reduced by half, or more, but "the bark on it is just beautiful." The whole brisket is cut into cubes and tossed in sauce for the restaurant's version of burnt ends.
Rauschelbach acknowledges that this approach is not in keeping with tradition, but he says he couldn't meet demand otherwise. If he sold burnt ends cut only from the point, he'd likely sell out by 11am every day. "Then people would be mad," he says, adding that the process hasn't been altered since his family took over the restaurant approximately 37 years ago. "It's not my change to make," he explains. "Even though I own it, it's still the Bryant name."
When asked about the legacy of Arthur Bryant's, Rauschelbach answers immediately. "It's real simple. There are, what, 118 barbecue restaurants in this town? More per capita than any city in the country. They all owe part of what they're doing to Arthur Bryant, Ollie Gates and Henry Perry."
Arthur Bryant's Barbeque, 1727 Brooklyn Ave., Kansas City, Missouri, arthurbryantsbbq.com
Joe's Kansas City Bar-B-Que, multiple locations, joeskc.com