Two of Lydia Palma's favorite guests were also two of the most unexpected.
During service, the busy floor manager of Pirate's Bone Burgers, the plant-based eatery in Kansas City that she opened with Zaid Consuegra Sauza last September, tries to check in with as many diners as she can. One day, she struck up a conversation with a couple of out-of-towners, who turned out to be cattle farmers.
"I was shocked," says Palma. "Most people in that industry are against plant-based eating because they find it threatening to their livelihood … [but] he, especially, was really receptive to it. Bringing that kind of awareness is a huge thing for us."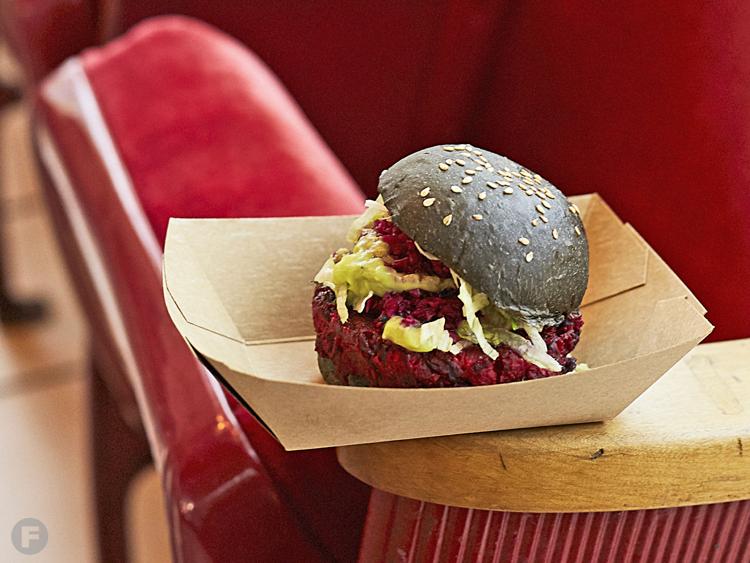 The awareness Palma refers to is, in fact, the mission of Pirate's Bone Burgers. "Feeding more plants to more people" isn't just the company motto – it's the business model. It's why Palma and Sauza chose to open their restaurant in the burgeoning Crossroads Arts District, right on the streetcar line, and why they designed it for volume, with a walk-up counter for ordering and bar-style seating.
In their efforts to make plant-based eating accessible and desirable to a wider audience, nothing on the menu costs more than $5. "We believe that being able to eat plant-based shouldn't be a luxury or a privilege," says Palma. "And it's a little more enticing if you can try something that you're not sure about and it's only five bucks."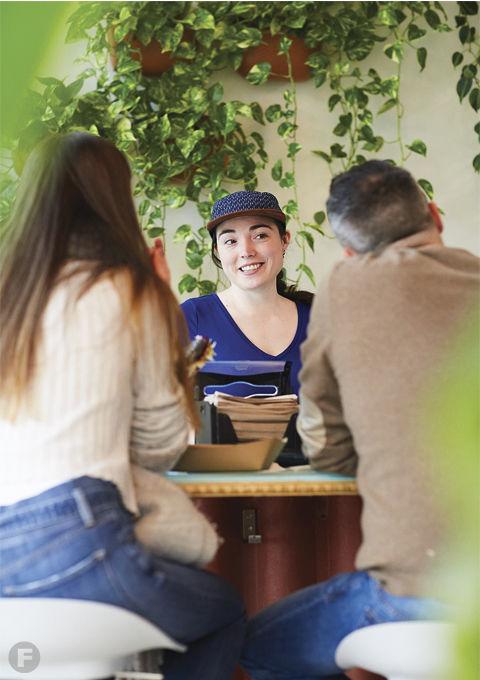 "Originally, the $5 idea came from us being dead broke," adds Sauza. He and Palma were about to sign the lease for a space on Main Street when their primary investor pulled out. Continuing with their plan meant the pair had to make more personal sacrifices than ever. "We skipped a lot of meals, or there were days when we would go to Taco Bell and get a one-dollar burrito and split it," says Sauza. "We did that for several months. After that, I wanted to make sure people could afford our food. At Pirate's Bone, even if you can't afford a full meal, you can get one thing."
Indeed, the plant-based burgers – which are slider-sized and served on slate-colored activated charcoal buns – are $4.55 each. A generous basket of plain french fries is $4 and fancy fries – a basket topped with cashew queso, guacamole or plant-based Buffalo sauce – are $4.55; add a vegan burger patty on top of the loaded fries for an additional $4.25. There are also maduros (fried sweet plantains) and tostones (fried green plantains) for $4.55. To satisfy an after-meal sweet tooth, fruit paletas (Mexican ice pops) are available for $2, and beverages – all nonalcoholic – are $3 or less.
The model is working: Since its debut, Pirate's Bone Burgers has experienced a steady stream of hungry customers eager to jump on the plant-based bandwagon.
Iris Green, chef-owner of Kansas City's first completely gluten-free and vegan bakery, The Littlest Bake Shop, agrees Sauza and Palma have tapped into an effective way of making vegan food more accessible to all. "It's affordable food that people are familiar with, but their menu allows people to be adventurous, too," she says. "If you're not sure about plant-based menus, you'll stick with their Beyond burger, but [Sauza's] also got a beet burger and [fancy] fries, and that allows people to explore more plant-based cooking."
Running a restaurant where everything on the menu is $5 or less brings a unique set of challenges, though. "Because of the [menu's] low price point, we have to have a high volume of customers," explains Sauza. "That's why I created more of a fast-food way of doing our kitchen. We've streamlined ingredients and gotten really creative about how we get vegetables out the door and into people's mouths."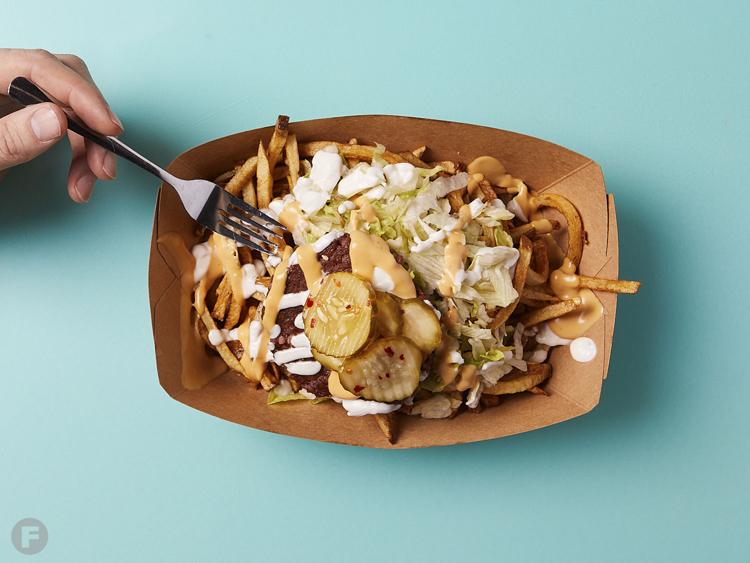 Sauza has carefully considered which vegetables to work with, how to process them and how to cook them in order to make a profit. He draws inspiration from seasonal produce, and his recipes are straightforward. The aforementioned beet burger is the most popular item, as well as Sauza's simplest recipe – the patty contains only beets and oats. The black bean burger includes a patty of black beans, carrots and oats topped with grilled jalapeño, guacamole, greens and aïoli, while the Sriracha Chix burger is made from pea protein and wheat and seasoned with nutritional yeast. Pirate's Bone Burgers also offers a Beyond burger patty; it's the only menu item that's not made in-house, marketed toward diners who still want their plants to taste like meat.
However, Sauza believes that if you're willing to give vegan burgers a try, you should let go of the idea of a hamburger. The burgers here have their own admirable depth and flavor; they don't need to taste like beef. "Just think of it as food," he says. "It doesn't have to be what you think a burger should taste like."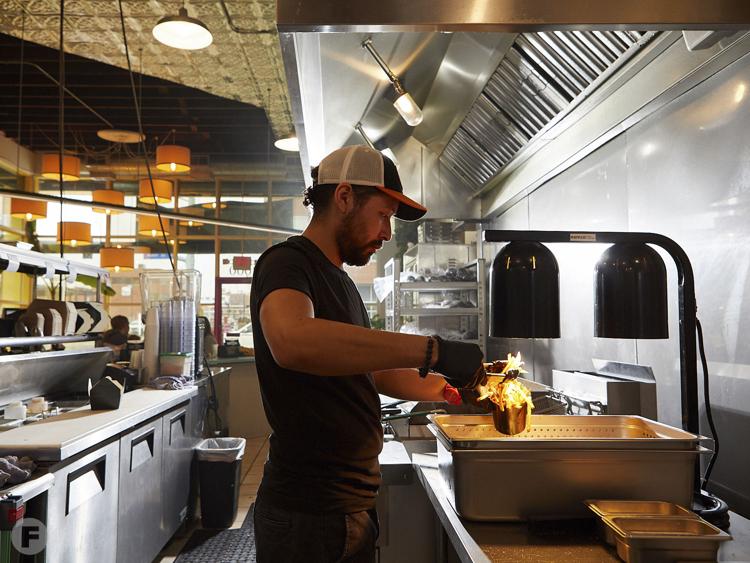 Palma and Sauza are longtime friends. At Pirate's Bone Burgers, Palma handles the nitty-gritty – HR, payroll and taxes – while Sauza does what he does best: makes food with extraordinary flavor. Beyond their mutual goal of spreading the joy of plant-based eating, they are both Latinx and outspoken supporters of immigrant rights. Mexico City-born Sauza, in particular, has made headlines – including a feature profile in Bon Appétit – as an undocumented business owner fighting to keep his DACA (Deferred Action for Childhood Arrivals) status. Right now, as a DACA recipient, Sauza can legally work in the U.S., which includes starting a business. If the DACA program is terminated, however, or if his status isn't renewed, his business will be at risk. Entrepreneurship is risky for anyone, but for Sauza, the stakes are especially high – one of the many reasons he's such a strong advocate for change. In addition to running Pirate's Bone Burgers, Sauza is part of United We Dream, the largest immigrant youth-led community in the country, and KSMODA, a Kansas City-based immigrant rights coalition, and he's agreed to be a part of an amicus brief accompanying relevant cases at the Supreme Court. In a video, without any pretense, he shared his story – how an 11-year-old kid from Mexico City grew up as an American and started a business – in the hopes that it will help sway the justices. "'Home is where the heart is' – that's what you always hear in movies and in songs," he says in the video from 2019. "And home is Kansas City."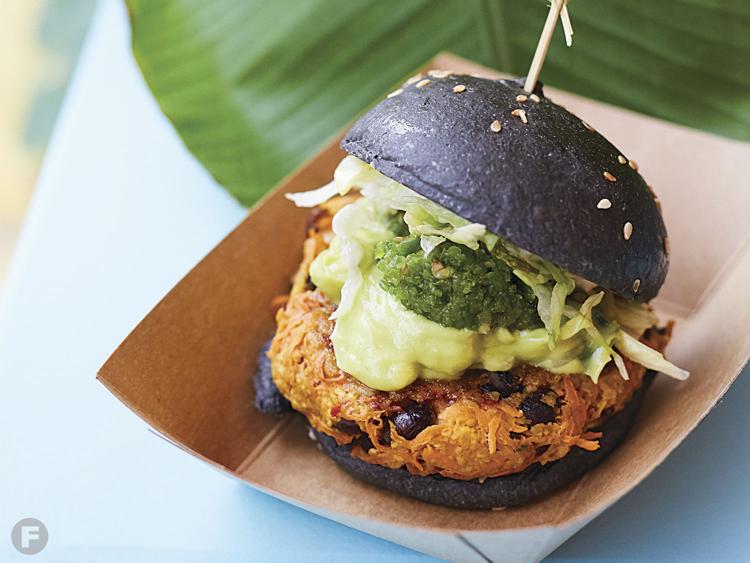 Even the name of their business, Pirate's Bone – which Sauza originally used as the name for the coffee shop that he founded in the Brookside neighborhood in 2016 – is a nod to the minority ownership. "When it started, I didn't want to be like any of the others, because I'm not," explains Sauza. "That's where the name Pirate's Bone came from. It sounds different from any other place, and it sticks with you." 
The meaning behind the name has evolved further with Pirate's Bone Burgers. "Rarely is anything original – so much is pirated from something else," says Palma. "We're pirating the idea of burgers."
With any luck, there will be more pirating in the future. Palma and Sauza have considered taking their concept to other parts of the country, perhaps expanding their menu and incorporating some of Sauza's other vegan recipes. "We're thinking about Kansas City as a test market," says Palma. "We're in a meat-and-potatoes and barbecue part of the country, and if we can make plant-based work here, where else could we go?"
Pirate's Bone Burgers, 2000 Main St., Crossroads Arts District, Kansas City, Missouri, 816.605.1014, piratesboneburgers.com