Apple trees blossoming under a sky pregnant with spring rain and nothing but the sound of two Haflinger horses pulling his trusty buggy – Jim Pierce lives for these moments.
As the co-owner of Of The Earth Farm + Distillery in Richmond, Missouri, Jim doesn't remember the exact moment that he fell in love with his farm and orchard, but he's been working the land since 1992 and still feels a sense of wonderment when he considers it. "There are aromas starting with blossoms in the spring, ending with ripe fruit in the fall," he says. "I see swollen buds, bursting blossoms, green leaves and blue skies. I hear the breeze through the trees, hawks and bees, [and] I feel the air on my skin. I'm lucky. I'm where I want to be, doing what I want to do."
In 2016, Of The Earth expanded to a second location two miles from the original. Along with his wife, Sarah, and his parents, Jim oversees the two orchards – a total of 45 acres – where 24 varieties of heritage and disease-resistant apples grow. Cultivars range from Gala to Golden Delicious and Jonathan to GoldRush, but Jim says he prefers "apples with stories behind them" – old varieties, including Blue Pearmain, Golden Russet and Redfield, that have numerous applications. Excellent when eaten fresh, Jim's favorite apples are also good in cider and produce the perfect flavor for apple brandy. Golden Russet, specifically – the type of apple you'd find in a Cézanne still life – has become prized as the "Champagne" of old-time cider apples and produces an intensely flavored finished cider.
"We raised, we planted and we planned the orchards," says Jim. "We're still planning [them] now. … It's a reflection of the people who live here – the interest that we all have."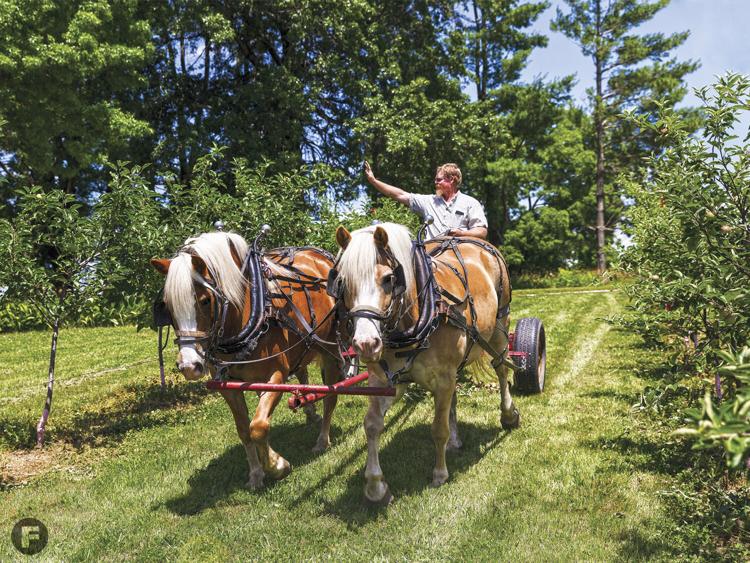 Jim and Sarah are both very Zen and make a balanced team. However, nothing in either of their backgrounds – besides the fact that they grew up in or near agricultural communities – foreshown that they would one day own land in Missouri's rolling hills and eventually distill European-style spirits such as brandy, grappa and Pommeau. Jim, whose résumé includes a range of experiences from construction to post office work, handles most of the growing and distilling, with help from Sarah and his parents. Sarah, who recently reduced her hours as an accountant to work full time on the farm, tends the flock of Katahdin sheep and the team of heritage-breed hogs, which were introduced to increase the farm's sustainability and offer guests the opportunity to purchase locally produced grass-fed meats. "I like being outside, and I find that, for me, the calmest place on Earth is in the pasture with the sheep, just watching them graze," she says.
The animals also give the farm more financial stability. "If you want to have a farm in today's economy, you have got to do value-added stuff, or it just isn't financially feasible," explains Sarah. "And so with the orchard, raising animals was a very good option."
Sarah and Jim practice rotational grazing methods on their pastures. After the apple harvest, the sheep are moved to the orchards to feast upon the stockpiled vegetation under the trees, while the spent fruit and grain mash from the distilling operation are fed as a supplement to the hogs' diet. This provides a sustainable way to dispose of the mash while making for extra happy hogs.
When it comes to distilling, Jim stresses that it's a team effort. "We're like a team of horses, where everyone is pulling to their abilities."
Jim wasn't always a fruit brandy fan – that is, until he sampled a Montmorency cherry eau de vie (a clear fruit brandy) produced by the late Dr. Kris Berglund, University Distinguished Professor of Chemical Engineering and Food Science at Michigan State University and a trailblazer in fermentation and distilled beverage technologies, at a fruit growers conference. "[Berglund] approached it like a glass of wine," he says. "He had us take a little on our tongue and breathe in the aromas. I swallowed, and it didn't burn; there was just this gentle warmth that followed. It was like standing in the middle of an orchard – it was a moving experience."
Thanks to the Missouri Agricultural and Small Business Development Authority's (MASBDA) Missouri Agribusiness Revolving Loan Fund, which offers financing to qualifying Missouri agribusinesses such as value-added agriculture enterprises, agriculture support businesses and marketers or retailers of agricultural products, the Pierces were able to buy a Portuguese copper alembic, in which they began distilling apple eau de vie – the first batch was released in December 2013.
Jim chose to buy a still directly from Portugal because of the country's tradition of making fruit brandy – a tradition that remains intact today. Years ago, some farmers in rural Portuguese areas would even start their day with a shot of Aguardente de Medronhos (or Medronho, a traditional Portuguese fruit brandy) in order to wake their spirits. The still is a bain-marie, which Jim refers to as a pot inside a pot. It works like a stovetop double boiler: The still has an internal chamber that is immersed in boiling water or steam. The mash, marc (or pomace) or botanicals in the internal chamber then warm slowly and evenly. In fact, bain-marie distillation is the slowest distilling process currently used at the craft level – it takes more than an hour and a half for each batch to "cook," exhausting the alcohol potential of the ingredients. While that may seem like a long time, the flavors and aromas extracted during the process are superior and well worth the wait. As indirect heat is applied to the mash, marc or botanicals – they are never in direct contact with a flame nor passed through steam – the bain-marie still also allows for greater respect of the raw ingredients, preserving their characteristics and producing a more refined final product.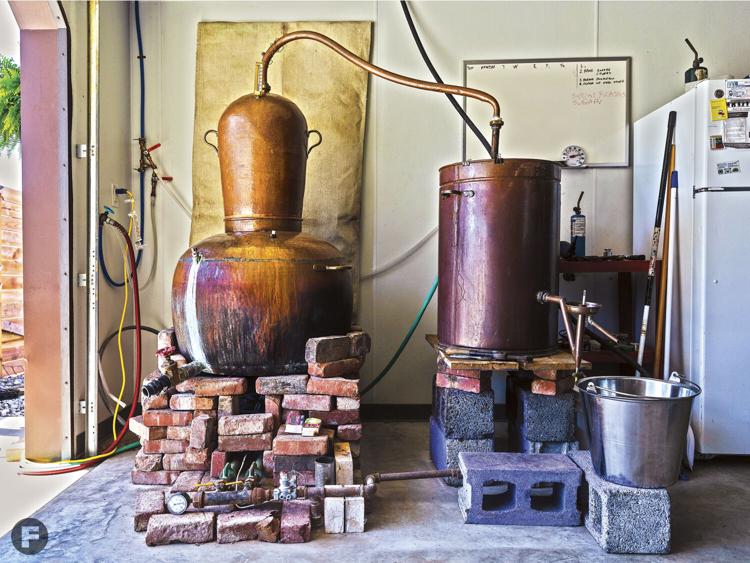 The traditional distilling method engages all of the senses, particularly one's sense of smell. Aromas from sour to sweet and rotten to pleasant signal to Jim whether the distilling process is on track or not. For example, a few years ago Jim was using a specific strain of yeast to make rye whiskey. "On day two, it smelled like rotten eggs. I thought it had a huge infection or something that I didn't understand, but [the aroma] was a characteristic of that yeast. By day three, it dissipated and in came these bready aromas [that] started to consume the rotten smells – then I knew we were on track."
Jim and Sarah use a blend of apples from their orchards as well as other Missouri-grown apples – think Gala, Jonathan, Pink Lady and Red Delicious – to produce the aforementioned apple brandy, the flagship spirit of Of The Earth Farm + Distillery. Aged in Missouri white oak barrels, it has sweet apple notes to the nose with barrel flavors forward on the palate. The couple incorporates produce from other Missouri farmers in their spirits too. With beets from the KC Food Hub, they create a beet distillate that boasts an earthy aroma and flavor of the crimson root vegetable, which makes for a perfect addition to savory cocktails such as a Bloody Mary. Berries from Mule Barn Berries and cherries from Historic Weston Orchard and Vineyard appear in other spirits, and Jim and Sarah distill grape pomace from area wineries to make grappa – a popular digestive in Europe that's often hard to find in the U.S.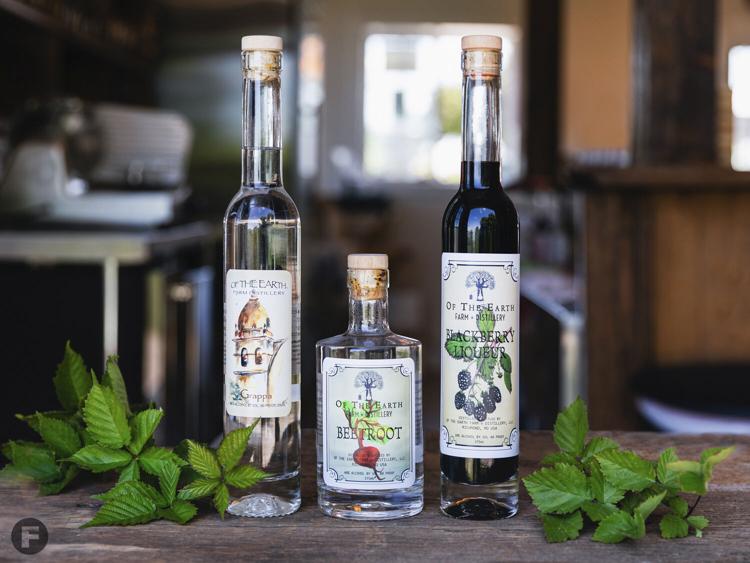 Of The Earth's tasting room – open March through December, every Friday, Saturday and Sunday from 2 to 8pm – gives guests a chance to sample as many of its spirits as they want. Enjoy a spritzer crafted with its blackberry liqueur – one of its sweeter products, the liqueur has an intense blackberry flavor with a subtle hit of tartness. Or mix its raspberry liqueur with Champagne for a slightly sweet, totally summery raspberry Bellini. Pair whatever you're drinking with a charcuterie board and while away the hours on the farm, watching the trees of the orchard sway in the breeze and the sheep graze contentedly.
Of the Earth Farm + Distillery, 17190 Hwy 13, Richmond, Missouri, oftheearthfarm.com