Growing up in Ciudad Obregón in Sonora, Mexico, Marissa Gencarelli shopped at local tortillerias as part of her family's regular routine. At the open-air stands and shops, she watched skilled makers press, roll, toss and griddle fresh tortillas, as scents of harvest and history swirled around her. While she waited in line, the owners would hand out tacos de nada for customers to snack on. It's memories like these that have long influenced Marissa, although she never imagined herself directly involved in the tortilla business.
Marissa attended her mother's alma mater, the University of Arizona, where she majored in international liberal studies (global political economy) and Italian literature, with the ultimate goal of attending law school like so many in her family before her. Studying abroad in Italy, she met her future husband, Mark, and after graduating, she was recruited by Cerner Corporation in Kansas City, Mark's hometown.
As life continued, the Gencarellis often traveled to Mexico, visiting Marissa's hometown as well as other cities such as Puebla and Mexico City. Upon returning to Kansas City, Marissa says they struggled to adjust to the cuisine. "The tortilla situation was just heartbreaking," she says. Thick, gummy, preservative-laden flour tortillas alongside crumbly corn tortillas crowded the shelves of their local grocery store, and Marissa longed for those of her childhood. Finally, out of sheer necessity, the couple began making their own tortillas – a pursuit that bordered on obsession, according to Marissa.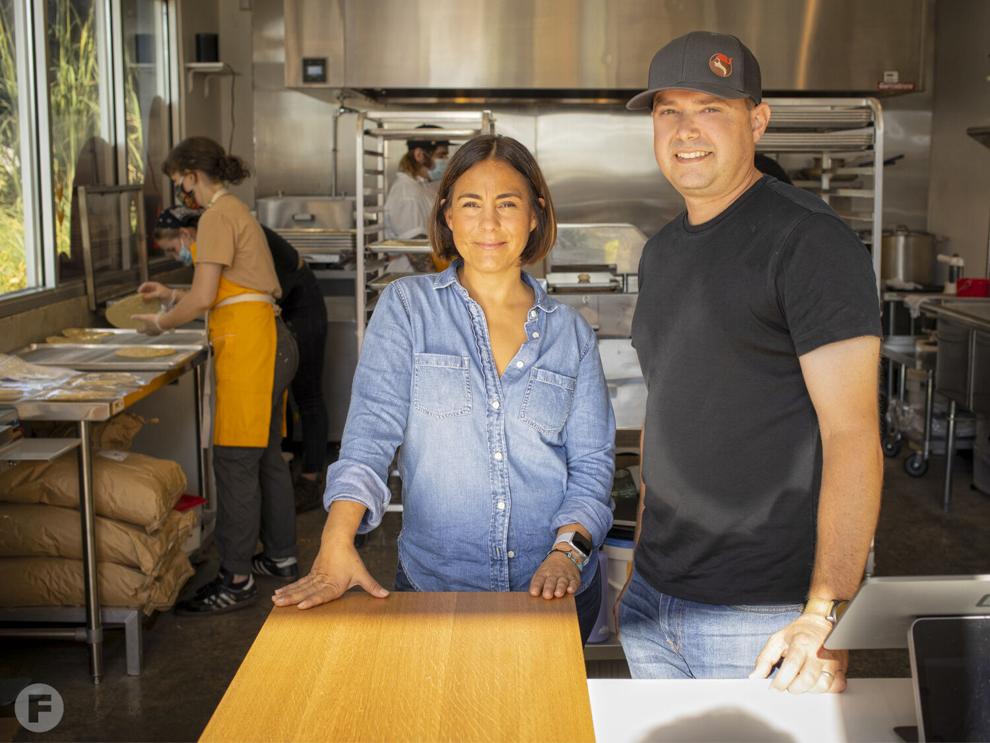 They started with corn, sampling a number of organic, non-GMO varieties that more closely resembled the corn available in Mexico as opposed to the yellow corn common in the U.S. As they tasted different strains, they learned about nixtamalization, the traditional process of cooking and soaking maize in an alkaline solution – usually limewater or ash lye – to remove impurities before it's rinsed and ground into masa for tortillas. They bought several stone grinders for the final step, but none of them produced the right texture.
Unimpressed by small, home kitchen grinders, the Gencarellis toyed with the idea of purchasing a commercial grinder like those used by Mexican purveyors. "We thought, 'What if we just go ahead and take this a little bit more seriously and maybe make a side thing out of it?'" says Marissa. So in early 2017, the husband-and-wife team went to Los Angeles to visit several manufacturers. From Campbell Machine – which produces custom commercial equipment for tortilla-makers – they bought everything they would need to produce tortillas commercially: cooking tanks, a grinder and ovens. Within weeks of their first purchase, the Gencarellis found themselves at the helm of a new enterprise, Yoli Tortilleria. They signed a lease for commercial space in Kansas City's East Bottoms, and Mark left his full-time job to focus on tortilla production.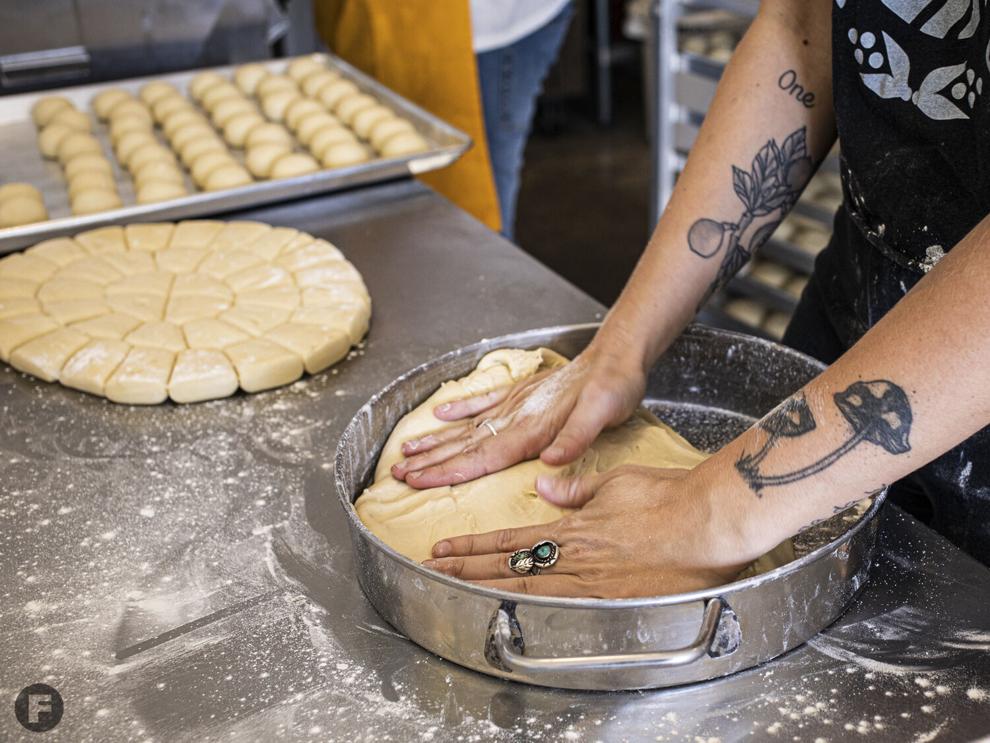 Today, Yoli Tortilleria has a stand at the Overland Park Farmers' Market, where Marissa and Mark sell fresh yellow, white, red and blue corn tortillas, along with weekly specials and seasonal varieties. To recreate some of Marissa's experiences at the tortillerias in Sonora, they also set up a griddle in their stall to offer customers hot-off-the-press samples of their products – although this practice has been put on hold due to COVID-19 safety protocols. While the tortillas remain a fixture of the farmers' market, Yoli Tortilleria has also expanded to dozens of local grocery stores, and its tortillas can be found in dishes at restaurants across the city, including Café Sebastienne, Chicken N Pickle, Fénix (located inside Strang Hall), The Savoy at 21c and Tribe Street Kitchen.
Patrick Ryan, chef-owner of Port Fonda, a Mexican restaurant in Westport, was an early advocate of Yoli products. For him, the choice to switch to its tortillas was an easy one. "Before Yoli opened, most tortillas produced in Kansas City that were available for restaurants to purchase were made with Maseca, [instant corn masa flour]," explains Ryan. "That's fine in some instances, but it's a mass-produced product with additives and preservatives – think Wonder Bread versus something from a bakery. As soon as Yoli came around and started doing it the right way by nixtamalizing local corn, it was a done deal. We switched [to its products] right away." At Port Fonda, Ryan uses Yoli tortillas in chilaquiles, enchiladas and more; he also makes tortilla chips with them.
This summer, Yoli debuted its first storefront in Kansas City's stylish Westside neighborhood, which is also home to a large Hispanic population. The decision to open a brick-and-mortar location represents a big step forward for the company. It gives the Gencarellis the opportunity to serve their customers in person and expand their offerings. "Our mission is to bring people together through experiences and the joy of food," says Marissa. "We greatly enjoy sharing our passion for the richness and diversity of Mexican cuisine with others."
At the storefront, in addition to selling its corn tortillas, Yoli crafts Sonoran-style flour tortillas, which are quickly becoming popular outside of Mexico due to their rich flavor and desirable texture.
Sonoran-style flour tortillas exist in an entirely different category than commercial flour tortillas. Traditionally, they're made with high-quality pork leaf lard, water, flour and salt – no additives or preservatives in sight. And they're as thin as rice paper. When laid on a hot griddle or pan, however, they puff up and lightly blister, rendering their exterior slightly crispy while maintaining a good chew and, of course, remarkable flavor.
To achieve the perfect flavor and texture, the Gencarellis met with Marissa's childhood friends who owned tortillerias in Ciudad Obregón to learn firsthand about the craft. They immediately realized just how important the individual ingredients are, and so, they tested approximately 30 types of flour before settling on organic, non-GMO white and whole-wheat flours grown and milled in the Midwest, and they decided to source the leaf lard from Paradise Locker Meats in Trimble, Missouri.
"[Paradise Locker's leaf lard] has almost no scent, and there's absolutely no residue in it," explains Marissa. "It just melts in your mouth, like good, high-quality butter."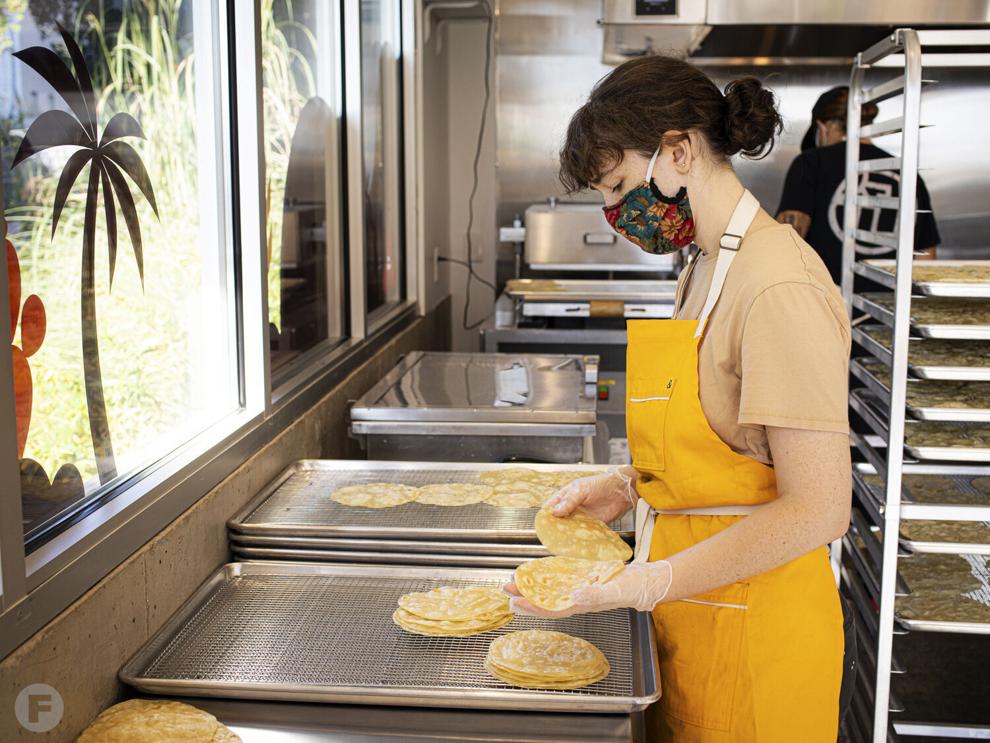 At the new tortilleria, customers can observe the tortilla-making process. First, the flour, lard, water and salt are combined to form a dough, which is divided into pieces the size of golf balls. Next, the dough pieces are pressed flat by a commercial press and then transferred to a flattop grill to cook slightly before being dried and stacked for packing. The space is warm and inviting, but beware: Watching the process is bound to make you hungry.
On top of that, Yoli's new line of salsas and escabeches are also extremely enticing. Available at the Westside location, they feature fresh, seasonal and both locally grown and native-to-Mexico ingredients. "We are [kind of] rule breakers," says Marissa. "Instead of trying to copy a Mexican dish and getting exact ingredients that might not be in season, we opt for tweaking ingredients [depending on] what is in season [and] using traditional methodologies and our own creativity. Ultimately, we want to [promote] the soul of Mexican cuisine, which is work with what is around you and share with your community."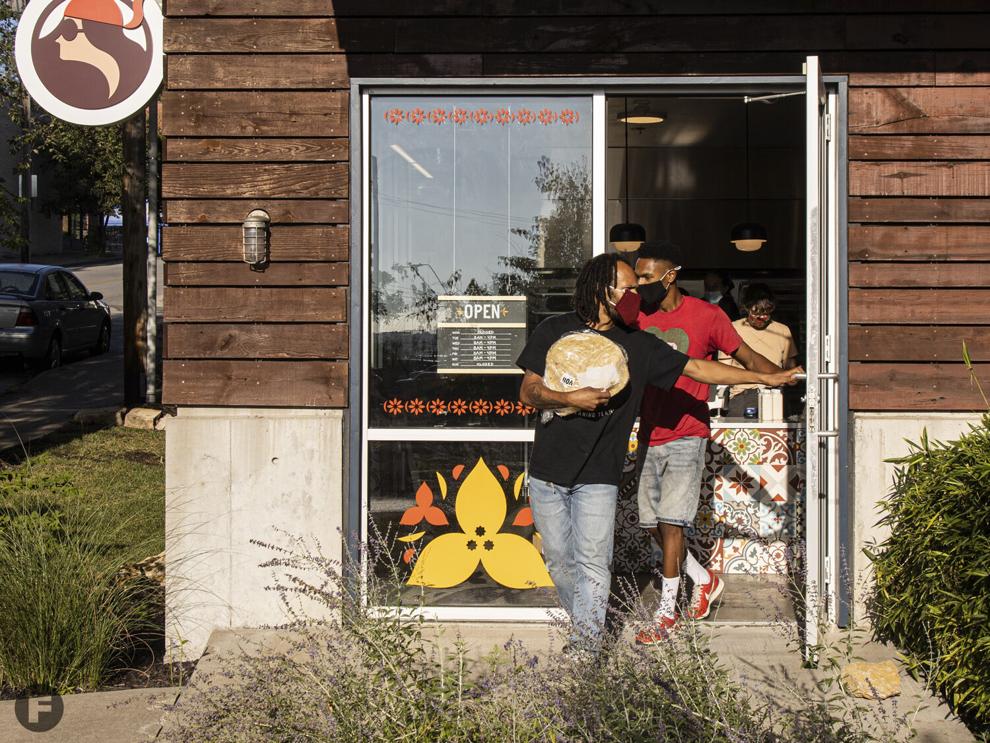 The reception of Yoli's storefront has been overwhelmingly positive, with customers streaming in to pick up tortillas and salsa for every occasion. Even if you don't live in the area, you can purchase Yoli corn and Sonoran-style flour tortillas online. The tortillas have endless applications: Wrap them around salmon and smother them in mole for dinner or pair them with avocado and soft-boiled eggs for breakfast. Any way you want to enjoy them, Marissa and Mark are just happy to be able to bring traditional Mexican flavors to the table.
Yoli Tortilleria, 1668 Jefferson St. #100, Westside, Kansas City, Missouri, eatyoli.com