Before Mon., March 16, The Rieger was consistently crowded. Kansas City diners flocked to the Crossroads Arts District to try the restaurant's high-end dishes and hand-crafted cocktails, returning again and again confident that they would receive the same outstanding service. Today, its tradition of hospitality takes on new meaning.
After finishing regular dinner service on Sat., March 14, chef and partner Howard Hanna knew something had to change; business was down, and he couldn't ignore the toll that COVID-19 was taking on the country's food and beverage industry. "[Sunday] was rough," he says. He spent a majority of the day reading up on the pandemic and trying to balance his concerns for the greater community with concerns for his staff. "It sucked being in my head and wading through [all] that." And by the end of the day, he still couldn't decide what to do.
"I went to bed that Sunday night still agonizing over it," says Hanna. "At probably four in the morning – I slept [horribly]; I kept tossing and turning – I woke up thinking about [acclaimed Spanish-American chef and humanitarian] José Andrés and World Central Kitchen." Andrés founded the nonprofit organization to provide meals in the wake of natural disasters. When Hanna first read Andrés' book, We Fed an Island, about the chef's relief efforts in Puerto Rico after Hurricane Maria ripped through the nation in 2017, he was blown away by the impact Andrés made with the simple act of cooking.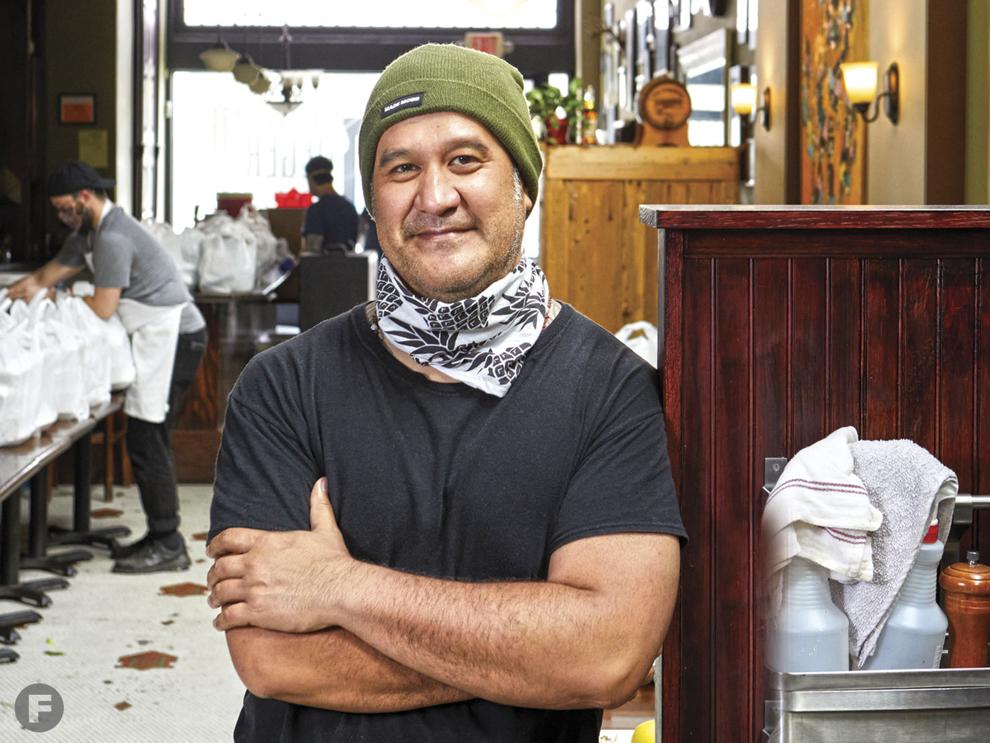 From dishing up sancocho (a traditional Latin American broth-based meat and vegetable soup) with his friend José Enrique at Enrique's ravaged restaurant in San Juan to cooking enormous paellas fit to feed thousands of people, Andrés and his team eventually served approximately 100,000 meals a day at more than a dozen kitchens across the island.
"I love how he just plowed ahead," says Hanna. "Every time [Andrés was told], you need to come to this meeting with this nonprofit and this government agency and this community association, and we'll all get together and brainstorm, he was like, fuck that, why don't I just cook – people are hungry. That's very much how I felt: Like, everything's up in the air and life's crazy, let's start cooking for people. I don't know what else to do."
The next morning, Hanna ran his idea to transform The Rieger into Crossroads Community Kitchen by director of operations Becki Ford, who was immediately on board. "We have a great business relationship," says Hanna, "because I'm all about big dreams and inspiring the troops – my heart's in the right place – and Becki's really good at logistics – planning and organizing and making it happen."
By 4pm that same day, Crossroads Community Kitchen was serving its first to-go meals on a pay-what-you-can basis. The first night, 21 meals went out, but numbers grew from there. The kitchen served 56 meals the second night, 245 the third and hasn't looked back. When this issue of Feast was in production, Crossroads Community Kitchen had served approximately 50,000 meals to the community, with the help of the community. From the beginning, Hanna believed that if he focused on feeding other people and taking care of other people, those with the means would rise to the occasion and help take care of his people too. "And that very much happened," he says.
In order to adhere to social distancing guidelines, an average of six people work in the building at a time, including a good mix of The Rieger's front and back of house as well as members of the management team. Rather than have all the food come off the line – and, as Hanna says, "have four cooks stirring the same pot" – some items such as sandwiches and cold sides are made in different areas of the restaurant. "We're really trying to spread everything out so that we're not all over each other," he adds.
Hanna has also had "hard talks" with his staff about the importance of social distancing. "Your personal life is your personal life, and we can't make decisions for you," he's told them, "but right now, everybody's personal risk impacts the team and this whole operation, so you need to take it seriously." Luckily, everyone at Crossroads Community Kitchen agrees that the organization is bigger than any one person, and they're all willing to make sacrifices to ensure its success.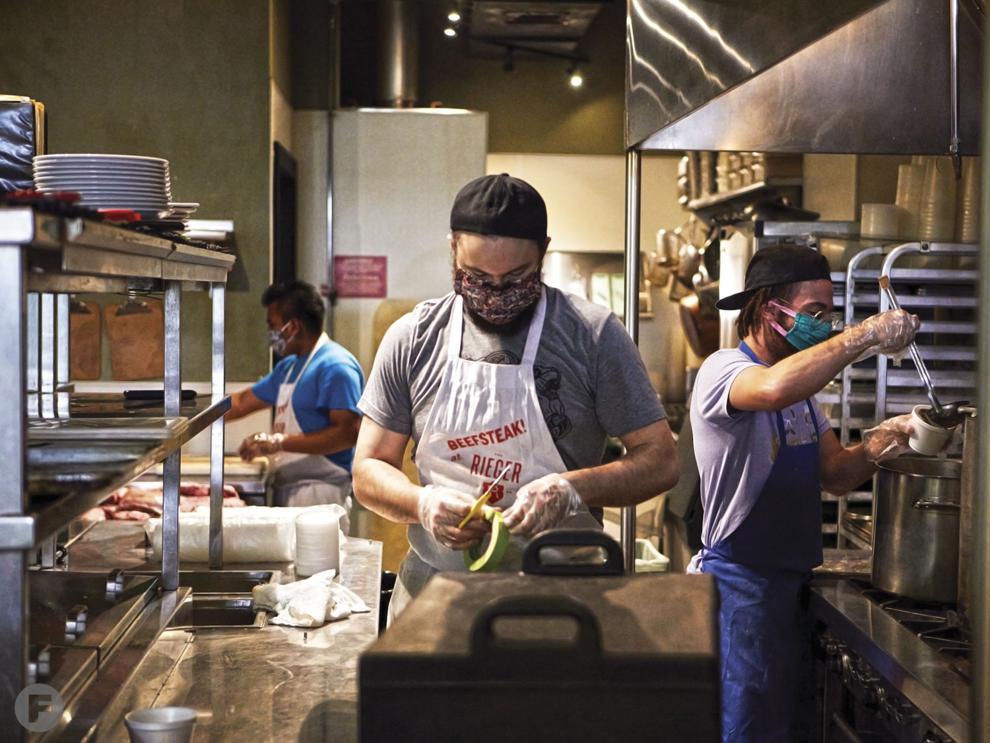 Hanna and his team launched Crossroads Community Kitchen with three goals in mind. First, feed people in the community who have become food-insecure. "People were laid off so quickly, and suddenly they were having to choose between buying groceries or paying rent," says Hanna. "That's really scary." The kitchen also serves a large number of unhoused people in the neighborhood who were food-insecure and at risk before the COVID-19 crisis.
The second goal? Take care of The Rieger staff. A GoFundMe fundraiser was started right away, and originally, all proceeds went to the restaurant's hourly staff. However, Hanna encouraged those employees to file for unemployment; with that income, plus the additional $600 a week of federal pandemic unemployment compensation and the $1,200 stimulus check, they should be able to pay their bills. Now, the money raised through GoFundMe supports the entire operation by paying the wages of people taking shifts at the community kitchen, purchasing diesel fuel for the refrigerated truck donated by food and beverage distributor Ben E. Keith Co., which stores the kitchen's inventory of perishable supplies, and stocking up on other supplies, among other things. "To-go boxes were a constant hassle," says Hanna. "We kept running out of soup containers, for example, and were having to beg for them on social media every day and wait until the last minute to decide, is this gonna be a soup or poured over rice so that it thickens, because until we know what container we have, we don't know how we can serve it."
The third and final goal is to reduce food waste. Initially, Hanna used all of the perishable inventory at The Rieger to make the to-go meals for neighbors, guests and staff. "It seemed crazy to waste a single bit of food while there are hungry people out there," he says. "So we took all the food we had and converted it into whatever meals we could. They didn't have to be the same; they didn't have to be things we would do at the restaurant. They just had to be nutritious whole meals with good food."
The community kitchen received an incredible response: From massive amounts of food to monetary donations via GoFundMe to cases of to-go servingware, the public's generosity was astounding. "Every day for that first week, we were nearly in tears," says Hanna. "The support – from some people we didn't even know – was really inspiring. It confirmed that this is the right thing, this is what we need to be doing, and we're not in it alone."
Crossroads Community Kitchen processes donations of supplies for the to-go meals from different sources. If someone who lives down the street stops by with eight oranges, then the next eight boxes that go out have an orange in them. Seaboard Foods, a Kansas-based exporter of pork products with whom The Rieger does not usually work, donated 1,000 pounds of pork chops. Paradise Locker Meats, located in Trimble, Missouri, gave the kitchen an equal amount of various meats such as bacon, ham, ground beef and turkey. And Farm to Market Bread Co., which was previously located around the corner from the kitchen, has provided the bread for countless sandwiches. "I can't even guess how much bread they've given us," says Hanna. "It's made a huge difference."
Many other local businesses have shown their support for Crossroads Community Kitchen as well. In one day alone, it received donations from Grand River Mushrooms, Barham Family Farm, Missing Ingredient and Yoli Tortilleria, and many more have since contributed to the mission.
When Kansas City restaurants temporarily closed for dine-in service – and many temporarily closed altogether – a lot of chefs and owners who had heard about Crossroads Community Kitchen emptied out their walk-ins and brought over the ingredients. Suddenly Hanna and his team were buried in food. "We had to scramble to keep up," he says. "Every day, I would come in with no idea what I would be cooking, but I would just walk through the stacks and stacks of produce and be like, those green peppers are gonna go bad fast, so that's happening today. And we have literally 500 pounds of onions, so no matter what, I need to cook at least 100 pounds of onions – just move some onions."
To some, creating menus for the to-go meals on the fly might sound chaotic and stressful, but to Hanna, it was, well, fun. "It was way more hands-on than I've been in years," he explains. "The Rieger is nine years old. The first two years, there were [menu items] that nobody else even knew how to make because I made them every single day, and I cooked all the time. As we matured, as the team grew and the business grew, I became more of a teacher and a manager – I stopped touching food every day, which had been part of my entire adult life. So, [for the first few weeks that the Crossroads Community Kitchen was open], it was really inspiring for me to be able to come in, look at the food, write a menu and just start cooking."
Working toward Hanna's third goal of using every edible piece of food, he and his team decided to expand their reach. "Our maître d', Whitney Coleman, got super proactive about it. She started calling shelters and hospitals, making connections and asking, 'Where are the needs?' If it's not you, point us in the right direction," explains Hanna. As soon as people in those sectors knew about Crossroads Community Kitchen, there was a huge demand. Today, the kitchen fills standing orders every week, feeding those on the front lines and those most at risk. "Seeing all of the people in the Kansas City area who were underserved, marginalized, ignored and already hungry before all of this was really eye-opening," says Hanna.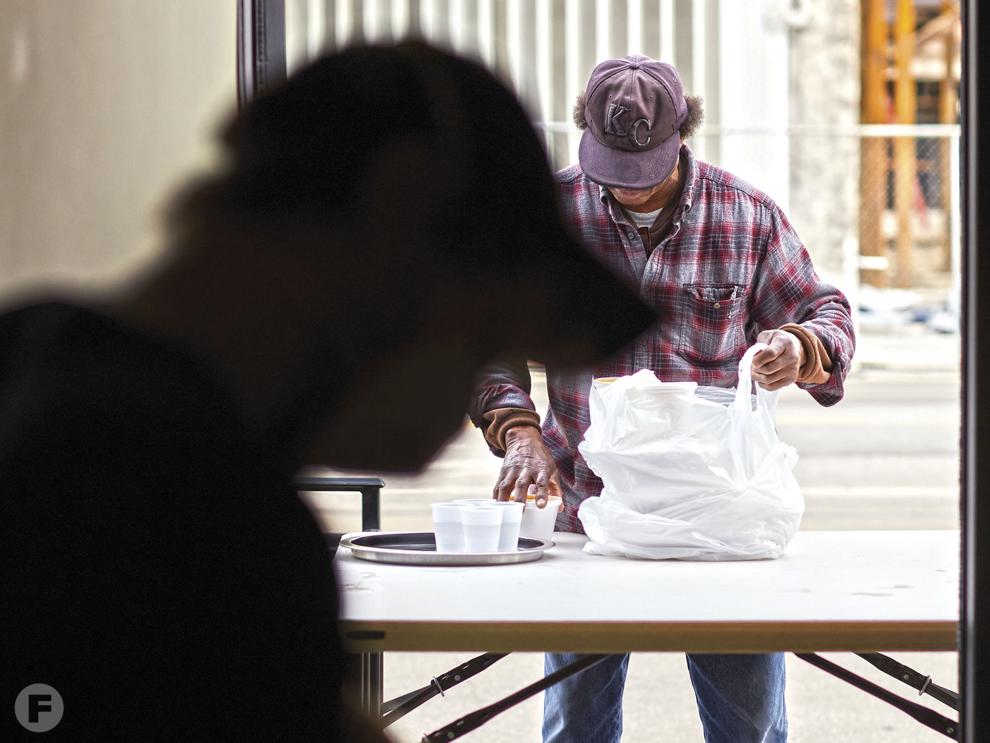 Make no mistake – Hanna loves being a restaurant chef, but his formative years prepared him to help serve those in his community on a greater scale. Everyone in Hanna's family is either an educator or some kind of social worker. For example, his mother was the executive director of the Flint Hills Breadbasket, a community food network founded in Manhattan, Kansas, in 1983, which ensures no one in the community goes hungry. She was hired when the operation was still tiny and expanded it extensively. "She was working with every food pantry in the city but also connected with the powerful, rich people of Manhattan – she was great at twisting their arms to get donations and support!" says Hanna. "So, my entire childhood was – quote unquote – volunteering at the Breadbasket.
"I'm the only one who buys and sells things," he adds with a laugh. "I'm the only one running a business, but I fell in love with food and cooking and feeding people – my life made sense through that lens, but it's definitely different from what I was raised to do." Crossroads Community Kitchen has changed all that. Now his work reminds him of his mom and all the good she did.
Hanna hasn't had a lot of time to sit back and reflect, but when given a moment, he says this is the most fulfilled he's felt in years – maybe ever. "I don't know what that means for what I do after this. … I miss my restaurant. I love that life, I love what we do, but it's a grind. It's a hard life, and it's not very good to the people living it; it chews people up. I don't want to go back to that. I don't want my staff to be one paycheck away from being food-insecure and two or three paychecks away from being homeless. That's unacceptable. We've got to be better than that or I don't want to keep doing it."
Fueled by this fire, Hanna jumped at the opportunity to join forces with Chef Collective KC. Greg Garbos of City Bitty Farm introduced Hanna to Kansas City civic entrepreneur Jon Taylor. Taylor recently started the collective in collaboration with Hanna, Michael Foust, owner of Black Sheep + Market, and Brandon Winn, former executive chef of Webster House, which plans to close its doors permanently post-pandemic. Through The Community Meals Project, the collective is helping feed Kansas City residents currently out of work or unable to work due to the coronavirus, in addition to those with day-to-day hunger issues.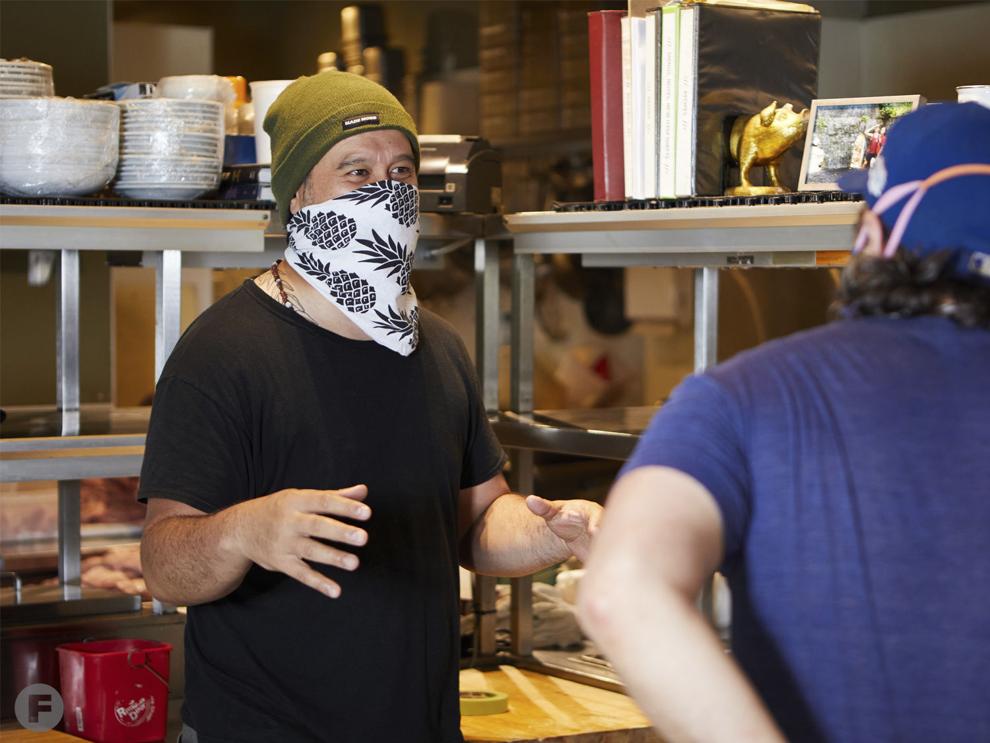 The model designed by Chef Collective KC allows restaurants to morph into community kitchens during a catastrophic event and retain their employees – much like The Rieger has during the COVID-19 pandemic – and then, once the crisis is over, to slowly transition back into a restaurant until there's a new need.
"In the short-term, The Community Meals Project is disaster management in the spirit of what World Central Kitchen is doing. It's workforce preservation and the mass production of meals," says Taylor. "In the long-term, [Chef Collective KC] is focused on a resiliency model for the food system, [which involves] streamlining how local and regional growers get their produce and more of their perishable goods into the system and creating a nimble model to maximize the distribution channels [we're identifying today] once the food gets into the system. … Part of the reason we were able to [launch] this operation as quickly as we did is because we didn't invent it out of thin air. The model that we're building on is a model that Michael Foust has been thinking about for probably 10 years now.
Initially, Hanna thought it was too good to be true. "I thought when they finally got it together and got it funded, it was going to be very restrictive, and we would have to stop what we're doing and then start as a member of this bigger thing. But what we're doing is working – we just really need help with funding. They listened to me and were really supportive."
Now, Crossroads Community Kitchen continues to function the same way, and Chef Collective KC is helping fund it. For example, on May 5, the community kitchen received a check for $16,000, covering the previous week's overhead. The amount that it receives each week is calculated simply: "We pay them $5 a meal for the amount of meals that we mutually agree they are going to produce on a weekly basis," explains Taylor. At Kanbe's Markets, Chef Collective KC has also set up a centralized receiving, processing and distribution center, where it organizes food that it's acquired through a variety of different means. "So we have the ability to provide food for a kitchen," says Taylor. "If you think of that $5 model in this hybrid scenario, where we're providing the food [as opposed to Crossroads Community Kitchen and other restaurants that purchase their own food], we cover a $3 portion of the meals, and we pay a kitchen $2 a meal to prepare them." That universal $5 amount makes accounting a breeze, and by solving problems such as food sourcing, storage and delivery, Chef Collective KC provides a support system for the restaurants that choose to go down this road – "so [kitchens] can just cook," he adds.
There are a few fundamental stipulations concerning how the money can be used: When making purchases, each organization should prioritize local growers and producers, they should be mindful of nutrition and the meals they serve should be complete. "Those are all things we align with anyway," says Hanna.
"I like that [The Community Meals Project] is attacking different challenges that we're facing right now," he says. "It's trying to employ restaurant workers and other people involved in the food system. It's trying to feed those same people. And it's trying to provide meals to the community at large. In doing all of that, it's also supporting our local food system, and not just for the immediate future, but to keep people growing food and making food so that we have a healthier, more sustainable system in the long run."
Chef Collective KC, chefcollectivekc.com