Corvino Supper Club and Tasting Room is actually three concepts in one: a casual dining room, a tasting menu restaurant and a live music venue.
Chef-owner Michael Corvino and his wife and business partner, Christina, designed the restaurant to reflect what they love as both diners and industry professionals. "With live music, a solid late-night menu and creative bar and wine offerings, Corvino is the perfect Kansas City spot for a rapidly growing urban neighborhood," Corvino says.
The wall opposite the bar is completely black except for the restaurant's namesake signature raven. (In Italian, corvino means "little raven.") Painted by local artist Jeremy Collins, the bird appears to fly over a sleek black leather banquette. The stage is a focal point of the Supper Club, with solo acts playing every night during dinner service. And on the weekends, the energy ramps up.
A band comes on at 9:30pm – anything from jazz and country-rock to a 12-piece Cuban band – and plays until Corvino closes at midnight.
Lights dim, people begin spilling in after events at the nearby Kauffman Center for the Performing Arts and industry folks and musicians push together tables as friends get off work and join them. "There's a very communal, social feel that I think is special to our restaurant," Corvino says.
The ethos of Corvino's late-night menu is to take familiar, super-accessible dishes, and heighten the quality of the ingredients. There are 11 late-night options in total – pared down from a nearly 30-item dinner menu – from a cheeseburger to caviar, along with three specialty cocktails and three beer and spirits pairings (think a can of Old Milwaukee and a shot of Old Grand-Dad bourbon).
The late-night menu is available from 10 to 11pm on weeknights and 10pm to midnight on Fridays and Saturdays.
Cheeseburger with aïoli, charred onion, pickles and Muenster cheese
"When we were developing [the menu] in the kitchen, it was the cheeseburger that my cooks and I always wanted to eat. We get good-quality chuck. Whole chuck is the key to this burger. It's a 2½ ounce smashed patty; we sear them on our plancha with a little bit of charred onion. I love American cheese on a burger, but it kind of takes over, so we do Muenster; it still has that melty, processed type of cheese feel that we all love on our diner cheeseburger. It's a really fatty, salty burger, so [we do] a super sour pickle with lots of dill. And we make classic aïoli with garlic and lemon, which, for me, mayonnaise is the most important thing on a burger. That's the dressing style I've always felt a burger needs. And then the bun, it's an enriched dough. We've all had the bun that falls apart and you can't eat the burger. So [the dough is] worked a lot more, almost like a Parker House dough. The bun holds together and it squishes like the bun you get in a drive-thru at a fast-food restaurant."
Seaweed donuts with trout roe, chives and cream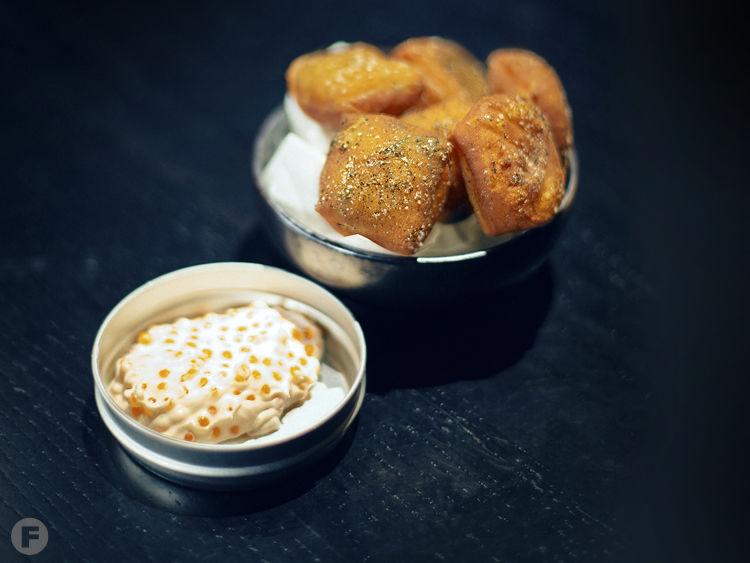 "When we [first] opened our restaurant, [this] was actually one of our snacks that began the 10-course dinner in the Tasting Room. It's one of our favorite things, one of our top sellers. It's donuts, but it's a vehicle for trout roe and cream, which is more of maybe a fine-dining type of thing. We throw seaweed in the donut because it adds a savoriness and saltiness to the donuts and brings it full circle."
House fries with cheese aïoli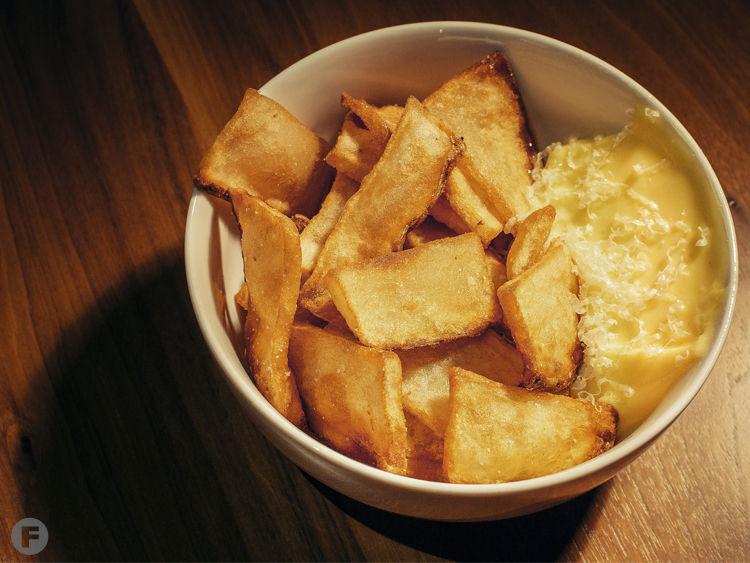 "We think they're really special. In fact, Food & Wine did a three-page spread on the recipe last year and said they were the best fries they'd ever tasted. They're super crispy, and they're sour because [the potatoes] are poached in vinegar before they're fried. There's a traditional [french fry] recipe: blanch in acidulated water, then blanch in oil and fry. But we played around with the shape of them – it's cut like a scoop so it's easy to dip. Each piece has a little bit of skin on it, which makes them fry really well. When we were playing around with this shape, some of them were a little crispier, some of them had that perfect, fried-potato crisp on the outside. So they're really fun. Those come with [what] we call cheese aïoli – it's a classic aïoli with garlic, lemon and salt, and then we grate a nice aged white Cheddar in it."
Tater Tots with Imperial Gold caviar, shallot pickles, cultured cream and egg yolk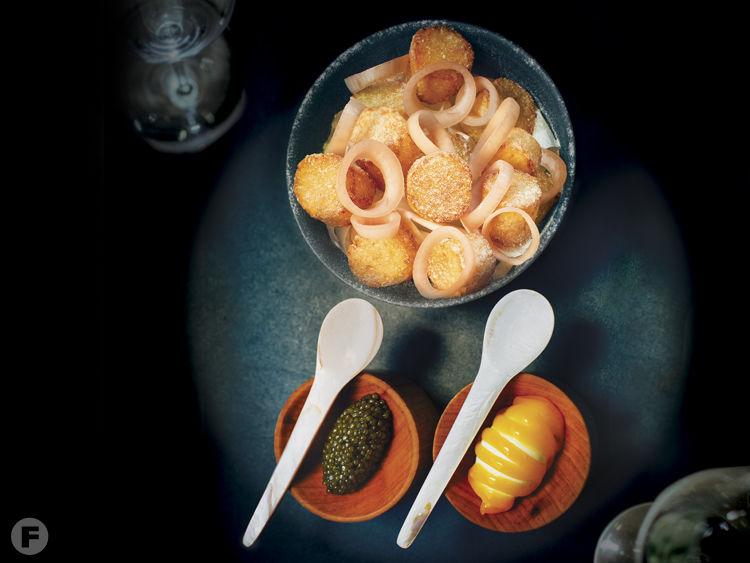 "Caviar is a luxury ingredient: How do we make that more approachable and accessible? That's always my approach with caviar. I don't think caviar should be formal or awkward. You put it on a Tater Tot with a shallot pickle – it's delicious. We've done a variation with puffed black-rice crackers. I currently landed on Tater Tots because everybody loves Tater Tots. It really helps get [the caviar] out there, like, 'Ooh, I'll try that!'"
Fried chicken with chile butter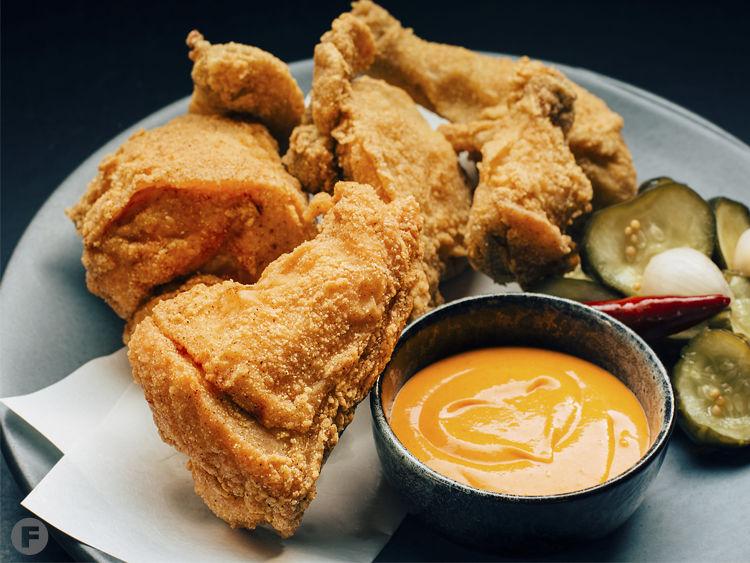 "Our fried chicken is very simple: There's no brine, no buttermilk. It almost mimics how you cook catfish, southern Louisiana-style: shocked in ice water, [then] seasoned flour with a little cornmeal. It sticks really [well] to that freezing-cold chicken, and the meat remains super moist. We serve it with what we call chile butter, and it's one of my favorite sauces I've ever made. We ferment [the chiles] with a lacto-fermentation, like Sriracha; we do red jalapeño and cayenne chiles currently, and then that's seasoned with honey and sherry vinegar, and we emulsify butter so it gets all of those flavors you might pair with fried chicken in once sauce. It's sour, it's salty, it's spicy – it's really spicy. It's aggressively spicy. It's on the side, so you can control how much you have. And then we serve that with a different pickle; it varies a little, but it's a thick-cut pickling cucumber and we usually do that with onion. Currently, there are sunchokes in the pickles as well. It's not as sour; it doesn't have the dill, so it's more of that middle ground sweet-and-sour pickle. It's very mustardy. We wanted the really thick, really crunchy pickle with the chicken."
King oyster mushroom sandwich with aïoli, charred onion, pickles and Muenster cheese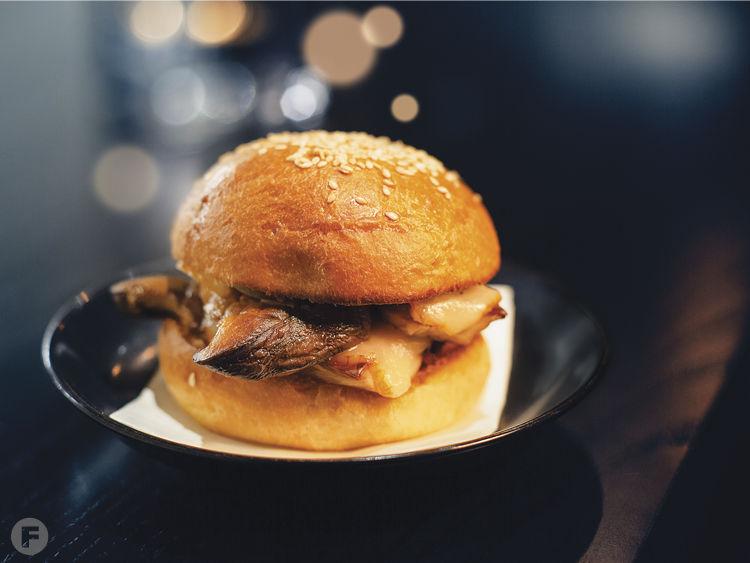 "My wife and partner, Christina, is the general manager, and she does everything but the cooking. She doesn't eat meat, so what do we do? We played around with a lot of different things – vegetarian patties, this and that, and we finally came to this: steak-y mushrooms that get that sear like beef [patties]. We do king trumpet mushrooms, which is a cultivated mushroom; they're also called king oyster mushrooms. They're large, so you can cut them to where you have lots of surface area to sear. And then we do everything else the exact same way [as our house burger]. We mimic two patties with seared mushrooms so it's got the same proportion of cheese layered between it. It's super delicious."
Corvino Supper Club & Tasting Room, 1828 Walnut St., Crossroads Arts District, Kansas City, Missouri, 816.832.4564, corvino.com