If you live in the Midwest, chances are you've been fishing a time or two. Casting a line into the water and waiting patiently for a bite can benefit the mind and body. Simply spending time in nature encourages your brain to stop jumping from task to task; your breathing slows, your muscles loosen and your heart rate decreases. It's all so – still.
And yet, the activity also conditions your body, improving hand-eye coordination, working muscles in your hands, arms and shoulders and increasing cardiovascular endurance if you're fortunate enough to reel in a big one.
Fishing is also a critical part of local tourism, especially in the Ozarks. The money paid for fishing licenses helps maintain our state parks and other conservation areas, and family-owned campsites, cabins, resorts and restaurants benefit from the influx of visitors looking to kick back with their fishing rods for a few days. Thankfully, a gorgeous variety of fish species inhabit Missouri rivers, so seasoned anglers and young families alike can enjoy the adventure.
1. Fish of the Ozarks
Native to the Ozarks region, these fish provide a tasty meal:
Bass (striped, spotted, rock, white, smallmouth and largemouth)
Bluegill
Catfish (channel and flathead)
Crappie (black and white)
Muskellunge
Paddlefish
Rainbow Trout
Walleye
2. Hook, Line and Sinker
Before you head to the water, you'll need to stock up on a few things.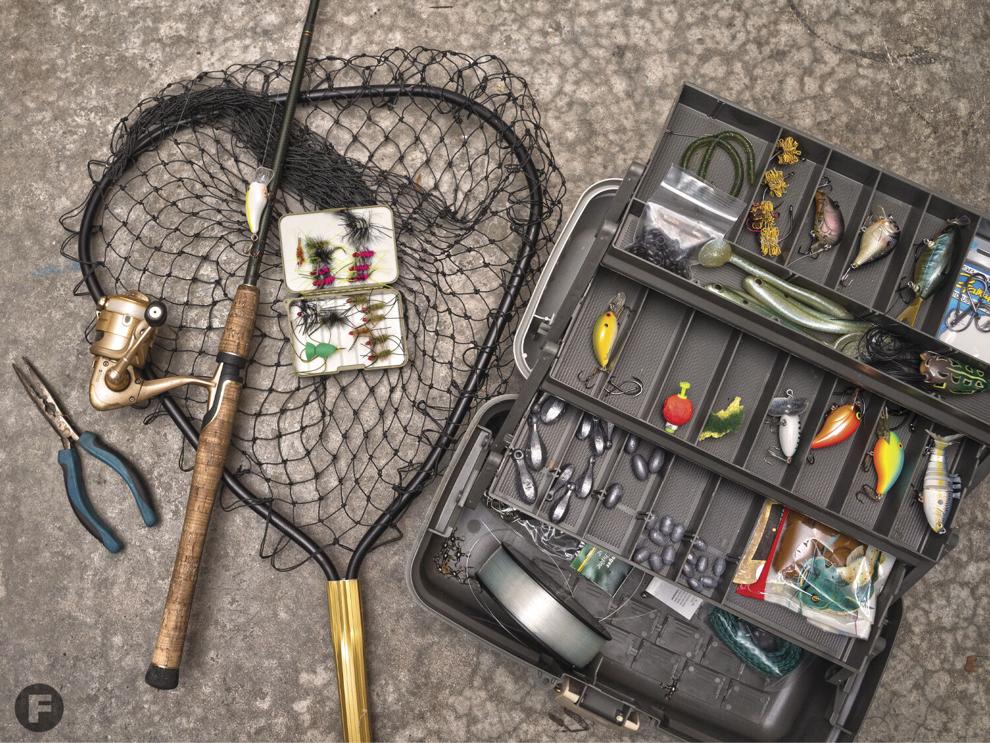 The Main Event
Rod and Reel. It takes time to find the right rod and reel combination, so do your research or talk to an expert to determine the best setup depending on factors such as skill level and what you'll be fishing. For instance, baitcasting rods are great for beginners, while spinning rods might require a little more expertise. Different reels require different hand positioning, so an expert can help you decide the most natural fit for your fishing style.
Keep it Together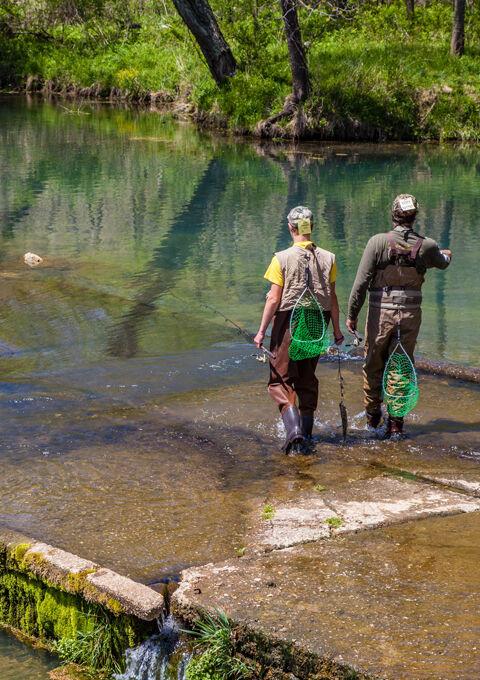 Tackle Box. You won't get far without a tackle box, which will keep your fishing accouterments organized for easy access.
Monofilament Fishing Line. A classic for all types of fishing, monofilament fishing line is inexpensive, easy to use and strong; plus, it offers a generous amount of stretch, so you won't be snapping lines left and right.
Hooks and Swivels. Load up your tackle box with hooks, sized for the types of fish you plan to catch. Swivels aren't a bad idea, either: If you're catching fish that tend to twist the line, swivels can keep tangles from happening during retrieval, especially when using monofilament.
Bobbers and Sinkers. Both bobbers and sinkers come in a variety of styles for different uses. The correct ones are critical to your success on the water, so do your research here, too.
Bait. If you're near a fishing spot, I can almost guarantee that you're near a bait shop. Live bait is a great choice, but man-made bait – hard plastic, soft plastic, jigs and spinners – will also help you nab those Missouri fish. Ask your bait shop operator to spill the beans on their favorite picks.
After the Catch
Net. A fishing net isn't a strict requirement, but it'll help you get your fish in the boat without any mishaps. Look for one that floats, so you don't lose it mid-battle, and make sure it feels comfortable in your hand, so you can maneuver it with ease.
Needle-Nose Pliers. You need these to clip onto sinkers and release caught fish from the hook safely.
Fingernail Clippers. These are perfect for cutting monofilament fishing line.
Stringers. This line of rope or chain strings fish so they can be immersed and kept alive in water.
Cooler. Especially on warm days, a cooler keeps your catches fresh and cold for as long as you want to stay outside.
Safety
First Aid Kit. It might seem optional, but you should always bring a first aid kit along for the ride because, well, accidents happen. Stock the kit with antiseptic wipes, bandages, gauze and tape, tweezers, sunscreen and anything else you think will keep you safe.
3. Find Your Fishing Spot
Lakes and rivers help define the Ozarks region while providing plenty of places to fish. Lake of the Ozarks and Table Rock Lake are renowned destinations for anglers of all levels – with activities such as boating, hiking, swimming and even scuba diving also available for the fishing-averse – but if you look a little longer, you'll find other scenic settings within state parks that get you farther from the crowds and more in tune with nature.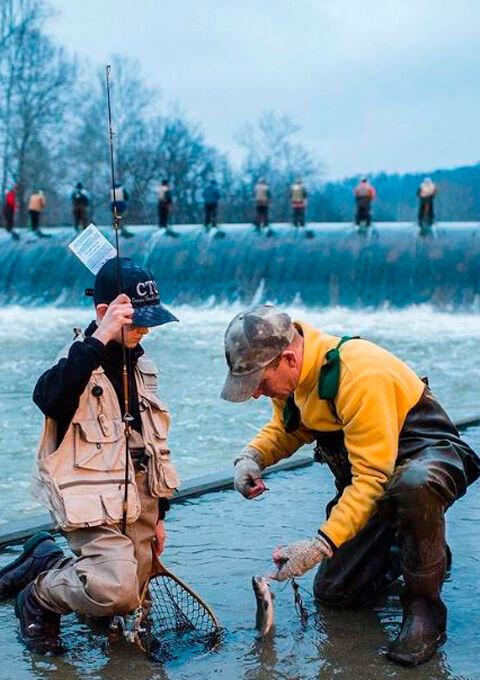 Bennett Spring State Park. One of Missouri's oldest parks, Bennett Spring is a paradise if you're into rainbow trout. The peaceful park is traversed by nature trails, and three accessible fishing piers accommodate anglers of all abilities.
Bull Shoals Lake. The rustic beauty and quiet setting of Bull Shoals Lake attracts no-nonsense anglers. Featuring largely undeveloped shoreline and dramatic rock ledges, the lake is home to striped bass, catfish and crappie. There are also a number of resorts in the area that provide easy access to the water.
Harry S. Truman State Park. This park has some of the best white and largemouth bass, catfish and crappie in the state. Located on a peninsula, it welcomes anglers as well as boaters and swimmers for a relaxing vacation among gorgeous fall foliage.
Lake Taneycomo. Lake Taneycomo is the perfect place to put waders on the kids and teach them how to cast a line. If you need to rent a boat, check out Lilley's Landing, where you'll also find fish-cleaning stations. Finished fishing for trout? Try another water activity such as kayaking or paddleboarding.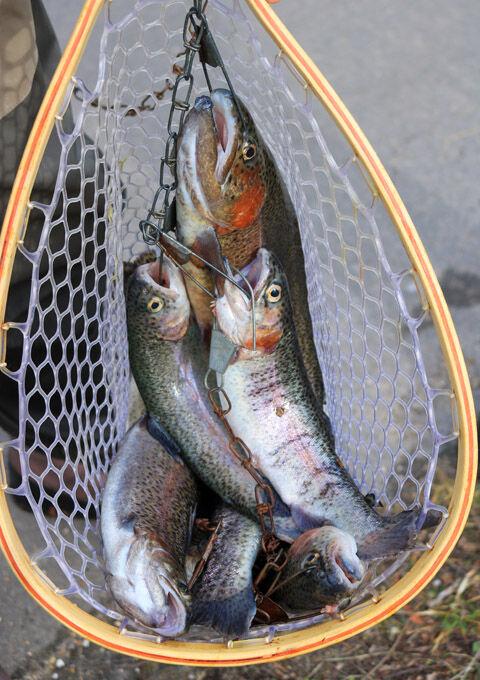 Pomme de Terre Lake. Located in the Osage River Basin, Pomme de Terre Lake is home to world-class muskellunge ("muskie") fishing, but you'll also find largemouth and white bass, catfish, crappie and walleye in its waters. With two beaches, plentiful hiking trails, picnic areas and campsites, it's a perfect place to spend a quiet weekend.
Roaring River State Park. One of only three Missouri state parks stocked with rainbow trout, Roaring River abounds with scenic vistas of the Ozark Mountains. Last June, the park debuted a state-of-the-art fish-cleaning station with multiple cutting tables that improve efficiency while disposing fish remains in an environmentally friendly manner.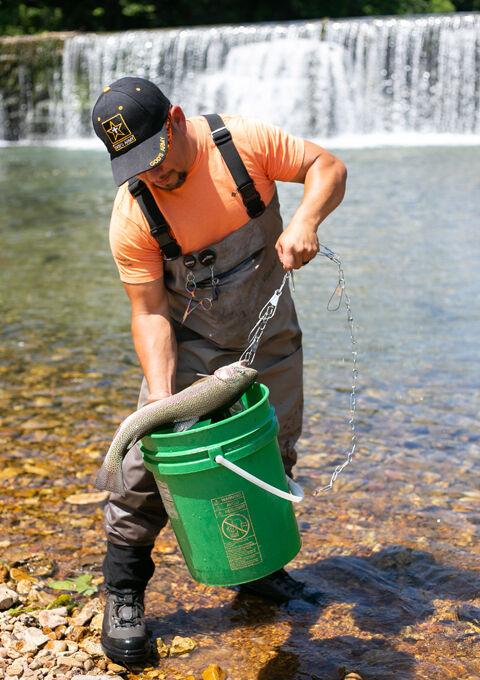 Stockton Lake. The miles of shoreline and clear waters of Stockton Lake beckon both novice and experienced anglers. Known as one of the best places to catch walleye, it's also a great spot for bass, bluegill, catfish and crappie. Stockton State Park offers camping as well as log cabins, but we recommend checking out Stone Creek Lodge, where you'll find a nice station for cleaning your catch.
Rockbridge Rainbow Trout and Game Ranch.
Booking a stay at a privately owned fish camp is another way to experience a fish-forward getaway. Rockbridge Rainbow Trout and Game Ranch in Rockbridge, Missouri, for example, sits along the stunning, crystal-clear Spring Creek, where you can fly- or tackle-fish. Fish camps are subject to different rules in terms of fishing licenses, so check with the property to see what you need to get before you go.
4. License to Chill
Stop! Don't put that bait in the water until you have a fishing license. Every fishing license helps fund Missouri conservation efforts and research and helps keep resources at sustainable levels. Buying a fishing license is easy; however, knowing exactly which one to buy is more difficult. A basic fishing license can be purchased on the Missouri Department of Conservation website (mdc.mo.gov) or via phone (1.800.392.4115), but there are exceptions and discounts for specific groups and circumstances. Depending on what species you're after, there are also different licenses. You can get a combination hunting and fishing license, as well, and Missouri residents even have the option to buy a lifetime license. Once you have your license, you have to follow the rules to keep it. Everything you need to know is in A Summary of Missouri Fishing Regulations online.
5. Smoked Trout Spread
In smoked fish spreads, the main ingredient should be the center of attention, not overshadowed by too many other flavors. This smoked trout spread simply bolsters and balances the trout with fresh herbs and a touch of horseradish heat.
This smoked trout spread simply bolsters and balances the trout with fresh herbs and a touch of horseradish heat.