Additional reporting by Kasey Carlson
You're inclined to believe everything Julie Fortney says. It could be the French accent, which lends an air of authority to the stories she shares as she reaches for bottles during a wine tasting on a balmy June evening in Kansas City. This Alsatian Riesling is from winemaker Domaine Mann – a lovely man and a friend of Julie and her husband, John-Paul Fortney, who stayed with the couple in Webster Groves, Missouri, in 2019. She talks about the wines he produces as though they, too, are her close friends, commenting on the quirks of their characters. Next to her, John-Paul pours the 2019 Banzaï, a Merlot, extending a long finger to point out the region it came from – Castillon-Côtes de Bordeaux, an appellation adjacent to Bordeaux – on a well-worn map of France.
The crowd around the small tasting table at Big Mood Natural Wines in Kansas City's Crossroads Arts District is a healthy mix: Most are frequent Big Mood patrons and wine aficionados, some are hospitality industry professionals – mostly bartenders and servers. A few are already clients of F&R Wine Imports, the wine business that the Fortneys started in 2017.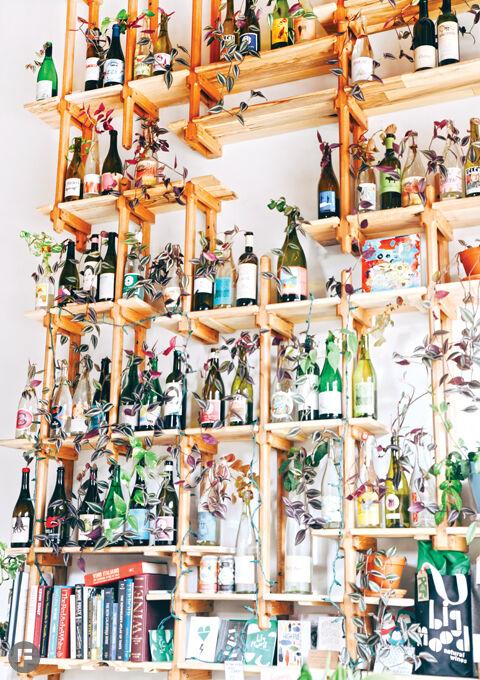 With F&R Imports, the Fortneys introduce restaurants across Missouri – primarily in St. Louis, where John-Paul was born and raised, as well as in Kansas City and Columbia – to the small-batch natural French wines that they love. Theirs is no passing fancy: Paris-born Julie met John-Paul two weeks after he moved to her hometown, bonding over their love of fine food and, of course, French wine. That was more than 13 years ago. In 2010, they started a tourism company and began offering culinary walking tours of Paris. They steadily grew their business over five years, and just as things were really beginning to take off, the November 2015 Paris terrorist attacks happened.
"After the Paris attacks, we had 95 percent of our customers for the next several months cancel within two days," says John-Paul. "We were doing something that was working really well and then it wasn't working at all."
So, they changed course. If the people weren't coming to them, why not bring the wine they loved to the people? After launching F&R Imports, John-Paul and Julie maintained dual residences in Paris and St. Louis, flying back and forth every month to acquire more cases of wine. Together, they visit natural wine fairs all over France, where they carve out time to get to know the producers – and search for vintages that fit their tenets. Each bottle of wine the Fortneys distribute come from small, environmentally conscious winemakers who are practicing organic (and often biodynamic and natural) winemaking techniques, many of whom have had little exposure in the U.S. – even though they enjoy a soaring popularity in France.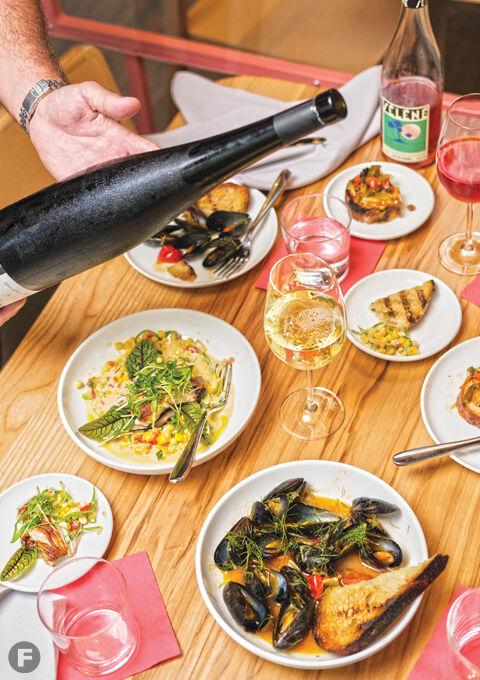 Take Séléné. Sylvère Trichard is the man behind this biodynamic and organic domaine in Beaujolais, where his Gamay wine goes through semi-carbonic maceration in concrete vats (that's the technical way of saying he ferments his wine without adding carbon dioxide to the fermenting tank) and spends some time in neutral barrels before being bottled – unrefined, unfiltered and without any added sulfur. His wine is highly sought after in France, and the Fortneys count him among their close personal friends. They even became his Paris rep for a short time in 2015, selling out the 1,300 bottles that he allotted for the city's eager shops and restaurants within three days.
"Our friendship with Sylvère is what really got us moving toward becoming importers," says John-Paul. "We visited him in Beaujolais several times, and he was great about showing us around and even having us help get ready for the 2015 harvest."
As for the concerted effort to include only natural wines in their portfolio, the Fortneys say they are taking their cues from the French market. (Natural wine is somewhat hard to define; there is no official consensus, but the key idea is that it's produced with minimal intervention and no chemical additives.)
"We're going to see more and more producers working this way," says John-Paul. "A few years ago, in France alone, two to three percent of production was organic, and today it's approximately 13 percent, which is a huge jump."
At Big Mood, John-Paul moves on to a bottle of L'Alezan Merci, a Pétillant Naturel (naturally sparkling wine) made from Syrah. He talks warmly about the Rhône producers, Patricia and Rémi Bonneton, and how they have tripled their acreage over the past few years. When he tasted this wine with Julie for the first time, they marveled at how well it paired with any food they pulled out of their fridge. And then there's a question from someone in the small group of tasters: "Do you know this wine well enough to talk about the nose and the taste?"
John-Paul hesitates. He can, of course, speak to the nose and taste. But that's not the most important part of this wine.
"The thing is, picking out fruit and flavors is based on experience. If you've never had a raspberry, you're not going to taste raspberry," he explains. "When I taste this wine, I taste summer fruits in France, a night with friends, a million things. If you can justify it, you're right." -N.G.
F&R Imports, frwineimports.com
Big Mood Natural Wines
In August 2020, Big Mood opened as Kansas City's first natural wine shop, featuring more than 120 bottles of natural wine from all over the world – many of which are imported through F&R. Business partners Richard Garcia and Jamie Zoeller, who own the Crossroads shop along with Liz Zoeller, are restaurant industry veterans and have witnessed the rising interest in natural wine over the last decade. "People have sort of been skeptical of whether natural wine will stick around or if it's a fad and a flash in the pan," says Garcia. "But it's definitely here to stay. It's another option outside of conventionally made wine. These wines are respectful to the planet and to us, and they're generally easy to drink, and that has broad appeal. There are natural wine shops opening up and down the Midwest. It's a category that's got an upward trajectory, and I don't see it stopping." –N.G.
Try this: L'Alezan Metonymia Blanc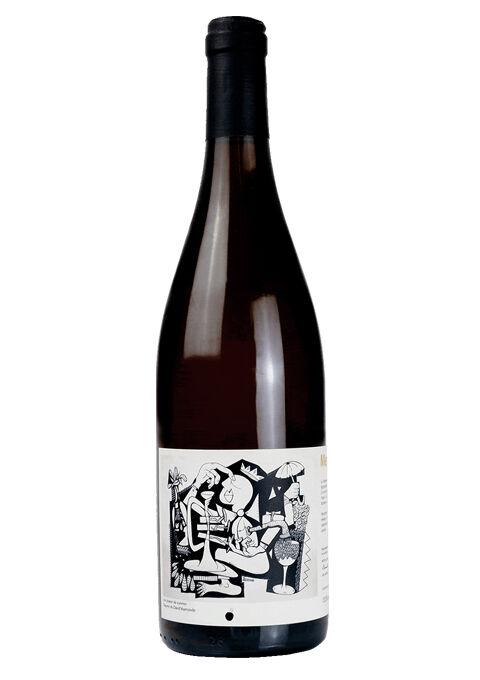 "Patricia and Rémi Bonneton make some of the most delicious wines coming out of Ardèche in France's Rhône region. We first fell in love with their Metonymia wine, an orange wine made from Viognier, Marsanne and Roussanne – the three heavy-hitter white wine grapes from this region. This wine slays. It has the perfect balance of white floral notes, peaches and refreshing tannins."
–Richard Garcia, Big Mood Natural Wines
Parker's Table
Parker's Table owner Jon Parker puts his relationship with John-Paul and Julie simply: "We love those guys." The popular St. Louis bottle shop started working with F&R Imports when the pair stopped by the shop with a bag full of wine, leading to an impromptu tasting. The available wines vary, but that's what keeps things exciting. "Their offerings change so much that we're always having fun seeing what they've got that's new." Natural wines are now so popular that they have a prominent spot in the front of the store, and Parker says it's much easier to get customers to pick up a wine varietal they've never heard of before. "It used to be harder to talk people into those wines. Now, it's less education. There's more interest from people who are walking in the door." –K.C.
Tannin Wine Bar & Kitchen
Barry Tunnell, general manager of Tannin Wine Bar & Kitchen in Kansas City, met the Fortneys just over a year ago for a socially distanced tasting on the patio at Tannin. "They're passionate about their portfolio," says Tunnell. "You get the sense that they're sharing wines that are made by their friends or made by people they enjoy and appreciate. I've found that there's a correspondence between quality people and quality wine, and I tend to enjoy wines that are made by people who I like. Sometimes I meet the wine first." He appreciates the company's focus on natural wines but is more excited by the quality of the offerings. "They work with a community of young, like-minded winemakers who are making distinctive, unique wines," he says. "These wines are really expressive of where they come from, even when the grape varietals used to produce them and some of the wines themselves are unusual. For example, there are skin-fermented wines from southern France, which is more common in Italy or Slovenia and other parts of Europe. It's truly different." –N.G.
Try this: Domaine du Pech Totem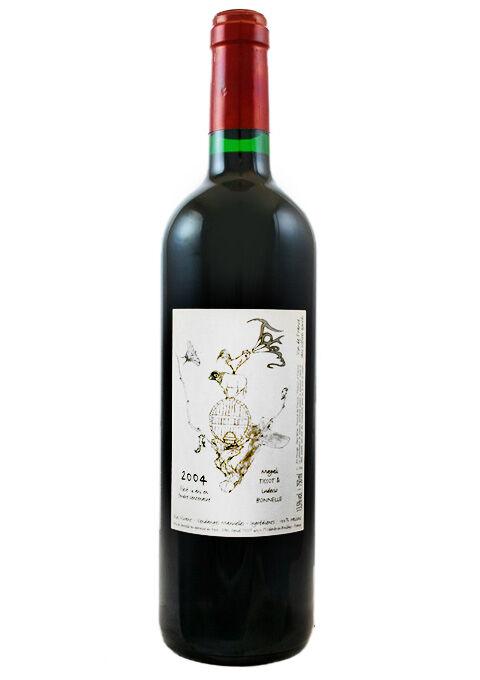 "It comes from a little area just outside of Bordeaux. The Totem bottling has Cabernet Franc, Cabernet Sauvignon and Merlot, blended just like you'd find in Bordeaux – but what is unique is that the couple that produced it treats every wine as an individual and really takes that French concept of élevage, or raising the wine, to the extreme. The 2004 Totem was aged in 200-year-old barrels that the winemakers periodically tasted. They decided not to bottle it until 2018, which is an unusual amount of time, especially for a wine made in the Bordeaux style. It reminds me of exceptionally long barrel-aged wines, some Spanish Riojas, but it's unique and distinctive. It's a wine that probably won't be produced again, although I look forward to trying more from that winery."
–Barry Tunnell, Tannin Wine Bar & Kitchen
Union Loafers
John-Paul and Julie connected with Union Loafers co-owner Sean Netzer in true Parisian fashion: They stopped in to buy baguettes. The very next day, Netzer was tasting wines with the pair and buying bottles almost immediately – later, they even drank together at a wine bar in Paris when Netzer and his wife were in town. In January 2020, Union Loafers built out a wine cellar and beefed up its wine list, featuring several F&R bottles. A few months later, when the restaurant evolved into a bottle shop during the pandemic, Netzer says that those wines were the quickest to move, thanks in part to how selective John-Paul and Julie are. "I like that they have very deliberately chosen the wines in their portfolio," he says. "It also very much aligns with our philosophy at Union Loafers of bringing in quality products, sourcing them honestly and sustainably. So their business goals are very much in line with ours, too." –K.C.
The Antler Room
The Antler Room's wine program has always emphasized natural wine, and co-owner Leslie Newsam-Goellner (who's also the general manager and wine director) has always thought it made sense. "If we're eating organically and clean and unprocessed, then why aren't we drinking that way?" she asks. "I always bring the food perspective into it. You want to go to a farm-to-table restaurant because of that hyper-local menu. You should also follow that principle with what you're drinking. A lot of wineries, especially smaller wineries in France and Europe, already use organic or biodynamic processes. For me, I like knowing that I'm drinking something that doesn't have added chemicals." The Fortneys connected with Newsam-Goellner via Instagram just as COVID-19 restrictions were rolling out and scheduled a socially distanced tasting. Immediately, she says, she loved their approachability: "Most wine reps have a rolling bag, but they have a Coleman cooler, and they ordered food from us before the tasting and ate it outside on the sidewalk," she recalls. "They're just two young people starting a brand-new business during a pandemic, and there's something that's admirable and charming about that." –N.G.
Try this: Any red wine from AMI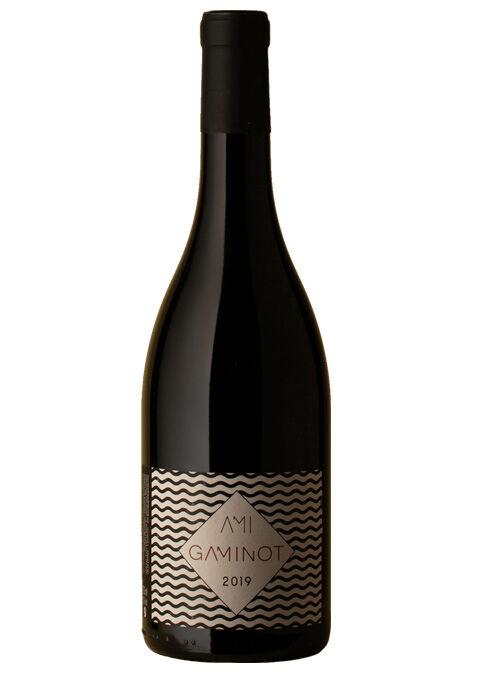 "AMI is a project between Paul Marchand-Perarnau and Willy Roulendes. I just love red wines that have acidity – I think they pair so much better with food – and that's what you get with these reds from Burgundy. For me, they're a lot easier to drink than red wines that are super heavy with tannins. When I taste these wines, I think, 'Oh, this would go really well with this dish on our menu,' and I don't do that very often."
–Leslie Newsam-Goellner, The Antler Room
Westport Cafe
Nicolas Mermet loves a good story – especially one that involves wine. The Fortneys have plenty of stories, and that's one of the top reasons, says Mermet, why F&R Imports works so well. Mermet loves being able to share the background and anecdotes of their wines with guests at Westport Cafe, where he is the catering director and co-owner. "Compared to big importers or distributors, they have a close relationship with the winemakers, so they introduce a wine and they know the person who made it, how it was made and the story behind the vineyard," he says. "This is what people are looking for more and more now. When you have a wine that has a story, even if it's a grape that no one has heard of before, it gets people interested in it." And with natural wine, he says, there's usually a wealth of information about how the wine was made, which is a big selling point. Another is a lower alcohol content: One of the added benefits of making wine with zero additives, such as extra sugar during fermentation, is that natural wine generally has a lower ABV (approximately 11 to 13 percent ABV, compared to a common 14 to 17 percent). "Most of the natural wines are more fruit-forward in their expression, the alcohol level is not as high and I feel like it's easier to drink," says Mermet. –N.G.
Try this: Haru Rosé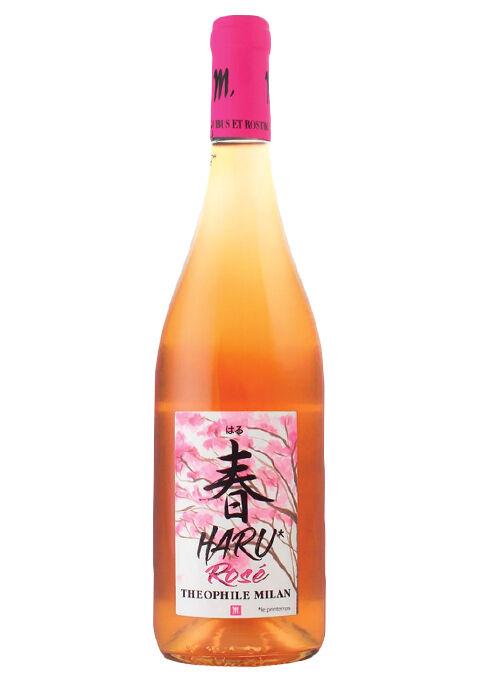 "Haru is a rosé from Provence. Most rosés in Provence are light and have a light color, but the Haru rosé is made from different blends of reds; it has way more structure than any other rosé from Provence. That's what I like about F&R Imports – the things that they carry are different from what you expect."
–Nicolas Mermet, Westport Cafe
Beet Box
Beet Box is the first restaurant in Columbia, Missouri, to work with F&R Imports, thanks to a chance meeting at a Peachtree Catering collaboration with Balkan Treat Box in St. Louis. The company's natural wines align with the restaurant's ethos of responsible sourcing, which includes local beers alongside a menu of as many fresh, locally sourced ingredients as possible. The majority of the bottles Beet Box sells are sourced from F&R, ranging from funkier wines – such as one of beverage director Jordan Martin Holman's favorites, the L'Alezan Merci 2019 Pét-Nat – to easy-sipping wines – such as the Haru Rosé 2019 from Domaine Milan – that are an accessible entry point for those new to low-intervention wines. –K.C.
Fox and Pearl
Ben Nunez loves the way natural wine pairs with food – particularly the menu at Fox and Pearl in Kansas City, where he is the wine director. "Vaughn [Good, chef and co-owner] does many dishes with lots of acid and smoked meats, and because most natural wine is acidic, it goes really well with all the food we have," he says. "A lot of these wines are super unique, like the food we serve." Nunez feels a certain amount of trust and camaraderie with the Fortneys, as they're approachable – they communicate via Instagram most of the time – and they have a deep knowledge of French natural wine. "If I'm looking for something specific, such as a French Chardonnay with a certain profile, or if there's a character I want but I'm not sure what could match that, they're easy to talk with and so helpful," he says. "There are times when I didn't really know what I wanted and they've sent suggestions my way with information about the producers." –N.G.
Try this: La Tangente Metonymia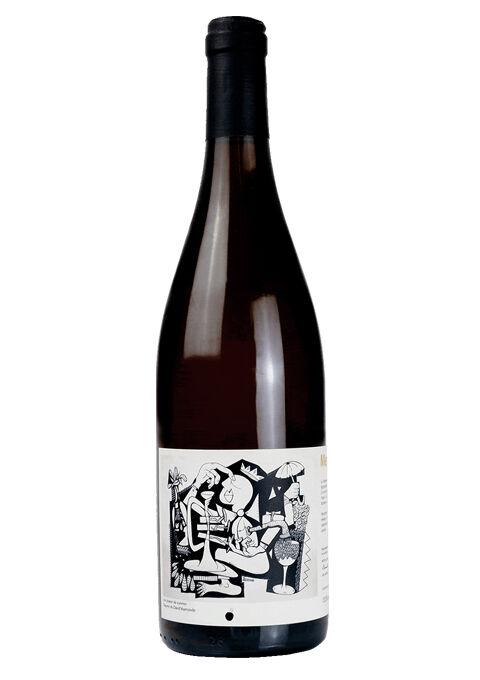 "One of the pairings that I really enjoy is Metonymia from La Tangente. It's an orange wine, and it goes really well with our pork chop. Normally people would put a red wine with that, but this has enough grip and enough going on to stand up to the dish."  
–Ben Nunez, Fox and Pearl
Little Fox
Little Fox wine manager Chris Voll first met John-Paul and Julie while working at Bulrush, developing a personal relationship that went beyond distribution – the pair would come foraging with the team, and the more Voll got to know John-Paul and Julie, the more he got to know about natural wine. Now, Voll aims to keep an inventory of 90 to 95 wines in-house, focusing primarily on "human scale" wines from small producers who are picking grapes by hand. On any given day, approximately eight to 10 of those wines come from F&R, including some by-the-glass options so that natural wine newbies can dip their toes in without a commitment. –K.C.
Try this: Séléné Gisous Beaujolais Rosé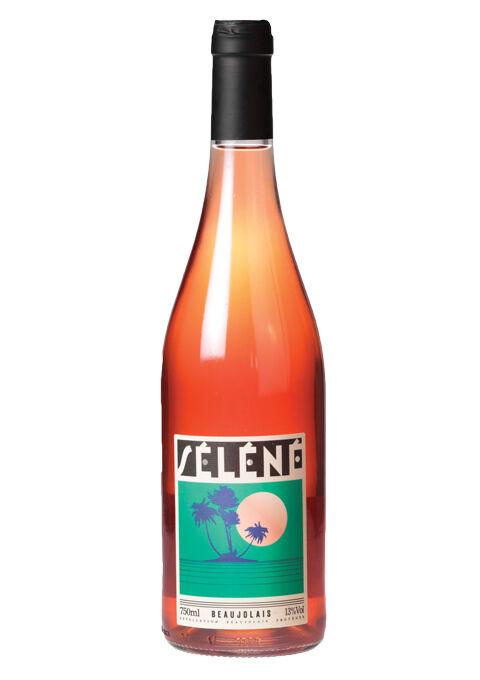 "The winemaker, Sylvère Trichard, is very good friends with John-Paul and Julie. These are some really excellent, elegant but fun, easy and accessible wines coming from Beaujolais. He does a wonderful rosé that's one of my favorite rosés every year. Those are really great wines to start the conversation about natural wine because they're very accessible to a red wine-drinker or a rosé-drinker. They are recognizable and easy, but they're also slightly challenging and unique, and then you can start the conversation about where natural wine started, what it is, why they're doing it, and go from there."
–Chris Voll, Little Fox