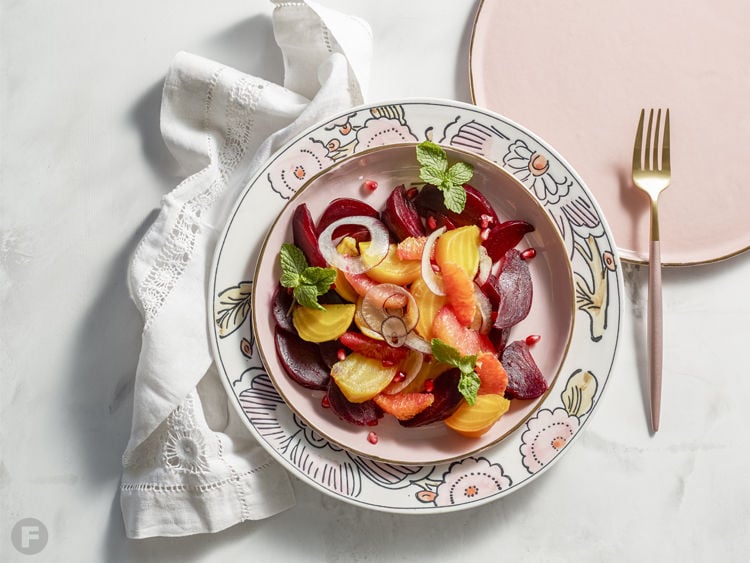 Whether you loved Anthony Bourdain or loved to hate him, no one could deny his love of food – and, perhaps even more importantly, his love of sharing food with others. Some of his favorite meals were the simplest, relying more on big, bright flavors and fresh, unfussy ingredients than fancy foods or cooking techniques. This holiday-perfect roasted blood orange-beet salad with red onion is adapted from his beet, orange and red onion recipe in Appetites, his final cookbook. True to his tastes, this recipe is simple yet extremely flavorful, combining fresh winter citrus with red and golden beets.
PITHY CONCERNS. Peeling citrus fruit is easiest when using a sharp chef's knife. For this recipe, cut off the bottom of your oranges and then the tops. Following the curve of the fruit, cut off the skin and pith, turning the orange as you go until all of the skin and pith are removed.
RED ALERT. Red beets, as gorgeous as they are, tend to stain. To avoid staining your hands, fingernails and clothing, be sure to wear kitchen gloves and an apron when working with red beets. In fact, this is the very reason we're layering this salad, as otherwise the red beets will color all the other ingredients.
Roasted Beet-Blood Orange Salad
Serves | 4 |
1 large bunch red beets, tops removed, washed and dried
1 large bunch golden beets, tops removed, washed and dried
4 Tbsp extra virgin olive oil, divided, plus more for oiling beets
salt and freshly ground black pepper, to taste
½ red onion, thinly sliced
2 oranges, peeled and pith removed, sliced into wedges
2 blood oranges, peeled and pith removed, sliced into wedges
4 Tbsp apple cider vinegar
6 sprigs fresh mint, destemmed
¼ cup pomegranate arils
| Preparation | Preheat oven to 400°F.
Separate red beets from golden beets in two separate bowls. Rub skins with a little oil, lightly sprinkle with salt and wrap tightly in 2 separate packets of aluminum foil; roast for 45 minutes to 1 hour and 15 minutes depending on size of beets. When a paring knife easily pierces beets, they're finished roasting. Set aside to cool. Peel and slice into wedges, still keeping red and golden beets separate.
In a small bowl of ice water, add red onion. Let sit 10 minutes; drain. Set aside.
In a large mixing bowl, combine 3 tablespoons oil and apple cider vinegar; add roasted golden beets, orange pieces and red onion to bowl; toss to combine and season with salt and pepper. In a small mixing bowl, add roasted red beets and 1 tablespoon oil; toss to combine and season with salt and pepper.
| To Serve | Equally divide red beets among 4 salad plates. Top with equal portions of golden beet mixture. Scatter mint leaves and pomegranate arils over top. Serve cold.
GET HANDS-ON! Join Feast Magazine and Schnucks Cooks Cooking School at 6pm on Thu., Dec. 13, at the Des Peres, Missouri, location to make the dishes in this month's menu. Tickets are just $45 for a night of cooking, dining and wine. RSVP at nourish.schnucks.com/schnucks-cooking-school  or call 314.909.1704.
MAKE THE MEAL:
Pork Roast With Fennel
Roasted Blood Orange-Beet Salad
Gratin Potatoes With Bacon and Raclette Cheese
Roasted Brussels Sprouts
Sticky Chocolate-Plum Cake
LEARN MORE: In this class, you'll learn how to upgrade your favorite cheesy potato casserole with Swiss raclette cheese. You'll also learn how to make a sticky chocolate-plum cake for your holiday table.