This year has forever changed the world of dining. As restaurants and other food- and drink-related businesses continue to grapple with capacity restrictions and social distancing mandates, the pandemic has devastated parts of the local food-and-drink industry – but it's also exposed many of the fault lines in the industry as we know it.
This month, as 2020 comes to a close, instead of recognizing the year's best new restaurants, we're turning our focus to the people pushing our industry forward amid such turmoil. Our annual list of Industry Innovators honors the seasoned professionals who continue to push the envelope in the regional food-and-drink scene, and this year, their work is more important than ever. In the following stories, we're celebrating the chefs, growers and activists who are using food as a vehicle for change in our area, from feeding their neighbors in need to creating more opportunities for people in marginalized communities to thrive in the local restaurant industry.
The past few months have been sobering for restaurants, the people who work in them and the people who love them, but the work of these tastemakers makes us hopeful that our local restaurant scene will reemerge stronger than ever.
Shanita McAfee-Bryant, founder, The Prospect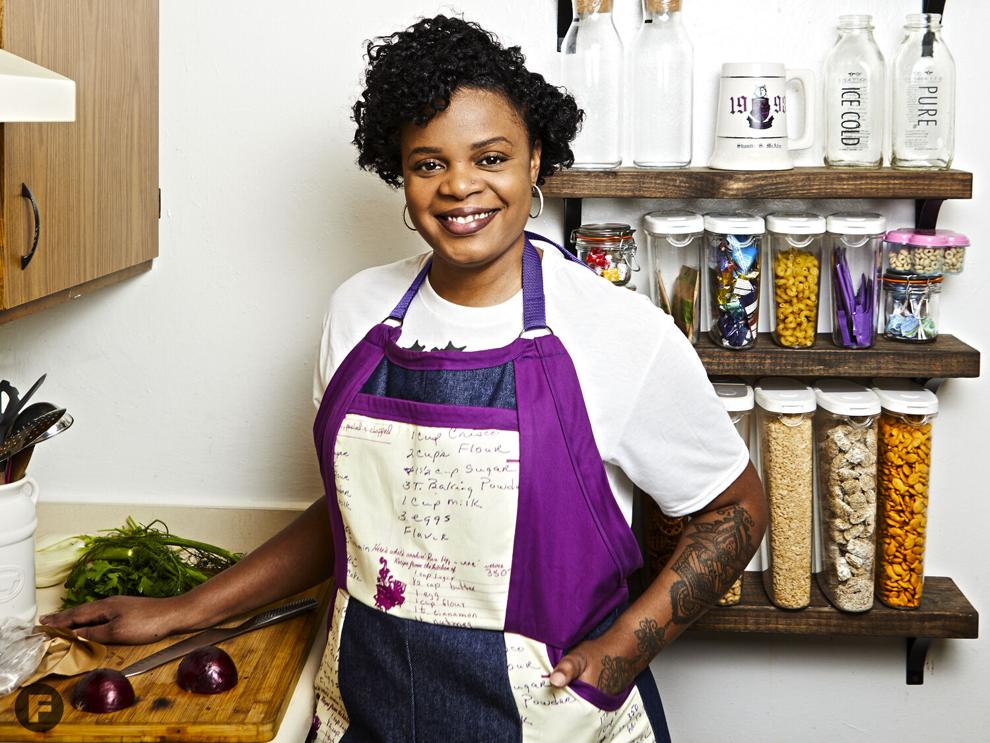 Fueled by a big win on Food Network's Cutthroat Kitchen in 2014, chef Shanita McAfee-Bryant opened and closed her restaurant, Magnolia's, twice before starting a food truck and catering business, Magnolia's on the Move. When her father unexpectedly died in 2018, she took a year off to mourn his death, emerging from her grief with a plan to start a nonprofit in his honor. The Prospect is a 16-week culinary training program to help under-resourced but highly motivated community members acquire the soft and hard skills needed to break the poverty cycle and put them on the path to success. "In Kansas City, the word 'prospect' has a negative connotation based on Prospect Avenue, a street that has come to represent a blighted, low-income area known for crime and poverty," explains McAfee-Bryant. "I want to take back the word and apply its literal definition, which means the probability or chance of future success." Besides learning how to grow and cook their own food, students will have a hand in running The Prospect Urban Eatery, a café located on The Prospect's campus that will soon be open to the public. The goal is to equip graduates with everything they need to land a job in any local restaurant kitchen or to eventually open their own place. "We plan to create literal prospects by giving all the students accepted into the program both work and life skills," says McAfee-Bryant. "The way I see it, I am their prospect, and they are my prospect, and together we're changing our prospects for the better." The Urban Neighborhood Initiative in Kansas City has arranged for The Prospect to operate out of Wendell Phillips Elementary School, which has a commercial kitchen – the school cafeteria – classrooms and enough land to establish an urban farm. Although the program has been put on hold due to the COVID-19 pandemic, McAfee-Bryant and her board are currently fundraising with the aim to raise $250,000 and launch the program in 2021. During the pandemic, McAfee-Bryant also launched a new podcast, The Conversation, where BIPOC chefs come together to discuss their experiences and the challenges they've faced working in the food industry. –Jenny Vergara theprospectkc.org
Gerard Craft, chef- owner, Niche Food Group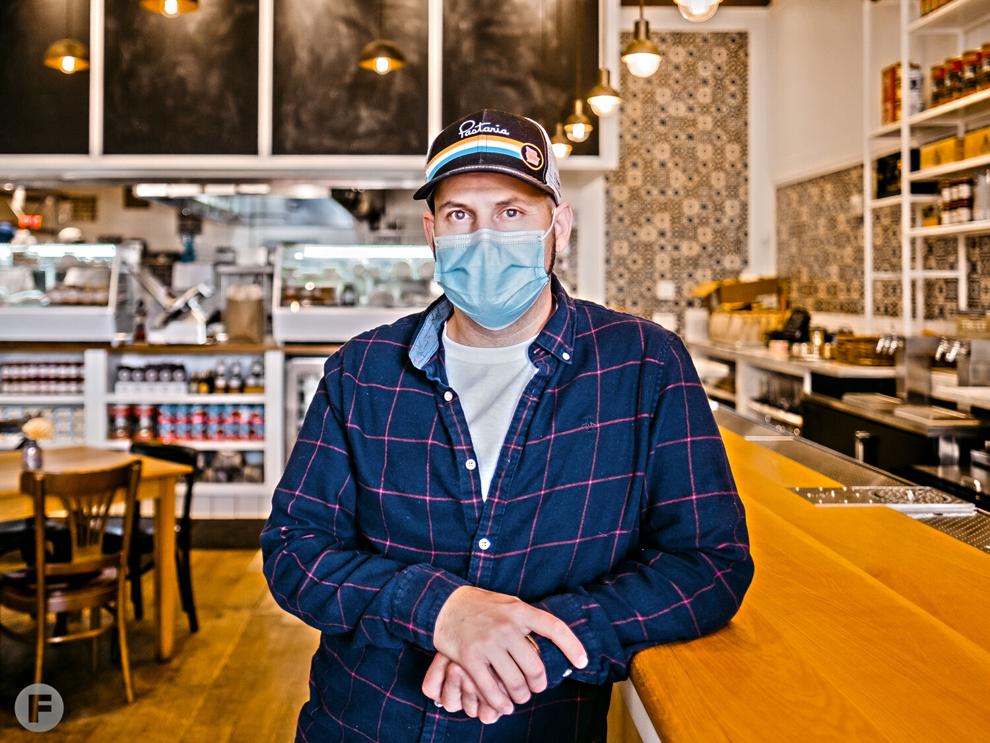 In early March, Gerard Craft was terrified. For weeks, the chef-owner of Niche Food Group in St. Louis had been hearing alarming stories from a friend in Italy as COVID-19 began to wreak havoc throughout the country. Knowing that it was only a matter of time before the virus spread to the U.S., he decided to pull the plug. In an emotional video posted to social media, Craft announced that he would immediately be closing the majority of his restaurants to help stop the transmission of COVID-19. "After seeing nights of very crowded dining rooms, I found myself more terrified than relieved," he said, holding back tears. "While we want to be open for you, as a place to restore, we know that we are putting you and our employees in harm's way." A self-described "oversharer," Craft says it was important to him to make the announcement publicly and transparently. "I like discussion and putting it all on the table," he says. "Because we have a platform – not a huge platform, but we have a platform to speak on – we want to talk about things that are important to us." With that in mind, he tasked a few of his employees with developing a list of best practices and procedures for operating safely that they then made available to other establishments. "Restaurants across the country and across the world were really writing the procedures for all of this," he says. "The government was underwater; health departments didn't know anything. So we were taking notes from restaurants in China and Korea to try to figure out what people were doing to handle this safely." To help industry employees in a more immediate way, Craft teamed up with Roo Yawitz of The Gramophone and the St. Louis Community Foundation to launch the Gateway Resilience Fund, which provided almost $2 million in short-term monetary relief to hospitality employees whose lives were upended by the pandemic. And while Brasserie, Pastaria, Taste and his other restaurants remained closed, Craft put his own employees to work at the North Sarah Food Hub, where they prepared free meals for the food-insecure. Craft has since reopened most of his restaurants in some form, including his newest venture, Pastaria Deli & Wine, which offers deli sandwiches, prepared meals and natural wines in the former home of Sardella, which never reopened after the pandemic hit. And though it's a bittersweet experience for the seasoned restaurateur, Craft says he has to set emotions aside as he focuses on evolving his concepts to be both successful and safe in this new environment – and on helping others to do the same. –Heather Riske
Nadia Navarrete-Tindall, founder, Native Plants and More
Imagine if every plant in every yard contributed to a working and growing ecosystem. That's Nadia Navarrete-Tindall's vision for Missouri. In the space around her home in Columbia – which she refers to as a "wildlife refuge" rather than a "garden" – there are 150 to 160 native plants thriving at any given time. Her yard boasts flowers year-round, and every plant, from grasses to herbaceous plants and shrubs to small trees, is native to the area. Through her work with Native Plants and More, Navarrete-Tindall teaches individuals and organizations about the role of native plants in preserving biodiversity: Pawpaws, for instance, are a host plant to the caterpillar of the zebra swallowtail butterfly, while lindera benzoin (more commonly known as spicebush) supports the spicebush swallowtail. "The caterpillars eat the leaves [of the latter], we use the leaves for tea, and we use the little fruits as a spice – one plant has three purposes," says Navarrete-Tindall. "Plus, when it blooms in the spring, it attracts bees." Born and raised in El Salvador, Navarrete-Tindall came to the U.S. to study forestry and botany at Southern Illinois University before moving to Columbia. Drawing on her years of experience as a researcher and educator at the University of Missouri and Lincoln University in Jefferson City, Missouri, she launched Native Plants and More in 2017. Through the environmental consulting business, she gives presentations and workshops in English and Spanish to myriad organizations, and sometimes people invite her to their homes to learn about the plants growing in their yards. "In the past, people would go in and destroy everything, but now there's more awareness of native plants, and more people want me to do an inventory of their backyard, determine what else to establish and make a plan for the future." In addition to strengthening biodiversity, Navarrete-Tindall sees native plants as a way to lift up underserved communities. This year, she created the Native Plant Academy in collaboration with the Missouri Prairie Foundation, with funding from the Missouri Department of Conservation. Although the launch is stalled due to the COVID-19 pandemic, Navarrete-Tindall says that once it opens, the academy will serve underrepresented communities on the east side of Kansas City with a curriculum that includes free workshops, field trips and training on how to grow native plants, harvest them for food and maybe even make a living out of them. She plans to work with people aged 16 and older – from high school students to single parents – in conjunction with inner-city schools and libraries to teach them the value of native plants. "Native plants are food and refuge for pollinators and other wildlife," says Navarrete-Tindall. "By establishing more native plant habitats, we can help people and help nature – it's a cycle; it's all connected." –Rachel Huffman
John McQueary and Dylan Rauhoff, co-owners, Touchless Menu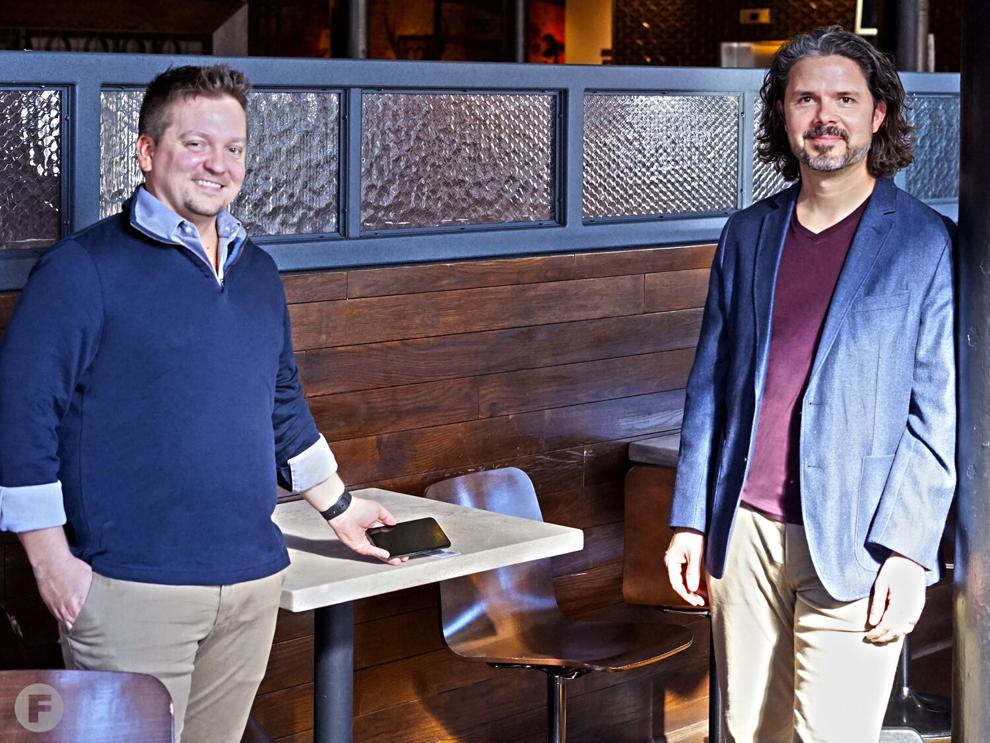 Say goodbye to physical menus. John McQueary and Dylan Rauhoff, co-owners of Touchless Menu, predict that restaurants and bars will still be using digital menus long after the COVID-19 pandemic ends. Digital menus bring peace of mind to germ-conscious guests and reduce waste and costs, especially for restaurants with seasonally rotating menus. Making the transition to digital menus more user-friendly, Touchless Menu provides restaurants and bars with water-proof, wallet-sized plastic rectangles that easily attach to any surface and can withstand any number of spilled drinks or stray crumbs. To see an establishment's offerings, patrons simply scan the QR code on the rectangles or tap their NFC-enabled mobile devices to the rectangles. Rauhoff, the former food and beverage director of The Order and Vantage Rooftop Lounge and Conservatory at Hotel Vandivort, presented the idea to McQueary, who owns Hotel Vandivort, after experiencing firsthand the challenges and downsides of using physical menus in this day and age. McQueary studied computer engineering in college, so he saw the potential and helped streamline the project. Now, restaurants in cities from Springfield to New York have adopted Touchless Menu, and soon, Rauhoff and McQueary plan to release new features to their optional online menu hosting platform, which will help businesses promote specials or events and make Touchless Menu even more compelling to clients. –Tessa Cooper
Chris Goode, founder and CEO, Ruby Jean's Juicery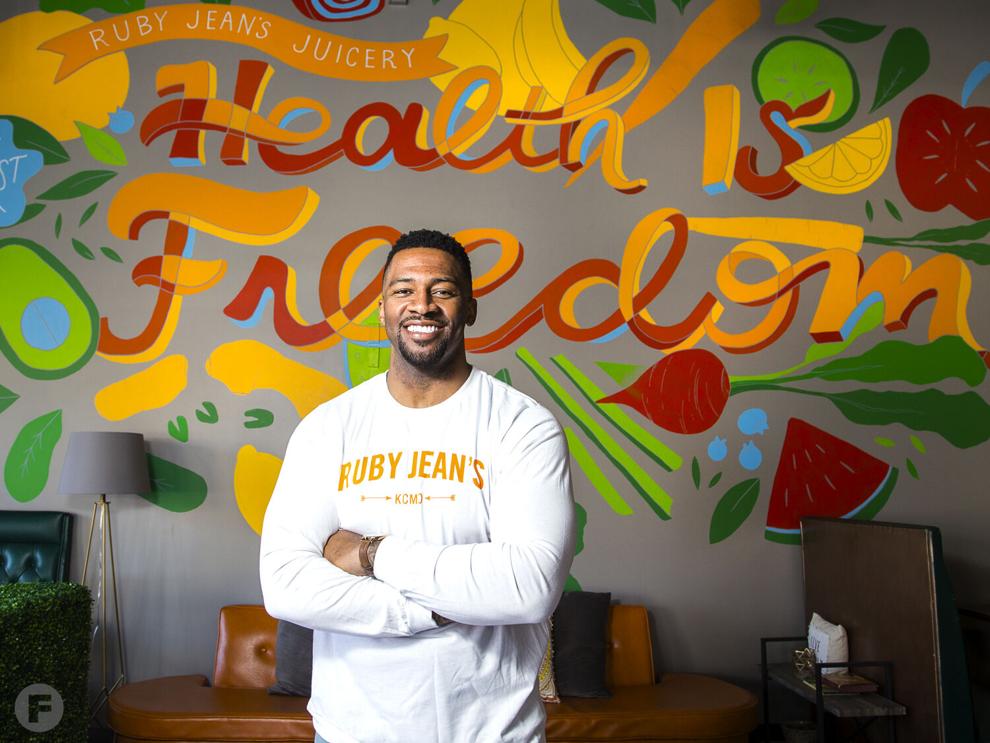 When Chris Goode launched Ruby Jean's Juicery in 2015, his passion for healthy eating – and its effects on overall well-being – created buzz in the Kansas City community. The business was inspired by – and named after – Goode's late grandmother, who he believes could have lived longer had healthier food been more readily available to her. Today, Goode continues to embrace the social impact that his business can have. Emblazoned on the wall of the kitchen and juice bar at Troost Avenue and East 30th Street, the phrase "Health is Freedom" encourages people to change their habits to better their health; however, Goode acknowledges that food deserts and poor health care are components of systemic racism. "Lack of access [to healthy food on Kansas City's East Side] is not a coincidence," he says. "It was redlined. If you create a line down the entire city, on one side, there are healthy options, grocery stores, fitness opportunities, art and mediums for joy and healing, and then [on the other] side of town, there's nothing, or worse. To put [Ruby Jean's] in that part of town, where my grandmother lived and worked and died, it's powerful." On social media, Goode (on behalf of Ruby Jean's) has lent his voice to the broader movement for social justice, and he has donated to the Kansas City Community Bail Fund. Goode believes his actions are just part of staying true to what Ruby Jean's has always represented: options and support for a community that has been devalued for too long. The COVID-19 pandemic has been hard on Goode and his business – two of the three locations have closed (the downtown location permanently and the Brookside location temporarily), and the Troost location has limited hours and no dine-in seating – but he's retained his positive mindset. On Juneteenth, he even released a new product, Black Lemonade (a blackberry lemonade featuring activated charcoal), which proved so popular that it's become a permanent part of Ruby Jean's lineup. "Sometimes I have a look in the mirror and say, 'You have got to keep going,'" he says. "I feel like we're at an impasse, [but] I feel encouraged knowing that our best seasons come after our worst ones." –April Fleming
Ohun Ashe, founder, For the Culture STL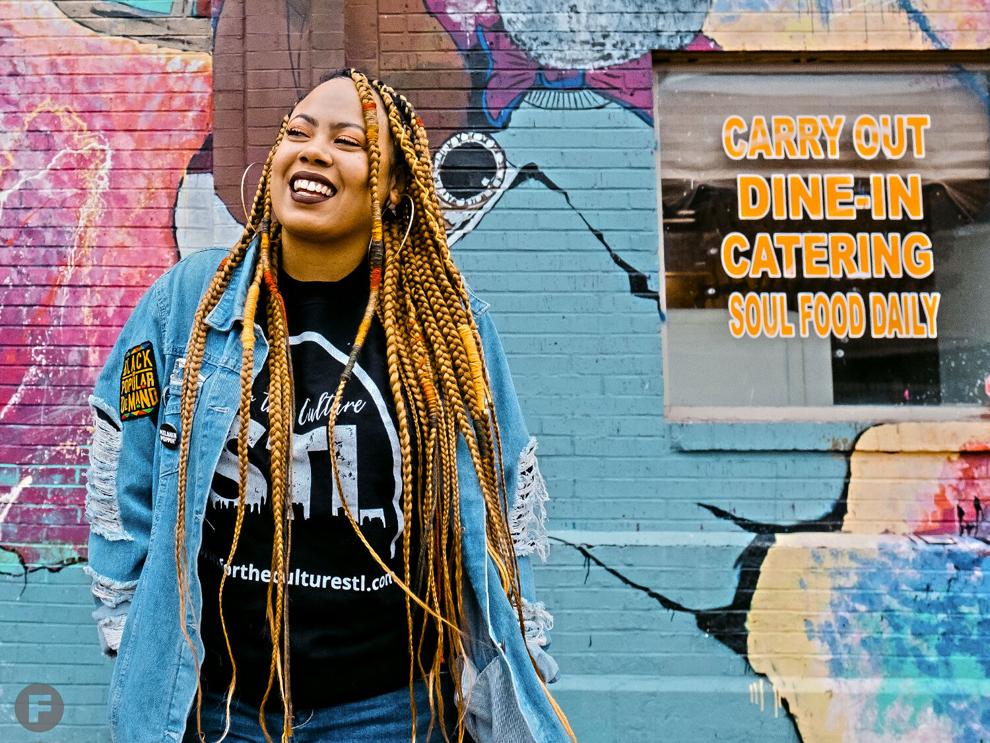 If you want to make a positive change in the world, Ohun Ashe has a suggestion: Own who you are. Ashe's journey toward owning her voice began in 2014, following the police killing of teenager Michael Brown in Ferguson, Missouri. "I started off as a media person [for the protest movement], behind the scenes, because I was so afraid of my own voice," she says. Three years later, after former St. Louis police officer Jason Stockley was found not guilty in the killing of Anthony Lamar Smith, Ashe's fears evaporated. "I stepped up in my community activism and started leading some of the protests," she recalls. "But I didn't feel passionate about getting into politics; my passion has always been supporting Black businesses, and I had to allow my passion to push me through my fears." In 2018, Ashe launched For the Culture STL, a database of Black-owned businesses and events centered on supporting Black entrepreneurs in the St. Louis area. In just two years, For the Culture STL has garnered more than 250,000 views, with more than half of those occurring between May and September of this year. "To be a resource now for not only Black folks in the St. Louis community but also major corporations, which use the website to find vendors, I didn't even imagine that," she continues. The website features directories for industries ranging from apparel and retail to legal and medical services, yet Ashe says the most popular pages are dedicated to Black-owned restaurants. "The owners of Gourmet Soul, a restaurant in Downtown St. Louis, reached out to me not too long ago to say thank you because so many people were coming in and saying that they found them through For the Culture STL, and they didn't even know [their restaurant] was on the site," she says. "For the Culture covers so many different industries, but when I look at the analytics, the number one industry is always food. If you use this directory, you will find a Black business, especially a Black restaurant, probably just a few miles from you." –Liz Miller
Dave Johnson, owner, Broadway Diner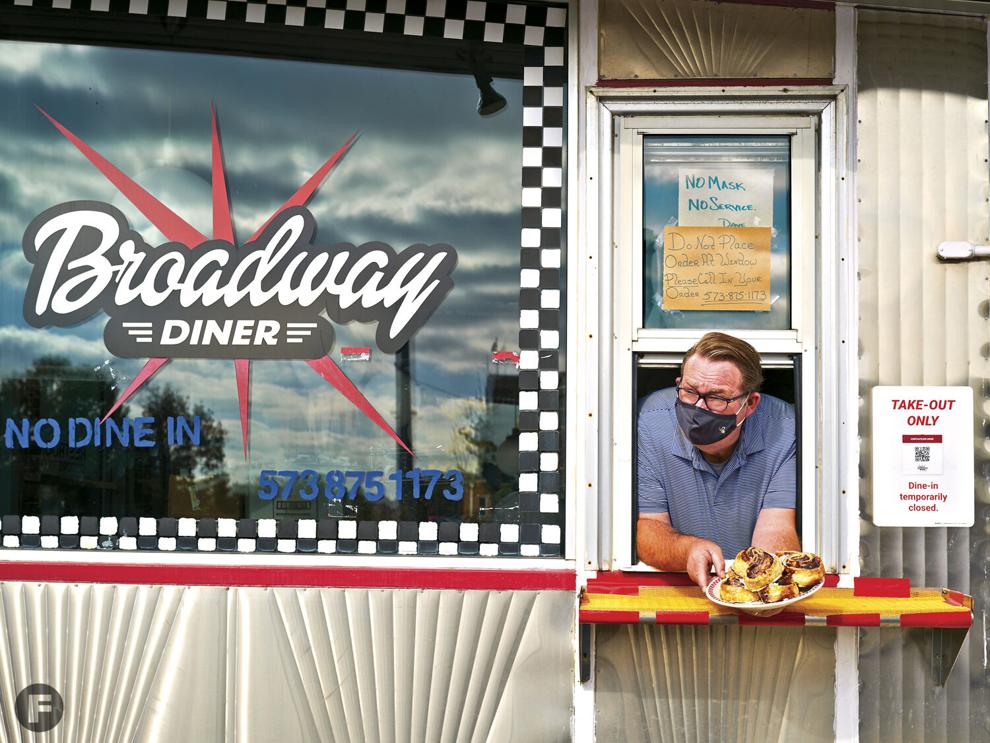 When COVID-19 hit Missouri, Dave Johnson, owner of Broadway Diner in Columbia, shared the same concerns as other restaurateurs. Business was slowing down and food was beginning to rot in his kitchen, but as schools began to temporarily close, he became more concerned about how the schoolchildren who live near the diner would stay fed. On March 19, he tweeted, "If you are a student who normally has breakfast and lunch at school, if you can get here safely, I will feed you." And so began his KIND (Kids in Need Diner) concept. At its peak, Johnson and his small staff were sending 150 free meals home with kids every day, in addition to making food for paying customers. Johnson even had families come from other towns and parts of rural Missouri to pick up meals, which included ham and cheese omelets with biscuits and jam, chicken tenders with salad and grilled hot dogs with mac 'n' cheese – real diner classics. As the saying goes, it takes a village, and Johnson says he's grateful to everyone in the community who rallied around the cause. From customers to University of Missouri alumni to local farmers, many people donated food and funds to the KIND meals, and the diner also received a few grants. "The diner's always been about building community, and I think we've actually always practiced people over profits," says Johnson. "If we can inspire one part of the community to be better, then hopefully in generations to come, we'll all be better." Today, Broadway Diner does not serve quite as many KIND meals a day, but they remain part of its ethos. "As long as I'm able, I'm going to be feeding kids," says Johnson. –Kasey Carlson
Zaid Consuegra Sauza, chef and co-owner, Pirate's Bone Burgers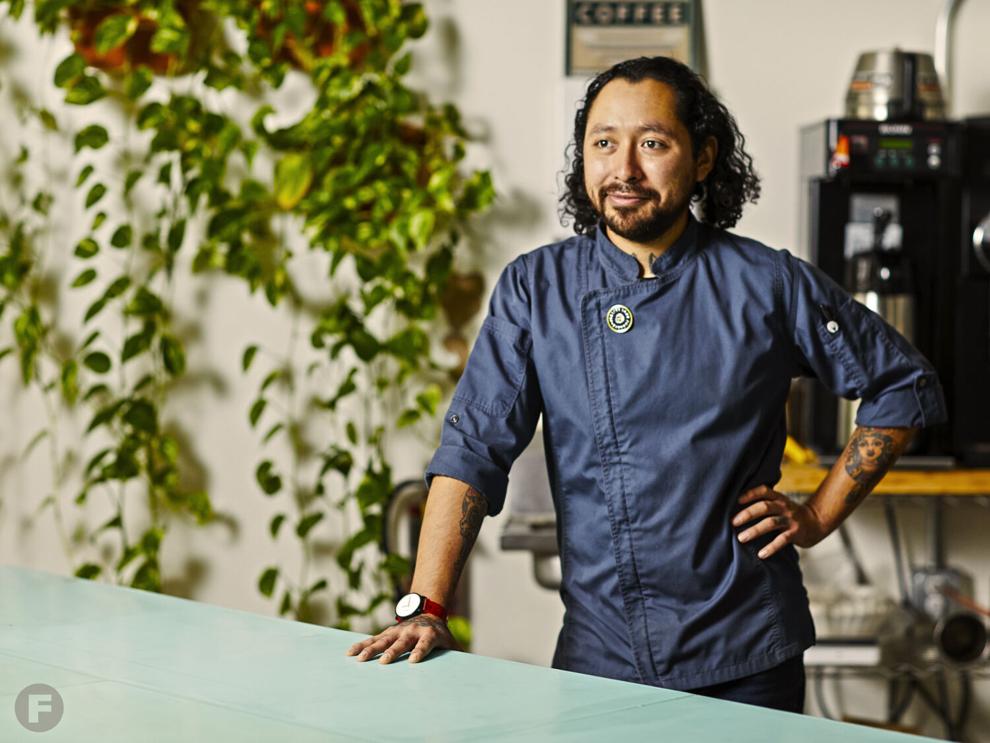 Just before his 11th birthday, Mexico City native Zaid Consuegra Sauza and his family came to the U.S. They lived, undocumented, in Shawnee, Kansas, and it wasn't until 2014 – at age 25 – that Sauza received DACA (Deferred Action for Childhood Arrivals) status. As a DACA recipient, Sauza could legally work in the U.S., and he jumped at the opportunity to start his own business. Pirate's Bone Coffee was the precursor to his acclaimed restaurant, Pirate's Bone Burgers, which he opened in the fall of 2019 with business partner Lydia Palma with a goal of making plant-based food more accessible to all. Featuring patties made with grilled beets and black beans, the craveable burgers from Pirate's Bone Burgers have received high praise, and Sauza has used the spotlight to talk not only about his food but also about pressing issues within the restaurant industry, including fair wages for all employees, the need to advocate for undocumented immigrants, ADA (Americans with Disabilities Act) compliance and the creation of safe spaces that welcome people from all walks of life. In the fight to save the DACA program – an understandably personal battle for Sauza – he agreed to be part of an amicus brief accompanying relevant cases at the Supreme Court. Opening up to the justices and the national media about his experiences as an undocumented chef took immense courage, but Sauza believes he's in a position to do more by focusing on the fundamental objectives that can help us, this industry and this country move forward together. –Jenny Vergara
Lyle Foster, CEO, Big Momma's Coffee & Espresso Bar, and assistant professor, Missouri State University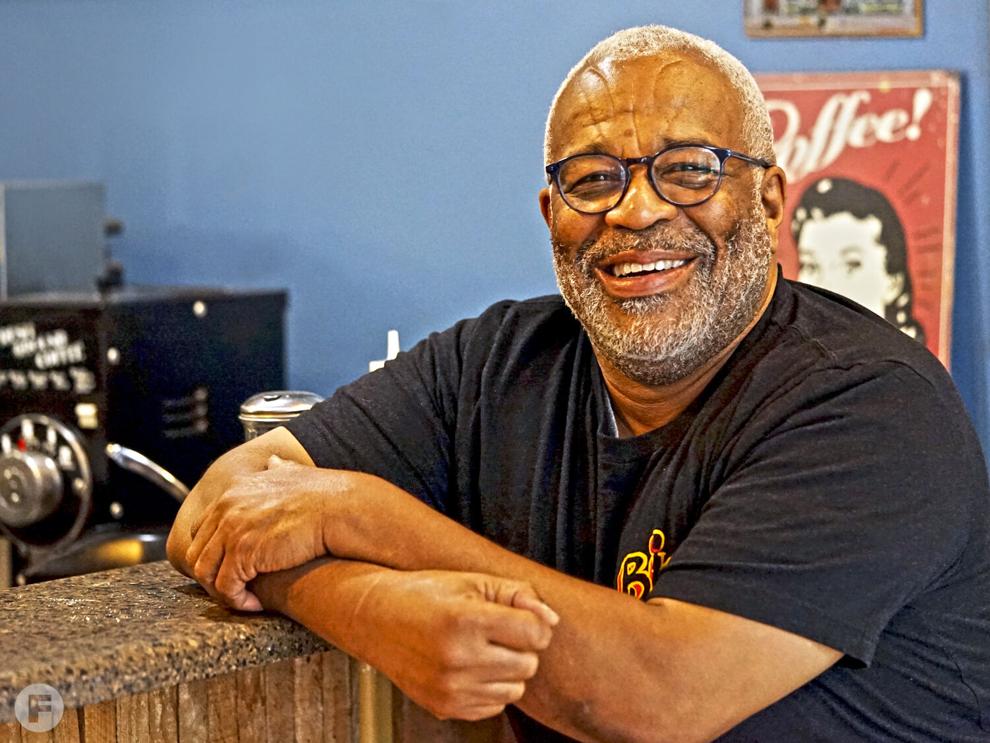 In 2007, when Lyle Foster opened Big Momma's Coffee & Espresso Bar on historic Commercial Street in Springfield, Missouri, he knew he was taking a gamble. At the time, approximately 50 percent of the storefronts stood vacant. However, in the years since, the area has come to prosper in the way Foster had hoped it would, and he now considers it one of the most diverse spots in the city. "There's a fiercely loyal customer base that really likes coming to C-Street for the experience," says Foster. "I think there's just such a special character to this street." More than a café, Big Momma's has established itself as a safe space for difficult conversations about topics such as race, feminism, immigration and sexuality. As an assistant sociology professor at Missouri State University, Foster continues these discussions through a series called "Tough Talks." For him, conversation is the key to understanding. "We're at a critical point in our society right now," he says. "We are so divided over who we are and who we want to be, and we really need to think about how to bridge that [gap]. Dialogue helps people to appreciate the other person's perspective; it may not convince you or change you, but at least it gets you to acknowledge that they have the right to have a perspective. After understanding our different perspectives, we can figure out how to move forward as a community." Foster has also been working on a new soul food concept, Queen City Soul Kitchen, which had its soft opening this summer. The restaurant, located in the Woodland Heights neighborhood, is set to fully open early next year. –Tessa Cooper
Jeremy Goss, founder and CEO, The Link Market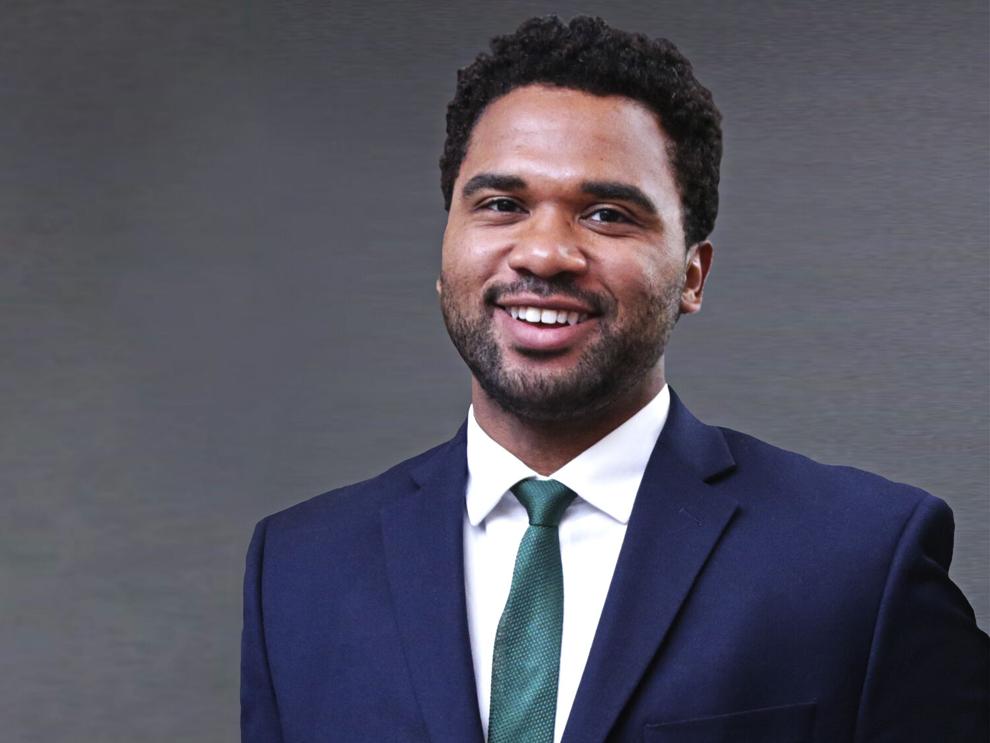 While attending Saint Louis University School of Medicine, Jeremy Goss received a life-changing piece of advice from the dean: If he wanted to help improve health care for vulnerable communities, he should start in his own community. "We saw so many patients at the hospital with medical conditions that are made worse by, and are arguably caused by, a lifetime of unhealthy eating," says Goss. "I saw the doctors' frustration but also the patients' – often they had taken two buses [to the hospital], maybe they lived in a food desert, maybe they didn't have disposable income. Once you learn more about the reality for those patients, you can't help but want to get involved." In 2015, Goss did just that, co-founding St. Louis MetroMarket, a mobile farmers' market housed in a remodeled city bus. He later exited MetroMarket, and in 2017, he launched The Link Market, a small grocery store chain with locations in underserved neighborhoods and food deserts. The first physical locations of The Link Market were inside refurbished shipping containers near MetroLink stations and other spots with high foot traffic. "We've been using those to accomplish the same mission [as MetroMarket] – to sell healthy food to folks in food deserts and close the gap between transportation and affordability barriers – but on a bigger scale," says Goss. He hopes that The Link Market will inspire larger grocery store chains to invest in these communities, which currently include Wellston and Carsonville in north St. Louis County. Now Goss also provides pop-up markets via a converted mail truck that parks around town, and he's working on opening the first brick-and-mortar location of The Link Market on the edge of the Grand Center and JeffVanderLou neighborhoods. "The most rewarding part of this for me is the interaction with the people whom I have the privilege of serving," says Goss. "It's incredibly rewarding; it's hard to put into words." –Liz Miller
Rob Connoley, chef-owner, Bulrush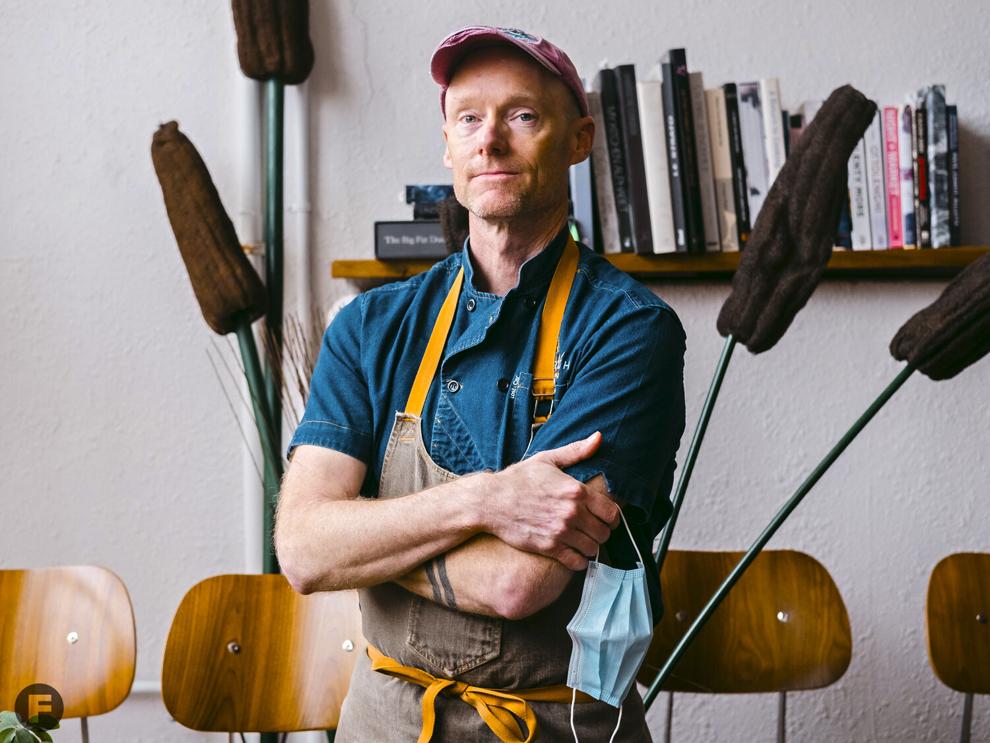 By June, Rob Connoley had made up his mind: Plan B was not working. Amid the pandemic, the chef-owner of Bulrush, the acclaimed Ozarks-inspired restaurant in St. Louis, had transitioned from a tasting menu format to offering prepared foods and family meal kits to-go. Although the more casual menu was popular with customers, Connoley says that his heart just wasn't in it. "Every restaurant has their own Plan B, but it's Plan B," he says. "It's not our first choice. We were doing what we loved before all this, otherwise we wouldn't have been doing it. So coming up with a new Plan A instead of resorting to Plan B or falling back on something that isn't where your heart is – that's the goal." For Connoley, that means doubling down on Bulrush's hyper-seasonal tasting menu, which showcases native ingredients prepared with modern techniques. Instead of changing the format of his menu, he decided to change the environment in which it's served to customers. In August, Bulrush began offering drive-up tasting menus where customers could order a five-course tasting menu from the comfort of their own cars. To bring the full, immersive Bulrush experience into this new format, Connoley even recorded videos describing each dish on the menu that customers can watch on their phone or tablet through a QR code. While digging into a course featuring roasted Sibley squash tossed in pawpaw mole served on top of Missouri white bean hummus with pawpaw-citrus glaze, spicebush-flavored panko and seasonal pickles, for instance, diners could learn about Connoley's efforts to revive historic Ozark heirloom seeds. He would explain how he's working with local seed banks and farmers to grow 23 rare seed varietals – including that very Sibley squash as well as cowhorn okra, purple podded peas and vine peach (a melon that tastes just like a peach) – in order to bring a true taste of the Ozarks to Bulrush's menu. Dining at Bulrush is just as much about the story as the food, and even amid a global pandemic, Connoley is committed to telling that story however he can. –Heather Riske
Editor's Note: Due to feedback from readers, we have removed our writeup of Chef Collective KC. If you have questions or concerns, please contact us at editor@feastmagazine.com.