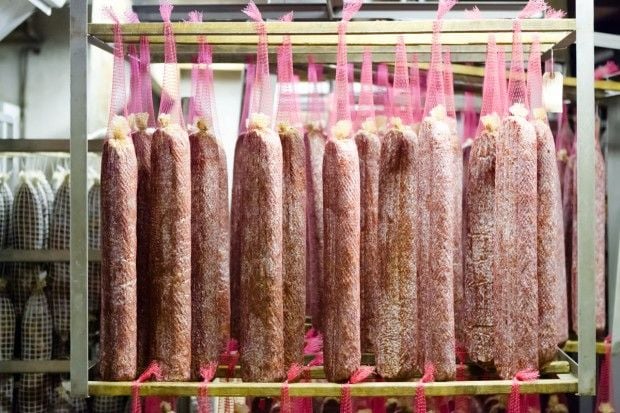 Volpi Foods was voted the runner up for best charcuterie maker in St. Louis in the 2015 Feast 50.
At Volpi Foods, time is relative. Whether it's the 12 months, minimum, it takes to age its prosciutto (made with the company's 112-year-old recipe) or transporting customers back in time with a visit to its storefront on The Hill, unchanged since it was built in 1902, the third-generation, family-owned St. Louis business is in no rush.
"Not to fault modern technology and cooking, but our product has been around for well over 3,000 years," says Tim Urban, Volpi's chief commercial officer. "These are ancient food processes we're using."
The dried, cured meats made at the salumeria, founded by John Volpi and run now by his great-niece, Lorenza Pasetti, are sold in 15,000 retail outlets nationwide and have been lauded in publications including The New York Times and Cook's Illustrated and featured on an episode of the Food Network's Road Tasted. Plus, in April, 16,000 Starbucks locations began serving Volpi pepperoni and tomato fold-overs, the first time the multibillion-dollar corporation listed a brand's name on its menu – and Starbucks came to them.
Volpi uses time-honored Italian recipes and processes for making its salumi – the same recipes and processes Giovanni brought over from Milan, Italy, in 1900, barring the addition of electricity and plumbing about 20 years into the company's history. The low temperatures Volpi uses during fermentation and drying differentiates the company from the industry standard, and it won't release a product until it's 100 percent ready – sometimes genova salami takes 90 days to produce, sometimes 120 days.
Volpi still produces in the same three macro-categories as it has since 1902: salami, dominated by genova, cacciatore and sopressata; mixed muscle such as capicola and its cooked version, coppa; and whole muscle, including its world-famous, bone-in prosciutto (made with fresh, breed-specific pork sourced within 200 miles of the plant, just like the rest of their products), with just sea salt and thyme added before it's aged for a year. The company has increased its product line from 30 to more than 400 products, including newer options such as guanciale, or pig cheek; culatello, the extremely difficult to produce "king of prosciutto;" as well as incorporating cheeses and other accoutrements.
"The climate in St. Louis is very similar to the Milan-Malpensa area where John was from and where great salumi [is made]," Urban says. "Plus, there was a local community to treasure the food who appreciated true artisan craftsmanship and hard work. You've got the terroir, the culture and community, compounded with a city that really loves food. Volpi would have never have succeeded anywhere else. St. Louis and Volpi were meant for each other."
Volpi Foods, 5250 Daggett Ave., The Hill, St. Louis, Missouri, 314.446.7950, volpifoods.com