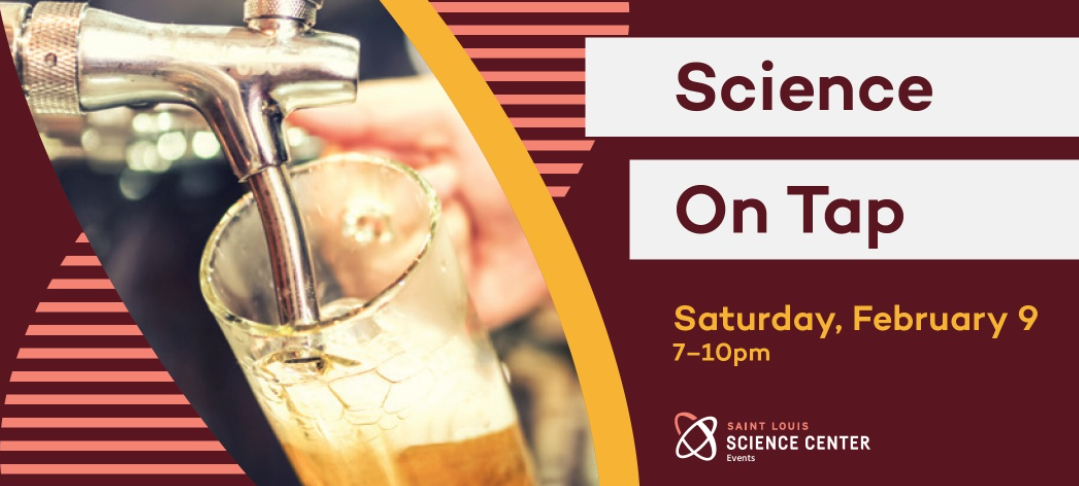 Science on Tap
When: Sat., Feb. 9, 7 to 10pm
Where: Saint Louis Science Center, 5050 Oakland Ave., Kings Oak, St. Louis, Missouri
Tickets: $45 for members, $55 nonmembers ($60 at the door), $100 VIP
Purchase: online or call 314.289.4400
More Info:

slsc.org/ontap
Join the Saint Louis Science Center on Sat., Feb. 9 for Science on Tap. Sample 100-plus beers, enjoy small plates and learn the science of beer.
VIP tickets allow you to skip the lines and have first access to tastings and food with a 6pm early entry, a VIP lounge with additional food and beverages, valet parking, exclusive vendor interactions and more. Plus, you can experience the new Guitar Exhibition guided by KSHE and KPNT radio hosts.
Participating breweries and restaurants include:
4 Hands Brewing Co.
After Hours Brewing Co.
Alpha Brewing Co.
Anheuser-Busch
AB Research Pilot Brewery
Augusta Brewing Co.
Blue Moon Brewing Co.
The Boston Beer Co.
Boulevard Brewing Co.
Brew Hub Taproom
Cathedral Square Brewery
Charleville Brewing Co. & Tavern
Civil Life Brewing Co.
Crown Valley Brewing & Distilling
Earthbound Beer
Founders Brewing Co.
Granite City Brewery
Lagunitas Brewing Co.
Leinenkugel's
New Holland Brewing
The OG: ST. Louis Women's Craft Beer Collective
O'Fallon Brewery
Old Bakery Beer Co.
Peel Brewing Co.
Point Labaddie Brewery
Public House Brewing Co.
Quest Beverages
Rogue
Schlafly Beer
Six Mile Bridge
Third Wheel Brewing
Two Plumbers Brewery + Arcade
Uinta Brewing
Urban Chestnut Brewing Co.
Wellspent Brewing Co.
Woodchuck Hard Cider
and more announced soon!