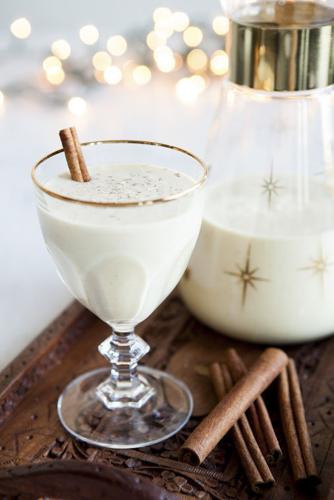 'Tis the season to host and attend holiday parties, which means it's also time to brush up on holiday cocktail recipes. In years past I've written about how to make a killer Hot Toddy and holiday punch. This year, I'm sharing a tradition that dates way back to before Colonial times and is a true holiday punch – eggnog.
The origins of eggnog make the drink all the more interesting – eggs and dairy products have been commonly mixed with wine and ale for more than 400 years. The earliest references are from England in the 1600s, when the aristocracy controlled the majority of the farms and had easy access to foods we often take for granted today – including eggs and milk. Adding these products to alcoholic drinks signaled wealth and prosperity.
This recipe can be prepared days prior to serving – in fact, it actually benefits from resting for a few days. By letting your eggnog rest, the oils in the spices emerge and enhance flavors, making this no ordinary 'nog. By no means does this recipe have to be followed to the letter, but rather, it serves as a base to play with to your desired taste. Spice it up by using different varieties of rum to subtly change the flavor, or omit the booze altogether for a non-alcoholic treat even the kids can enjoy. If you prefer less sugary eggnog, simply use less sweetener than this recipe calls for.
Sugar & Spice Eggnog
Serves | 10 |
¾ cup sugar, plus 1½ Tbsp
1 cup milk
2½ cups heavy cream
½ vanilla bean, scraped
3 cloves
½ tsp grated nutmeg
1 cinnamon stick, crushed
1 allspice berry, crushed
1 Tbsp maple syrup
5 eggs
1 cup dark rum
| Preparation | In a saucepan, add ½ cup sugar to milk, cream, vanilla bean, spices and syrup. Turn heat to medium-high and bring to just a boil. Turn to low and let simmer for 5 to 7 minutes. Remove from heat. While the cream mixture is on the stove, separate egg yolks from whites in separate bowls. Whisk egg yolks with ¼ cup sugar until sugar is dissolved. Once cream mixture has cooled for 5 minutes, ladle 1 oz at a time into the egg yolk and sugar mixture, stirring constantly, until 6 oz of cream mixture is incorporated. Pour cream mixture into the saucepan. Return to stove top and simmer, making sure not to bring it to a boil. Remove saucepan from heat and strain solids. Stir in dark rum and refrigerate for at least 4 hours. In a medium-large bowl, whisk egg whites until soft peaks form. Slowly add 1½ Tbsp of sugar and continue whisking until stiff peaks form. Combine egg white mixture with chilled cream mixture. Chill overnight or for up to 4 days. Stir eggnog before serving.
Holiday Rum Recommendations
• Angostura 7 Year, Flor de Caña 7 Year or Ron Zacapa 23 will add darker notes of rum to eggnog. The fall spice notes in all of these rums will heighten the flavors of spices in eggnog as well.
• Plantation 5 Year from Barbados or Malibu Rum will add distinctive tropical notes. Plantation 5 Year has nice banana and mango notes that pair well with fall spices, while the coconut flavor of Malibu Rum adds an additional – if not an unexpected – touch of sweetness.
• For an even sweeter eggnog, try Gosling's Black Seal Rum or another brand of blackstrap rum. These rums create a richer mouthfeel, so it might be wise to use less heavy cream and more milk when using this type of rum in eggnog. An equal ratio of dairy will do the trick (1¾ cups of each).
• The characteristic "funkiness" of Jamaican rums such as Smith & Cross or Appleton Estate will shine through and pair surprisingly well with the fall spices included in eggnog.
Matt Seiter is a co-founder of the United States Bartenders' Guild's St. Louis chapter, a member of the national board for the USBG's MA program and a continuing educator for all desiring knowledge of the craft of mixology. He is a member of Drink Lab and a consultant at Sanctuaria.