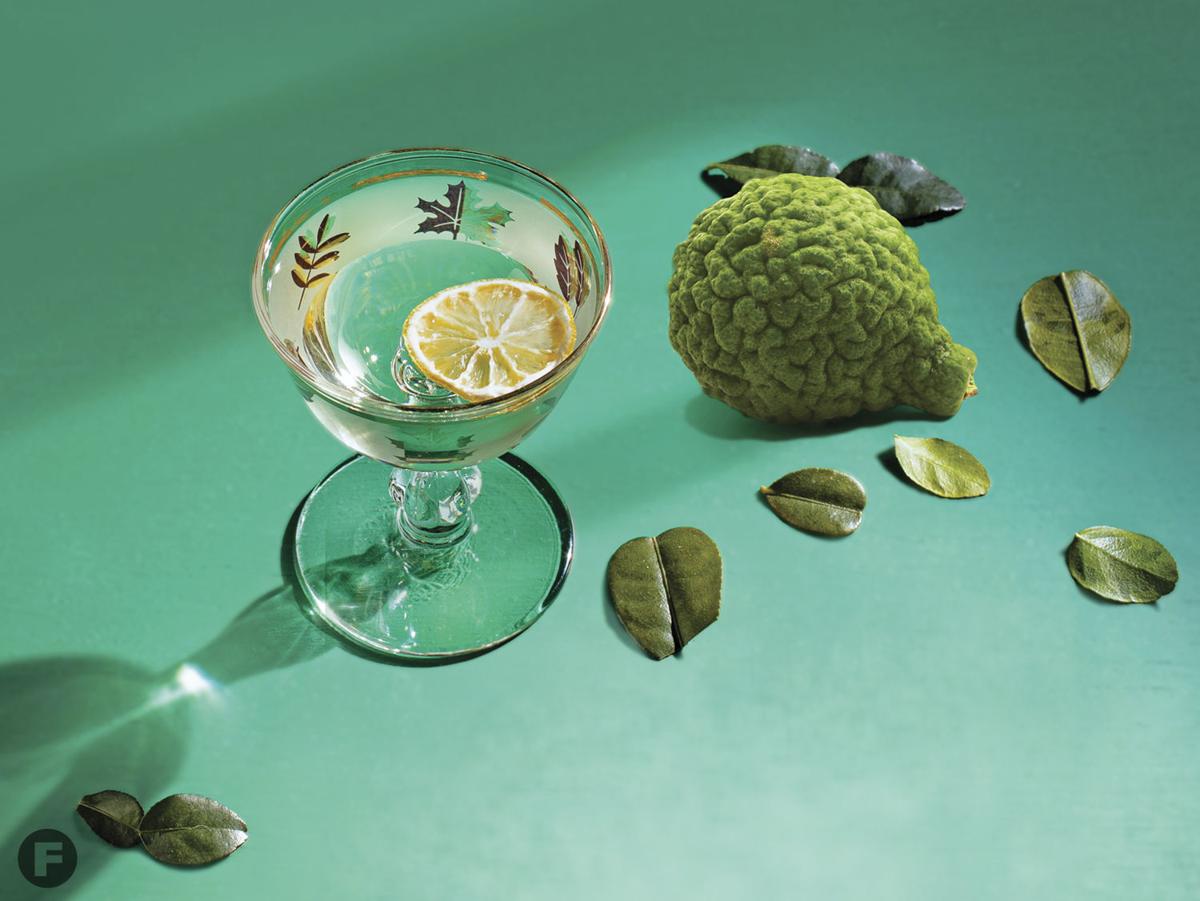 At first glance, you'd think the makrut lime was a one-off fluke: A regular lime that somehow acquired a bumpy skin with a brain-like pattern. But that alien fruit is actually native to Southeast Asia, and its fragrant, waxy leaves have long been a prominent ingredient in Thai cooking. Now, bartenders are jumping on the bandwagon.
Westport Café & Bar
Westport Café & Bar's reputable bar manager Bronson Kistler discovered makrut lime leaves through his love of Thai curry. "It's the leaves that are really aromatic," says Kistler. "I love the flavor of makrut lime leaves and coconut, and I wanted to incorporate it into a drink somehow." And so, the Bay of Bengal was born. Long known to circumvent the expected in pursuit of the inventive, Kistler uses white rum and Jamaican rum infused with makrut lime leaves, lemongrass, fennel and coriander, then introduces coconut milk, fresh lime juice, orange juice and simple syrup to make the drink. "The makrut lime leaves have different aromatic notes – they're both earthy and citrusy – and there's a lot of opportunity to pick out and play with different types of spirits," he says.
Westport Café & Bar, 419 Westport Road, Kansas City, Missouri, westportcafeandbar.com
Waldo Thai Place
Fittingly, you'll find a couple cocktails featuring makrut lime leaves at Waldo Thai Place in Kansas City. "When it comes to infusions, they work very well with a clear spirit," says bar manager Darrell Loo, who collaborates with the kitchen to incorporate authentic flavors into his entire beverage program. "I add five to seven leaves to a bottle for 12 hours." For his riff on a Martini called I'm Not Sweet, Loo infuses Roku Gin (a Japanese craft gin) with makrut lime leaves and stirs it with Dolin Vermouth de Chambéry (blanc and dry) and orange bitters. The delicate cocktail is then garnished with a dehydrated lemon wheel and served to eager customers.
Waldo Thai Place, 8431 Wornall Road, Kansas City, Missouri, waldothaiplace.com
Trust
Rob Somerscales, owner of bar consulting company Artisan Well and partner of Trust in St. Louis, draws on his Hawaiian roots for his makrut lime leaf cocktail, the Kipling. Somerscales combines haupia (a rich, coconut milk-based Hawaiian pudding, which he makes himself) with aquavit (a Scandinavian spirit made just like gin, but with caraway instead of juniper berries) and Pineau des Charentes (a French aperitif) in a shaker with fresh lime juice, sea salt and a cardamom tincture. He then serves the flavorful concoction in a coupe glass with a garnish of makrut lime leaves. "I'll take the [makrut lime] leaves and I'll give them a little bump to express the oils and get the aroma out," he says. "It's a rich citrus aroma with a slight botanical profile. I think it adds a little to the flavor and enhances some of the other notes that are in the drink."