When Jenn Tosatto was invited to compete in the 10th-annual U.S. Sherry Cocktail Competition in 2015, she knew she needed to bring her A-game. She was competing against just 10 bartenders from across the country and representing
The Rieger in Kansas City, where she worked at the time. (She's now at Mission Taco Joint.)
Her strategy included making a sherry vermouth from scratch by steeping a combination of amontillado sherry with chamomile, juniper berries, cardamom, coriander, grains of paradise, simple syrup and lemon and grapefruit peels for 24 hours. She then dissolved Simcoe hop pellets in a neutral vodka before straining the solids from both separately and then combining and chilling the mixture for another 24 hours.
To make the cocktail, which she named The Night Breed, Tosatto mixed her sherry vermouth with gin, lemon juice, simple syrup and plum bitters. The result was an earthy, floral cocktail with a pleasant yet unexpected bitterness on the finish from the Simcoe hops.
At the competition, which was held in New York City, she served the drink chilled in a cordial glass garnished with an edible orchid. Although she didn't win, the judges told her how fantastic her drink was, and sipped her vermouth as they made their final decision.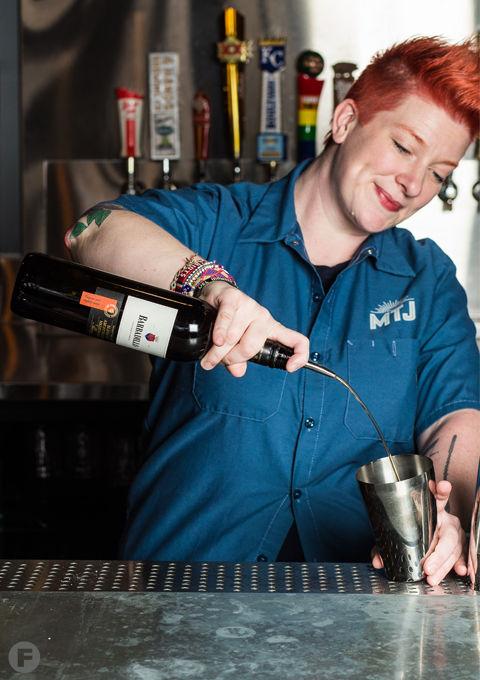 The cocktail competition is hosted by Sherry Wines Vinos de Jerez, a trade association promoting Spanish wine exports. Since the first event in 2005, there's been a renewed interest in sherry and other fortified wines worldwide. The revival is often credited to legendary wine consultant Steve Olson and renowned bartender Andy Seymour, who were hired by Wines from Spain, the trade commission of Spain, to help promote Spanish wine exports. They led a group of sommeliers to Jerez in 2002, and in 2005, to the first sherry-cocktail competition finals in New York. Bartenders across the world began swapping sweet vermouth for Port and dry vermouth for sherry in cocktails, but it has taken years to grow into a real industry trend.
Tosatto believes the resurgence is part of a larger trend toward lower alcohol-by-volume (ABV) cocktails over the past five years. "I definitely think there's renewed interest [in fortified wines]," Tosatto says. "People [are] getting out of the, 'I want to drink to get drunk,'" phase; more people want to drink to appreciate alcohol and [its] nuances. The interest in low-ABV cocktails has driven bartenders to use a lot of fortified wines [as] bases of cocktails."
Fortified wines like Port, sherry and Madeira are simply wines that have been strengthened and preserved – or fortified – with a distilled spirit. Wines are typically fortified with an unaged, clear, high-proof distilled grape spirit or brandy – not the kind you'd sip straight.
Although fortified wines have been around for more than 3,000 years, as with any trend, what's old is new again – and now, evolving. Sherry sales doubled globally last year, with drier, premium products seeing the most growth, according to the Wine Market Council, a nonprofit dedicated to advancing the U.S. wine market through research. Now that millennials are the largest consumer base in America, their preferences toward craft and artisan-made products are pouring over into the alcohol industry. What began with the post-recession craft-beer movement has since expanded to include a booming craft-distilling industry, with nearly 300 percent growth in crafts spirit debuts since 2011, according to Mintel, an analytics firm. Millennials are also responsible for nearly half of all wine sales in the U.S., as Wine Market Council reported in 2015.
Today, you're more likely to see a barrel-aged sherry with notes of whiskey and spice or a bold, dry glass of Port on a drink list, either solo or in a cocktail, as industry pros like Tosatto play with and promote their unique flavor.
Don't Call It a Comeback
The history of sherry can be traced back to 1100 B.C. to Jerez, where native white grapes Palomino, Pedro Ximénez and sometimes Muscat are grown. In later centuries, the Greeks and Romans began to import wines from this region. By the 17th century, the Spanish Moors had introduced a distillation process and would fortify their wines for long overseas voyages, which is likely when the technique of adding spirits to wine began.
Wine barrels often sat on ships in brutally hot temperatures, causing the white wine inside to become so oxidized it turned a brownish color. Typically, oxidation (adding or removing oxygen) is the enemy of wine. Yet these Spanish whites became so oxidized that they developed a nutty aroma and flavor that quickly gained popularity in Europe – the British were even buying stolen barrels of the wine from pirates for a time.
As demand for sherry increased over the next century, winemakers were tasked with recreating the experience and conditions of a trans-Atlantic trip – what today is known as maderization, or intentionally heating and oxidizing wine before aging. Such experimentation led us to the modern sherry-making process, where winemakers age with a heat application to oxidize casks – practices that would destroy normal wine. The resulting sherry can range from dry to sweet depending on how it's made, with a nutty, caramel-glazed finish.
The base process for making any fortified wine is similar to that of sherry: Juice ferments as the yeast eats grape sugars, converting sugar to alcohol. The difference in making fortified wines is that when the wine fermentation reaches the winemaker's desired level of residual sugars (typically 8 to 14 percent), the grape spirit or brandy is added to fortify the wine. This kills the yeast, halting fermentation. If spirits are added prior to fermentation finishing, it typically results in a sweeter wine, and if they're added after fermentation, it results in a drier wine.
Although Port requires a less complex winemaking process (heat and yeast aren't involved), its story is similar to sherry. In the 1600s, when England and France were at war, the British swapped their French Bordeaux for red wine from northern Portugal. To keep it from spoiling, they added spirits. Port is sometimes aged in wood (as with tawny Port); ruby Port is the most common and youngest variety, aged for no more than three years. Ruby-style Port is typically sweet and tannic, with dark berry and fruit flavors.
Like the laws governing Champagne – sparkling wine produced outside of the Champagne region of France cannot be labeled as Champagne – as of 2006, winemakers can no longer sell their fortified wine as Port, Madeira or sherry unless it's made in specific European locales. Port stems from the Douro Valley of Spain, Madiera from the Madeira Islands and sherry from Jerez or Andalusia, Spain.
However, a clause in the 2006 law grandfathered in some bottles labeled Port and sherry, so long as their labels and ingredients never change. In Missouri, this clause applies to Port, typically made from Norton grapes, and sherry, produced with a blend of regional red and white grapes.
Port (and Sherry) Authorities
Prior to Prohibition, there were 60 wineries operating in Hermann, Missouri, alone. When the ban was lifted 13 years later, most local grape growers and winemakers had either taken up new professions or died, leaving the state's once-booming commercial industry to languish for more than half a century. Stone Hill Winery in Hermann was the third-largest winery in the world before Prohibition; in 1965, Jim and Betty Held revived it.
When Dave Johnson, senior winemaker at Stone Hill, came on board in 1978, Missouri's wine industry was still in the early days of rebuilding its former glory. Johnson wouldn't begin producing Port at Stone Hill until 1990 (which was then released in 1992 and 1993), although he says Stone Hill has records of pre-Prohibition Port and brandy production.
Today, Stone Hill uses single-vintage Norton grapes – Missouri's state grape – for its Port, resulting in what Johnson calls a "distinctly Missouri" dessert wine, which is aged for a year in a variety of American and European oak barrels. Norton grapes have a little less tannin and a higher acidity than the red wine grapes typically used in Portugal, which feature blackberry and mulberry flavors.
Johnson says Stone Hill's Port is dark and full-bodied – moderately tannic and fruit-forward. "Norton makes a Port that has a little more acidity to balance the sweetness; it's not as tannic as Portuguese-vintage Ports and doesn't require the [same] long aging," he says.
Port made at Stone Hill can age for just a few years or up to 10 years, Johnson says, compared to some that age for more than 150 years in Portugal. Johnson is currently preparing to begin production on a brandy at Stone Hill, but most Missouri producers get their grape spirits and brandy from outside of the state. Right now, the same out-of-state brandy is used to make both Stone Hill's Port and sherry.
"We start the fermentation and then we fortify [the wine] with brandy, and do it at a stage that allows for what we like – around 8 percent residual sugars," Johnson says. "From that point on, it's really handled like you would any other dry red wine. We don't allow it to get exposed to heat and oxygen, [which is] what we do purposely to sherry."
The final product is a dark, rich dessert wine with strong blackberry and cassis flavors. Johnson recommends sipping the Port with strong cheeses, nuts or anything fruit-based, like a raspberry torte.
In addition to its Port, Stone Hill produces a dark, rich cream sherry. There are several styles of sherry, including amontillado, fino and oloroso. Oloroso, the style that Johnson produces at Stone Hill, refers to any sherry, dry or sweet, made with forced (as opposed to natural) oxidation.
For Johnson, making the cream sherry has been labor-intensive from the beginning (production began in 1993 and the first release was in 2000). He uses a modified Spanish solera process, meaning he blends a mixture of vintages dating back to 1999 for better consistency; Stone Hill's blend has an average age of between eight to 10 years.
"While heat and oxygen are normally the enemies of wine, Stone Hill cream sherry, like most Oloroso-style sherries, is purposely exposed to heat and oxygen to encourage maderization, leading to the dark amber color and nutty flavor and aroma," Johnson says. "The young sherry spends one summer in a tank exposed to the hot Missouri sun and then is barrel aged for many years in a warm, above-ground building, rather than Stone Hill's cool underground cellars."
Johnson's long-term diligent care has been rewarded: Stone Hill won Best of Class awards in the dessert wine category for its cream sherry at the Missouri Wine Competition in 2015, 2016 and 2017, and Stone Hill's 2013 Port won gold in 2017.
Stone Hill isn't the only Missouri winery producing quality fortified wines in Hermann: Adam Puchta Winery has also produced them since the mid-1990s.
Tim Puchta, owner and president of Adam Puchta Winery, lives in what was once his grandparents' home, next door to his winery. It's the oldest continuously owned family winery in the country, operated by the Puchtas since 1855, the year Adam Puchta – Tim's great-great-grandfather – made his first wine.
Puchta is particularly proud of 1855, the Madeira-style sherry he started making in 2000; he released his first 300-gallon batch in 2010. Like Johnson at Stone Hill, Puchta also uses a modified solera system, and suspends old and new oak staves in enclosed stainless steel casks, which he then exposes to sunlight. The 1855 is made with a blend of Vivant, Vignoles and Norton grapes; a red grape spirit from California is used to fortify the wine.
Although he's happy with the 1855, when it comes down to it, Port is Puchta's passion. Puchta and his winemaker, Michael Rouse, make two styles of Port: Signature and Anniversary, both made with estate-grown Norton grapes and the same red wine-grape spirit from California used for 1855. Signature is an unaged ruby-style Port, and Anniversary is aged in oak. In 2014, Signature won Best of Class at the Missouri Wine Competition.
"Interest in Port has increased; [our Port production is] increasing because demand for Port has increased," Puchta says, although it's baby boomers, not millennials, who buy it from him by the case.
"It's cyclical, just like people drinking whites or reds," Puchta says. "I've always loved rosés [before it was a trend], and I continue to love rosés. You see more Port drinkers in the winter, but we have a fairly hardcore group that likes to drink it with their barbecue [in the summer]."
While Johnson prefers enjoying Port as a traditional complement to dessert (especially anything with toffee or caramel), Puchta says he wants people to experiment and have fun with it.
"People don't think outside of the box with Port," he says. "They think it's for after dinner and that's it. But Port as an apéritif… it's cool what we can do with that! Ports are fun."
At home, Puchta likes to add a little Port to homemade whipped cream to top pumpkin pie, which gives it a nutty flavor. Puchta says that some of his chef friends have used his Port in salad dressings, marinades, sauces and more. He encourages people to cook with them, use them in desserts, pair them with non-dessert courses, drink them with appetizers and use them in cocktails.
"For so many years, [Ports] were just some big [mystery], but Port is a super-fun wine – you don't have to keep it for dessert," he says.
Grape Expectations
At Edg-Clif Farms & Vineyard in Potosi, Missouri, partner and winemaker Cyndy Keesee has personally seen an increased interest in fortified wines at her family's winery.
"It's not just guys [who] want to sit around and smoke cigars," Keesee says with a laugh. "[It's] not necessarily middle-aged men – younger people like Port. Millennials are very experimental and want to try different things. They want things local; they want things hand-crafted. They want the experience that goes with it. I've had a lot of people looking for a Port-style wine, wanting to know if we were going to make one."
Keesee looks to her own adult children for feedback on Edg-Clif's wines. "The farm has been in our family since 1926 – we purchased this property for it to become a farm and cattle ranch – so we've always wanted to keep that heritage alive," she says.
Keesee has been operating the winery since 2010 on land that has been in her family for more than 90 years. The 7-acre vineyard currently grows three grape varieties – Chambourcin, Vignoles and Vidal Blanc – and everything is harvested by hand.
In 2015, Keesee began making one 53-gallon barrel of Port a year out of a variety atypical for Port in Missouri (and across the world): Chambourcin.
Wine made from Chambourcin grapes is typically light in body, although Keesee says that Edg-Clif's grapes are fuller-bodied due to the vineyard's nitrogen-rich soil from its 65 years operating as a cattle ranch. The idea to make a Port was inspired by a friend who sampled very jammy Chambourcin grapes that were almost falling off of the vine; the grapes are also used to make Edg-Clif's Classic Chambourcin wine. Keesee fortified the Port with grape brandy from Post Famillie Vineyards in Altus, Arkansas.
So far, Keesee says the Port is smooth, with the dark cherry and brown currant qualities of a traditional Chambourcin, and a spicy, peppery finish with notes of unsweetened chocolate. It should eventually produce a dry to semi-dry, light red Port with a lighter body than Norton and fruity, earthy and spicy complexity. She won't release it until it ages to her standards; she estimates the first run will be released next year at the earliest.
"It tastes great – it's really fun," Keesee says. "It has a really nice balance between fruitiness and French oak. It doesn't taste like anyone else's Port."
Shaking It Up
Even as local wineries are delving more into fortified-wine production, it's still bartenders like Tosatto who are helping push them into the national spotlight.
"Sherry was a dead category until bartenders began focusing on it," says Doug Frost, a Kansas City-based American Master of Wine, master sommelier and founder of Missouri's Jefferson Cup Wine Invitational. "And as [bartenders] focus on it, their knowledge trickles down to the consumer."
The versatility of fortified wines in cocktails – from base spirit and modifier to a flavoring component – is part of their charm. Tosatto attributes her "quiet love" of sherry to her mentor, award-winning Kansas City mixologist Ryan Maybee, co-owner of Manifesto cocktail bar. It was Maybee who first taught Tosatto to appreciate and properly care for vermouth – tips she now passes on to patrons at Mission.
Tosatto particularly likes working lunch shifts at Mission Taco Joint, when she has more time to engage with customers and offer recommendations. One of her favorites is the classic, pre-Prohibition era Sherry Cobbler, a shaken cocktail made with sherry, sugar and fresh citrus juice, or a New York Sour topped with Madeira instead of dry red wine.
"People tend to like [fortified wine in cocktails]," Tosatto says. "I wish I saw more people ordering it as a stand-alone. I'm still hoping bartenders that love [fortified wines] as a category can change that."
Frost agrees. He recently helped open The Restaurant at 1900 in Kansas City, which debuted in April. As the restaurant's beverage director, he's contemplating offering free tastes of fortified wine with dessert to get customers excited about the drinks, in addition to offerings Port and sherry cocktails behind the bar.
"The best thing we can continue to do is show people how [fortified wines] function in cocktails, and on either side of the meal [as apéritifs or digestifs]; we have to educate people," Frost says. "I wouldn't say every drink with sweet vermouth can be switched out for Port – but it can lead to fascinating flavors and unusual drinks."
The Restaurant at 1900, 1900 Shawnee Mission Pkwy, Mission Woods, Kansas, 913.730.1900, therestaurantat1900.com
Adam Puchta Winery, 1947 Frene Creek Road, Hermann, Missouri, 573.486.5596, adampuchtawine.com
Edg-Clif Farms and Vineyard, 10035 Edg-Clif Drive, Potosi, Missouri, 573.438.4741, edg-clif.com
Mission Taco Joint, multiple locations, missiontacojoint.com
Stone Hill Winery, 1110 Stone Hill Highway, Hermann, Missouri, 573.486.2221, stonehillwinery.com
Editor's Note: Jenn Tosatto is a contributing writer at Feast.