Hot summer nights at The Side Project Cellar used to mean crowds of people packed into the cozy tasting room in Maplewood, Missouri; the bar lined with people sitting and sipping while others stood shoulder to shoulder, jostling between them to order a beer. Meanwhile, just up the street, the scene at Side Project's second location, which houses the brewery and another tasting room, might include a birthday party in one corner and a group of cyclists on a beer crawl huddled around the bar, alongside a smattering of other patrons.
The award-winning brewery also has a reputation for its special bottle releases, with people arriving hours early to stake out spots in line. "That was always fun," says Karen King, who owns The Side Project Cellar and Side Project Brewing with her husband, Cory. "They'd all be in our parking lot, lined up with their coffee and their dogs, waiting for the beer release. That's over, and it's kind of a pro and a con: People don't have to wait in line anymore, but that sense of community is gone."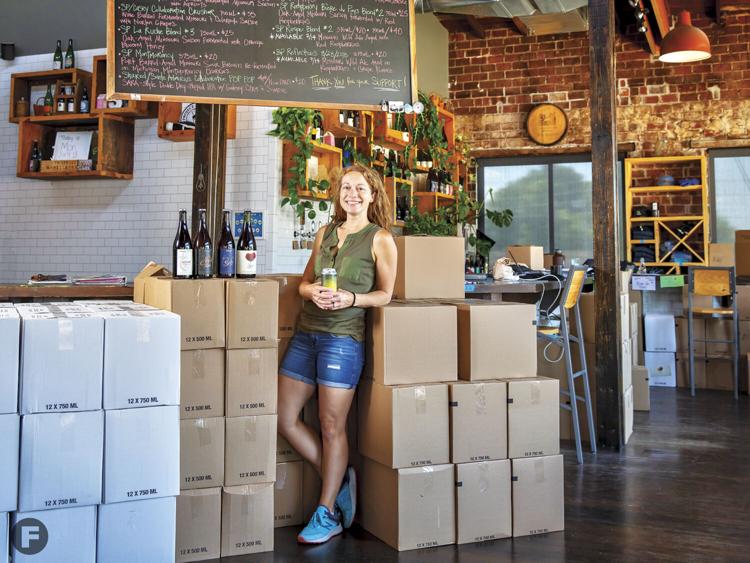 Since March, when the novel coronavirus first began to spread across Missouri, brewery owners across the state have had to rethink their distribution models. The Kings temporarily suspended tasting room hours at both Side Project locations in March, and as of early July, they weren't sure when they'd reopen to the public. "It's so hard to tell [when to reopen]," says King. "I feel like even if you make a plan, and you're like, 'OK, we're going to open in three weeks,' three weeks from now you might be like, 'Just kidding.' I think being flexible is important … and figuring it out as we can. Our number one concern is the safety of our staff and customers and our families, so we wouldn't do anything hastily."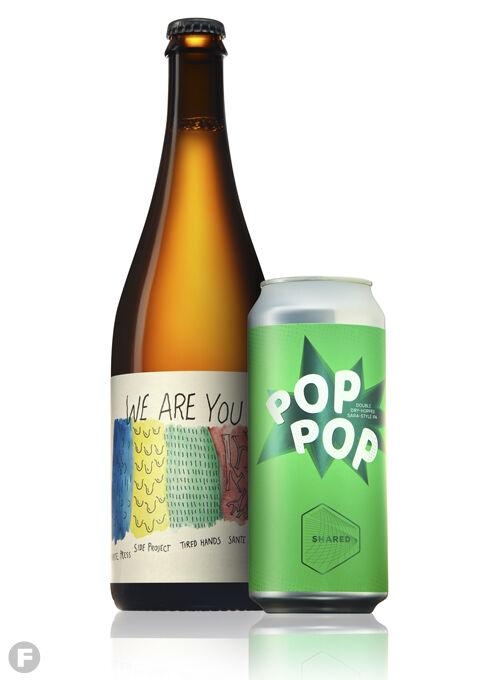 To continue selling beer to thirsty fans, Side Project has relied on online sales. Customers can now purchase beer online and pick up their orders just outside of the brewery, providing a contactless retail experience. However, just as customers miss the communal and convivial experience of gathering together in a tasting room, King says she and her team miss engaging with customers face-to-face. The feeling of loss has been most pronounced for those special releases, she says, which are the culmination of months or years of work.
"Normally you get a sense of fulfillment because people are enjoying themselves and the beer at the bar," she says. "They're having a great time and making friends. Instead, we're just shoving beer in their trunk."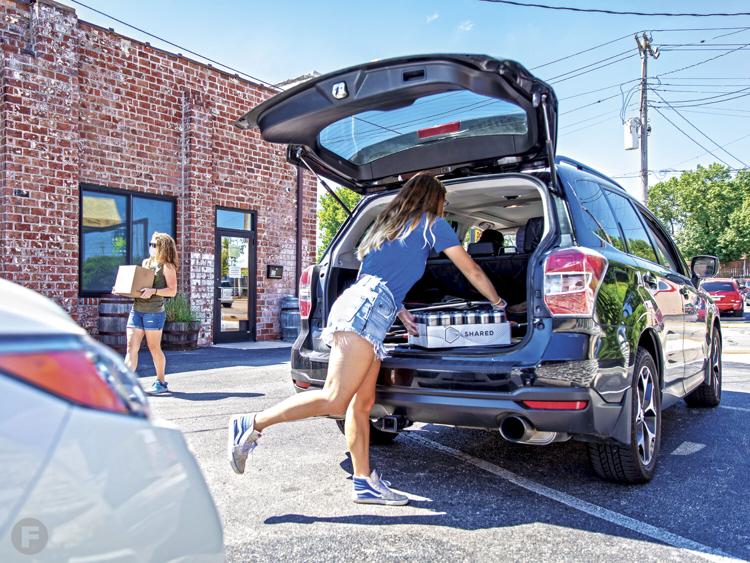 Still, King says online sales have been steady and essential to keeping the brewery afloat during the pandemic. Side Project is selling its 750-milliliter bottles as well as canned beers from its sister label, Shared Brewing. While Side Project specializes in oak-aged sour and wild fermentation beers, Shared experiments with other styles, from IPAs to English barleywines, often packaged in 16-ounce cans.
King's hesitation to reopen the tasting rooms also stems from the role that craft breweries have traditionally played in communities. Tasting rooms and beer gardens are neighborhood gathering spaces where people congregate, often in close quarters or at communal tables, and toast to new jobs, engaged couples or simply the start of the weekend. In a time when public health officials are still recommending vigilant social distancing and wearing face masks in public, brewery owners are having to adapt their business models for the safety of their staff and customers. If they don't meet this dire challenge, they face closure.
In early April, the Brewers Association conducted a survey designed to gauge the impact of the COVID-19 pandemic and subsequent public health and social measures on small brewers. When asked how long they believe they can sustain their current business if social distancing measures remain the same, the majority of the 900-plus breweries nationwide that filled out the survey answered that their business wouldn't last more than three months. When the results were released, there were approximately 8,150 active breweries in the country. If 59.9 percent of those breweries close within three months, as predicted by survey participants, that would mean approximately 4,880 closures. "Based on recent trends, it was likely that 4 to 5 percent of the breweries in the country would have closed in 2020 prior to this shock, so while some percentage of these closures and potential closures reflect businesses that were already struggling, most are brought on solely by this event," wrote economist Bart Watson in an article about the survey for the Brewers Association.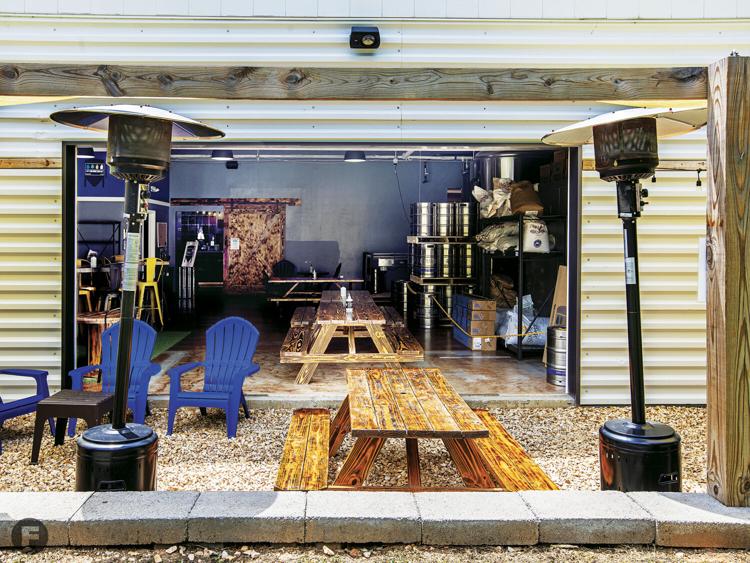 Like Side Project, though, craft breweries across Missouri have introduced online purchasing and curbside pickup to help bolster their bottom line and hopefully stay in business – and many of them plan to keep the service in place even after reopening.
At 4 By 4 Brewing Co. in Springfield, Missouri, Derek Shimeall – who owns the brewery with his wife, Danielle, and three other couples – intends to maintain online ordering and curbside pickup indefinitely. He temporarily suspended tasting room hours before a local or state mandate was in place and quickly adopted curbside pickup for growler fills and 16-ounce cans.
"Losing foot traffic, we added online ordering and ramped up curbside sales, which is something we hadn't done before at all, to any extent," he says. "We switched the business model literally overnight: Within two days, we were running with online ordering and single-handedly canning all of the 16 beers we had available."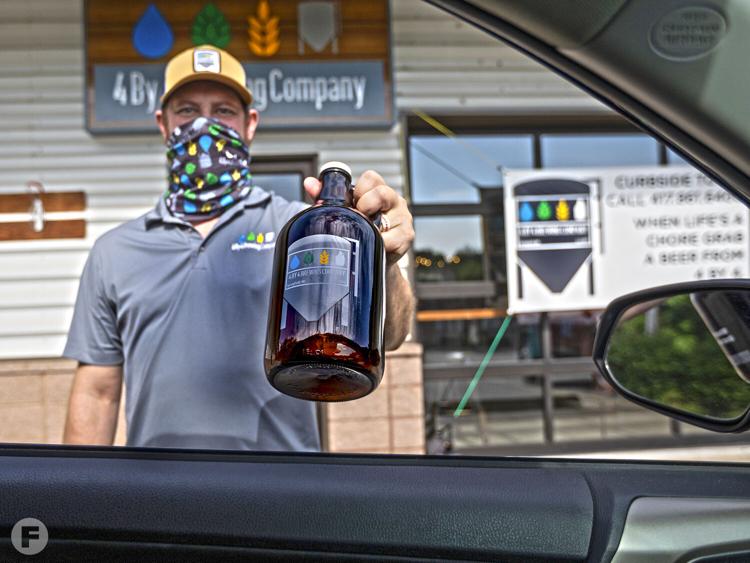 Shimeall wasn't confident that curbside orders would keep the brewery afloat, especially given the competition from retail beer sales at grocery stores and liquor stores and an undetermined timeline for reopening. To his surprise, the community rallied to support his and other local craft breweries, and sales have been steady since March. "We found a lot of success in that," he says. "It was a lot of labor behind the scenes, but I think it paid off."
Prior to the changes made due to the COVID-19 crisis, the brewery's revenue model was largely based on tasting room sales, in addition to keg sales to local bars and restaurants that accounted for approximately 25 percent of its total sales. Curbside pickup orders covered some of the gap, as did another new revenue stream: canned beer sales. Shimeall says the pandemic forced him to seriously consider getting into the canned beer business – something he hadn't yet pursued. Fortunately, last December, the brewery had invested in canning equipment for its hard seltzer, eliminating one costly barrier.
"I think it just kinda nudged us off the cliff, where [before the pandemic] we would have probably been too apprehensive to pull the trigger and get into the game," he continues. "I think it is going to be a great thing; it's another aspect that we started to learn. We were just getting comfortable with keg production and distribution and how that all works, and then it was kind of like, 'Alright, well, that was fun. Now let's redo it all.' But that's OK."
The brewery's first run of canned beers was released in June and included its five signature brews. 4 By 4 also resumed tasting room hours in June but with a limited capacity of 35 patrons at one time and seating only available in the beer garden and on the patio. Gone are the yard games and board games that used to entertain guests in the beer garden; Shimeall hopes that he can bring them back in the future, but he says it won't be anytime soon.
Brewery guests must check in and out upon entry and exit and are given numbered cards so management can meticulously track capacity. Shimeall says that all high-touch surfaces are being disinfected rigorously and that hand sanitizer is readily available to customers, who are asked to respect social distancing between parties.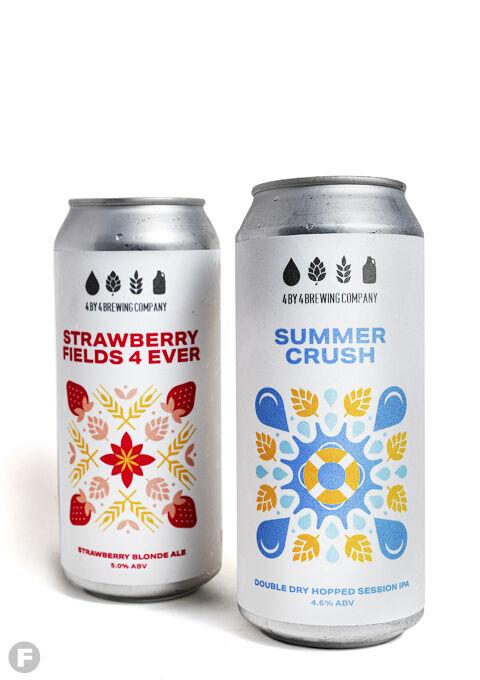 "So far people are respecting the distance and capacity limits, and we're hitting our capacities every day, which is great," he says. "I think because people are more remote for work and people have a little more free time, we're seeing more daytime traffic. … [Now] we've got traffic from noon to 4pm when we didn't used to be open. So, moving forward, we're adjusting; our hours will be earlier than what they used to be because we're finding that it pays to be open then."
Increasing canning operations and canned beer sales has also helped BKS Artisan Ales in Kansas City adapt its business during the pandemic, says co-founder Brian Rooney. He opened the brewery in late 2017, alongside his wife, Mary. The couple had been canning their beers for approximately two years when COVID-19 forced them to temporarily close their tasting room.
Located in the Brookside neighborhood, the small craft brewery quickly pivoted to online sales and curbside pickup and increased their canning runs. Revenue for BKS is based entirely on on-premise sales, with approximately half coming from tasting room business and half from to-go sales, which meant that while the brewery didn't lose any bar or restaurant business, it would need to make up the difference in online sales.
With that in mind, early on Rooney increased his order for 16-ounce aluminum cans to ensure BKS wouldn't fall victim to any supply chain issues. "We got worried that maybe there'd be a run on 16-ounce cans because we saw it with crowlers – crowler production is gone. You can't find them," he says. "Fortunately, we bought three months worth of 16-ounce cans right away. The other thing has been CO2 – ethanol production is really low right now, and ethanol producers provide CO2 for the beverage industry, so there's been reports from brewer associations that there could be shortages. We added another CO2 tank in our brewery, so we have about two months worth of CO2 supply."
Once they were stocked with extra supplies, the Rooneys were ready to venture into online sales. What they couldn't have anticipated, though, was the overwhelming response – Rooney says BKS beers have been selling out almost as soon as they're released. "Some people love [ordering online] and some people hate it, and it's not perfect because it sells out really fast," he says. "So access to the beer has not been the best for everybody … but then some people love being able to get online, purchase it and then come in and pick it up at their leisure."
Rooney adds that many customers have asked that the brewery continue online sales and curbside pickup even after reopening the tasting room at reduced capacity this summer.
"We've had so many people providing words of encouragement," says Rooney. "The one I hear over and over again is, 'Thanks for making new beers every weekend and putting them into cans. It gives me something to look forward to. You give us some sense of normalcy when [things aren't] normal at all.' That feels really good, to get that type of feedback from customers who are finding enjoyment and some sense of normalcy in what we're doing. That keeps us going."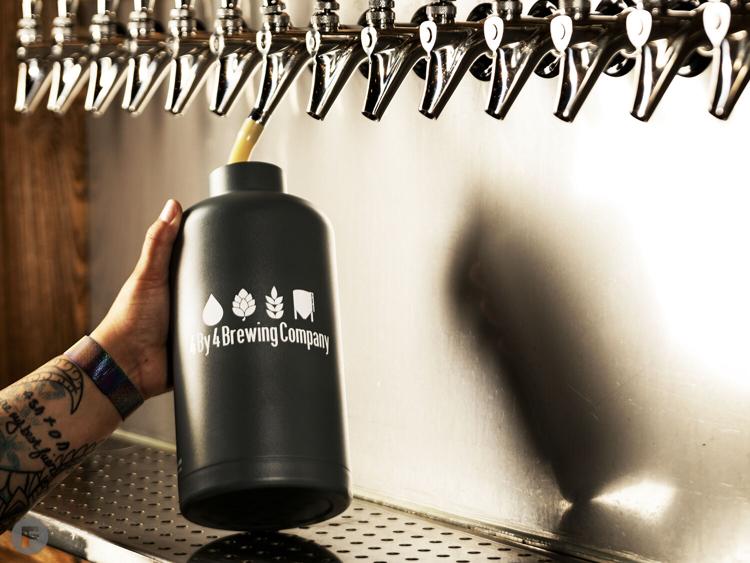 Rooney says this connection with the community is what craft beer is all about: being able to create a product from idea to retail packaging and then share it with your neighbors.
At 4 By 4, the Shimealls are giving back to their community as well – specifically to first responders and health care workers through a new program dubbed Can It Forward. It's based on an existing program at the brewery called Beer It Forward, which allows customers to buy a beer for friends or family, who can then claim it at the tasting room. In the same spirit, Can It Forward gives customers the chance to buy a beer for essential workers. Within days, Shimeall says that local businesses began donating $500 or $1,000 to the program.
Shimeall adds that he's happy to have met so many paramedics and hospital workers who have claimed beers through the program in recent months. Although people may not be able to buy them a beer in person right now, Shimeall is proud that 4 By 4 can simulate that experience and bring essential workers a simple pleasure during a stressful time.
"I was really surprised [by the response]," he says. "The bulk of people [served were] hospital workers who were truly working around the clock. [On their] one day off, they were just ecstatic to stop by and take a four-pack home with them. I think it was just nice to know that someone's thinking of them and to be able to sit down and have a beer … even with everything that's going on."