Barrel-aged gin may be met with some raised eyebrows. What are the benefits of taking a perfectly delicious gin and altering its color, flavor, body and profile by hiding it away in a wood barrel for months or years? What do you even do with a spirit that tastes like a blend of botanical gin and nutty bourbon?
The same way that white whiskey – also known as moonshine – is barrel aged to produce complex flavors, gin also transforms after spending time in oak. When unaged whiskey is put into an oak barrel, the characteristics in the wood – vanillin and tannins, specifically – seep into the spirit, altering its color, body and flavor. Barrel aging smooths and mellows out spirits, whether whiskey, rum or gin.
Gin, of course, enters the barrel with a juniper-forward botanical flavor profile. All gins must feature juniper – although there's no set amount or ratio required – and are usually distilled with other botanicals, including angelica, coriander and orris root. And just like whiskey, when gin is put into a barrel, it does its own thing. That's the appeal, says Natasha Bahrami, owner and self-proclaimed "gin ambassador" at The Gin Room in St. Louis: Barrel-aged gin offers a new frontier for anyone interested in spirits, from distillers and bartenders to cocktail enthusiasts.
At The Gin Room, tawny-colored barrel-aged gin finds its way into riffs on classic cocktails as well as original recipes. The Barreled Rebellion, for example, combines barrel-aged Knickerbocker Gin with Cynar, Clockwork Orange spiced liqueur and Dolin Rouge Vermouth de Chambéry. Often – and especially for the uninitiated – Bahrami pours tastings of barrel-aged gins for her guests to sip neat or on the rocks.
"Barrel-aged gins are really cool because the botanical profile is enhanced within a spirit that has the aging and malting profile of a whiskey," Bahrami says, "but it still has this beautiful, light body. An aged whiskey will never get the botanical qualities that a gin starts with. Barrel-aged gin elevates the spirit, turns it into something really special. It allows the distiller – and, in turn, the bartender – to take that expression from the botanicals and make this palette you can play with and paint with."
As a bartender, Bahrami says barrel-aged gins give her something new to explore. "The whole reason we make cocktails with a spirit instead of just drinking it straight is to experiment with varying the base spirit," she says. "If someone uses vodka in a cocktail, it's just something to mix with, but a properly barrel-aged gin will allow each of the botanicals in the gin to shine individually, and you'll still get a little extra body from the aging of the gin that adds complexity to your cocktail."
Bahrami thinks of barrel-aged gins as a class of spirits without limitations. "Right now, it's a perfect creative outlet for distillers," she says.
Here, we check in with four local distillers about their takes on barrel-aged gin, from botanical forward to citrus heavy, and they share cocktails recipes that highlight the unique character of their barrel-aged gins.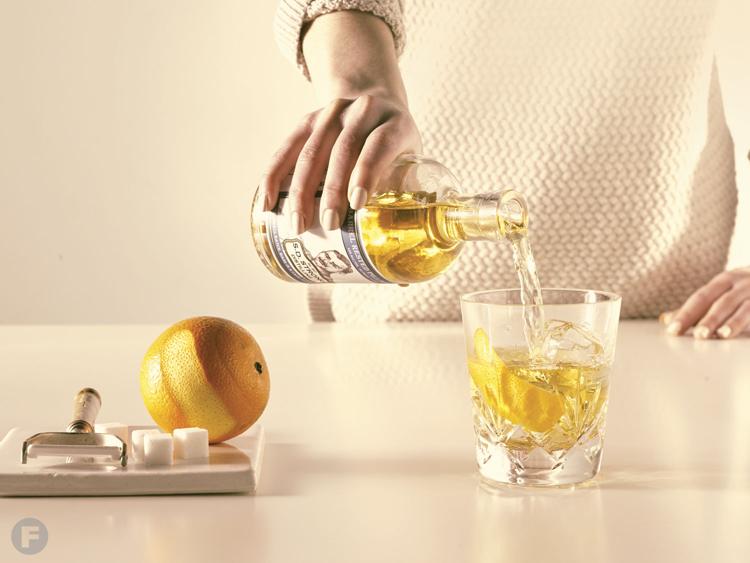 S.D. Strong Distilling Co.
To make S.D. Strong Distilling Co.'s Barrel-Aged Pillar 136 Gin, founder Steve Strong started with his signature gin recipe – the award-winning Pillar 136 Gin, which features juniper, angelica root, cassia, orris root, ginger, licorice root, zested lemon and lime and orange peel.
It took Strong nine months to get the recipe for Pillar 136 just right.
"I knew I wanted to do a citrus-forward gin," Strong says. "I made it to my tastes and hoped other people would like it. Two years in a row, we won the Washington Cup Spirits Competition and [received] a bronze medal in the San Francisco Spirits Competition [in 2016], and when we did that, I decided to try doing a barrel-aged gin. It wasn't super calculated. I just thought we should try it and see how this citrusy style of gin held up."
Strong aged his gin in spent American white oak whiskey barrels (which previously stored his S.D. Strong Straight Rye Whiskey), tasting it as it matured over several months.
"The first time I [tasted] it [in 2016], I didn't know what to expect," Strong says. "I kept tasting it until I thought it tasted like something I really enjoyed straight, over rocks or mixed in a cocktail."
Finally, after a year of aging, Strong was truly happy with the result.
"It changes the character of what you expect from a gin," he says. "With our gin, it's more on the tart side, because it has citrus and juniper and this refreshing component. When you age it in a barrel, you're adding in some other complex flavors and you get a little more roundness. It softens the edge and tartness of the gin."
Strong emphasizes the difference between what he started with and what he ended up with after barrel aging. He says his barrel-aged gin works best as a substitute for whiskey in classic cocktails. An Old Fashioned made with S.D. Strong Barrel-Aged Pillar 136 Gin in place of bourbon, for example, gives the drink flavors of citrus and whiffs of botanicals that whiskey just can't offer.
S.D. Strong Distilling Co., 8500 NW River Park Dr., #136A, Parkville, Missouri, sdstrongdistilling.com
Barrel-Aged Gin Old Fashioned
Serves | 1 |
1 sugar cube or ½ tsp simple syrup
3 dashes Angostura bitters
2 oz S.D. Strong Barrel-Aged Pillar 136 Gin
orange peel (for garnish)
| Preparation | If using a sugar cube, add it and bitters to an Old Fashioned glass and muddle until sugar cube has dissolved, adding a dash of water as needed to help sugar dissolve. Fill Old Fashioned glass with ice, add gin and stir. Garnish with orange peel and serve. If using simple syrup, add all ingredients except garnish and stir to combine. Garnish with orange peel and serve.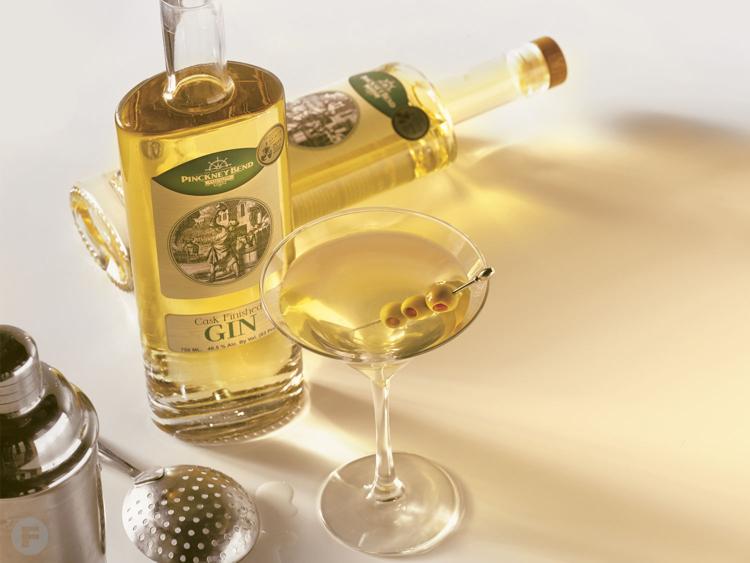 Pinckney Bend Distillery
Pinckney Bend Distillery launched in 2010 with its namesake American Gin. Nearly a decade later, its offerings have grown to include an array of whiskey, vodka and a custom tonic syrup to pair with the gin. Even with a wide-ranging portfolio, it's the gin that really gets attention – in particular, its Cask-Finished Gin, launched in 2015.
"Here, we're all about the historical side of things," says Tom Anderson, one of Pinckney Bend's cofounders. "Back in the day – from the 1600s to the early 1800s – a wooden barrel was the only vessel practical [for storing] goods, including spirits, and shipping long distances. Over time, everyone realized that the barrel provides its own flavors: The wood sugars and all the compounds made from charring the barrel come together and influence the product."
Pinckney Bend was keen to help bring barrel-aged gin into the modern era. "It started with experimentation," Anderson says. "We just wanted to see what gin does in a barrel, and then it moved into being aware of how those botanicals change and manipulating that."
Pinckney Bend adds flavor by utilizing used barrels, rather than new, Anderson explains, adding that spent whiskey barrels bring more fruity and floral notes to the gin. To make its Cask-Finished Gin, Pinckney Bend ages its American Gin for a year in 15-gallon Missouri white oak barrels that have previously contained Pinckney Bend's Rested American Whiskey.
"The gin starts taking on hints of nutmeg and vanilla," Anderson says. "Some of the botanicals in the American Gin – the juniper and the floral ones especially – will fade to the background, and you get more notes of cardamom, cinnamon and baking spices. When you taste it, you don't say, 'Gee, this is gin.' It tastes completely different."
Tara Steffens, Pinckney Bend's operations manager, says the gin's unique profile makes it uniquely malleable in cocktails. "There's a beautiful ambiguity," she says. "If you want to make a Manhattan, it acts like a whiskey. In a Tom Collins, it works like a gin. That's the appeal – it simultaneously appeals to both gin-lovers and whiskey-lovers; those people love bold flavors. This sits between the two."
One of the best cocktails to show off the nuances of Pinckney Bend's Cask-Finished Gin, Steffens says, is a Martini. "If you want to highlight the edge of this spirit and give it a savory spin, a dirty Martini is perfect."
Pinckney Bend Distillery, 1101 Miller St., New Haven, Missouri, pinckneybend.com
Cask-Finished Gin Dirty Martini
Serves | 1 |
2½ oz Pinckney Bend Distillery's Cask-Finished Gin
¼ oz extra dry vermouth
¼ oz olive juice
3 pimento-stuffed green olives (for garnish)
| Preparation | Fill a shaker tin with ice. Pour all ingredients into shaker; stir or shake according to your preference until well chilled and combined. Strain mixture into a Martini glass and garnish with olives. Serve.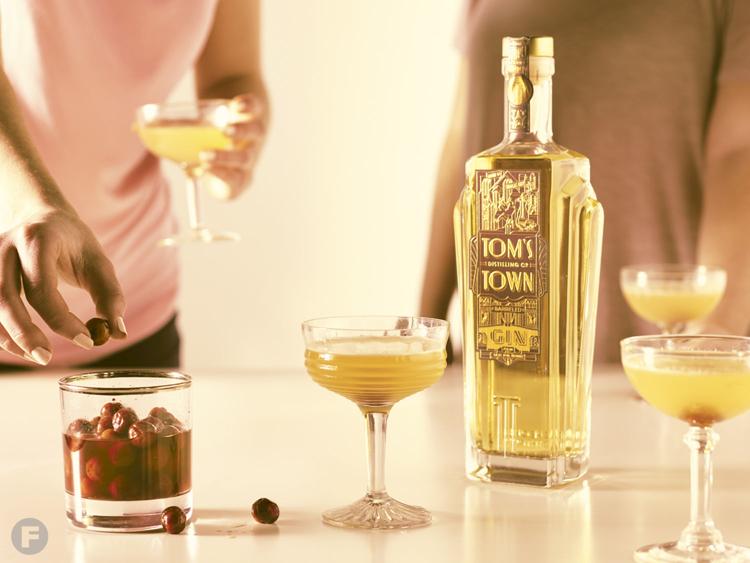 Tom's Town Distilling Co.
Tom's Town Distilling Co. released its Barreled Gin in spring 2018 as part of its The Pendergast Machine Series – a limited edition line of one-off spirits featuring a new, experimental release several times a year. The Barreled Gin was Machine No. 1, and while the distillery had only planned to make it a limited edition run, the enthusiastic response it received from customers encouraged the distillers to offer a full release last fall.
The Barreled Gin is made with a well-known base: Tom's Town flagship Botanical Gin, a flavorful spirit with 14 botanicals, including bay leaf, clove, allspice and star anise. The Botanical Gin also features three peppers – long pepper, cubeb pepper and grains of paradise – which help give the gin a floral nose. To make the Barreled Gin, the Botanical Gin is aged for about six months in Missouri white oak barrels that previously aged Tom's Town's Pendergast's Royal Gold Bourbon.
"We didn't know what to expect when we put it in the barrel – we just wanted to experiment," says Steve Revare, co-founder of Tom's Town. "We found the gin took on interesting characteristics of the barrel – vanilla, caramel notes – and it rounded out the spirit. It influenced the floral aspects of the gin, which I didn't expect to happen, and that turned out great. It mellows out the botanicals and the spice notes a little bit. I think the barrel imbues those peppers with more floral notes, and the star anise combines well with the caramel and vanilla and makes it slightly sweeter."
Not every gin benefits from barrel-aging, Revare adds, but when it works, it creates a unique product. "It's not like our other gin," he says. "I usually drink our regular botanical gin with soda, and I started drinking the Barreled Gin with soda and it gives it a rich, winter feel – it takes it from a spring and summer spirit and makes it a year-round spirit."
Revare correlates the rise in popularity of barrel-aged gin with the craft cocktail movement in America.
"Bartenders get excited about using this product because it gives them a chance to be creative," he says. "We've seen bartenders put it in a traditional whiskey cocktail or put it in with Bloody Mary mix. Bartenders see the potential for it, and the coolest thing for us is seeing them take our spirit and run with it."
Tom's Town Distilling Co., 1701 Main St., Crossroads Arts District, Kansas City, Missouri, toms-town.com
The Corpse Reviver #2
Serves | 1 |
absinthe (to rinse glass)
¾ oz Tom's Town Barreled Gin
¾ oz Mathilde XO orange liqueur
¾ oz Cocchi Aperitivo Americano
¾ oz fresh lemon juice
Amarena cherry or orange twist (for garnish)
| Preparation | Add a few drops of absinthe in a coupe glass, swirl and then discard.
In a cocktail shaker, combine all remaining ingredients except garnish over ice and shake well. Strain into absinthe-rinsed coupe glass. Garnish with cherry or orange twist and serve.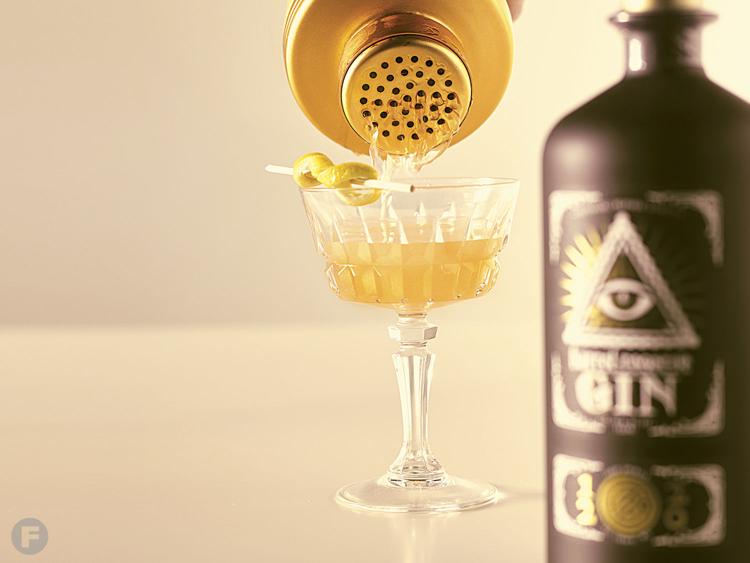 1220 Artisan Spirits
The Barrel Reserve Gin from 1220 Artisan Spirits is one of the newest entries into the local barrel-aged gin category. Rob Vossmeyer, 1220's head distiller (and former head distiller at Tom's Town in Kansas City), says that the idea for the barrel-aged gin was inspired in part by his friendship with Bill and Kathy Foster, co-founders of Big O Ginger Liqueur.
"They do this product once a year with Big O Reserve, where they'll finish their spirit in barrels from other distilleries," Vossmeyer says. "They had done an experiment with brand-new oak barrels, and the experiment hadn't yielded the extractives from the barrel in the way they had hoped, so they transferred the product to a different set of used barrels. I told them when the first set of barrels were emptied, I would gladly use them. I created a custom gin recipe and aged that for three months in the barrels before filtering and bottling it."
Vossmeyer used just three botanicals in the recipe for Barrel Reserve Gin: juniper, coriander and angelica root. "I purposely made a very simple gin," he says. "I think if you try to create a complex gin only to barrel-age it, the more subtle components will likely be lost after resting it in a barrel. Furthermore, a complex gin makes it more difficult to showcase the elements that the barrel brings to the finished spirit."
Vossmeyer chose bold flavors that could stand up to whatever character the barrel imparted.
"Angelica has a pungent, earthy, perfumelike quality about it, and building a gin that will stand up to a barrel is important," Vossmeyer says. "Otherwise, you get something that tastes more like a barrel than the original spirit."
The barrels from Big O impart flavors of vanilla, caramel and coconut, but its primary flavor is ginger. "Enough of the Big O spirit soaked into the wood that you get a significant bite from the Barrel Reserve Gin," Vossmeyer says.
He sees barrel-aging gin as a way to introduce non-gin drinkers to flavors that only gin can offer, yet with the color and character of whiskey.
"I have yet to hear anyone say, 'This is awful,'" Vossmeyer says with a laugh. "There are some fantastic flavors in oak. Certain compounds that are pulled from the wood change chemically during aging and oxidation, and the resulting flavors and aromas are complementary to a lot of spirits – and there's no reason that couldn't work with gin, too," he continues. "I think there's a lot of potential in the world of barrel-finishing gin."
1220 Artisan Spirits, 1220 S. Eighth St., LaSalle Park, St. Louis, Missouri, facebook.com/1220spirits
Into the Wild
Serves | 1 |
1½ oz 1220 Artisan Spirits Barrel Reserve Gin
¾ oz Big O Ginger Liqueur
½ oz fresh lemon juice
2 dashes Scrappy's cardamom bitters
lemon twist (for garnish)
| Preparation | Combine all ingredients except garnish in a cocktail shaker over ice. Shake, strain and pour into a coupe glass. Garnish with a lemon twist and serve.