Thomas Jefferson was not used to failing. He wrote the Declaration of Independence, of course; was ambassador to France during the Revolutionary War; was America's first secretary of state and its third president. He ran a successful plantation – albeit one dependent on slave labor – and designed hideaway beds, dumbwaiters, sundials and plows. But after more than 50 years of trying, he couldn't master American wine grapes.
Jefferson began his foray into grape growing as early as 1772; the next year, an Italian winemaker – among many other things, not unlike Jefferson – named Philip Mazzei established a vineyard next to Monticello. Jefferson had full faith in him: When Mazzei brought in Tuscan winemakers, Jefferson hired them, too. Thirty vines were planted at Monticello, with cuttings from France, Italy, Portugal and Spain, as well as native American vines. A month later, frost killed them all.
Despite this early failure, Mazzei was able to establish the Virginia Wine Co. (he counted Jefferson and George Washington as shareholders). But after only three years, the revolution hit Virginia. Jefferson later claimed the vineyards were hopelessly trampled by a German general's horses. In any case, Mazzei abandoned Virginia for Europe in 1785.
Over the ensuing decades, Jefferson tried just about anything to establish a thriving vineyard at Monticello. He planted European grapevine cuttings – Vitis vinifera – as well as native vines like Scuppernong, even after he was elected president. He brought vines back home from the White House grounds. Jefferson had faith that the Americas could produce a wine to rival anything in Europe; he just couldn't find the right grape.
On March 22, 1824 – two years before Jefferson's death – vine cuttings from a Dr. Daniel Norborne Norton arrived in Richmond, Virginia, at the offices of Jefferson's agent, Bernard Peyton. They were addressed to Jefferson's grandson, Thomas Jefferson Randolph, who was overseeing Monticello.
"By a waggon [sic] a few days prior [I] sent you a Box of Grape cuttings, sent to my counting house, by Dr. Norton of this City, without directions," Peyton wrote Jefferson. "He tells me they were intended for Jefferson Randolph. Please acquaint him with it." Unfortunately, there's no evidence that Randolph planted the cuttings, nor what the grapes were; he certainly didn't share his grandfather's passion for viticulture. Norton never heard back from Jefferson, and the former president died on July 4, 1826, without ever having produced one bottle of wine after five decades of grape growing.
---
"It's a very vexing grape," says Doug Frost, Kansas City-based author, master sommelier, American Master of Wine and Missouri Wine Competition judge. He's referring to Norton's Virginia Seedling, now called the Norton grape. There's no way to know if that's what Norton sent to Thomas Jefferson in 1824, but it's the doctor's greatest legacy.
"From a winemaker's standpoint, [Norton is] a real challenge," Frost says. "You have extremely high levels of what's called malic acid; just think of that as apple or pear flavors. Even at its ripest, [Norton] ends up having a red apple kind of flavor to it, which is unusual in red wine."
For Missouri grape growers, though, Norton is far less vexing than it was for Jefferson; the native vine flourishes in our climate. Norton was grown in Missouri prior to Prohibition, and became the official state grape in 2003, more than 180 years after its birth. It originated in Virginia, which still boasts the largest planting of Norton – Chrysalis Vineyards in Middleburg.
But most of the world's Norton doesn't come from Virginia. It comes from Hermann, Missouri.
"What makes it really an ideal thing for growers to produce is that it's incredibly disease-resistant, it's very winter hardy," says Misha Kwasniewski, who leads the enology program at the University of Missouri. "Essentially, all the things that are trying to kill grapevines and weak [European] vinifera, Norton survives and thrives and can even deal with the hot, humid temperatures of a Missouri summer.
"A lot of people [who] are new to the wine industry think that it's a very easy grape to produce great wine from. In fact, I would argue it's probably one of the most challenging grapes to make great wine [with], because while it will always produce, it takes a lot of wrangling."
---
As 1821 came to an end, Dr. Norton was on the verge of suicide.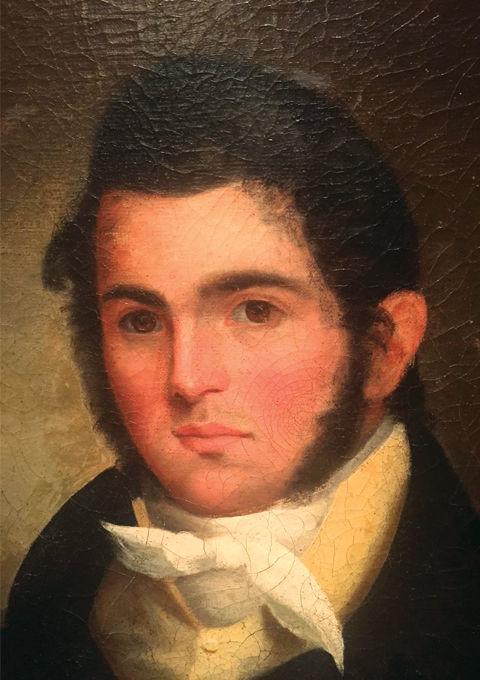 "I had my dear Brother [sic] looked to the grave with pleasure as a retreat from my misery," he later wrote to his half-brother, John Jaquelin Ambler. "I never slept but for a few moments at a time, and then I would dream of Heaven, but to wake in Hell."
On December 17, 1821, his wife of three years, Eliza, died alongside her newborn baby. "The unfortunate Dr. Norton was at a single blow of destiny made a childless widower," Ambler told the Richmond Mercantile Daily Advisor. Norton, who had a medical practice in Richmond, couldn't bring himself to adhere to the banal rhythms of fashionable society – parties, theater, social card games – much less his mind-numbing day job.
"What a stupid employment of pen ink & paper to be allways [sic] writing 'to be well shaken before taken,' take one of these powders every two hours in a little sugar and water, 'put the feet in warm water at bed time & etc.,'" he wrote to Ambler three years later. "The Savoyard [a person from Savoy] with his monkey and red cape you passed just now in the streets of Paris, is a more dignified personage than a Doctor in Richmond."
When Norton and Eliza married in 1818, they received Magnolia Farm, a 27-acre Virginia plantation from her father, as well as 11 slaves and their children. Everyone in Virginia at that time, including Norton, writes Todd Kliman in The Wild Vine, his 2010 account of the Norton grape, "was caught up in the frenzy of discovery in [America], a rush to identify and classify the rich and varied bounty all around [them], the fascinating species of fruits and vegetables and plants and trees."
Norton threw himself into his work at Magnolia Farm, particularly after the deaths of Eliza and their child. He pored over horticulture and botany texts and planted raspberries, asparagus, figs and strawberries, and cultivated grapes of all sorts: French Sauvignon Noir, purple Bordeaux, Spanish Bloom Raisin, and of course, native American grapes. By 1828, he had more than 27 varietals in production. Norton, like Jefferson and others, aimed to breed a grape that was resistant to the rot and mildew that plagued Vitis vinifera in North America, but could stand up in quality to European wines. He taught himself about the latest grape-growing methods and experimented with cross breeding.
One day – probably in the fall of 1821, contends Kliman, when Dr. Norton would have been anticipating the birth of his first child – he came across something strange at Magnolia Farm. He found grapes that were neither European Vitis vinifera nor Vitis aestivalis, a native species he had planted nearby. As he would later explain, a few years earlier, he had cross-pollinated Bland, a musky native grape, with a European variety, probably Pinot Meunier. However, when pollinating by hand, he didn't use the now-common method of securing a bag over the flower to prevent unwanted pollination, and some Vitis aestivalis got involved. Norton's Virginia Seedling was born.
Norton was sufficiently intrigued by the grape's flavor, which lacked the musky quality – often called foxiness – that had been associated with American grapes up until that point, to plant grapevine cuttings and harvest enough to press into wine.
"For the purpose [of] making wine, this is hardly to be excelled by any foreign variety," Norton wrote to William Prince Jr., the third generation to run the influential Linnaean Botanic Garden and Nurseries in New York. In addition to the Norton grape, Prince took on all sorts of experimental projects; Lewis and Clark even sent him discoveries they found on the exploration of the western territories for cataloging and classifying.
Norton's "assiduity and devoted attention to the culture of the vine for a period of years [places] him among the distinguished connoisseurs of the subject," Prince wrote in 1830. He was so impressed by Norton's grape that he included it in the nursery's 1822 horticultural catalog, exposing it to winemakers and grape growers through the U.S. The catalog christened the new varietal as Norton's Virginia Seedling – Vitis Nortoni.
In 1830, Prince published A Treatise on the Vine, with descriptions of 80 native and 200 foreign grapes. In the entry on Norton's Virginia Seedling, he wrote, "The vine resists the cold of the most severe winters, never failing to produce fruit and that most profusely, thriving even without pruning. [The grapes] are round and a little flattened at the end ... they do not contain a great quantity of juice, but what they yield is of the richest quality."
Around this time, Norton began to get his life back. He remarried in 1831, and his pursuits at Magnolia Farm were paying off. Farmer & Gardner, a weekly Baltimore newspaper, published a glowing review of a bottle of wine Norton made from his new grape: "It is not our purpose to say, that this wine is as good or better than any imported; but we do, in all candor affirm, that we consider it a better article than one half of the newfangled liquors which we receive from Europe."
Norton's Virginia Seedling began to spread west and south to Georgia, Arkansas, Ohio and Missouri with the help of Prince's catalogs. His success was relatively short lived, unfortunately: After contracting dysentery, Norton died on Jan. 25, 1842, at the age of 47.
"Dr. N. was a gentleman of an enlarged mind, of fine literary taste, and celebrated for his knowledge of the vine, and his skill in horticulture," read his obituary in the Richmond Enquirer. "His disposition was amiable; his society most agreeable. The scope of his observation had been extensive – various in his reading, and original in his reflections. We bid him a last and affectionate Adieu!"
---
The German immigrants who arrived in Hermann, Missouri, in the 1830s were expecting a "New Rhineland," a fertile river valley where they could cultivate the crops of their homeland. Instead, they were met with rocky terrain and extreme weather conditions – hardly conducive to growing European grapes. There were plenty of wild varietals, but they mostly had a foxy quality.
"[The term foxy] was used early on by people who felt that [American grapes] had sort of a wild animal smell," Frost says. "Norton is one of the least foxy grapes that you'll run into that has some American heritage to it; there's no good Norton out there that has much in the way of that character."
Luckily for the Hermann colonists of the German Resettlement Society of Philadelphia, Norton's Virginia Seedling made its way to Missouri less than a decade after their arrival. At first, the settlers were disparagingly called the Latin peasants, as they knew more about the classics than agriculture. But soon they began to cultivate native grapes, and the city offered parcels of interest-free land for just $50, provided you planted grapes. Norton was planted as early as 1843 by Hans Widersprecher; Jacob Rommel produced the very first bottle of Missouri Norton wine five years later.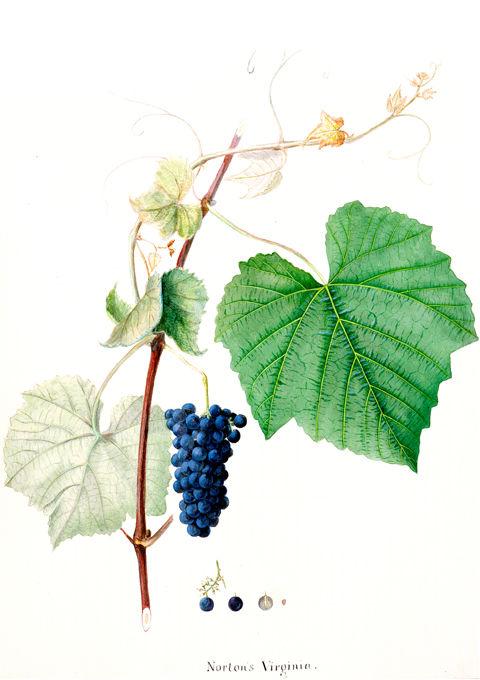 German-born biologist George Husmann planted his first vines in Hermann in 1847; eventually he would be considered one of the fathers of the Missouri grape industry. He quickly became a leading proponent of Norton. "This grape has opened a new era in American grape culture, and every successive year but adds to its reputation," he explained in 1866's landmark survey The Cultivation Of The Native Grape And Manufacture Of American Wines. "It is a conceded fact that the best red wines of Europe are surpassed by the Norton as an astringent, dark red wine, of great body, fine flavor... vine vigorous and hardy, productive."
By that time, all the leading winemakers in Hermann were growing Norton alongside Concord, Catawba, Delaware and Herbemont. Missouri's long, hot summers provide Norton with the extra time it needs to develop its sugars and ripen – even more than in its native Virginia. In 1865, Hermann produced about 10,000 gallons of Norton, Husmann recorded, valued at $4 per gallon, just slightly less than double that of Concord and Catawba.
That year was Michael Poeschel's third season cultivating Norton. Poeschel, who founded what later became Stone Hill Winery, alone produced 2,000 gallons; his brother William, whom Husmann calls "one of the most intelligent and industrious cultivators and wine-manufacturers in the vicinity," made and sold 600 gallons. Husmann dutifully recorded these numbers in The Cultivation of the Native Grape, noting frosts that harmed the grapes, how vines were trellised and what soil is best. Husmann himself estimated a profit of $19,679.80 over five years in 1865.
Despite the success of Hermann's vintners, Husmann, who, like many of his fellow Germans, was a steadfast abolitionist, slipped in a note regarding a Confederate troop raid of his vineyard into the widely read guide to winemaking just a few lines later.
"The fourth year [1864], nearly all the fruit buds of the vines had been killed above the snow line, but I made, besides the grapes sold, about $1,500 worth of wine, which was emptied by rebels in their raid that fall, and consequently lost," he grumbled.
Winemaking was one of the purest pursuits man could practice, in Husmann's opinion, and he made sure his readers knew what was at stake in 1865. He declared "the southwest," meaning Missouri, to become the country's premier winemaking region in the coming years. He was right: By 1870 Missouri was the nation's largest producer of wine.
"We have the advantages of longer seasons and a warmer climate, generally of richer soil, of cheaper lands; we can cultivate varieties which cannot be grown by our eastern brethren, and therefore all the chances are on our side," he wrote in the book's final paragraph.
"The mountainous regions of Tennessee, Georgia, Arkansas, Texas and Alabama may, perhaps, rival and even surpass us in the future, but their inhabitants at present are not of the clay from which grape-growers are formed. They still cling to the demon of slavery ... Let us hope that a better spirit may prevail, that they will in time begin to see their own interest, and welcome with open arms everyone who can assist them in developing the natural advantages of their lands. The grape can only flourish on free soil, and by free intelligent labor."
---
At the 2017 Missouri Wine Competition, 31 wineries submitted 32 Nortons to be blind-tasted in the hopes of winning the prestigious C. V. Riley Award, bestowed upon the best Norton, or perhaps even the Governor's Cup, given to the best wine of any varietal. Frost says tasting Nortons at the competition is famously difficult, because there isn't one prevailing style. Will the wine be sweet? Big and robust? Elegant?
"All those things have to be sorted out," he says of the judging process. "First things first: If the wine is balanced, clean and correct, you ask yourself, what style is this, and is this a good version of that style? It comes down to balance, freshness of fruit and complexity, of which the grape is entirely capable."
That complexity comes from a seemingly incongruous combination of high acid and high pH; at the University of Missouri, Kwasniewski says harvesting at just the right time is especially important for Norton.
"As you get toward harvest, you'll hit a point where you'll no longer get any improvement – no longer get better flavor or any sugars – but the pH will just start to skyrocket," he explains. "Why that matters and why we care, is [because] it makes the wine a lot more microbially unstable; a lot of things that aren't the good yeast can potentially grow [in the wine]. So even a winemaker that maybe harvested at a point that the flavors were really great will find that six months later, or a year later, that wine starts to fall apart."
Frost and Kwasniewski agree that Norton's acidity is one of the most challenging aspects of the grape for a winemaker.
"That high acidity really needs some other components to balance it out, and by, say, aging it in oak, you get a nice balance where the tannins and aromas of the oak complement that acidity almost in the same way that sugar complements the acidity in lemon," Kwasniewski says. "You've got enough going on in your mouth that it's no longer harsh, but just a nice, round texture that really works."
The reigning Norton champ is Stone Hill Winery's 2015 Norton, which won the 2017 Governor's Cup and the C.V. Riley Award. Stone Hill senior winemaker Dave Johnson uses 100 percent estate-grown grapes harvested late in the season, fermented on the skins for 12 months and then aged in American, French and Hungarian oak barrels. The result is a big, full-bodied wine, dry and complex with flavors of blackberry.
The 2016 C.V. Riley Award winner, the 2014 Norton from Noboleis Vineyards in Augusta, Missouri, is harvested in mid-October; the sugar level of the grapes is tested to ensure they're as ripe as possible. After fermentation, Noboleis ages its Norton in oak barrels, where it develops flavors of plum, black currant and black pepper, with a smooth finish. Frost describes both the Stone Hill and Noboleis Norton wines as elegant, supple and somewhat restrained.
"Even three years ago, if I was drinking a Norton and we're arguing about two different Nortons in the finals of the Missouri [Wine] Competition, it'd be like OK, I think this one's Tony Kooyumjian's from Montelle or Augusta wineries; I think this one's Dave's from Stone Hill – we knew which ones they were going to be," Frost says. "But the last few years, we have no idea, because there's so many people making good Norton that you don't assume anything. I'm never surprised anymore when I go, 'Wow!', and it's somebody's whose Norton I've only had once or twice, and it's just great. I love that."
In that way, given the benefit of time, experience and modern technology, Missouri grape growers have proved to do what Jefferson never could: yield superior quality wine from native American grapes.
"I was at a lunch in California not too long ago, and somebody [who] had the luxury of just having Napa Cab fruit come into their door was like, 'Why is anyone ever touching their wine? All I do is throw in the yeast and I stand back.'" Kwasniewski says. "Well, that's dull, and that's not showing the [winemaker's] skill. What we have in Missouri are some of truly the best growers and best winemakers in the world, because it's not easy. They make something great despite it not all being easy. We should really respect that – it's like a huge added degree of difficulty to be doing the magic that they are here."