Change is brewing in southwest Missouri. Springfield-based 4 By 4 Brewing Co. is building a second brewery in Fremont Hills.
Set to open next year, the new location will allow the brewery to increase production and bolster distribution. The current location has a 2,000-barrel capacity, for example, while the 11,500-square-foot facility in Christian County will have a 10,000-barrel capacity.
More space equals more fun too. "We'll have room for some fun experiments – really creative stuff," says Derek Shimeall, who owns 4 By 4 Brewing with his wife, Danielle, and three other couples. Right now, they're gearing up to age a saison in a Chardonnay barrel as part of their special barrel program.
The brewery's larger footprint will also give it the opportunity to work with more of these special barrels. Shimeall says he hopes to have 30 to 50 lining the back wall there compared to the three that the Galloway Street location can accommodate.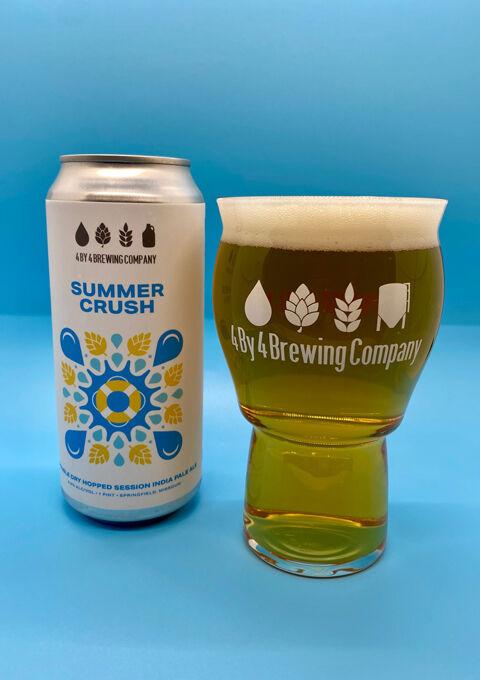 4 By 4 Brewing debuted in 2017 and has been wildly popular ever since. When the owners decided to temporarily close the tasting room at the beginning of the COVID-19 pandemic before a local or state mandate was in place, they added online ordering and curbside pickup and started canning all 16 of their beers by hand.
With retail sales holding steady since March and the reopening of bars and restaurants after that, the owners' long-term plan to open a second brewery has been accelerated in order to keep up with demand.
Shimeall says they've been looking at Nixa and Ozark, Missouri, for some time. "There's a lot of growth there and there aren't a lot of concepts like ours," he says. "The location we found is in the middle of the two in terms of traffic patterns, so it fits both markets."
The new brewery will have a spacious patio with green space, indoor and outdoor games and a sizeable taproom, as well as a private event space for rent and plenty of beers on tap, including the Smooth Criminal IPA, a silky hop bomb with hints of juicy tropical flavors. This and other staples from Springfield will be available, but you might find something new to sip on too.
Follow the progress at the Fremont Hills location of 4 By 4 Brewing Co. on Facebook.
4 By 4 Brewing Co., 2811 E. Galloway St., Suite A, Springfield, Missouri, 417.861.6400, 4by4brewingcompany.com