In August 2017, Fernweh Distilling Co. debuted its tasting room and distillery in a renovated historic building in Hermann, Missouri. Founded by brothers Andrew and Tim Weiss and Sable Dixon, Fernweh aims to bring a different kind of craft distillery to one of Missouri's most historic wine regions, with help from Tim and Andrew's parents, Tim and Colleen Weiss. The portfolio of spirits currently includes a young bourbon whiskey, straight rye whiskey, wheat whiskey and bourbon mash moonshine.
The distillery is housed in a historic space; tell us about the renovation before opening. The building was in very poor condition when we purchased it, and the owners, Andrew's parents, invested a lot of money into restoring it. I think it was kind of a service to the city. Everybody was really excited about the idea of a distillery in Hermann, because the wineries have been here since the beginning. We're not so connected to the history of Hermann, but to the future growth of the town.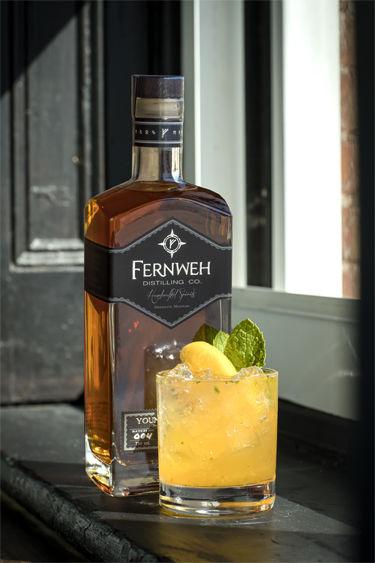 Why did you choose to focus Fernweh's portfolio on whiskeys? We tossed around the idea of doing a vodka or gin, because that's really easy to make and get out there, but our passion is whiskey; that's what we wanted to create and that's what we stuck with. We were able to [open the distillery with aged products] because we have some friends in Virginia who helped us in the distilling process before we were able to start [distilling] in our building. We're so excited about our [straight] bourbon [debuting in October 2019] because that's a spirit we've actually made here in Hermann with our little distillery. That's our passion and what's most exciting about what we do – being able to create something that's delicious and up to our bourbon standards.
Tell us about the cocktail menu in the tasting room. The cocktails are 100-percent handcrafted. We believe in all of the small details when it comes to a cocktail… the end result is only as good as the ingredients. One of our best-selling cocktails is the Rhythm and Rye, with rye whiskey infused with organic chamomile flowers. It gives it a little bit of an earthy, floral flavor, and then we mix that with a housemade sour and strawberry simple syrup and a bit of bubbly to lighten and brighten the concoction for those who may not typically enjoy a whiskey, but are feeling adventurous enough to branch out and try something new with us.
What inspires the food served at Fernweh? We've been collecting feedback on menus for the past year and seeing what's well accepted in our area – not just by locals, but by tourists – and I think [our current menu] is a good balance of items. We have new items like a vegan item, actually, which I'm happy to say has gotten great feedback – it's a Mediterranean quinoa bowl. What has been the most exciting part of your first year of business? When we opened, we had such a warm welcome from the town of Hermann – from people who live here and tourists as well. The most rewarding part is hearing that customers are thrilled with what we're doing.
Fernweh Distilling Co., 4 Schiller St., Hermann, Missouri, 573.486.2970, fernwehdistilling.com