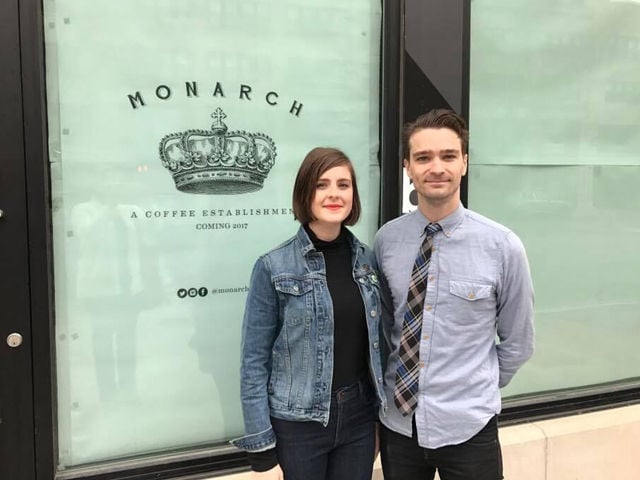 Tyler and Jaime Rovenstine believe that customer service is what will set their new Kansas City coffee shop, Monarch, apart from the rest.
Monarch will open in late May in the Ambassador Building on Broadway, serving seven to eight of its own roasted coffees, hand-crafted coffee drinks and pastries.
The 1,731 square-foot coffee shop takes it name from all of the regal references to royalty that filter through Kansas City's sports and entertainment culture – the Kansas City Royals, Kansas City Monarchs, The American Royal and Imperial Brewery, just to name a few.
With their first coffee shop, the couple plans to feature a kinder and gentler model of service where the customer will order at the counter, have a seat and a barista will deliver the coffee to their table. Instead of the typical barista-focused coffee shop experience, they want to make it more customer-focused.
"We plan to offer what we call intentional service, which means that instead of our customers doing all of the legwork and the baristas just making the coffee, we plan to not only make their order, but bring the coffee out to the customer," Tyler says. "Our servers will also have iPads allowing them to add something to a guest's ticket, like a pastry if you get hungry or a bottle of water."
Tyler will source and roast his own coffee beans without specializing in any particular kind of roast. He believes it is important to let the coffee beans dictate the type of roast they need to be at their best.
"We also plan to batch brew all of our coffees in smaller batches to allow for speed and consistency," he says. "I know people love the pour-over coffee presentation, but pour-overs poured by different baristas will taste differently every shift, and I want a consistent pour every time."
A 13-year veteran of the coffee scene, Tyler is no stranger to making coffee or roasting beans. He has competed in several barista competitions and eventually won the South Central Regionals in 2014, and placed 12th in the United States that same year. He has also worked for local coffee companies like The Roasterie, Oddly Correct and Quay Coffee to hone his craft while learning the business of how to manage a coffee shop.
While he was working for Tracy Allen, a Kansas City local who owns the coffee consulting business Brewed Behavior, Tyler earned his "Q-grader" certificate in coffee, which is the equivalent to a sommelier for wine or a Cicerone for beer.
When it opens, Monarch will be Tyler's full-time pursuit. His wife, Jaime, is an artist who works for The Nelson-Atkins Museum of Art, and she will contribute to the creative side of their joint business. She plans to do the design work and pick out materials for the space, in addition to the marketing and social media for their new coffee shop.
"Many cafes and coffee shops seem to have more of a masculine feel to them, and we want our coffee shop to be completely gender neutral – basically a place that makes everyone feel welcome and comfortable," says Jaime. "We will be designing it with inspiration from modern urban coffee shops around the world using black, white, gold and pops of color along with beautiful wood floors to warm the space, and a custom designed U-shaped coffee bar with seating along the back so guests can watch the baristas at work, if they like."
Another surprise is located in the back of the shop, where guests will step down into The Drawing Room. The couple plans to use the additional 2,300-square-foot room as an event or meeting area.
"The event space will feature two bathrooms, a projector and screen and a door that leads up to the lobby of the apartments located above the shop, giving the residents easy access to their morning coffee and creating a built-in clientele for us," Tyler explains.
Monarch will be open seven days a week from 6am to 7pm, but the hours might change as the couple figures out the ebb and flow of their daily traffic. They intend to test being open on the evenings when the Uptown Theater host events up the street from their shop, and they also plan to collaborate on pop ups, movie nights or possibly classes with their next-door neighbor, Dear Society.
The couple insists that opening up a coffee shop was always in their master plan, and especially since welcoming their first daughter, Frances, into their lives two years ago.
"Our company motto is the Latin phrase, Arte Et Labore, which means, 'through skill and hard work,'" says Jaime. "We think that embodies who we are pretty well."
Monarch, 3550 Broadway, Kansas City, Missouri, monarchkcmo.com