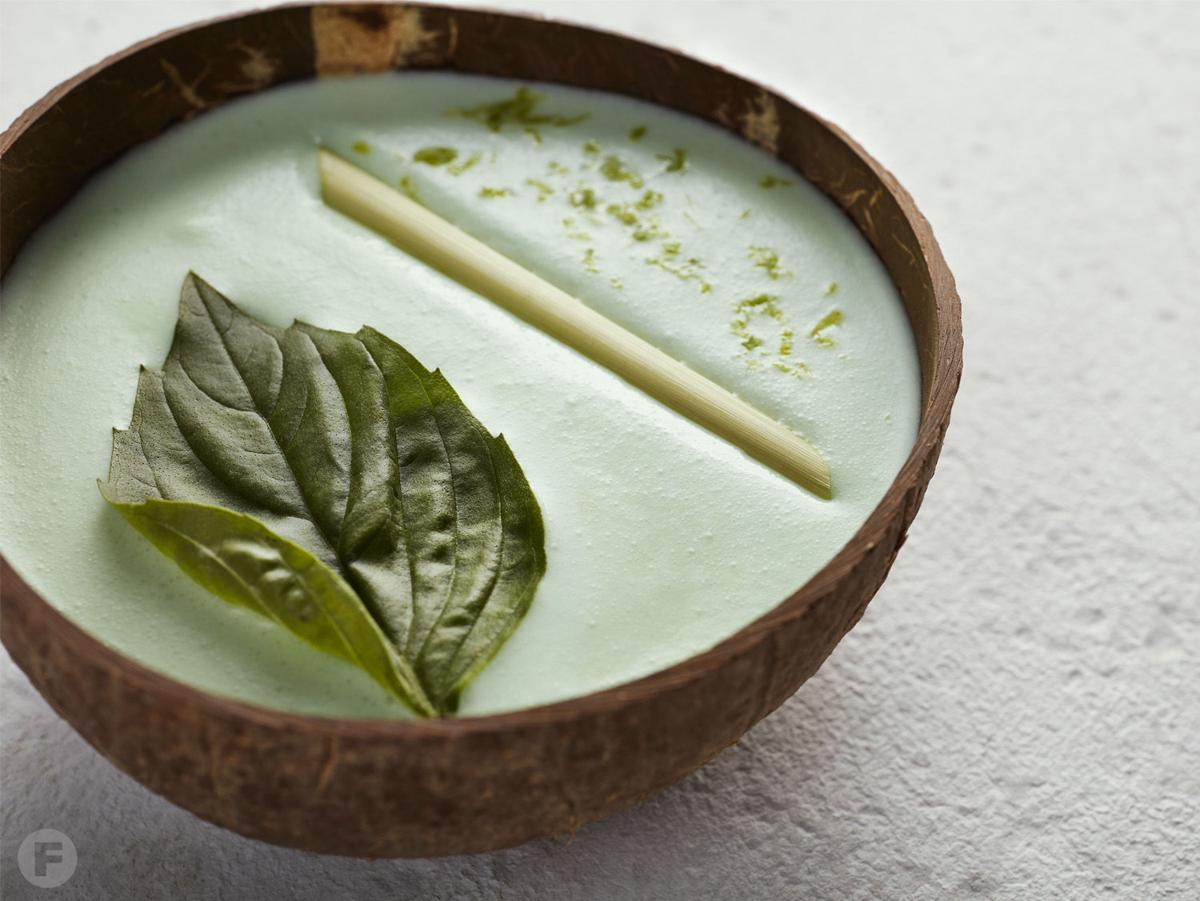 In this cocktail, flavors from the Thai pantry and a Bahamian staple called Sky Juice are mashed together. A homemade coconut milk mixture chock-full of distinctive ingredients, herbaceous gin and a dash of absinthe harmonize with an array of spice and heat from fresh ginger, citrus, earthy pandan and lemongrass. These ingredients can be found at most well-stocked Asian and international markets.
Serves | 1 |
Thai Coconut Milk (Yields 15 ounces)
1 12-oz can unsweetened coconut milk
1 4-inch piece lemongrass
2 Tbsp pandan leaves (or 1 tsp pandan extract)
1 ½-inch piece ginger, peeled
4 oz sugar
1 tsp kosher salt
zest of 1 lime
Thai Coconut Milk Punch
3 oz Thai Coconut Milk (recipe follows)
1½ oz gin
1 tsp absinthe or Herbsaint
lime zest, for garnish
Thai basil leaf, for garnish
lemongrass stalk, for garnish
| Preparation – Thai Coconut Milk | Add all ingredients to a blender; blend until sugar has dissolved and mixture is fully pulverized. Fine strain, twice if needed. Store in refrigerator for up to one week.
| Preparation – Thai Coconut Milk Punch | Add coconut milk and gin to a shaker with ice. Shake briefly, enough to chill and slightly dilute cocktail. Add absinthe to a chilled coupe glass, small bowl or other serving vessel and swirl it around to coat all sides; discard excess. Strain cocktail into serving vessel and sprinkle with lime zest. Lightly press basil with fingers to release oils, place on top of cocktail and serve with a stalk of lemongrass.