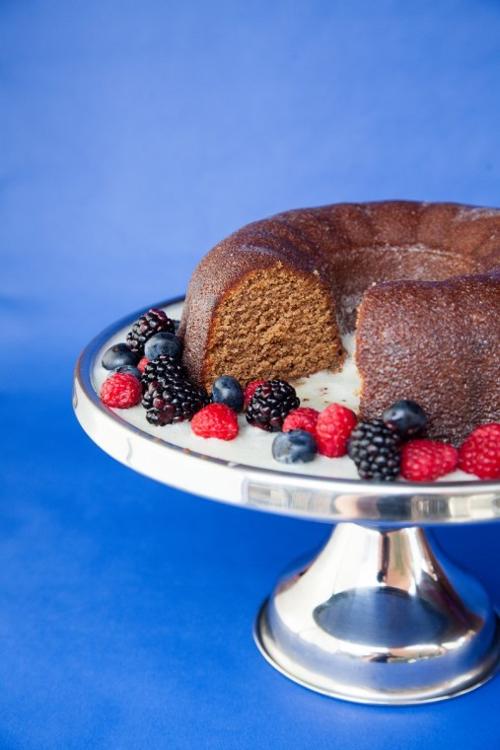 If you're lucky, Luvy Duvy's won't have sold the last of Grandma Elsie's Spice Cake before you've finished your breakfast or lunch.
Each day a cake is baked following the recipe from Cassady Caldwell's Southern grandmother, Elsie. A fine crumb, moist texture and unexpectedly soft sweetness from two bold spices – cinnamon and clove – make this chestnut-colored cake a standout. The shiny glaze delivers a sugary hit at first bite, which is followed by a progression of smooth, sharp and intricate flavors.
Although the dark color of the cake suggests it, there isn't a hint of molasses or sorghum in the recipe. "None of that, but there's a secret ingredient we can't reveal," says Caldwell's partner, Jackie Seal. If this cake was human, she'd be a covert agent; an unpretentious woman, stolid and sensible, who keeps secrets well.
I love a mystery, especially one buried in Southern food culture. Hmm. Not espresso or dark cocoa. Date purée? Maybe. Dr Pepper comes to mind, but the cake's not talking. Good thing. I'll need several more tastes, with black coffee and a shot of Cruzan Rum Cream. It's cold, and Luvy Duvy's is cozy. Two forks, please. The generous hunk of Grandma Elsie's Spice Cake is big enough to share.
Luvy Duvy's Café, 2321 Arsenal St., Benton Park, 314.776.5889, luvyduvys.com
Get more of Pat's excellent recommendations in her monthly column, Gadget-A-Go-Go, on p. XX. And check out her reports of what's happening in the local food scene at feastSTL.com/the-feed.