A highly anticipated concept featuring an all-star cast of St. Louis hospitality professionals officially opens its doors just a stone's throw away from Busch Stadium this week. The Midwestern Meat & Drink debuts for lunch and dinner service on March 1 following a set of soft openings.
As reported by Feast in September, chef Ben Welch of Big Baby Q and Smokehouse partners with the team behind The Wheelhouse and Start Bar – Nick Del Gaiso, Stephen Savage and Jared Ater – for the venture. The managing partners brought on Tony Saputo, who most recently ran the bar program at The Benevolent King, to serve as the beverage director.
"From The Wheelhouse and Start Bar crew's perspective, it's exciting to get such talented people to come join us and show people from out of town what St. Louis has to offer," Del Gaiso says. "We're hoping to give them a really authentic product that St. Louis as a whole will be proud of."
The full-service restaurant fills the 7,000-square-foot space previously occupied by Flying Saucer Draught Emporium. The dining area seats 120, with 80 more coming to a 6,000-square-foot back patio – featuring a live music stage and full bar – and 60 more on an east patio.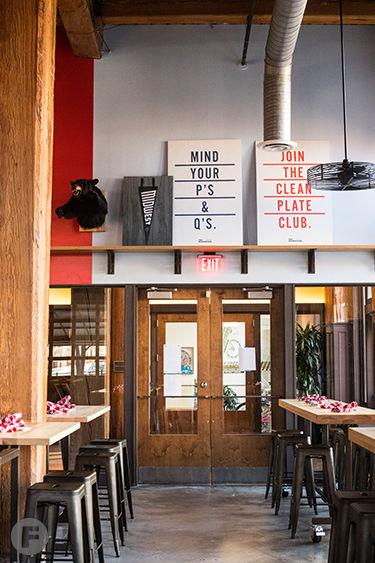 A gut renovation opened up the interior to give off a decidedly clean and modern, approachable vibe. Bar and tables constructed by David Stine Woodworking coincide with metalworking by Henley Forge. Industrial textures such as brick and white subway tile contrast with colorful pops of decor curated by local branding agency Atomicdust.
In the kitchen, Welch cooks up Big Baby Q favorites such as brisket, pastrami and weekends-only beef ribs. New offerings include smoked turkey leg confit and toasts – Welch's nod to half-sandwich and salad lunch specials – in options such as fried oyster with collard greens, ham hocks and oyster béchamel on gluten-free cornbread, served with a petite gem salad.
"Basically, we took what we had created at Big Baby Q and expanded it to fit the demographics of downtown and our proximity to the stadium," Welch says. "We supplemented the menu with things I would've wanted to do if I had the space, like fried green tomatoes, deviled eggs, smoked bone marrow and, of course, an incredible beverage program – Tony is a beast."
Look for everything from PBR to a pork fat-washed Manhattan.
Welch works with local bakers including Yolklore for desserts and Mr. Meowski's for sourdough. Tello Carreón, formerly of Nixta, serves as the kitchen staff's head butcher. A brunch menu, which will be available Saturdays and Sundays from 10am to 3pm in addition to the restaurant's regular offerings, features dishes such as chicken and waffles, biscuits and gravy, and hash or eggs Benedict with your choice of smoked meat.
Another highlight is a crispy pig head, available on Saturdays and Sundays with a 48-hour advance notice and deposit. The split pig head is smoked for three hours with oak and cherry wood and then covered in lard and confit for 12 hours before getting cooked at a high temperature to crisp up the skin. Served with corn tortillas, candied jalapeños, pickled red onions, jerk chimichurri, cilantro and Korean Q sauce, the impressive platter is meant for sharing.
"This is definitely a different world than Maryland Heights and 16 seats," Welch says. "We're about to take over. This is the big leagues and we have really high expectations of ourselves."
From the beverage list, choose from a set of offerings that currently includes a dozen beers on draft, 40 canned beer options and 230 whiskeys. As noted in a prior interview with Saputo, the bar program will constantly evolve and includes options like riffs on classic whiskey cocktails, including the Bourbon Renewal with bourbon, crème de cassis (black currant liqueur), lemon, simple syrup and bitters.
The Midwestern Meat & Drink's tentative hours of operation will be Monday, Wednesday and Thursday from 11am to 10pm (or until 11pm if there is a downtown event); Friday and Saturday from 11am to 11pm; and Sunday from 10am to 9pm. It is closed Tuesday unless there is a downtown event. Extended bar hours are forthcoming.