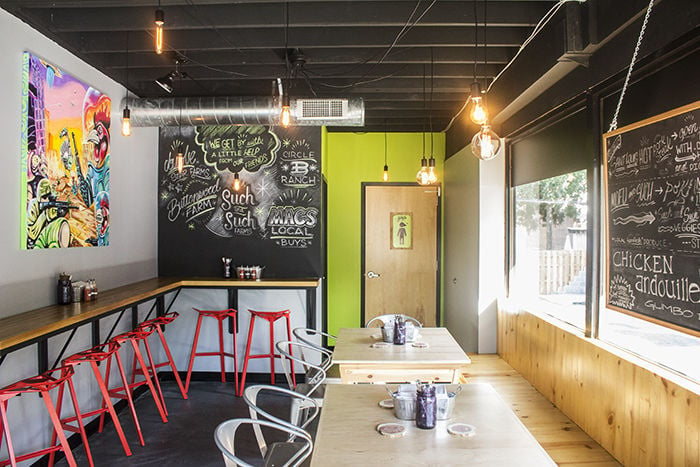 Byrd & Barrel is known for its buttermilk-brined fried chicken, but later this month, it will branch off in an entirely new direction: On Tuesday nights, the restaurant will begin offering pizza for the first time.
"We try to make Tuesday a fun night and do something different," says owner Bob Brazell. "Last year we did rotisserie chickens and the year before it was ramen night. It's usually a slow night when we can have some fun in the kitchen, and St. Louis is such a pizza town, so we really wanted to try our hand at it."
Brazell says that while inspired by the rich pizza tradition in St. Louis, the Byrd & Barrel pizza itself more closely resembles another influence. "I've kind of been obsessing over Detroit-style pizza for the past few months," he says. "A lot of people don't even know it exists, but we think it's great. It's a thicker pie made in a 10-by-14-inch pan, and the sauce actually goes on after the cheese and toppings. Of course, we needed to pay homage to St. Louis too, so we've got a cheese blend that features the classic Provel that you're used to here."
Brazell knows that he and his staff are operating outside of their usual lane – a reality that was readily apparent when they considered the logistics of actually making pizza. Byrd & Barrel has plenty of space dedicated to fryers, but only one relatively small oven.
"We're not trying to fool anyone," Brazell says with a laugh. "We don't have a wood-fired oven, and we're not trying to make traditional Neapolitan-style pizza or anything like that. We've come up with a pie that we're really proud of and can't wait to share with people, but there have been challenges, not least of which being the fact that we can only cook about two at a time."
As such, the pizzas will be available on a limited basis. Brazell says he and his staff are still figuring out a system, but customers will most likely need to pre-order pizzas ahead of time, with the Monday night before the service as the cut-off date for pizza orders. For their trouble, customers can expect a different pizza each week, each featuring new and exciting flavor combinations.
"For the trial pizza, we did a chicken sausage, which was really well-received by the friends who tried it for us," Brazell says. "We'll probably go with that for the first week. We've already had lots of people begging us for a fried chicken nug pizza, so that will have to be in the works. We're also thinking about a chicken tikka masala pizza, so just different fun things that people might enjoy trying each week."
For now, Brazell views being in the pizza business as a temporary, just-for-fun arrangement, much like Byrd & Barrel's previous Tuesday night experiments. However, he says he's happy to keep serving up pies for as long as his customers demand it, even if that means making more permanent arrangements.
"I'm crazy, man. I'm always playing with new concepts and looking at spaces," he says. "If the demand for it is there, and I mean really there, I'm gonna make it happen. If people want it, I'll make sure there's a place they can get it all day and every day. For now though, that's a long way off and we're still just working on getting started. We just hope people like it enough to come out for it on Tuesdays!"
Byrd & Barrel, 3422 South Jefferson Ave., Cherokee Business District, St. Louis, Missouri, 314.875.9998, facebook.com/byrdandbarrel