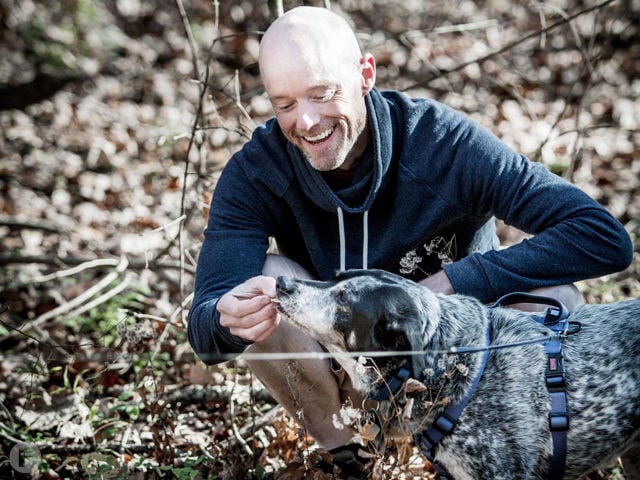 Although he doesn't have a location yet, Rob Connoley has the layout for his upcoming restaurant, Bulrush, all mapped out. The kitchen will take center stage, where he and his sous chef will prepare a tasting menu consisting of "foraged, farmed and hunted" foods. The kitchen will be surrounded by two 12-person horseshoe-shaped tables, to which Connoley will hand-deliver courses. A backlit wall will house hundreds of jars full of fresh and fermented foraged goods that Connoley will spend three to four days a week collecting.
The Bridgeton, Missouri, native moved back to the St. Louis area in June after 30 years away. Eight of those years were spent in a tiny town in New Mexico heading up his foraging-focused restaurant, Curious Kumquat, which earned him a James Beard semifinalist nomination for Best Chef: Southwest in 2014. Bulrush is slated for a mid-2017 opening, and in the meantime, Connoley is hosting pop-up dinners, including on Feb. 3 and 4 in Kansas City, as well as teaching a cooking class in the St. Louis area at Kitchen Conservatory on hearty vegetable entrées on Jan. 15 and promoting his foraging cookbook, Acorns & Cattails, published last fall.
What's your vision for Bulrush? It will be impeccable food with impeccable service. It's a tasting menu, but with none of the stuffiness often associated with them. I'm also playing with the idea of a prepaid ticketing system so that you don't have to bring a penny with you. Bulrush won't have servers – my sous chef and I are going to cook your food in front of you, and we're going to personally deliver it to you. We can chat while I cook – I can tell you where I got the ingredients, and here's what I'm doing with it. At Curious Kumquat, every single table, every single night, saw me. I always brought out a minimum of the dessert course if not much more. What's the point of food if you can't see people enjoying it?
How has St. Louis changed since you've been away? I moved back for family, so it was a very lucky coincidence that the food scene is exploding. I left when I was 18, and I remember that Imo's, or at least Provel, was gourmet, and we didn't make fun of it. So now I come back, and the farm-to-table aspect is unlike any I've ever seen. The chef community is so supportive: Chefs are offering me their kitchens left and right, letting me cook with them, sharing their sources. Here, farm-to-table is easy because there are so many farmers that you can work with who can provide you year round.
In New Mexico, you built a reputation for serving foraged foods at Curious Kumquat – how will that carry over to Bulrush? I left New Mexico thinking I was the king of my fiefdom. I knew the plants; I knew the land; I knew how it responded to seasons and moisture and animals. Here, everything looks similar to me, so I'm connecting with local foragers to help me identify all the flora. I'm spending three to four days a week in the woods foraging with Lexi, my blue heeler who I've trained to forage. At my first pop up in October, the eight courses were a representation of my future menu, and man, there were a lot of foraged ingredients – pawpaw curry with foraged mushrooms, sweet potato hash and chickweed; and venison tostadas on acorn tortillas with watercress and grass-seed porridge, for example.
Are there recipes in Acorns & Cattails that you'll serve at Bulrush? One is the Thai-spiced acorn croquette, where I grind acorns and add them to a Thai curry made with lots of foraged ingredients and then deep-fry them. It's crunchy on the outside and gooey on the inside; most people eat them and think there's meat in there. Acorn is a hearty protein with amazing flavor. Pawpaw is a brand-new ingredient to me that I'm excited to work with – it's everywhere, so plentiful here.