How do you elevate St. Louis' most iconic dessert and still make it approachable for the scores of diners who grew up eating it?
If you're celebrity chef David Burke, you add a dash of whimsy. At the new Grand Tavern by David Burke, crispy fried donuts are stuffed with gooey butter cake, topped with airy cotton candy and served with a boat of warm gooey butter cake sauce. #2 Hospitality, which also owns Tavern 62 by David Burke in New York City and BLT Prime by David Burke in Washington, D.C., opened the restaurant on the ground floor of the Angad Arts Hotel (where you can book a room based on color) in Midtown St. Louis this past November. At the ambitious, swanky new concept, he says his decades of experience in the restaurant industry have come to a head.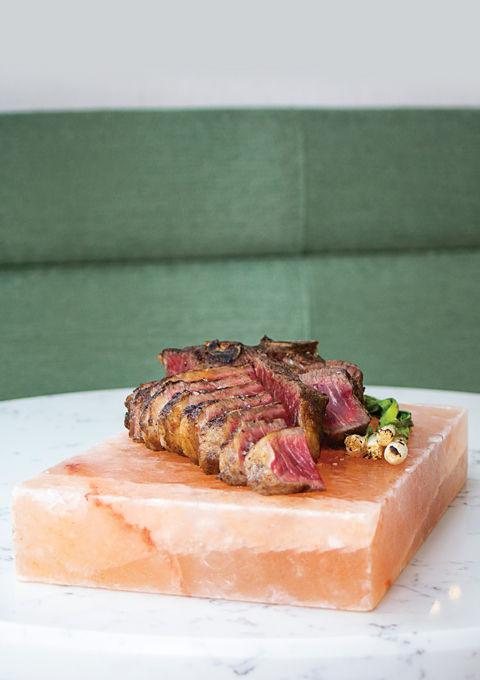 How does Grand Tavern differ from your other restaurants? It's kind of a combination of what works for some of my other restaurants: some fine-dining elements, some steakhouse elements, some whimsical elements. It's not a steakhouse and it's not a burger joint; the comfort level and the finesse level are meeting at the same place. Where fine dining is too precious and a bistro is too casual, I think we fit in the spot in between that.
You're known for a whimsical approach to cooking. What does that look like at Grand Tavern? We have items that are whimsical in the form of presentation and also in the combination of ingredients. There's a crab-cake Benedict made with Ritz crackers, crabmeat, chorizo and quail eggs. The Emotional Lobster Dumplings are a twist on my Angry Lobster, inspired by lobster arrabiata; we changed the name to fit the theme of the hotel and because the dish is a little less spicy.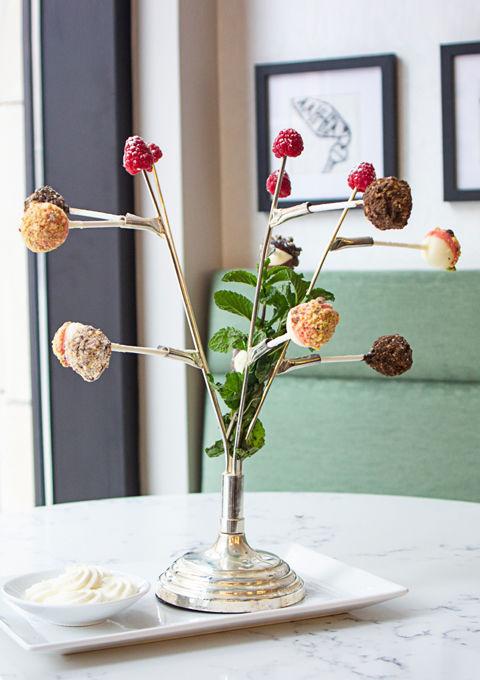 Tell us how you're playing around with some of St. Louis' most famous dishes. We made gooey butter donuts as a nod. I don't want to just put another gooey butter cake on the menu – although I love it. Instead, I thought that filling belonged in a donut. Toasted ravioli is the type of dish that people are set in their ways of doing, but we want to play around with it and try something unique. From an outsider looking in, maybe there's a twist that makes sense. And that's part of what makes cooking so unique; everyone has their different takes on things. We did a seasonal [toasted ravioli] with Brussels sprouts, pumpkin and chorizo and I've got to tell you, it was really good. It's similar to the cheesecake pops I [first] made 30 years ago – it's New York cheesecake, but done in a way that you can share, and it also elevates it to a more whimsical presentation.
David Burke's Signature Dishes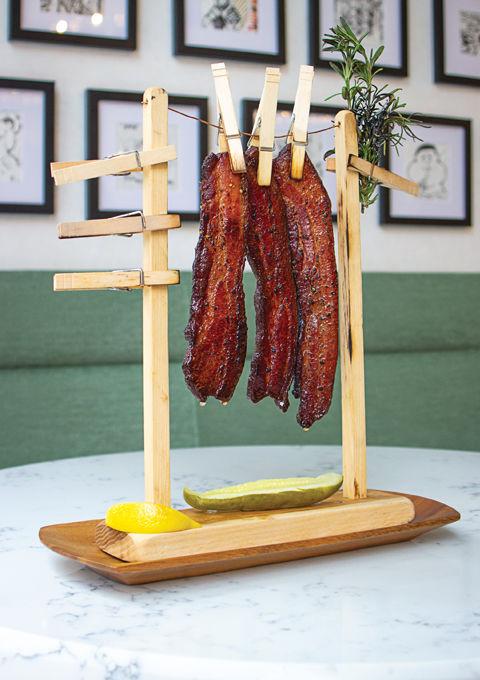 Clothesline Bacon
Presentation is key with this trademark dish, which features three strips of thick-cut bacon hanging on a clothesline with fresh rosemary clipped on the side. Need more of a show? The dish is torched tableside.
Dry-Aged Steaks
Burke's dry-aging process was such a good idea, it won him a U.S. patent. Choose from an 18-ounce bone-in KC sirloin or a 34-ounce porterhouse, aged in a room lined with pink Himalayan salt for up to 100 days; both arrive at the table served on massive salt bricks.
Cheesecake Lollipops
Too full for dessert? That's the idea behind Burke's famous cheesecake lollipops, which turn the dish into bite-sized portions. Served in a tree of sorts, the pops come in flavors like chocolate, strawberry and red velvet.
Grand Tavern by David Burke, 626 N. Grand Blvd. (inside the Angad Arts Hotel), Grand Center, St. Louis, Missouri, grandtavernstl.com