Sprawling across 33 acres in the Ozarks, Same Blue Sky Ranch started as a homestead and has expanded to offer Rolla, Missouri, residents fresh produce and farm boxes. Their story begins in 2017, when Jill and Craig Tanner relocated from Georgia to Missouri. The couple had a vision of raising their daughter, June, close to nature. 
Initially, the Tanners' goal was to become a sustainable family. "We're no-till, which is more sustainable than tilling. We make our own soil with compost, and we are poison/chemical free," Craig says. In 2019, they were able to expand their production and share food with the local community.
During the 2020 season, Same Blue Sky focused on growing greens, peppers and tomatoes. The Tanners plan to expand their efforts in the future, adding mushrooms and microgreens to the menu.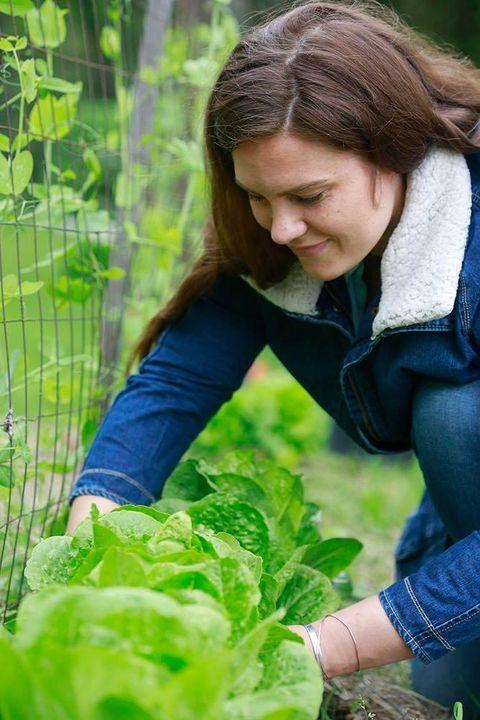 Same Blue Sky Ranch offers $10 veggie bundles filled with colorful seasonal produce, including squash, bush beans, okra, radishes and more. Customers either pick up the bundle locally or pay a $5 fee for delivery to Rolla or St. James. "Our goal is to keep a low price point with high-quality food," Jill says. The Tanners hope to provide families with food that can be used in a variety of ways throughout the week to avoid food waste.
The veggie bundles were a success, and as customers started asking for larger portions of produce, the Tanners introduced farm boxes. In partnership with Wildwise Botanicals and local chef August Rolufs, the farm boxes include produce, herbal remedies and recipes that incorporate the seasonal produce. "Some of the stuff in our boxes is unique, things the average person has never tried," says Craig.
Herbal remedies like elderberry tonic made from locally foraged elderberries and immune-boosting "fire cider" (made with apple cider vinegar, local honey and horseradish root) are just two examples of goodies found in the November 2020 farm box. The recipes "tie it all together," says Craig, providing guidance for cooking the veggies in meals like frittatas, stew or pesto pizza.
August Rolufs previously worked with Peaceful Bend Winery in Steelville, Missouri. 
Same Blue Sky also partners with Just a Taste in St. James to supply fresh produce and has provided veggies to other local restaurants including Meramec Vineyard Winery and Public House Brewing Co. in St. James.
While Same Blue Sky Ranch is taking a short break during the winter, the farm will be starting sales back up in the spring of 2021. Meanwhile, they'll be working hard on their microgreens project, expanding their rabbitry and looking forward to their future vision of selling rabbit and quail meat and offering educational workshops. "We'd like to do workshops, both hands-on and online, to help people learn to grow their own produce and become food independent," Craig says.
"If you're interested in a better future for yourself, your family and your community, learning about growing food is one of the most powerful things you can do," he adds. "It reminds you every day of the miracles that are happening all around us. Living in the city can make us forget."