It's been more than five years since Just a Taste began serving customers in St. James, Missouri, but the menu is as fresh as ever.
Executive chef Alex Giger has always had a farm-to-fork vision, and lately that vision has been coming to life in creative new dishes. Ranging from goat cheese gnudi, beer braised mussels and pork belly to house-made corn dogs drizzled with peach mostarda (a delicious sauce made of candied fruit and a mustard-flavored syrup), Giger continues to produce dishes that are lively, even during challenging times. 
The team has also added a new member: sous chef August Rolufs. Previously, Rolufs worked with Peaceful Bend Winery in Steelville and helped to develop their menu. Rolufs and Giger have created a powerful culinary team, with new specials offered each weekend in addition to the menu.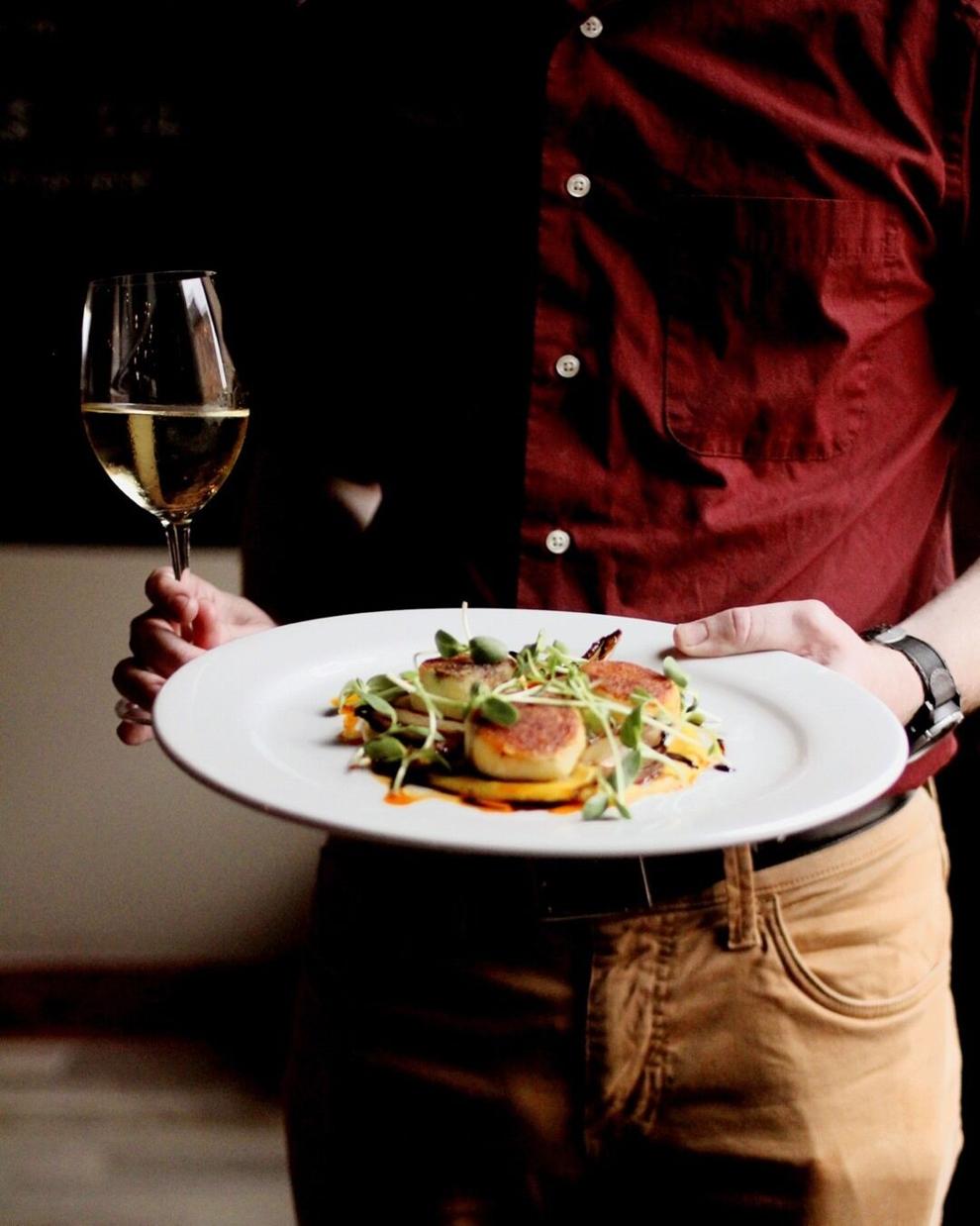 The COVID-19 pandemic gave the restaurant's team a chance to reevaluate the menu, says creative director Britt Giger. The team shifted their focus to meals made from local products and new made-from-scratch dishes, with a special emphasis on handmade pastas like bolognese and spaghetti chitarra.
As a part of the local focus, not only does Just a Taste buy seasonal produce from Same Blue Sky Ranch, but the two businesses collaborate by offering monthly farm boxes packed with produce, plant remedies and recipes designed by Rolufs to complement the produce.
"It's always fun to see what they're growing," Giger says.
According to Giger, Just a Taste continues to focus on "getting the community involved with the idea of buying food at the farmer's market and knowing where your food is coming from" and expanding the restaurant's Eagle's Landing line of wine. Recently, Just a Taste purchased land to grow grapes, and the hands-on process draws many people in.
"All the servers help pick grapes and bottle wine. We're part of the process from start to finish," Giger says. 
And even five years later, the restaurant relies on teamwork and community to serve its customers thoughtful meals.
"You could have the best meal of your life in a town of 4,000," Giger says.
Just a Taste, 200 N. Jefferson St., St. James, Missouri, 573.265.6506, justatastemo.com