Housed in a Federal-style brick building in Arrow Rock, Missouri, J. Huston Tavern has withstood a great deal since its establishment in 1834: the American Civil War, dubious military executions, major fires in 1872 and 1901 and economic collapse. But last spring, the oldest continually serving restaurant west of the Mississippi River faced an attack from a relatively recent addition considering its 186-year history: electricity.
At approximately 11:30pm on May 17, 2019, Arrow Rock historic site administrator and longtime resident Mike Dickey was relaxing at home with his dog, Ivy. Ivy isn't the most perceptive pup, so Dickey took notice when she became increasingly agitated. Glancing out the window, he saw black smoke billowing from the kitchen window of J. Huston Tavern. Dickey just so happens to be the chief of Saline County Rural Fire Protection District Station 2 – a volunteer outfit – as well, and immediately sounded the alarm, rounding up the other firefighters.
When the unit arrived, the fire was still contained to the kitchen and most of the doors within the building were closed, preventing widespread smoke damage. They smothered the fire with foam – which, among other things, is less damaging than water – and then fogged the other rooms to cool the structure down.
It was later determined that the culprit of the chaos was an electrical fire sparked inside a freezer, which had the potential to destroy this irreplaceable piece of history.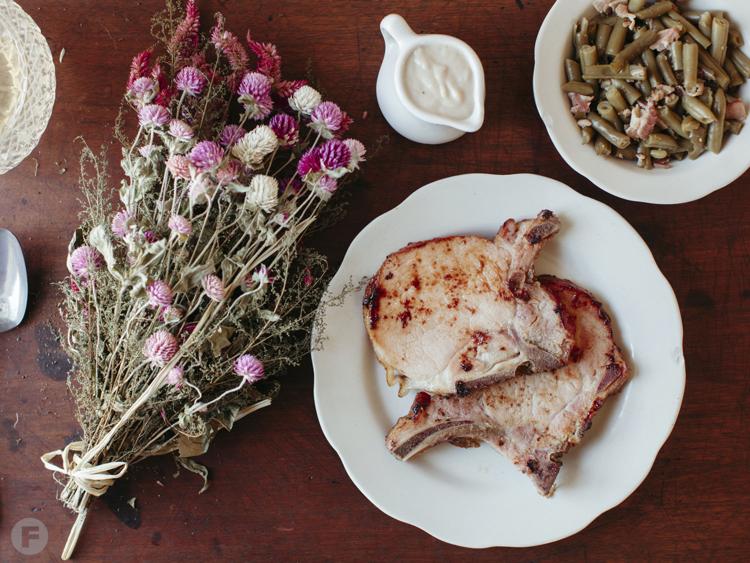 Joseph Huston, Sr., moved from Virginia to Missouri in 1819 at age 35. Accompanied by his wife, Sarah, his brother, Benjamin, and other family members, the Hustons made their way to a newly chartered town at the intersection of the Santa Fe Trail and the Missouri River. "640 acres of Land [sic], at the Arrow rock, on the Missouri river, 13 miles above Franklin, at the ferry," advertised the Missouri Gazette and Public Advertiser in the fall of that year. "One of the best town sites in that country." (Missouri wasn't admitted to the Union until two years later.)
Called Philadelphia – and sometimes New Philadelphia in the journals of early travelers – before becoming Arrow Rock, the town was so named for the landmark bluffs along the Missouri River, which were first documented by French cartographer Jean d'Anville on his 1732 Carte de la Louisiane (Map of Louisiana) as "Pierre à Flèche," or "Rock of Arrows." Its advantageous location – on the westward path to lucrative trading in Santa Fe – attracted enterprising men who wasted no time in populating the area with hotels, blacksmith shops, doctors' offices and more.
In 1829, Huston and his brother were among five commissioners of Philadelphia, who advertised lots for sale in the Missouri Intelligencer and Boonslick Advertiser. "This town … is laid out on a high bluff, and commands a handsome view of the River, and has several excellent Springs adjoining," promised the publicity. "This point, as a place of business, possesses as great natural advantages as any other, having around it an extensive country of the best farming land in the State, with a good and rapidly increasing population of wealthy and enterprising citizens…"
In 1833, Huston himself bought four lots on Arrow Rock's Main Street for $89; the next year, he had a two-story home built for his family in the Federal style, an architectural style characterized by simple, symmetrical, often flat facades, notably understated design elements and geometrical concepts – even the most ornate, such as the Massachusetts State House, are typically modest. The house was constructed by enslaved people using hand-hewn timber and hand-fired bricks.
As traffic through Arrow Rock increased, Huston seized an overt business opportunity: He had the structure expanded on both floors and turned it into a tavern consisting of a restaurant, general store and meeting house. It even had a post office, and Huston was appointed postmaster general in 1845. In 1840, he also added a ballroom, which served as a makeshift hospital during cholera epidemics.
Huston's establishment was a welcome sight for weary travelers in need of a hot meal and a place to rest their head. "On my first visit to Saline [County], in 1840, I landed at Arrow Rock from a steam boat in the night," wrote one such traveler, Dr. Glenn C. Hardeman, "and, as I intended going to the country in the morning, I took lodging only at the hotel kept by that well known and popular citizen, Joseph Huston, Sr., for which I was charged the sum of twelve and one-half cents, or, should I say, a 'bit.' On my return in a few days I dined at the same hotel and was charged another 'bit' for an excellent dinner."
Like many historic buildings, J. Huston Tavern has its fair share of ghost stories. Friends of Arrow Rock president Chet Breitwieser and executive director Sandy Selby often tell the story of the Lady in White. On a snowy night, shortly after giving birth, a woman who is believed to have been a tailor's wife rose from bed and walked barefoot out of the tavern. Her footprints were tracked to a nearby bluff, and she was never seen again – except by several tourists who swear they've spotted her ghost inside the tavern. Professional ghost hunters have even been brought in and have recorded the supposed spirits of the space via sound and video.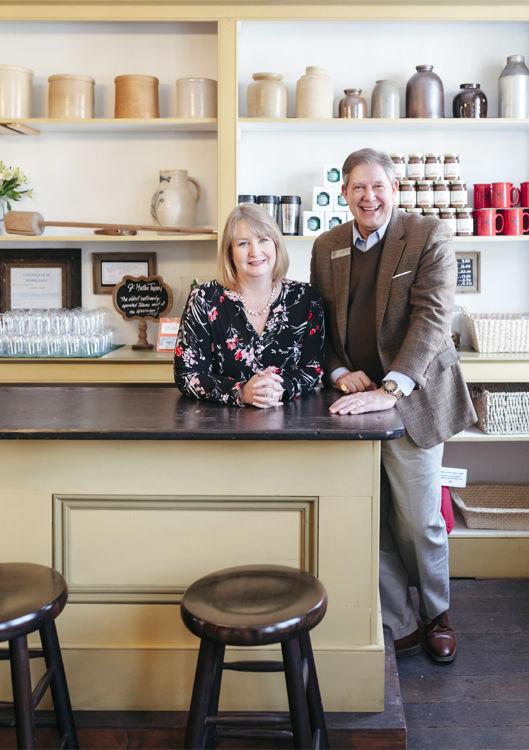 Haunted or not, the tavern is well-loved – though not always well taken care of. By the 1920s, "it wasn't falling down, but it certainly needed attention," says Breitwieser. "Windows needed attention, bricks needed tuckpointing." The Daughters of the American Revolution (DAR) – a nonprofit organization known for its interest in historic preservation – realized the tavern was in need of aid and persuaded the Missouri General Assembly to purchase it. The state legislature paid $5,000 and named the DAR as "custodians" of the building. Not only was J. Huston Tavern the first building in Missouri preserved with public funds, it was the first addition to the Missouri State Parks system and could arguably be called the birthplace of heritage tourism.
The DAR maintained control of the tavern from 1923 to 1984, witnessing an unusual transformation during that time: Arrow Rock – which was once on the verge of extinction – ensured its future by reclaiming its past. According to Missouri Life Magazine, "A preservation movement that started with the restoration of the tavern gained momentum in the 1960s as the Friends of Arrow Rock and Missouri State Parks saved other buildings from the brink of destruction and gave them new life as museums and shops." History buffs joined the conservation effort, buying and fixing up old houses. A handful of visionaries started the Arrow Rock Lyceum Theatre in the town's abandoned Baptist church – to this day, the regional theater draws professional actors from across the country to participate in its Broadway-caliber productions that run from June to October each year. And in 1963, the entire town was designated a National Historic Landmark.
Today, Arrow Rock – which has an official population of 56, though Selby admits that number is probably generous – attracts approximately 150,000 visitors a year, and J. Huston Tavern – now run by the Friends of Arrow Rock – remains the heart of the operation. "Our board took it on and saved the tavern business," says Selby. "We couldn't imagine it closing – it's vital history, and [we] realized the importance of it to the village and the state of Missouri."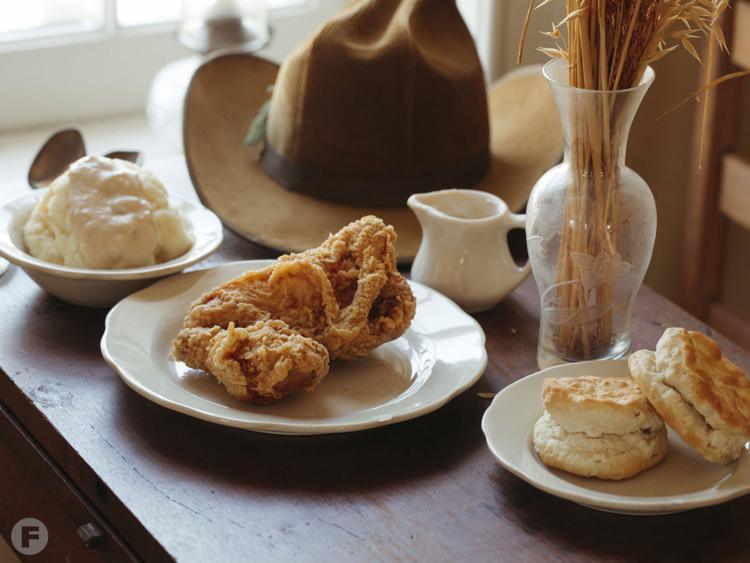 Less than 24 hours after the fire last spring, members of the Friends of Arrow Rock were already figuring out how to continue service while repairs were underway.
The building itself is still owned by the state, and Selby says that she would have understood if it had said renovations simply weren't in the budget. "But the regional director came in [the morning after the fire] and said, 'I want to assure you that we're going to get you back up and running – whatever we have to do.' [Two days later], the director of Missouri State Parks was here in town, making the same assurances. And within a month, we had a mobile kitchen and a massive [outdoor] tent in place."
The J. Huston Tavern served customers outdoors for six weeks during the summer of 2019 – a hot one, to be sure, but fans and the occasional breeze made the heat manageable. "It was like a full-time picnic," says Breitwieser. "Although my preference is inside the building, it was a delightful alternative to an unfortunate situation."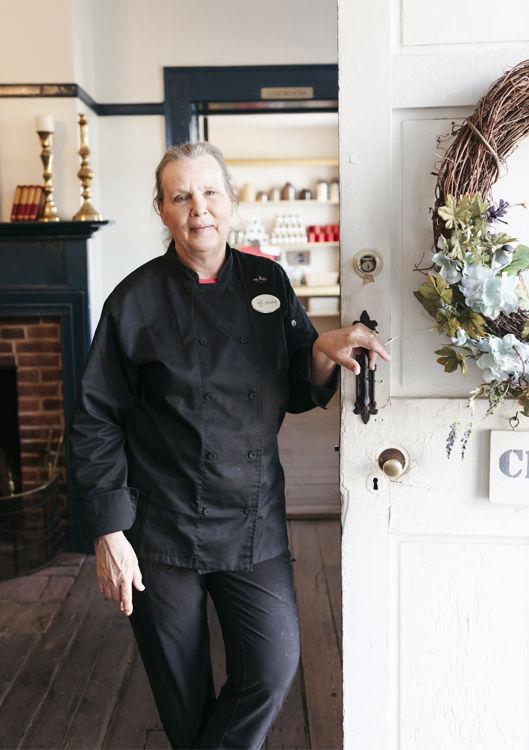 "Our diners have been very understanding and very supportive, coming back again and again," adds Selby. "Even when we were working with paper plates in a tent, they wanted us to keep going. Gracious hospitality and good food wins every time."
The tavern is known for its pan-fried chicken, but when chef Janet Carmack came on board in 2019, she added her award-winning pork tenderloin sandwich to the menu, which may soon become the new fan favorite. Other hearty tavern dishes include beef brisket, smoked bone-in pork chops and caramel-bourbon bread pudding for a sublimely sweet ending to any meal.
The repainted dining room is ready to welcome back guests, however, J. Huston Tavern is temporarily closed due to the COVID-19 pandemic. As soon as it's possible to reopen, it plans to continue service via the mobile kitchen through October but will then close until Easter 2021 to rebuild. The staff and volunteers are excited about the promise of a shiny new kitchen and refurbished dining room, even if this isn't how they wanted to get it.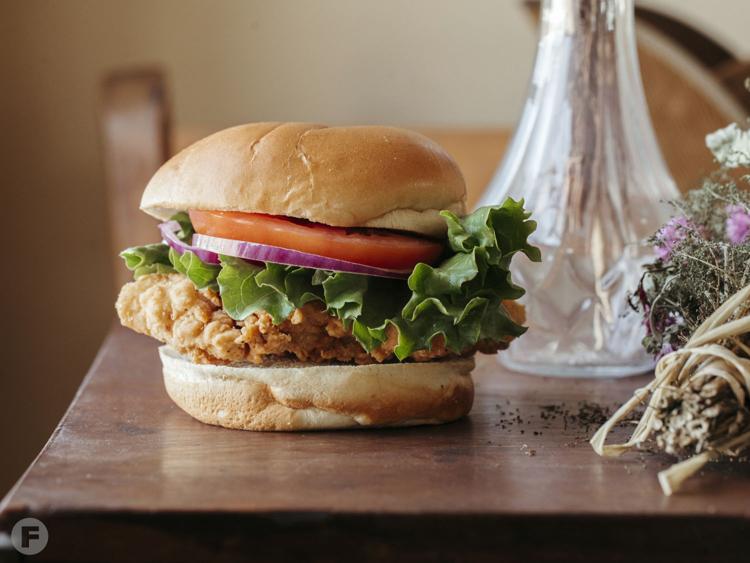 "It will be new, fresh," says Selby. "With the space to seat everybody!" adds Breitwieser.
"Yes," agrees Selby, noting that the larger, upgraded kitchen will also allow Carmack to experiment more and expand the tavern's menu. "It'll be cause for a celebration."
J. Huston Tavern, 305 Main St., Arrow Rock, Missouri, hustontavern.com