"Anything is a burrito if you're brave enough." That's the motto at La Chica Loca in Jefferson City, Missouri.
Owner Amanda Jensen and chef Greg Atkinson have been tested and have proved to be plenty brave. The husband-and-wife team and their breakfast burrito business survived a building collapse and an EF3 tornado before the new brick-and-mortar location of La Chica Loca opened on historic High Street last year.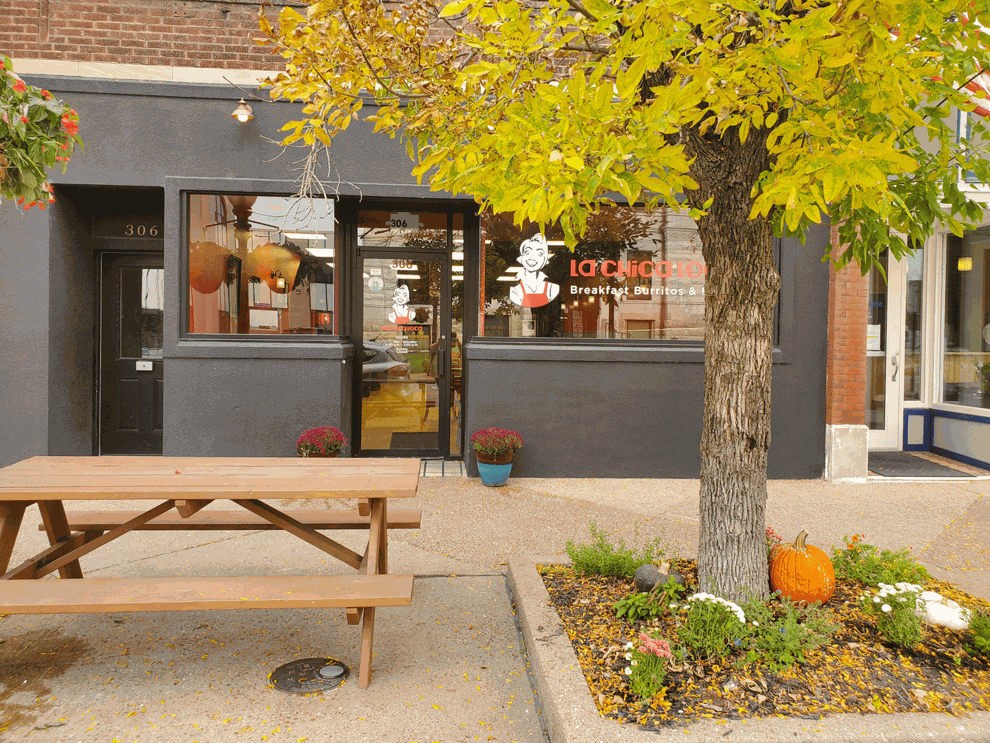 The couple – who lived in Colorado before moving to Missouri – started La Chica Loca in 2018 after their longing for the distinctive breakfast burritos from out west got to be too much. "Breakfast burritos are Colorado food," says Atkinson. "We talked for years about opening up our own spot – we missed them and just wanted [those] burritos."
With backgrounds in restaurant marketing and high-end catering, the pair decided to take a chance and see if the Jefferson City community would love big, bold breakfast burritos as much as they do. They rented a commercial kitchen space for Atkinson, and Jensen hit the streets with an armful of the goods.
Between her gregarious personality and the aroma of warm tortillas, Jensen made friends fast. Locals loved the burritos, and Jensen soon became known as "The Burrito Lady."
Unfortunately, the building that housed their kitchen collapsed a short time later. Forced to find an alternative way to keep cooking, they bought a food truck. After making only two payments on it, however, a deadly tornado ripped through Jefferson City on May 22, 2019, destroying homes, schools – and the food truck.
At a loss for what to do next, Jensen took the advice of some of her loyal customers and launched a Kickstarter campaign to raise $15,000 in order to open a brick-and-mortar location of La Chica Loca. In the end, the community donated almost $16,000 in total. Jensen was overwhelmed by the show of support, and she promised that she wouldn't let them down. "I want to do what I say and say what I do," she says.
In January 2020, with the help of the fundraiser and a new business partner, Jensen and Atkinson debuted the new location of La Chica Loca, continuing to hone in on their original concept.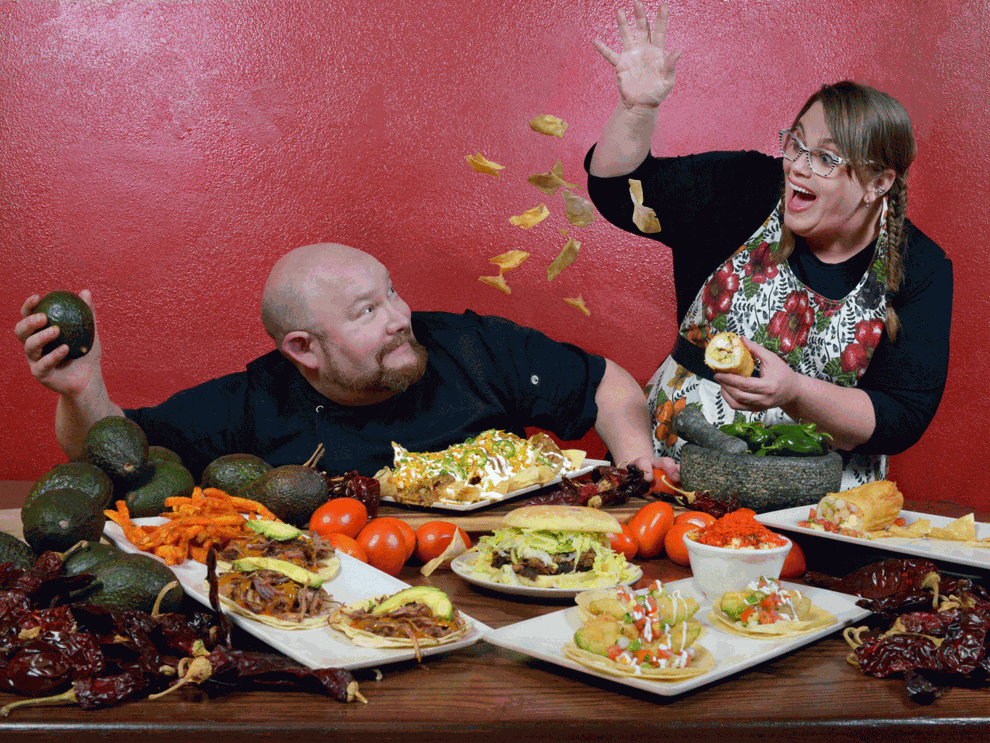 Atkinson keeps a running list of burrito concepts – right now, there are 80 that he has made or plans to make. He'll turn any delicious flavor combination into a burrito: a gyro, a Cuban, a Big Mac, even shrimp gumbo. The bestseller remains the classic Colorado-style burrito, though. Stuffed with fluffy eggs, crispy bacon, melt-in-the-mouth potatoes and savory Cheddar, the from-scratch burrito gets its quintessential flavor from a thick smoked pork-green chile filling that binds all the other ingredients together.
"We do a lot of sauces in our burritos," says Jensen, "so they have the same bite as a smothered burrito, but none of the mess."
Burritos are the signature dish at La Chica Loca, but Atkinson jokes that they've also perfected the recipe for making lemonade out of lemons. Weeks after they opened the restaurant on High Street, the COVID-19 pandemic hit Missouri, but they've persevered despite another daunting circumstance.
Finding ways to adjust to the situation and continue to meet customers' needs, they created boxed lunches featuring a burrito and two sides – which Jensen says have been a huge hit – and expanded their menu to include lunch items. The menu now features a weekly burrito special, plus burrito bowls, tacos, burgers and chicken wings, which come in equally inventive flavors such as peanut butter and jelly. Not exciting enough for you? Try the Doritos-crusted Mountain Dew wings. Atkinson reduces the soft drink down to a sweet-and-sour sauce and then coats the crispy wings with a dusting of the cheesy chips.
"I'm always going for that perfect combination of sweet, salty, savory and sour or tangy," he says.
The smoothies at La Chica Loca round out the sweet side of the menu. The Hula Monkey, for instance, is made with banana, pineapple, orange juice and raw sugar – a blend that will make you feel like you're on a tropical vacation in the heart of Missouri.
La Chica Loca, 306 E. High Street, Jefferson City, Missouri, 573.635.3100, chicalocamo.com