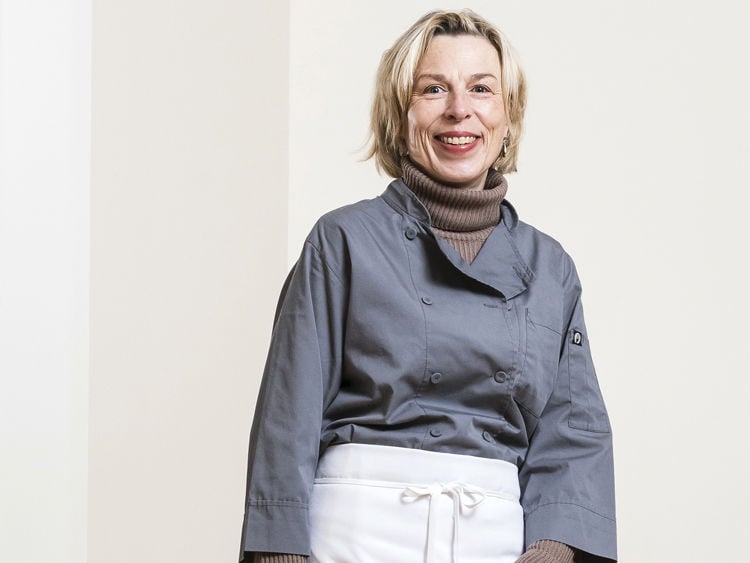 Linda Duerr, executive chef at The Restaurant at 1900, grew up as an artist, painting and drawing. "But I went to college for something I felt was more practical," she says. While a political science and journalism major at Boston University, Duerr waited tables to pay for school. 
"When I finished, I found myself working as a fact checker for a financial magazine while waiting tables at a nouvelle cuisine restaurant," she says, "and realizing I was far more interested in the food that I was serving and how it was made than my actual day job."
She snagged a gig working garde manger – plus Saturday night as a server – at Rebecca's Café under a French chef. Eventually, she worked under James Beard Foundation Award-winning chef Lydia Shire; after moving to New York City, she worked for another JBFA winner, Anne Rosenzweig, as sous chef at Arcadia.
"Along the way, I've really had the great fortune to work for really talented chefs, and especially talented female chefs, which I think was really important for me," she says. "I don't feel like I faced the discrimination that maybe some women chefs had to deal with back in a time when the kitchen was absolutely predominately male."
Duerr made her way to Kansas City when Lidia Bastianich was searching for a chef to open Lidia's Kansas City; she got the job and headed west. After Lidia's, Duerr also worked for Jimmy Frantze at Frondizi and JJ's, before heading to the River Club, where she served as executive chef for seven years.
We caught up with Duerr to talk about her 35-year career, her favorite spots in Kansas City and what to expect at a dinner party at her house.
What's your favorite ingredient to cook with and why? There's no way that I have one favorite ingredient, but I can tell you what really grabs my interest. If I'm looking at a farmer's list of ingredients, or a list of fish, when I see an item that I feel like I remember using at one point a lot more than I do now, I automatically gravitate toward it. I don't like the idea of my food being controlled by trends and fads. I just don't like that. I don't like being the newest thing on the block – quite the opposite. It's interesting, because food is the victim of fads and cultural desires just like clothes or anything else. Sometimes I'll see an ingredient like lovage or lamb's quarters, even shad roe you don't see a whole lot anymore. Oh man, I wanna do that, because I know nobody else is doing it – sometimes the younger people in my kitchen have never even seen it. And I like the idea of keeping those things viable, keeping them available and not just letting them fall by the wayside.
Do you have a secret weapon spice/ingredient/technique for when you want to take a dish to the next level? I never want to take it to the next level. I always want to pare it down. I like keeping flavors simple, I really do. It's hard to keep cooking simple because things can end up really flat-tasting or flavorless; you can end up with something that you feel like doesn't have a lot of flavor or depth. Although I enjoy spice, I enjoy it in its place – I don't like adding it everywhere. I like to keep a nice basil salad on a piece of whitefish really simple and allow those ingredients to really come through.
What's your perfect day of eating in Kansas City? Breakfast would probably be on my front porch, if I ever had the opportunity to do that. And it's so rare, so I definitely would pick that. Out on my front porch, which is shady, and has a big pine tree in the front yard, and I would have a really good cup of coffee – an old-fashioned, rich, dark roast cup of coffee – and I would have with it poached eggs with smoked salmon and a nice bagel and cream cheese. A really good bagel, which is hard to find, but Meshuggah does a really good job. It's close to a New York bagel. I would have a Meshuggah bagel, scallion cream cheese, smoked salmon, poached eggs, dark roast coffee, and maybe a Bloody Mary, with a newspaper and a book.
Lunch – these are all things I don't have time to do! I'd have to go to [Café] Europa for lunch for a nice entrée salad. I'm a woman of a certain age; lunch is definitely an entrée salad, with like, shrimp. Gotta watch those carbs and calories. There is this cocktail at Char Bar I love – The Showgirl. It's a bourbon-based cocktail. And they have the best chicken wings. So if I was hitting happy hour I'd either go to Char Bar and get those chicken wings and a Showgirl, or I would go to The Fontaine and go to the bar, The Parker, because they have really nice bar food, good pizzas, good chicken liver mousse, good prices, and sit by that infinity pool at the top of the building there. It's free ambiance! It's this feeling of cool luxuriousness; there's a little infinity pool lit up and a fire pit. One night I was up there and there was a huge full moon over South Plaza, and we just sat there by the fire pit and had some cocktails. That's a great place, and the food's really quite good. Good wild mushroom pizza. Their chicken liver mousse is incredible. They have a nice wine selection. So I'd probably either have a glass of wine or I'd have a dirty Martini. Or happy hour might also be Extra Virgin. I like that too. Dinner would probably just be an extension of that, like more small plates. Oh, dinner might be Café Provence.
How has the local food scene evolved over the past year? There's certainly a lot of new places. I feel like the evolution over the past year is probably an extension of what's been occurring for the last two decades. When I first moved here and I was working at Lidia's, we used to buy local produce from probably the first person doing it, trying to get their product to restaurants, and that was Dan May Organic Way. That was 20 years ago, and he was one of the only guys doing it. Now we buy from 12 to 15 different growers. That's been an evolving thing that's been growing for 20 years, but it's definitely still growing. Then you see local production for other things, too, more and more, the duck eggs and locally raised rabbits, more and more of that. Local brews, as well. And that's all great. Ultimately what it comes down to – the local movement's going on everywhere, but I think the interesting thing about the local movement here in Kansas City is it has helped develop a particular Kansas City or Midwestern identity in the food. And I think that's a pretty cool thing. When I first moved here, I didn't get any sense of a strong culinary identity other than barbecue, and I think now it really does. It's an evolving thing, there's some fusion there, but that is kind of solidifying a bit, so that's pretty cool.
Who are Kansas City chefs or restaurant owners you admire at the moment? One of my favorite chefs is still Michael Smith. I think Michael Smith and Extra Virgin is some of the best food. I had a great meal at Black Dirt, I had a great meal at The Antler Room, I've had great meals at the Fontaine. We have a couple of sous chefs here who are outstanding: Andy McCormick and Jon Ponzer. They're two culinary powerhouses in my opinion. They both have very unique and individual personal styles. And part of what we do here is try to mesh our styles so that it comes out as a comprehensive unit. I'll tell ya what, if I was going to look to anybody for the future of Kansas City, those'd be two gentlemen. I'm not saying that because they work at the 1900! I'm saying it because it's the truth. They are really talented guys. I'm lucky to have them.
What do you like to cook at home or on your day off? My husband [Leon Bahlmann] is also a chef, so we're most likely to cook at home when we have people over. If we're just making food for ourselves, it's very simple fare, salads with some roast chicken. We might grill out some salmon, make sandwiches. But we love to cook when we're having people over, whether it's a backyard thing or something fancier. We like to do a range of stuff. We just moved into a new house last December, so we were having fun with the new dining room and have people over and do a more formal-style, coursed out dinners. We did some really fancy nice stuff, but still very classic kind of things. We did a lobster bisque; there was another dinner we did borscht. We'll do salads with lobster, we had lamb shanks for a meat course, so I think that whole idea of coursing out food and each course being a taste of something very different, that's been something fun that Leon and I have done over the years – and the whole idea of sitting down to dinner and engaging in conversation and talking about the food and pairing wines with it. It's something we don't have the opportunity to do often. I like to cook classic European-style stuff but I like a lot of Mediterranean food – braised lamb shanks.
What's your favorite comfort food? I would say braised lamb shanks are high up there.
If you could tell home cooks one thing, what would it be? Whenever you look at a recipe, temper it with a huge amount of common sense. And if you've been cooking for a while you can even use instinct, because most recipes don't really work [laughs]. If you're a home cook and you're totally relying on a recipe, unless you've used it before and know it works – most successful cooking is done through instinct and common sense. But of course, that implies that you do it fairly frequently. Cooking from the gut, cooking from the soul, the heart – what looks right? What makes sense? What tastes right? Following what you think, because on the occasion that I've said, to hell with it, I'm going to follow this recipe exactly the way it says – I'm not saying it's a disaster, but they just don't work, typically.
What's the most intriguing dish you've made recently, and why? There's one dish that's on the menu that I thought we were gonna take off; it was on our opening menu, and we've been changing a couple things every week or two, just in an effort to keep it seasonal. We opened in April, and the menu was developed long before that, so we were struggling a little bit to keep up with the season as our opening date changed. Our opening date was originally January. So there's a dish that's a slow-cooked veal breast, and that was in my mind to put on the menu from day one, even though I started planning it last fall and thinking of it as a winter dish. When it looked like we were gonna open in April, I thought, even if I can't keep it on for long, I really love this dish; I'm gonna go with it. It's amazing – it's had surprising popularity. I thought, summer's gonna come, we're just gonna have to take it off. But it kept selling. And instead of taking it off, we changed components of the dish. Most people have never even eaten [veal breast]! It has the unctuousness of pork belly but it doesn't have the gaminess of pork belly. You slow cook it, chill it and press it and cut it and get a crispy skin on it. Its workability is similar to pork belly, but probably a little bit meatier. It's a surprising dish, how versatile it's ended up being. Right now we serve it with a succotash, because it reminds me of home – I grew up in Rhode Island. People think of [succotash] as a Southern food, but everybody has some version of it. The word came from a Narragansett Indian word, and Narragansetts are from Rhode Island. So I love succotashes, and it's a powerful part of my roots, and it's a perfect dish for summer with the shelling peas and fresh corn. We do a version of it with corn and edamame and we got some fresh Crowder peas and purple peas. We've got cherries and season, so we're doing a mix of fresh cherries and sour cherries, poached, kind of like a compote, and then it's garnished with ground cherries. It's a fun summer dish, and it's kind of like the cousin of pork belly. At first I never thought it was gonna be like that; I thought it was this unctuous winter roast. It's been a surprising and fun dish for me – and it's still my favorite.
What inspires your cooking? How do you approach R&D, and what inspires that process? I think it just depends. It varies from dish to dish. Some dishes – they're like any other art, sometimes you nail it from the get go. And other times you've gotta tweak it. As far as collaboration, again, it's dish by dish. That [veal] dish, like I said, was an opening menu dish, so that was my dish – at the opening, the veal was done with a turnip-root veg latke hash and asparagus. There are other dishes that the three of us might work on together, and others that's Jon's – we have grouper coming in, what do you wanna do with it? Andy, we need a new vegetarian dish; I like the idea of doing something with mezze – develop that. And it goes from there. And sometimes it's not always easy. It's not easy to collaborate on food when you have three people – or however many people. The other cooks have things they wanna do or things they're interested it. Most people who are really good in this industry are artists by nature, and they do have a passion for what they do and they have a very personal feeling about food, its taste, how they want it to look, how they want it to feel. And one of the most difficult things we have to do is take into account all those different passions and still put together a menu that has a sense of place. Because one of the things I don't like when I go to a restaurant and it just feels like it's all over the place. There's no sense or cohesiveness, origins – no sense of place. That's what we really strive to achieve, that balance and that sense of cohesiveness in the menu that makes you feel like you're walking into a place that has a very strong sense of self, strong sense of place. You know where you're at.