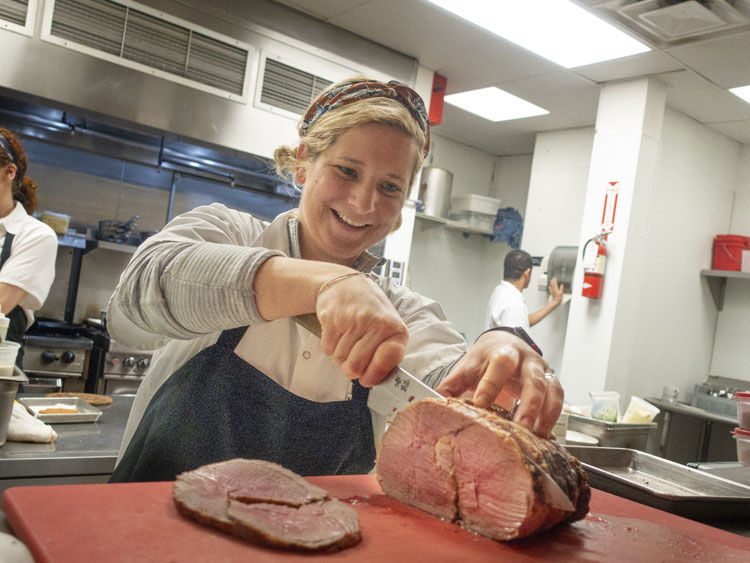 Food is in Libby Theaker's blood. In fact, her great-grandparents owned a candy factory. After two years of college – "I wanted to be a normal kid for a while" – she went to the prestigious Culinary Institute of American in upstate New York.
After earning her degree, Theaker, who's originally from Ohio, moved to New York City and worked for April Bloomfield for eight years, eventually becoming executive sous chef at The Spotted Pig. It was in the city that she met her now husband, who's active-duty military. The couple ended up moving to Kansas as a result, and Theaker reached out to chef friends who she knew were from the Kansas City area to find out what places people were talking about.
She began reaching out to industry professionals and doing research, and it didn't take long for her to realize where she wanted to be: The Antler Room. Chef-owner Nick Goellner didn't have any openings, though – so she waited. Six or seven months later, he had an opening for Sunday brunch. Theaker took it, and is now one of The Antler Room's sous chefs.
We caught up with Theaker to talk about her favorite dinner spot, keeping it simple and her mom's mac 'n' cheese.
What is your favorite ingredient to cook with and why? I've been working with a lot of squid ink lately. I've been adding it to a lot of things, because it gives that saltiness to a product but it doesn't give too much seafood [flavor] to it. It's not that harsh seafood flavor, but it's got a bright black color, which is cool for a dish. It has a saltiness to it. I've put it in icings and waffle cones, and I do want to play with it with some bread and see how that goes. But I'm still working on the bread [base] recipe before I add [anything]. I would say squid ink would be the ingredient I've been playing with the most lately.
What's your perfect day of eating in Kansas City? I would go to Ibis [Bakery] and have their pastries in the morning with a good cup of coffee from Messenger [Coffee Co.]. The pastries are just so fluffy and light! Lunch would be either Parlor or Pigwich, just because I really like sandwiches. Parlor is just a great place to grab whatever I want, if I wanted Korean or pizza, I can get that. It gives me a variety of options, and I would just sit there outside all day long, just drinking! I think I would go to Fox & Pearl for dinner, or The Antler Room maybe. But I'm always at The Antler Room [laughs], so probably Fox & Pearl for dinner. I do like their hot buttered rum. I kinda became obsessed with it in October, and I had to go back because I love their hot buttered rum so much. I think I'd finish my day with that.
How has the local food scene evolved over the past year? When I first got to Kansas City, I thought, "There's nothing here, what am I going to do about my job?" But then I started doing research and I was so happy to see chefs developing new dishes and new restaurants. There's so many new restaurants opening up and so many opportunities for a chef or a cook like me to come into the city and learn how to do different techniques or cuisines, that I wasn't expecting, and I'm really happy to see that. I was really pleased by the whole food scene here and how it was developing, and I'm really happy with the Crossroads [Arts District] and First Fridays. I just really hope it can keep evolving and consistently have chefs coming in and wanting to open new restaurants, because it's nice to have a variety of places to go to. I really hope Kansas City keeps developing new restaurants and pushing itself, and it seems like it can. More people than ever want Kansas City to thrive, and I think it's our generation that's pushing that.
Who are some Kansas City chefs you admire at the moment? I know I've talked about them, but Fox & Pearl and [chef-owner] Vaughn Good, I do appreciate that they came here from Lawrence, [Kansas]. I did eat [at Hank Charcuterie] once before it closed, and it was great, and I was like man, I really wish it was closer to Kansas City. And then they moved to Kansas City and I went a couple times and we really liked it. I like what they're doing with meat and handling the whole [animal], doing everything from head to tail, which is great. They're not wasting the animal. They're doing interesting things with the [rest of the] food as well. And of course, Nick. I know it sounds cheesy because I work for him, but I think that's the reason I work for him – because his passion is for the food and he cares about the product. He doesn't just care about getting it for a better price. He goes to the farms, talks to the farmers constantly; he learns the stories of the animals and how their lives are before they get slaughtered. He actually truly cares about the restaurant itself. Yes, he owns it, but it's the passion that he has behind that. I think it's just his passion behind all the food that he does, his approaches to creating new dishes and his flavor profiles that I haven't really worked with, [so] he's taught me a lot. He can name so many things about one random subject; he just gets so in depth about everything, it's great. So I'm learning a lot from him.
What do you like to cook at home or on your day off? I do [cook] on my days off. I don't have time when I'm working, because I'll get home at 7 or 8. [My husband] really loves just like meat and potatoes, that protein. I'm like, "OK, we have to get you out of that!" So I try to push him into new flavor profiles to help me in a way; it's good to try new things with him or flavors he hasn't really had [like bone marrow] to push him, and see if I can push myself to make it taste good for him, where he doesn't think he's eating weird food. So it's nice to get that random ingredient at the house to just play with it.
What's your favorite comfort food? I would say my mother's macaroni and cheese that she used cottage cheese with and she baked it – cottage cheese, Cheddar and something else. What my sister and I would always ask for when we came home from college was that baked macaroni and cheese. It's simple, but when we were little that's all we wanted to eat, so we had to have it when we were in college. I made it once, but I could never get it as good as my mom. Nothing ever tastes better when you do it!
If you could tell home cooks one thing, what would it be? Keep it simple. I feel like people try to go fancy and they don't need to. Even just learning how to develop a [dish] – like say garlic, for instance. If you would just do it in a different way, it's super simple to have it taste differently or have a flavor added by toasting it a little bit more, or doing something else. So it's not really fancy, it's just developing flavor in [ingredients] to develop a dish. Instead of boiling a carrot, you can roast them and caramelize the sugars in the carrot. So it's not always difficult, it's just learning how to develop a different flavor. Keeping it simple would be the easiest way.
What is your first food memory? I'm not sure of one specific incident, but every single Sunday we would have Sunday night dinner with my grandparents, and we'd always end with a pie. She always had a pie. No matter what time of year it was, she would have a specific pie for the season – pumpkin, apple, rhubarb, strawberry. It was always a pie at the end of Sunday night dinners. It was a great way to see my grandparents all the time, and it was nice to have that. That's something I really miss.
What's the most intriguing dish you've made recently, and why? I think it would be the rabbit stuffed with blood sausage. It's with grilled broccoli rabe and wild mushroom. I guess when I do dishes, it's how I feel about what I want to eat at the time. So I was like, "I like rabbit, let's try this!" So I guess it's what I want to eat right now – that's why I find them intriguing, because I just want to eat them myself [laughs].
What inspires your cooking? How do you approach R&D at your restaurant, and what inspires that process? It starts with the ingredient that I want to eat, and then I'll pull five or six books that have the ingredient. Like with the rabbit, I'll pull flavors that will go well, so I would just make a list of all the flavors that would go well with rabbit and pull from that constantly. And if I don't like it, I'll scratch it off – let's try this, let's try that. It's finding the favorite flavor combination about what would go well and what's in season. And then look at more books to help develop the recipe; I'll pull from multiple recipes and put it into one. And if it doesn't work I'll just go back to the list and switch it around somehow.
What are your future plans? I really don't know at the moment! My husband is still in the army, so I'm not sure where we'll actually be for a while. Eventually I do want my own place. I do want to strive for the best – awards and all that stuff, who doesn't? But right now, I'm going to try and learn as much as I can from different people, different cities, just learn from people as much as I possibly can before I do open my own place, which would be in like 10 years. I think the next 10 years or so I'm just gonna work at different places, learning as much as possible.
The Antler Room, 2506 Holmes St., Longfellow, Kansas City, Missouri, 816.605.1967, theantlerroomkc.com