It's hard to believe that just a handful of months ago, the ground hadn't even broken on Tribe Street Kitchen: Construction started on the restaurant in December, and today, the polished finished product just opened. 
That's a tight turn for most brand-new restaurants, but looking around at Tribe's plush sapphire booths and polished marble bar, you'd never know. That might be because this isn't the first time around the block for Tribe's co-owners, Jordan Mathes, Ben VinZant and Sam Hagan. VinZant and Hagan are the main faces of Tribe: They are two longtime friends from Wichita, Kansas, whose careers in the hospitality industry have taken them on a similar trajectory, including a brief stint working in Minneapolis restaurants.

VinZant has spent the past several years working in restaurant design and construction management, which partly explains Tribe's speedy and elegant layout. He's also tapped a host of local talent to furnish the restaurant: Local artisan Cody Brown of r24 Studios made and hand-painted the hexagonal concrete slabs tiling the bar; an Amish family in northern Missouri made the polished wooden tables; a farmer from Cameron, Missouri, made the utilitarian metal sign that hangs over Tribe's threshold. VinZant's mom is responsible for the thriving green plants hanging from swings by the large windows that face onto the River Market's historic Delaware Street, which the KC Street Car track runs through.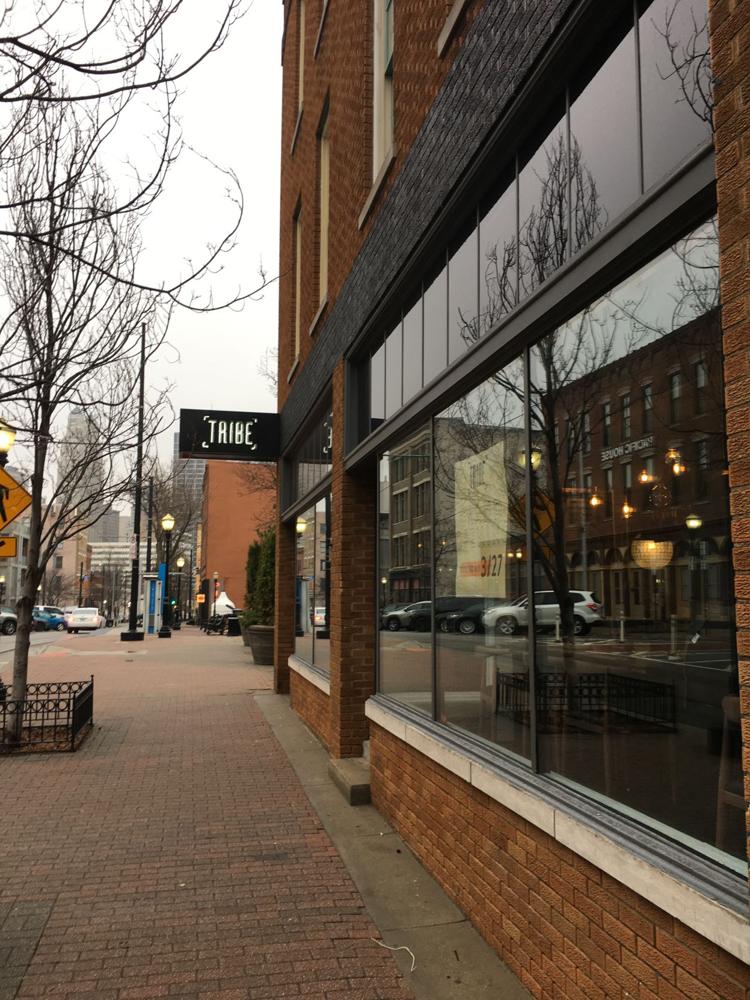 Tribe's interior is both elegant and understated: The rich textures and tasteful bar seats suggest that not a single detail was chosen without thought, and the bar – the centerpiece of the restaurant, which circles through two dining areas – has been designed with conviviality in mind. There are two large television screens, too, which will be tuned to whatever major sports game is playing – and when there's no game, VinZant says, the TVs will probably be running classic '90s movies.

"We wanted the restaurant to be a place where we're not a sports bar, but we don't think too highly of ourselves, either," VinZant says. "We want you to be comfortable and come in with your friends at pretty much any time. We wanted a warm atmosphere."

Tribe's vibe does feel warm – and classy. One might even consider its decor to suggest a certain high-end price tag. "We wanted it to look a little high-end because that's how dining out should be," VinZant says. "It's time for people to escape from the norm."

But VinZant and Hagan are dedicated to making Tribe an approachable neighborhood hangout: The expansive menu takes diners across the globe, and the most expensive dish rings in at $15. Cocktails are fair, too, with a craft list ranging from $7 to $11 each (there's plenty of beer and wine to choose from, too).

Lance Gipson is the executive chef, and he comes to Tribe from Blue Sushi Sake Grill, Tallgrass Tap House and Colbert Hills. Working with VinZant and Hagan's vision for globally inspired cuisine, Gipson's dishes bring some of the best and brightest flavors from a cherry-picked assortment of countries to one menu. There are small plates to share (Peruvian shrimp ceviche, Spanish croquettes with Serrano ham and Manchego cheese, Vietnamese chicken wings with a fish sauce caramel); sandwiches (the Tribe burger is diner-style, with single or double patties, and the Vietnamese bánh mì has a perfectly balanced heat); oak-fired street skewers and tacos (Moroccan chicken skewers with harissa and addictive sake-battered fried haddock tacos); large plates (Egyptian za'atar salmon salad and a colorful khao soi noodle dish from Thailand); a host of sides (the Turkish curried dill potato salad is worth a try) and a respectable assembly of desserts (don't skip the Nutella crepes).

On any other menu, these dishes might seem jumbled – but Gipson has managed a thoughtful cohesion, marrying seasonal flavors with imported ones, and nothing tastes like it doesn't belong. Guests who are gluten-free, dairy-free, vegan and vegetarian will also be pleased to note that Tribe's menu offers several tasty options.

"We really wanted a place where you can come in with friends or by yourself and get a small plate or a cocktail and still leave feeling good about what you're spending," VinZant says. "That being said, everything is made from scratch, but the food is prep heavy and make fast – a lot of the dishes are going to come out pretty quick."

In case of a wait, though, VinZant and Hagan have something up their sleeves: A $4 "Wait Drink" is listed on the menu as a rotating daily special, available only to guests who are waiting for seats to open up. Whether you snag a cocktail or a seat first, you're bound to have a good time.

Tribe Street Kitchen is open daily from 11am to 1:30am. The kitchen closes at midnight.
Tribe Street Kitchen, 316 Delaware St., River Market, Kansas City, Missouri, 816.214.6058, tribekc.com