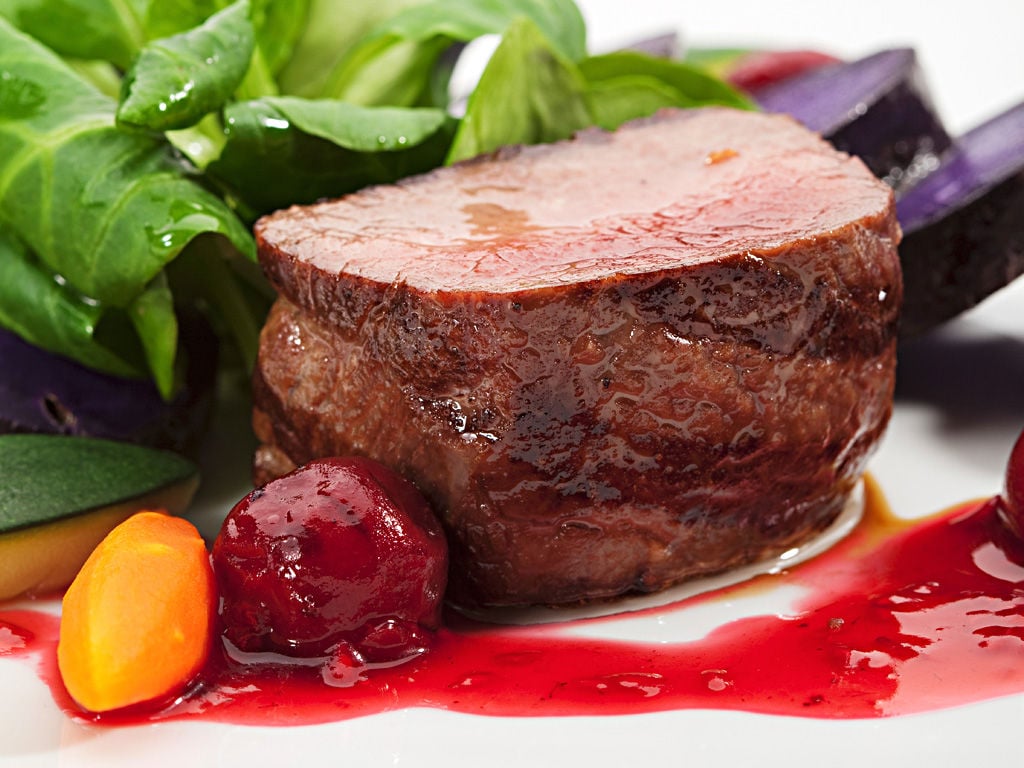 Venison – usually deer, but also elk, antelope and bison – can be more than jerky. Hunting season in Missouri lasts until the end of December; by February venison has been processed and dry-aged – and this winter, chefs are giving it new life.
Get Liz Huff's recipe for elk meatballs.
Affäre 
Affäre chef-owner Martin Heuser doesn't just cook venison; he dry-ages it for two weeks at his meat processor and uses every bone, rib and cut of meat. Back in July, he took half a prairie-raised bison from Westmoreland, Kansas, and barbecued it in different styles including Kansas City and Polynesian. It sold out within 10 days. "It's a real skill to use the whole animal in the proper time and with the proper recipes for different cuts," Heuser says. "This is something that's going away – nowadays [chefs] are buying precut steaks. You're losing the skill of how to debone an animal, how to age it properly, how to marinate it." This month, look for consommé with housemade pasta filled with elk meat, a lunch elk stew with lingonberry sauce over butter spätzle, elk ravioli, bone-in elk prime rib with a blackberry gastrique, elk brats and more using elk raised just north of Macon, Missouri. He also showcased bison during Kansas City Restaurant Week last month to put the focus on local, farm-raised meats done in a continental style. "I've used four whole bisons and two whole elk so far," Heuser says, "and it's been very successful."
Affäre, 1911 Main St., Crossroads Arts District, Kansas City, Missouri, 816.298.6182, affarekc.com
Fresh lemon zest and Logboat beer play off venison in these meatballs.
Randolfi's Italian Kitchen
Randolfi's Italian Kitchen chef-owner Mike Randolph is known for reinventing the classics. This month, he's putting two winter staples in a simply prepared but balanced dish. "It's a simple dish with two ingredients: venison and beet," Randolph says. "The beet is roasted in our oven and puréed with sherry for a nice balance of sweet and acidic; beets are also served roasted, pickled with clove and star anise, and shaved raw, with beet greens used as garnish. The venison is simply seasoned with salt and pepper and roasted in our oven to rare or medium-rare." Randolph maintains that although venison definitely has a unique flavor, it's only gamey or liver-tasting if it's not prepared properly. The key, he says, is simple: Don't overcook it. "It's a simple protein, which if done well, can open people's eyes," Randolph says. "That's what we're trying to do at Randolfi's. It's a step back into the old-school days of the '50s and '60s, where hospitality and well-executed food was expected. A guest might not be familiar with venison, but we hope the simplicity of ingredients and [customers'] ability to trust our food will encourage them to try something new."
Randolfi's Italian Kitchen, 6665 Delmar Blvd., University City, Missouri, 314.899.9221, randolfis.com
Catalpa
A lot of people hunt deer in the area surrounding Arrow Rock, Missouri (population 56), but chef-owner Liz Huff of Catalpa says not many are familiar with venison. "People kind of turn up their noses and say, 'Oh, I don't like deer,'" she says. "Because maybe they had deer [from] somebody they knew who went hunting, and it was gamey. But if you can talk people into trying it, they like it." Huff is doing entrées for February with both deer and elk meatballs. "One is going to be a deer and pesto meatball: deer meat prepared with Columbia, Missouri's Logboat Brewing Co.'s Mamoot English Mild Ale, fresh lemon zest and tangerine zest with beer-braised onions, garlic and fresh basil pesto," she says. "The second one is elk and dried cherries, fresh herbs, sautéed red onion and roasted garlic." Huff says the key to keeping venison from tasting too gamey is citrus zest. "I don't want somebody to bite into elk or venison or antelope and say, 'Oh that tastes like elk!'" she says. "I want them to bite into it and say, 'Oh, it's a little bit of ginger; there's some orange there; it's so savory and nice. I want them to have all the flavors together in their mind and say, 'Wow, that was elk. I think I like elk now!'"